Friday Sermon
29 May 2020
Love Between Ahmadis and the Khalifa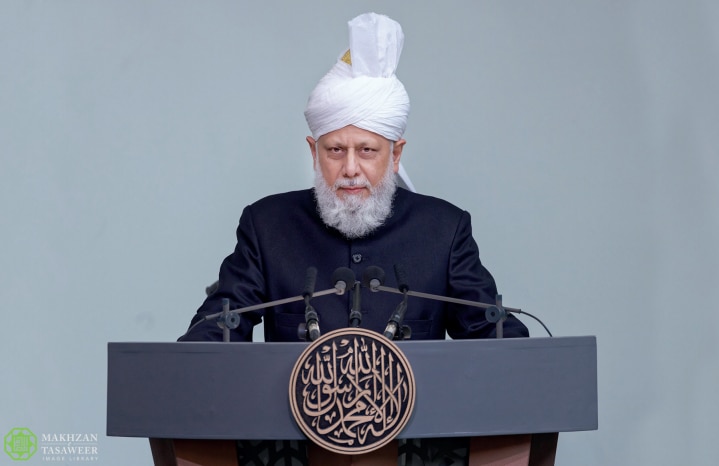 After reciting the Tashahud, Ta'awuz, and Surah al-Fatihah, Hazrat Khalifatul Masih Vaa said:
On one occasion the Promised Messiahas stated:
"I am thankful to God Almighty for granting me a sincere and loyal community. I observe that whenever I call upon them for any task or purpose, they swiftly and passionately come forward, in an attempt to excel one another, according to their strength and ability. I can see that they possess a spirit of devotion and sincerity." [Malfuzat, Vol. 2, p. 53 (English Translation)]
We have observed the expressions of this sincerity, loyalty and love towards the Promised Messiahas through countless accounts of the Companions of the Promised Messiahas. Also, there are narrations in relation to this which have passed down generations in those families who accepted Ahmadiyyat in the very early days.
Also, in our literature and in the sermon of the Khulafa, we also find mention of these accounts. However, this relationship that was established with the Promised Messiahas and which still continues down in their families is also present among those who later joined the Community as well and so it should be. This relationship is not just limited to that era, rather in accordance with the promise of Allah the Almighty with the Promised Messiahas, there exists an equally strong bond with the succession that followed him.
It is this bond that is the sign and the guarantor of the unity of the Community. When the Promised Messiahas informed the Community of his departure from this world after having been informed by Allah the Almighty, along with this, in order to reassure the Community, he also gave the glad tiding of the establishment of the institution of Khilafat in the Community after having been informed about it by Allah the Almighty.
Hence, the Promised Messiahas wrote in his booklet entitled Al-Wassiyyat [The Will]:
"So do not grieve over what I have said to you, nor should your hearts be distressed for it is essential for you to witness the second manifestation also, and its coming is better for you because it is everlasting, the continuity of which will not end till the Day of Judgement. And that second manifestation cannot come unless I depart. But when I depart, God will send that second manifestation for you, which shall always stay with you just as promised by God in Barahin-e-Ahmadiyya. And this promise is not for my person, rather the promise is with reference to you, as God [addressing me] says: 'I shall make this Jamaat who are your followers, prevail over others till the Day of Judgment.'" (The Will, Ruhani Khazain, Vol. 20, p. 7)
Thus, according to this promise of Allah the Exalted, the institution of Khilafat was established after the demise of the Promised Messiahas. However, the mere establishment of this institution does not hold any significance unless there is a relationship between the Khalifa of the time and members of the Community based on sincerity, loyalty, devotion and love and such a bond can only be created by Allah the Almighty.
No individual or human endeavour can create or sustain such a bond. It is this very bond that is the guarantor of the unity and progress of the Community.
Moreover, this is also evidence for the fulfilment of the promise of Allah the Almighty and of His continuous support of the Promised Messiahas and of the truthfulness of the Ahmadiyya Muslim Community. The relationship that members of the Community have with Khilafat is possessed by those who have been Ahmadi from birth as well as those who have recently joined, including children, youth, men and women and also by such Ahmadis who live far away and have never even seen the Khalifa of the time.
All these people have excelled in sincerity and loyalty and they continuously try to excel further. Whenever they receive a directive from the Khalifa of the time, they try to act upon it. They express their love and relationship in such a manner that one is truly astounded.
All these things are a practical evidence for the fulfilment of the promise of Allah the Almighty and also the progress of the Community is also dependent upon this relationship. As I said, the relationship that the Community has with Khilafat and in turn, the Khalifa of the time has with the Community, is evidence of the continuous support of Allah the Almighty.
These are not just mere claims, rather this is demonstrated through hundreds of thousands of accounts where members of the Community have expressed these sentiments. If those incidents were gathered, they would result in countless voluminous books.
Nevertheless, I will now narrate some accounts of the sentiments and emotions which members have always had and will continue to have for the Khalifa of the time. This started right after the demise of the Promised Messiahas and 112 years later, they continue till this very day.
The opponents believed that this Community would come to an end after the demise of the Promised Messiahas. However, the determination, affection and relationship of sincerity and devotion towards Khilafat and the Promised Messiahas are continuously increasing. And after all, why would this not be the case, as this is in accordance with the prophecies of the Holy Prophetsa?
Nevertheless, I will now present some accounts and I will start by narrating one or two accounts relating to time of Hazrat Khalifatul Masih Ira. The editor of Al Badr [newspaper] wrote in relation to the days when Hazrat Khalifatul Masih Ira was unwell. He stated:
"During these days, many letters are being received from Khuddam enquiring about the health of Hazrat Khalifatul Masih Ira and praying for his health and well-being. Regarding these letters, Hazrat Khalifatul Masih Ira has stated, 'I pray for each and every one of those who are writing to me in relation to my health.'"
The editor further wrote, "The ardent devotees are expressing their affection in an astonishing manner. I present the text of some of the letters as an example.
"Hakim Muhammad Hussain Sahib Quraishi writes, 'One day, I prayed to the Almighty God, "O my Master! The needs in the time of Hazrat Noahas were limited to a certain area but only You are aware of the needs of today. Accept our supplications and grant our Imam a life as long as Noah's!"'
"Then, brother Muhammad Hassan Sahib Punjabi writes from Madras, 'I became so overjoyed reading the news of the recovery of Hazrat Sahib [i.e. Hazrat Khalifatul Masih Ira] that only my Benevolent Master and Merciful God is aware of it.'" (Al Badr, 16 February 1911, p. 2, Vol. 10, Edition 16)
Following this, the editor writes, "Love is a strange thing. Our friend, Mian Muhammad Bakhsh Sahib, who resides in Australia and works in the trade industry, writes in one of his letters:
'The heading at the bottom of the newspaper from Qadian in relation to Hazrat Khalifatul Masih Ira should not only comprise of the words "Khalifatul Masih", but the heading should also contain words in relation to his health and well-being. The reason for this is that as soon as we open the Badr [newspaper], the very first words our longing eyes search for are the words of this heading and it is our desire that such words are included in this very heading, which will immediately grant comfort to our hearts before reading the actual passages inside [the newspaper].'"
The editor writes, "We honour the sincerity of our dear friend and therefore we have produced a heading in accordance with his wish." (Al Badr, 6 April 1911, p. 1, Vol. 10, Edition, 22 & 23)
Then, Hazrat Abu Abdullah Sahib of Khewa Bajwa, who was a companion of the Promised Messiahas, was once sat in the company of Hazrat Khalifatul Masih Ira and requested to be granted some advice. Hazrat Khalifatul Masih Ira said, "Maulvi Sahib! I do not believe that anything ought to be done that you have not already carried out. The only thing that is now left to do is the memorisation of the Holy Quran."
Hence, after hearing the words of Hazrat Khalifatul Masih Ira, he started memorising the Holy Quran at the age of approximately 65 and became a hafiz-e-Quran [someone who has memorised the entire Quran]. (Quoted in The Daily Al Fazl, 8 December 2010, p. 4 with reference to Al Fazl Qadian, 19 April 1947)
Such was the spirit of seeking to implement and acting in accordance with the instructions of Khalifatul Masih. During the era of Hazrat Khalifatul Masih IIra, when the Shuddhi movement gained strength and momentum, observing this, Hazrat Musleh-e-Maudra became greatly anxious. This movement began in the area of Malkana in 1923 and during his Friday Sermon the very same year, on 9 March, Hazrat Musleh-e-Maudra presented a scheme to members of the Jamaat to travel to those areas on their own expense, in order to preach to those who had turned away from their faith and invite them back [to Islam].
The Jamaat passionately responded to this call. Highly educated individuals, government workers, teachers and traders, in short, devotees from all walks of life called people towards God in these areas and as a result of their efforts, thousands of souls once again declared the kalima [Muslim creed] of the One God. One day, whilst sitting in the company of Huzoorra, an elderly gentleman, Qari Naeem-ud-Din Sahib Bengali, took permission from Huzoorra and said, "Even though my sons, Maulvi Zill-ur-Rahman and Muti-ur-Rahman, a BA student, have not mentioned this to me, however, I felt that yesterday when Huzoorra spoke about dedicating one's life and going to Rajputana in order to call people towards God and also the conditions which Huzoorra mentioned that one would have to live under, they might have reservations in their heart that if they offer their services to Huzoorra, I, their old father, will face difficulty as a result. However, I call on God Almighty as a witness in the presence of Huzoorra and say that I am not the slightest bit sorrowful or distressed at them leaving and to endure hardships. I emphatically say that even if both of them were killed whilst working for the cause of God, I would not shed a single tear, rather I would express my gratitude to God Almighty. This is not just in relation to these two sons of mine. In fact, even if my third son, Mahbub-ur-Rahman, was killed whilst rendering his service and if I had ten other sons who were killed as well, I would not express any sorrow."
Upon this, Huzoorra, as well as the members of the Jamaat, said "Jazakumullah" [may Allah reward you]. (Al Fazl, 15 March 1923, p. 11)
In 1924, when Hazrat Khalifatul Masih IIra travelled for his tour of Europe, even this temporary separation made members of the Jamaat restless. This can be gauged from the following narration. Babu Siraj-ul-Din Sahib, a station master, writes:
"My master! We are far away and helpless. If it were possible, we would have become the dust under Huzoor'sra feet so that we would not have to endure the pain of this separation. My master! I have not visited Dar-ul-Aman [Qadian] for four years now. However, my heart was content at the fact that whenever I desired, I could go and kiss Huzoor's feet. Now, even one day [of separation] is proving to be difficult. May Allah the Almighty soon bring Huzoor back in good health and with success and victory." (Swanih Fazl-e-Umar, Vol. 5, p. 475)
Who can develop such a relationship of love? Hazrat Khalifatul Masih IIra states:
"A young man heard about my scheme, which I announced last year. This young man lived in the district of Sargodha and travelled to Afghanistan without a passport and began preaching."
He thought that as this is the instruction of the Khalifa of the time and due to the bond with him, it was absolutely necessary to act upon it. Since the directive was to preach, so as soon as he heard it, he went to Afghanistan and began preaching, even without his passport.
"The government detained him and put him in jail, however even whilst in jail he would preach to the prisoners and prison guards and established contact with the Ahmadis there and began to influence many people there. Eventually, the prison officers filed a report stating that he was also influencing those in the prison. The clerics issued a fatwa of death against him, but one of the ministers said that he is a citizen of the British Empire, therefore they cannot execute him. In the end, the government sent him under their protection to India."
Hazrat Khalifatul Masih IIra further states:
"After several months, he has now returned. The level of his determination was such that when I told him he made a mistake and that there were many countries he could have gone to and preached without being detained, he immediately replied by saying that he would go to any country I suggested. The young man's mother is still alive, yet he was ready to travel to another country without having first met her. But upon my instructions, he is now on his way to meet his mother."
Hazrat Khalifatul Masih IIra states:
"If other young men would show the same determination as this young man from Punjab who travelled to Afghanistan, then we could bring about a revolution in the whole world within a short period of time." (Tarikh-e-Ahmadiyyat, Vol. 8, p. 44)
There is a Syrian brother by the name of Muhammad Al-Shawa Sahib. When Hazrat Khalifatul Masih IIra visited Syria, he also had the honour to travel alongside him to Lebanon. He was a very good lawyer and had an extremely strong bond with Khilafat. Being a lawyer, he would normally like everything to be supported with evidence, but whenever he was told that this was an instruction by the Khalifa of the time, he would say, "This is sufficient. Once an instruction has been received, the matter is finished and this is the final decision."
Such was the relationship these people had [with Khilafat]. (Khutbat-e-Masroor, Vol. 7, pp. 503-504, Friday Sermon, 23 October 2009)
During the era of the third Khilafa, there was an American lady by the name Naima Latif Sahiba, who had boundless love and affection for Khilafat and the Khalifa of the time and who always gave absolute priority to obedience to the Khalifa of the time. During the tour of Hazrat Khalifatul Masih IIIrh to America, he delivered an address at a university on the topic of the importance of the veil.
After listening to this address of Hazrat Khalifatul Masih IIIrh, she straight away began wearing the hijab [Islamic veil] and she became the only woman in her area at the time to be seen wearing the Islamic veil. (Khutbaat-e-Masroor, Vol. 12, p. 605, Friday Sermon 3 October 2014)
As it was the instruction of the Khalifa of the time and due to her bond with Khilafat, she had a longing to fulfil it. Moreover, as she had taken the oath of allegiance, she wished to act upon it right away. Nazeer Ahmad Sahib Sanwal of Khanewal district narrated an incident about a sincere Ahmadi, respected Mehr Muhktar Ahmad Sahib of Bagar Sargana. He narrates that in the circumstances during 1974, the opponents had made Mehr Sahib's life very difficult.
Furthermore, as a result of his passionate calling to the way of Allah, his family began opposing him very severely and boycotted him completely. Nevertheless, this strengthened his faith further than before and he increased the scope of his acquaintances and friends. The opponents increased in their opposition and made more and more plots and schemes. For the sake of his children's education and for them to grow up in a pure environment, he sold his plot of farmland and rented a plot near Rabwah and began cultivating it.
When he met Hazrat Khalifatul Masih IIIrh and informed him that he sold his land in Bagar Sargana (the name of his village) and subsequently acquired a land on lease near Rabwah and began planting crops, Huzoorrh did not approve of this as the area should not have been left void [of Ahmadis]. Thereupon, he acted immediately in accordance and demanded the money back from the landlord for the lease. But after he refused, he left all the crops and returned to his land in Bagar Sargana, without the lease money. He then tried to buy his land back that he had sold. He purchased it at a higher price and then went to Hazrat Khalifatul Masih IIIrh to inform him that he had acted according to his instructions. Huzoorrh expressed his joy upon hearing this and Mehr Sahib was also very pleased as a result. (The Daily Al Fazl, 10 May 2010, p. 5)
Hazrat Khalifatul Masih IIIrh once mentioned in a sermon:
"I went on a tour of Africa in 1970. One of our missionaries there made a programme which posed great difficulty for me, because after travelling 100 miles to a place, we arrived at such a time that I was unable to personally meet all the members of the Community there." It was not difficult because the trip was approximately 100 miles long, the difficultly was experienced due to the fact that the programme was so brief that he could not personally meet the people of the Community there, as he had to deliver an address where there were also Christians from other countries in attendance."
Hazrat Khalifatul Maish IIIrh continues:
"I delivered the address, a series of questions and answers went on for a long time and when a significant amount of time had passed, the missionary announced that there would not be a chance to shake hands [i.e with Huzoorrh]. But I was visiting to those people, who were meeting the Khalifa of the Ahmadiyya Muslim Community for the first time in their lives and they knew not when there would arise such an occasion again in their lives. Thus, despite the announcement being made, they rushed forward to shake hands."
Hazrat Khalifatul Masih IIIrh relates:
"The private secretary and others in the entourage had no idea where they had ended up due to the force of the local Ahamdis pushing ahead and they began shaking hands with me."
Hazrat Khalifatul Masih IIIrh relates further:
"They started shaking my hand, but it was no ordinary meeting, for every single individual would take my hand and then would not let go of it. They would continue looking at me and not let go of my hand. The person waiting next in line would become restless and he would place his one hand on the other individual's arm and with his other hand, hold onto my hand in order to separate it and then he himself would shake my hand. Similarly, he too would not let go of my hand, and the next person would have to do the same all over again. And this happened with scores of people."
Hazrat Khalifatul Masih IIIrh said:
"So it was only with great difficulty that we returned from that place. However, I say to the non-Ahmadis:
I do not say to our own members as they are already aware regarding the bond between Khilafat and the members of the Community, but to others I say that I am not foolish to be under the impression that it is due to any quality on my part that such love has been developed in the hearts of these people, who live 5-6 thousand miles away, who have never seen me, nor knew much about me, to all of a sudden come forward so uncontrollably to meet me. This love is purely created by God Almighty." (Khutbaat-e-Nasir, Vol. 6, pp. 547-448, Friday Sermon, 22 October 1976)
Then comes the era of Hazrat Khalifatul Masih IVrh. He states:
"The extraordinary changes happening in Africa are a result of the sacrifices made by the early life-devotees. The astonishing revolution taking place in Africa nowadays is so astounding that even the Community members there cannot fathom the extent to which the tremendous changes that have taken place in their countries.
"Some of the more experienced members and those who work at a government level as well have told me themselves that even they had no idea of how much their countries have advanced in their love and cooperation with the Community and just how prepared they are at this time to receive this message.
"One person, whose name and country would not be appropriate to mention, said, 'I cannot even begin to understand what is happening. It was beyond my imagination that our nation would be able to render such service to the Khalifa of the Ahmadiyya Muslim Community and would have the opportunity to express this love. This was something I could not even imagine. What I have witnessed here is something we only see shown towards leaders of countries, (and even then it is only from a worldly perspective), but aside from them I have not seen this happen with any other person.' He also said, 'This is not due to the efforts of the Community, rather what is happening is from the unseen and is happening in an astonishing manner.'" (Khutbaat-e-Tahir, Vol. 7, pp. 134-135)
Hence, this is all brought about by God Almighty Himself. With regard to Pakistan, on one occasion Hazrat Khalifatul Masih IVrh pointed out some of the ills that were taking root there. He stated:
"In Pakistan as well various ills are developing, such as the inappropriate use of video cassettes."
He stated, "I announced in a sermon that some ill customs have become prevalent, which will result in a nation's morals to be destroyed, the peace within a household to vanish, the loyalty between husband and his wife to break and bring about obstructions and a distance in their relationship. Therefore, do not let this trend thrive and spread. Following this, I received letters from Pakistan, which caused my heart to prostrate before God Almighty over and over. Those people who were engrossed in certain ill habits had written plainly that they had engaged in wrong actions, but it is purely the grace of Allah the Almighty that they are part of the Community of the Promised Messiahas and when my words reached them, they rid their hearts of these false idols. Thus, the quality within the Community to hearken to a call is the essence of its truthfulness, and no liar in the world can bring about this spirit of truthfulness." (Khutbaat-e-Tahir, Vol. 11, p. 920)
Then there are accounts related to my era. I travelled to Nigeria in 2004 – it was only for two days as there was no initial plan to visit the country, but it happened by chance and also, we had no choice because our flight was from there. However, upon arriving there, I realised that it was actually very important for us to have visited the country and if we had not done so, it would have been very wrong. Shortly before my visit, the Jalsa Salana of the Nigeria Jamaat had just taken place and a large number of members had attended the Jalsa. Therefore, it was not expected that upon my arrival, people would be able to travel from long distances.
However, they still travelled to see me for just two hours and approximately 30,000 men and women gathered. And to witness their sincerity and loyalty was indeed a wondrous sight. The relationship of such loyalty and love is truly indescribable. Some of them had never even physically seen the Khalifa of the time before and yet it was so astonishing to see the manner in which they expressed their emotions.
During the silent prayer upon departing, some of women and others were overcome with such fervent emotions that one was astounded. However, it is God Almighty Alone Who can instil such love and this love can only be expressed for the sake of God Almighty. The Maulvis [clerics] claim that in such and such African country, they were able to close the mission of the Jamaat and in such and such country, the people have promised that they will shut it down.
Similarly, they make all kinds of claims that they have done such and such thing. However, one should ask them that the sincerity and loyalty which those people express and now through MTA we are also able to witness this, and have witnessed it for ourselves as well by actually going there, how is this all possible? Is this as a result of the missions being closed? In any case, they can continue making all kinds of claims they wish to make, however for us all of these things serve as a means of further strengthening and increasing our faith. (Khutbaat-e-Masroor, Vol. 2, pp. 253- 254)
In 2008, I visited Ghana and by the grace of Allah the Almighty, the Jamaat has purchased a large area of land, which is approximately 500 acres. The Jalsa was held there and many men and women had already reached there prior to my arrival. The land was initially used as a poultry farm and its sheds were converted into barracks for the purpose of providing accommodation with doors and windows added to them as well.
However, despite these arrangements, there was a shortage of space, but no one complained. Many of those who were attending the Jalsa were well-off, including businessmen, schoolteachers and other professions, but if they couldn't find any arrangements for accommodation, they simply laid down their sheet on the floor and slept outside. The Ghanaian people generally demonstrate a lot of patience but they exhibited patience even more so during these days [of the Jalsa].
Someone even enquired from one or two of them who had slept outside that they must have endured a lot of discomfort, but they said that they had come to attend the Jalsa which was being held in the presence of the Khalifa of the time, therefore what difference would two days of temporary hardship make; they were happy that Allah the Almighty had granted them the opportunity to participate in the Jalsa. People had also travelled from Burkina Faso to attend the Jalsa [in Ghana] and from various other neighbouring countries as well. I found out that those who had travelled from Burkina Faso was quite a large delegation and some of them did not receive any food. They were approximately 3,000 and this was the largest delegation that had travelled to Ghana, including 300 Khuddam who had travelled by cycle, covering a distance of 1600 kilometres.
In any case, I instructed one of the missionaries there that they should apologise to them for failing to provide them with food and that they ought to take care of them from now. When they conveyed the apology, they replied that the purpose for which they had travelled had been achieved. They said that food was no issue for they eat food every day – it is possible that owing to their straitened circumstances, they may not even have food to eat daily – but nevertheless, they said that it was not every day that one is able to partake of the spiritual nourishment which they were now receiving.
The Jamaat in Burkina Faso has not been established for a very long time. In fact, at the time of my visit [to Ghana] it had only been 10-15 years since its establishment and now it must be around 30 years. However, they continue to excel in their sincerity, loyalty and love. Their financial condition can be gauged from the fact that throughout their stay of around 4 to 7 days, they remained in the same clothes they had travelled in and in their return journey as well. They had been slowly saving money, little by little, so they could travel for the Jalsa which was the Jalsa in the centenary year of Khilafat and was being held in the presence of the Khalifa of the time and therefore, they wanted to make every effort to ensure they could attend. Thus, who else can instil such love in people other than God Almighty?
Those Khuddam who had travelled by cycle, their level of sincerity is also evident by the fact that they continuously travelled for seven days, stopping at various locations. Among them were members who were even 50 to 60 years of age and two of them were children aged 13-14. Their Sadr Khuddam-ul-Ahmadiyya at the time was asked about their journey and it was mentioned that it must have been quite difficult. However, he replied that the early Muslims rendered countless sacrifices for the sake of Islam and they also desired that their Khuddam be ready to offer every kind of sacrifice.
And so, they wanted to do something in the centenary year of Khilafat which would enable them to express their sincerity and loyalty with Khilafat and that they could tell the Khalifa of the time that they were ready to offer any kind of sacrifice and accept any challenge. When they were about to begin their journey, a representative of a television channel asked them that their cycles were in extremely poor conditions and were very basic cycles – they were not like the ones here in Europe – however the representative of the Jamaat replied that though their cycles were in poor conditions but their faith and resolve was strong and they were completing this journey as a way of expressing their gratitude for being bestowed with the reward of Khilafat.
When the national television station published this news, the headline read:
"Travelling for the sake of Allah from Ouaga to Accra to commemorate the centenary year of Khilafat."
Ouaga is the capital city of Burkina Faso and Accra is the capital city of Ghana. It further mentioned that although their cycles were in poor condition, but their faith was extremely resolute. This was the headline which the newspaper published. These Ahmadis were not Ahmadis from birth or the progeny of companions, in fact they live thousands of miles away, in areas where there are not even proper roads or no roads at all to reach there. Some of them live in areas which do not even have access to water and electricity and having accepted Ahmadiyyat only a few years prior, they demonstrated such examples of sincerity and loyalty that one is left astounded.
In certain areas, their circumstances of extreme poverty have caused them great distress, however after having entered the community of the ardent devotee of the Holy Prophetsa, they have developed such sincerity that whenever it is a question of their faith, their resolve and determination is strong like a rock and they are always ready to offer any kind of sacrifice and are filled with such deep love. Thus, we should always pray that may Allah the Almighty continue to increase them in their faith and loyalty and increase us all in our faith and loyalty as well.
A member from Burkina Faso, Issa Sahib, did Bai'at in 2005. At the time, it had been three years since he had become Ahmadi and he said:
"After three years, it is only today that I have realised how fortunate I am and what I have truly found. It is not possible to express my happiness in words, because today I have seen and met the Khalifa of the time."
Among them were some whose love for Khilafat was evident from the tears flowing from their eyes. Therefore, this is the level of sincerity and loyalty which is being developed in the newly established jamaats. (Khutbaat-e-Masroor, Vol. 6, pp. 181-186)
Last year, an individual tried to cause disorder by exploiting a misconception. Some of the youths of this very sincere Jamaat became under his influence and started to act a little indifferently. Although they were still Ahmadis, they began to distance themselves from the nizam [administrative structure of the Jamaat].
In any case, I sent a local missionary to them from Mali, Muaz Sahib. He went there and explained to them that on the one hand they claim to have a bond with Khilafat, and on other hand, they were trying to distance themselves from the Nizam therefore this was not correct. Subsequently, almost all of them began to write letters of apology and they said that they became influenced owing to a misunderstanding and a lack of training, however they said that they had a relationship of utmost loyalty with Khilafat and they could not even think of distancing themselves from Khilafat.
By the grace of Allah the Almighty, they once again became a part of the nizam-e-Jamaat. Thus, it was owing to their lack of training that they deviated, otherwise when the matter was clearly explained to them, they immediately realised their error and expressed their full loyalty with Khilafat.
Moreover, they stated that even when they had distanced themselves, they did not detach from Khilafat, but only from some of the office-bearers. Therefore, this is their level of loyalty and sincerity.
Similarly, those who had come from Gambia, Ivory Coast and various other countries, all expressed similar sentiments and emotions. Each of them were expressing their utmost sincerity, loyalty and devotion in their own unique way.
I have previously mentioned this as well that during the occasion of the Jalsa in Ghana, there was quite a distance from our residence to the Jalsa Gah. Since it was a meandering road, therefore it was almost a distance of one kilometre.
However, the women and men would line up and would have children lifted in their hands in order to convey their salaam. There would be a display of such deep emotion. There were almost 50,000 women in attendance at the Jalsa of the centenary year of Khilafat and they were all expressing their sincerity and loyalty with Khilafat. Their deep love was evident from their eyes, their conduct and their faces. They also know how to safeguard their prayers and they would actively take part in the Tahajud prayer and congregational prayers.
When I travelled to Nigeria the second time, I travelled by road from Benin – or perhaps I believe it is relating to the first visit in 2004 – in any case, we stopped at a place where initially we had not planned to stop, but it was mentioned that a new mosque had been constructed which they wanted me to see. Members had also gathered there and it was the desire of the men and the children to shake my hand and the women also wanted to come forward and see me from close.
However, due to the shortage of time, it was not possible to shake everyone's hand, but those who persisted in their efforts managed to shake my hand. There was a particular moment where the crowd was pressing ahead and one of the members of our entourage told one of the ladies to move a little back.
However, this lady became so angry and it seemed as if she was about to lift him and throw him away and say, "Who are you to come between me and my Khalifa?" Such were their emotions. However, after a short while, I told them all to quieten down and take their seats and it was only thereafter that the Ahmadis who were in their hundreds quietly sat down. Thus, such was their bond with Khilafat. (Khutbaat-e-Masroor, Vol. 6, pp. 191-192)
People often assume that the people living in the USA are very materialistic and have very little connection with faith.
However, Hazrat Khalifatul Masih IIIrh also narrated an incident of how he once received a letter with a threat and when this news became apparent to others, there were two Ahmadi members who were professional security guards and they travelled there and stood guard outside his residence all night.
Nevertheless, the members of USA [Jamaat] also have a lot of sincerity. Whenever I have visited USA, they have always expressed their sincerity and loyalty. Also, delegations from USA also come here to visit and express their sincerity and loyalty for Khilafat.
Thus, their practical example in itself refutes this notion that they are only immersed in worldly pursuits. The youths who were on duty spent their entire time with me throughout my tour. Some of them even risked their businesses and employments. There were some members who mentioned that they had only recently started a new job, but they couldn't get leave to attend the Jalsa and see me, therefore they left their jobs and came. (Khutbaat-e-Masroor, Vol. 10, p. 424)
Similarly, Khuddam from Canada display the same spirit. Hence, whether it be youth, children and women belonging to USA, Canada or any other country of Europe for that matter, everywhere one can find such examples of sincerity and loyalty.
However, this sincerity and loyalty cannot be instilled through human effort. A few years ago, I delivered a sermon in Germany in which I spoke about displaying obedience and sincerity towards Khilafat.
In fact, it was not just addressed for the people of Germany, but for everyone and should be considered this way. However due to the situation there I gave a few examples from within Germany.
In any case, Ahmadis from all over the world responded to this and wrote letters expressing their complete obedience and loyalty for Khilafat. Similarly, the members in Germany also expressed similar sentiments. In fact, some of them particularly mentioned that as office-bearers they would at times offer their own interpretations and inferences of the directives they received and that in future they will insha–Allah not act in this manner. May Allah the Almighty enable them as well as the rest of the world to act according to this. (Khutbaat-e-Masroor, Vol. 12, p. 369)
Qasim Sahib from Jordan writes:
"The most beautiful and greatest proof of the truthfulness of the Promised Messiahas is that God Almighty Himself has instilled the love and obedience of Khilafat in my heart. A few years ago when I decided to take the Bai'at, a thought crossed my mind about whether or not the Jamaat was still established on the right path and fulfils the objectives of the Promised Messiahas. Up until that point, I had no idea about Khilafat. Upon this, God Almighty showed me in a dream that Khalifatul Masih was spreading peace and tranquillity and was issuing verdicts between those who quarrel and argue. After this, I placed my hand upon yours" – he wrote this to me – "and kissed the ring, upon which I instantly felt your love and kindness. An extraordinary sense of love was instilled in my heart for you, which is increasing day by day. I wish to renew my pledge of allegiance and distance myself from every person who removes themselves from your obedience." (Al Fazl International, 6 April 2018, p. 15, Jalsa Salana UK 2017, Second Day Address, Second Session)
In Bulgaria, our opponents have left no stone unturned in our opposition. After a long time, the Jamaat has now been [officially] registered, whereas the registration had been cancelled previously. The mufti [Islamic scholar, expert in the field of Jurisprudence] of Bulgaria even tried to persuade some Ahmadis to leave the Jamaat by offering them something in return.
However, by the grace of Allah, not only are the Ahmadis there resolute in their faith, they are expressing their sincerity even more than before and have demonstrated their relationship of loyalty towards Khilafat-e-Ahmadiyya. One woman was visited by three men and they asked her to abandon Ahmadiyyat and to join with them, and in return they even offered to provide her with assistance.
In reply to them, this mujahida [one who strives in the way of God] answered firmly saying, "Ahmadiyyat is true and I have recently met my Khalifa. Furthermore, God Almighty has shown me several dreams in which He showed me that Ahmadiyyat is true. Therefore, there is no way that I would leave Ahmadiyyat." (Al Fazl International, 1 November 2013, Vol. 20, edition. 44, p. 14, Concluding Address Jalsa Salana Germany 30 June 2013)
The current missionary-in-charge of Benin writes:
"In the recent Jalsa [gathering] for the new converts, Razzaq Sahib who attended the event said, 'In the world, if someone is faced with a problem, they would go to their chief. If he was unable to resolve the issue, he would go the governor of the province and after that, he would go to the mayor and subsequently the minister. Eventually he would go to the president and even then, there is no certainty that he would listen or help. However, the system of the Ahmadiyya Jamaat is extraordinary. We have a Khalifa who understands the issues of every single person, irrespective of their language, race or background.' He further stated, 'It is owing to the blessings of the Khilafat-e-Ahmadiyya that we are attached to the Holy Quran and the Islam brought by the Holy Prophetsa has now reached us.'"
Laila Sahiba from France says:
"I performed the Bai'at in 2017. Every morning, I read the letter you wrote to me, which has completely transformed my life. In every prayer of mine, I pray for you be granted protection, help and support."
This prayer can only be offered as a result of Allah's grace bestowed by Him alone.
"After taking the Bai'at I have become a new person altogether."
The missionary serving in the San region of Mali writes:
"A member of our Jamaat in Wolon, Abdur Rahman Kolibali Sahib passed away recently. A short while before his demise, he gathered all of his children and said, 'If I was younger and had the strength to walk about, I would go to the mission house and render any service the Jamaat required of me.' He also advised his children that he had two months of outstanding Chanda and he is unsure what the future holds, thus they ought to pay the arrears so that he does not depart this world in debt. The third advice he gave his children was to remain attached to Khilafat, and never show disloyalty to it and to always pay their Chanda [monetary contributions]."
Amir Sahib of The Gambia writes:
"A lady named Rehmat Jalo Sahiba performed the Bai'at and after she was informed about offering sacrifice in the way of God, she immediately took out 100 dalasi. She owns a small shop, but she gave Chanda, which was greater than her means and said that she only desired the love of Allah and His Khalifa. She further said that it was owing to this love that she gave the Chanda and offered sacrifice in the way of God Almighty."
Izat Amaan Sahib from Tajikistan writes:
"When my mother was 72 years old, she fell severely ill. Her health had deteriorated over the years due to her heart condition and anxiety issues. Owing to the verdict of the doctors, my relatives were not hopeful."
He further writes, "Having met the Khalifa and because of this relationship, I was convinced that if I requested for prayers, it would certainly be accepted."
He writes, "Nonetheless, when I wrote for prayers, I received a reply in which homeopathic medicines had also been prescribed. My mother recovered and at present she is 79 years old"; this was at the time he wrote this.
"She even intends to go for Hajj. This was all due to having a relationship with Khilafat and a result of prayers of the Khalifa that Allah the Almighty has granted her a long life."
Allah the Almighty demonstrates such signs in order to strengthen one's faith and conviction that the Promised Messiahas was truthful and sent by Allah the Almighty.
Tahir Nadeem Sahib has written an account showing the love an Ahmadi child has with Khilafat. He states:
"During a visit to Turkey, I had the chance to visit the home of an Ahmadi family. I had only just sat down when a three or four-year-old child came and after greeting me, he whispered in my ear that he wished to send a letter to Huzoor and whether I would take it for him. I agreed to take the letter. At this, the child scribbled two lines on a piece of paper. When I asked what he had written in the letter he said, 'I have written that Huzoor, I love you.'"
Tahir Sahib says he then gave the letter and the reply also went to them from me. He says that according to the child's father, when he received the reply to his letter, the child as well as the rest of the family were overcome with joy and could not contain their excitement. Similarly, the missionary-in-charge of Macedonia writes another incident about a child; he writes:
"During a recent visit to Bosnia, owing to our preaching endeavours, I became acquainted with a Pakistani gentleman and met with him a few times. He told me that some time ago, he had met a family at Dubai Airport. They had a three or four-year-old daughter who was advising everyone to offer prayers and to speak the truth. When I learnt that the family belonged to the Ahmadiyya Community, I asked the girl what was her greatest desire, to this she replied, 'I wish to meet my beloved Khalifa, who resides in London.' He then said that this had a lasting impression on him that a girl of such a young age only desired to meet with her Khalifa."
Likewise, recently, when I prohibited children playing a video game because of the harmful habits that can develop as a result of playing that, initially parents were worried as to how they would stop their children. However, many parents have written to me saying that after listening to my sermon, the children themselves said that since the Khalifa has prohibited that game, they would not play it.
Even now, I receive many letters in which the children ask if they are permitted to play for such and such time. This shows that they have a realisation that owing to their relationship with the Khalifa they are not to deceive him, nor do they do those things which the Khalifa has prohibited for their own sake. The missionary from Honduras writes:
"A local Ahmadi, Percy Maurio was facing certain difficulties. Seeing his situation and his difficulties, I advised him to write to the Khalifa for prayers. He said that after writing the letter, most of his troubles resolved themselves. He said he was granted a hidden power and this increased him in his belief and conviction in Khilafat."
Affari Sahib from Morocco writes, "You have enlightened my heart and my entire life with the blessings and mercy. I am grateful to God Almighty Who has granted me guidance. When I see you, I become intoxicated with an extraordinary feeling. I have never sat with you nor ever spoken to you. Undoubtedly, this is true love that has been bestowed by God. May Allah always grant you His help and succour."
Iman Sahiba from Yemen writes:
"I love Huzoor more than myself, my children and my family. He is the peace and comfort of my heart. I am hopeful that God Almighty will ensure that all matters return to normal. Th e advent of the Promised Messiahas and the Khulafa aft er him, was in order to bring about peace and reconciliation after the discord and so that the burden of our saddened hearts may be removed. My condition is similar to the saying of the Holy Prophetsa when he said, 'O Allah! I care for nothing other than for You not to be displeased with me.' I pray to God Almighty to be included among the fortunate ones whom you love and are pleased with their family."
Taufeeq Sahib from Tunisia writes:
"We love you dearly. We have boarded your ship through which we receive our guidance and moral training. We have tasted the fountain of the Promised Messiahas and quenched our thirst from it. We are resolute upon our pledge. We can never reform ourselves unless we remain attached with you. We do not desire anything from this world; all that we desire is to be counted amongst those regarding whom it is said that they have attained success due to the blessings of this blessed Jamaat. I request for prayers to remain firm on my pledge and to be granted the opportunity to act in accordance with it and also for the Muslims to become united."
Nonetheless, I have presented a few examples from which it becomes clear that it is only Allah the Almighty Who can instil loyalty and sincerity in the hearts of people and no worldly power can take that away from them. The Promised Messiahas stated that we would see the fulfilment of God's promises. We ought to pray so that as many people among us are given the opportunity to witness the fulfilment of these promises. I would now like to make an announcement regarding MTA. This was also a promise of God vouchsafed to the Promised Messiahas about the spread of his message throughout the world.
Thus, from 27 May, on Yaum-e-Khilafat [Khilafat Day], the MTA channels have been reorganised, the details of which I shall mention. In the beginning, there were some difficulties in certain areas, particularly in USA, but should now have been resolved.
I would like to mention that under the new system, MTA has now been split into eight different channels, which has been divided according to locations.
MTA 1 will principally be for residents of the UK and some European countries. The main languages of this channel will be English and Urdu, i.e. the programmes broadcast on this channel will be in the Urdu and English language. Programmes in other languages will also be shown with Urdu and English translations. Live programmes and other [live] recorded programmes of mine will be broadcast through MTA 1 World and to the other channels of MTA as well.
MTA 2 Europe: this channel will be for viewers residing in Europe and the Middle East. On this channel, programmes will be broadcast in English, Turkish, French, Spanish, German, Dutch, Russian and Persian. At present, different languages are broadcast in 2-hour slots. Programmes will be added to the aforementioned languages accordingly.
MTA 3 Al-Arabiyya: this channel will continue to broadcast in its existing format. Arabic is the main language of this channel.
MTA 4 Africa: this channel will be for viewers in Western and Eastern Africa. The main languages of this channel are English, French and Swahili. Programmes in these aforementioned languages will air on this channel.
MTA 5 Africa: this channel will be for viewers in Western Africa. The main languages of this channel will be English and also programmes will be broadcast in Creole, Hausa, Twi and Yoruba.
MTA 6 Asia: this channel will be on AsiaSat. This will be for viewers in Asia, the Far East, Indonesia, Japan, Australia, New Zealand and Russia and so on. The main languages of this channel will be Urdu, English and Indonesian. Programmes on this channel will be broadcast in English, Bangla, Sindhi, Pushto, Saraiki, Persian, Indonesian and Russian. Previously as well, channels were running in a similar way however they have been regionalised further so relevant programmes will broadcast for countries according to their time zones.
MTA 7 Asia: this is a HD Channel that can be accessed through smaller satellite dishes. This will be for viewers in India, Pakistan, Bangladesh, Sri Lanka, Nepal and so on. The languages on this channel will be Urdu, Bangla and Hindi. In addition, there will be programmes in Tamil and Malayalam.
MTA 8 America: this will be for viewers in America, North America and Canada and so on. All these programmes were essentially already running in this format and will continue in the same way, only a few adjustments and variations have been implemented in schedules on these channels now. Anyhow, MTA 8 America, as it has been named, will be for viewers in America, North America, and Canada and so on. The languages and programmes on this channel will be in English and Urdu and also programmes in French and Spanish.
The following live programmes will also air on these various channels: Rah-e-Huda, Al-Hiwar-ul-Mubashar and the Bangla programme will feature on all MTA channels with translations in various languages.
Then there is MTA Journal, Islam Verstehen – this is a programme in German and will feature on MTA 2 Europe. Horizons de Islam, a French programme, will broadcast with translations on MTA 1, MTA 2 Europe, MTA 4 Africa and MTA 5 Africa. Intikhab-e-Sukhan and some other programmes will feature on MTA 1, MTA 2 Europe, MTA 6 Asia and MTA 7 Asia.
Nonetheless these modifications have been made accordingly with these channels. Sometimes one may have to make slight adjustments to their settings [to watch], however generally there will be no change as the channels will operate as they did, only they have been adjusted according to these channel arrangements.
May Allah the Almighty infuse blessings in this new arrangement and may MTA be able to convey the true message of Islam to the world to an even greater degree than before.
(Original Urdu script published in Al Fazl International, 19 June 2020, pp. 5-10. Translated by The Review of Religions.)