Arshad Mehmood, Scotland
Jamaat-e-Ahmadiyya Scotland held its virtual Religious Founders Day on the theme "Love Thy Neighbour" on 11 April 2021.
There were representatives from Islam, Sikhism, Christianity and Jewish faiths in the programme who presented the teachings of their religion on the theme "Love thy Neighbour". The online event was broadcast on YouTube, Facebook Live and Twitter periscope etc. The event had an audience of more than 1000 participants online from all walks of life.
The event started with the recitation of the Holy Quran with English translation followed by an introductory video about Islam Ahmadiyyat and Khilafat. Muhammad Ahsan Ahmad Sahib, regional president of Scotland welcomed all guest speakers of other faiths and highlighted that the event was supposed to be held at the mosque but due to the restrictions it had to be done virtually. Mo-az Ahmad Sahib presented a slideshow and showed humanitarian work done by the Scotland region in Glasgow, Edinburgh, Fife and Dundee.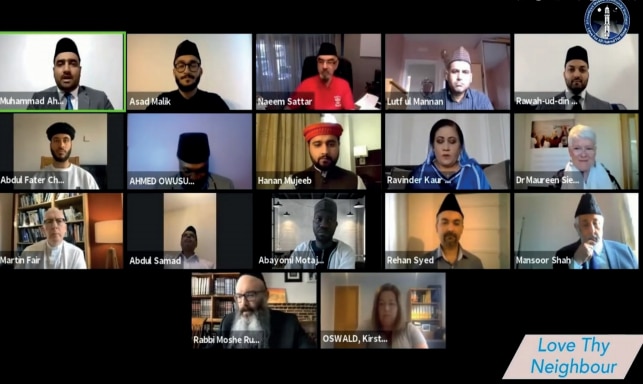 Rabbi Rubin, Senior Rabbi of Jewish Community in Scotland said:
"I am deeply impressed by the teachings of Islam Ahmadiyyat and the respect you have for other faiths. He added that loving thy neighbour is a fundamental Jewish law, let me say it's a universal law."
Dr Maureen Sier, Director, Interfaith Scotland said:
"I know that the Ahmadiyya community has been organising such events to bring all religions together and this is the need of the modern era. She added that 'Love thy neighbour' is such a simple rule and yet it is deeply profound and holds the whole world within it."
The Right Rev Dr Martin Fair, Moderator of the General Assembly of the Church of Scotland said:
"'Love thy neighbour', the easier it is to say, the harder it is to practice and all who is needy and you know him is your neighbour."
Ravinder Kaur Nijjar, the Sikh representative Scottish Religious Forum, Advisor to Sikhs in Scotland said:
"All were created equal by the creator […] Love our neighbours and be a shining example to future generations."
Rawah-ud-din Arif Khan Sahib, missionary Jamaat-e-Ahmadiyya Scotland said:
"As an Ahmadi Muslim, love for humanity is a vital part of our faith which is clear through our community's motto: 'love for all, hatred for none'."
Mansoor Shah Sahib, Vice President Jamaat-e-Ahmadiyya UK said:
"All religions should build a society together where we march towards civilisation […] We need to move forward rather than backwards and respect everyone."
Viewers also benefited from a presentation at the event, focusing on the event organised for the upcoming month of Ramadan. An open invitation was given to all to join the "Big Virtual Iftar" events organised over the next four weeks. Members of the public can register online via https://bigvirtualiftar.co.uk/