A Abdul Aziz, Sri Lanka Correspondent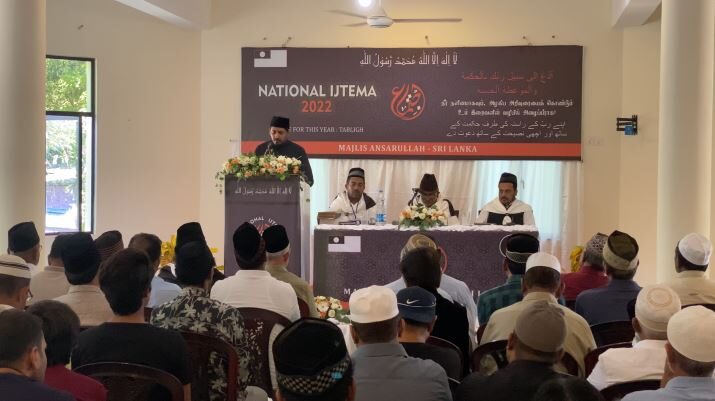 Majlis Ansarullah Sri Lanka held their annual Ijtema in Pasyala on 6 and 7 November 2022. The theme for this year was tabligh. This was the first time a Jamaat's auxiliary organisation in Sri Lanka held their Ijtema after the Covid-19 pandemic.
On the first day, various sports competitions were held. The second day's programme began with Tahajjud and Fajr prayers, followed by dars and breakfast.
After the flag hoisting, the morning session was presided over by the national president, S Nizam Khan Sahib. He spoke about the history of Jamaat-e-Ahmadiyya Sri Lanka and how Allah the Almighty had blessed the Jamaat.
Sadr Majlis Ansarullah Sri Lanka, IA Mashood Ahmad Sahib explained to Ansar that one should not think that we were old and we could not do anything. We had to strive to do our best to perform tabligh and serve the Jamaat.
This was followed by various academic competitions.
After this, a documentary was played about living a healthy lifestyle, followed by lunch and Zuhr and Asr prayers.
During the final session, missionary-in-charge AB Mushtaq Ahmad Sahib delivered a speech where he narrated certain historic incidents to rejuvenate the faith of those present. The prize-giving ceremony took place after this, followed by a silent prayer and the event concluded.