Marwan Ahmad Gill, Missionary, Argentina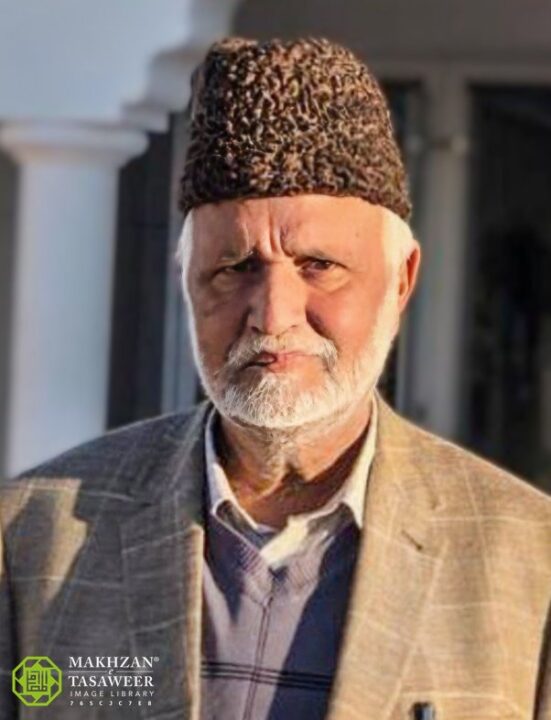 As students and graduates of Jamia Ahmadiyya, we are fortunate to have mentors who exemplify the virtues of obedience, sincerity, humility, and hard work. The late Munawwar Ahmad Khursheed Sahib was one of those devoted individuals, as Hazrat Khalifatul Masih Vaa mentioned during his Friday sermon on 31 March 2023:
"He was a missionary who fulfilled his devotion with exceptional faithfulness, he was an exceedingly humble man who had the opportunity to serve for a long time, living up to the true standard of rendering service […]. From 2008 to 2012, he also had the opportunity to serve as a teacher in Jamia UK. Wherever he was able to serve, he worked excellently […]. May Allah the Almighty continue to grant the Community such loyal missionaries who render services selflessly and fulfil their tasks. May Allah elevate his rank in Paradise. Amin."
My first personal encounter with the Khursheed Sahib was only a few days after I had started my first year at Jamia UK. He wasn't our teacher at that time, but one day when he saw me in the morning assembly, he called me over and asked me to introduce myself. It was a very short conversation in which he inquired how I was and if I had settled down well, but his kind gesture left a strong impression on me. From that moment on, I considered him a fatherly figure and always felt comfortable reaching out to him. I also had the privilege of being a student in his history classes, although he was much more than just our history teacher. His relationship with us would extend beyond the four walls of the classroom and the syllabus. He would, based on his long experience as a field missionary, give us precious advice and share his knowledge on a range of various topics. One of his recommendations that really helped me in the field is that as life devotees, we should be very careful when it comes to "qalam, qasam and qadam". In Urdu, these three words are very similar, and what he meant by this is that before publishing anything, taking an oath, or taking any important decision, we should pray and take our time to pray and reflect.
Another piece of advice that helped me a lot was when I was preparing for my appointment in Argentina. He was very happy about my assignment and said that I should consider it a blessing that the Jamaat has chosen me to serve as a pioneer in a new country. He encouraged me by sharing some of his personal anecdotes, challenges and stories. He put a lot of emphasis on the fact that I should keep personal friendships with my tabligh contacts and at the same time, even if I see un-Islamic rituals and customs in them or in our new converts, I shouldn't condemn them immediately but do their tarbiyat gradually and in a soft and kind manner.
Another aspect which I witnessed personally in Khursheed Sahib was his passion for preaching the message of Islam Ahmadiyyat. On one occasion I received his call and he shared with me the contact information of a Senegalese who had just moved to Argentina. Hence, he instructed me to maintain contact with him, as the gentleman had once attended a Jamaat event in Senegal.
For the benefit of Al Hakam readers – especially life devotees – some further personal accounts are attached, written by his students who are now serving as missionaries in different parts of the world.
Attaul Naseer, a missionary in Greece, writes:
"I had the honour of being a student of Munawwar Khursheed Sahib during my Jamia years and then this relationship of student and teacher continued even afterwards. I was witness to many of his beautiful qualities. He was one of the very senior missionaries, but I never felt any form of arrogance in him. He was always very humble. He taught us the history of Islam in such a unique way that I personally developed a keen interest in the subject. Knowing that I have this interest even during the lesson, he would honour me by asking about some facts related to Islamic history that he would be teaching. By doing so, he taught us that even if we are teachers, we should not feel embarrassed about confirming some facts by asking others. This would encourage me to learn even more.
"He would not only teach us but prepare us for our future duties as missionaries by telling faith-inspiring stories from his own life as a missionary. Once during Jamia, he called me to the staffroom, where some other students were also present and he told us that he was organising a Jalsa in Senegal over the phone. At that time, Zoom or Teams were not available, so his dedication to his service was evident from the opportunities that he would create to serve.
"On a different occasion, he showed me a picture from Senegal where he was sitting on the floor while many Senegalese brothers were sitting around him and they were all eating and having a laugh. By just showing me this picture, he told me how a missionary should behave when he is in the field in a foreign land. He should become part of the local people and they should also feel the sincerity of this brotherly relationship.
"His love for Khilafat was not hidden from anyone. He was a true Sultan-e-Naseer of Khilafat. He narrated one of his stories to me about how Allah Almighty saved his life due to the instructions of our beloved Imam, Hazrat Khalifatul Masih Vaa. He was about to leave for Senegal and before his departure, he had a mulaqat (meeting) with Huzooraa, during which Huzooraa showered him with so much love that while he was narrating this incident, I could see tears in his eyes. He narrated that when he was about to take leave, Huzooraa held his hand for a very long time and told him not to go yet but rather to wait for some time. On the day of his flight (which he did not take due to Huzoor'saa instructions), he developed severe pain in his chest and was hospitalised. If he had taken that journey, then the pain would have occurred while he was on the flight, or later in Senegal, where he would not have been able to receive emergency help the way he did in the UK."
Abdullah Dibba, a missionary in the USA, recalls:
"Three of us Gambian students had left The Gambia in October 2008 to attend Jamia Ahmadiyya UK. We arrived in the UK on a Friday night, and the very next morning 'Amir Khursheed Sahib' – the name by which he's referred to in The Gambia – walked into the guest house where we were temporarily accommodated. As soon as he walked in and greeted us, he asked if we knew who he was. I had no idea, but Muhammad Mbaye Sahib remembered his face as he worked closely with his father.
"I, on the other hand, had no idea who he was. But as soon as Mbaye Sahib mentioned his name, I knew exactly who he was talking about. Amir Khursheed is a household name in The Gambia. He talked about all of our fathers with such great detail and so many vivid memories that we were all stunned by his memories of The Gambia Jamaat members and his knowledge of the geography of the entire country. After a few moments, Ameer Khursheed Sahib's phone rang and he asked to excuse himself to attend the call. The call was from some Ahmadis in Senegal. I couldn't understand what he was saying, but I could tell that he was speaking in the Fula language. My own maternal grandmother belongs to the Fula tribe, but I don't know the language. Growing up, I had heard about his communication skills and mastery of the local languages, but I was shocked at the fluency with which he was speaking. When he dropped the call, he continued talking to me, but now he had switched to my native language, Mandinka. I asked him how he managed to learn all these languages. He told me that when he got to The Gambia as a missionary, he started attending the local elementary school and mingled with the children so that he could easily pick up the language. He would sit in the classroom with the children and they were surprised by the amount of hair on his arms, so they would ask if they could touch it. The kids were surprised because the other foreigners, mainly tourists, who would come to The Gambia would never come near them, but here was Maulana Khursheed Sahib going to school with them and playing with them as if he were in their age group. This left a lasting impact on not only the children but also their parents and the wider village. And it opened many doors for tabligh."
Muhammad Mbaye, a missionary in The Gambia, writes:
"The late Maulana Khursheed Sahib was a man who worked closely with my father, whose name is Hamidou Mbaye. My father was also a preacher of the Jamaat and travelled with Khursheed Sahib to many places to introduce the message of Islam Ahmadiyya for the first time. My father told me that Maulana Sahib was a very wise and intelligent person when it came to preaching. Moreover, he would eat and drink together with the local people and thus always show appreciation for their humble gifts and food.
"At the beginning of my life as a Jamia student, I felt frustrated because I thought I would never be able to understand the Urdu language. One day Khursheed Sahib came to me and said: 'My son (he would often call me this as he had a great love for me) come to the library.' He took an Urdu storybook and started reading it and he told me to follow him carefully while he was reading it. He started explaining to me many rules in the Fula language, which he could speak better than me, although I am a Fula. He sometimes used to tease me by saying, 'You are a Fula and yet you cannot speak Fula as fluently as me.'
"For several weeks, he gave me private Urdu lessons in the library and all my doubts and confusions were removed and I started understanding and reading the books in Urdu. Later, he instructed a senior student to also assist and help me."
Raheel Ahmad, a missionary serving at the UK History Department, writes:
"My earliest memory of Maulana Munawwar Ahmad Khursheed Sahib is at the small Salat Centre in Tooting, London. An elderly, humble, loving and approachable man. Whenever he came to the Isha prayer and delivered the dars, the young, who were normally eager to leave, would stay behind instead. We appreciated his style of dars, as we would find the right combination of deep intellectual insight communicated in the form of stories. He played a crucial part in the tarbiyat of the entire Jamaat in the area, notably the khuddam and atfal, and was undoubtedly a father figure for all of us. He was the reason that many young khuddam from the Tooting Jamaat decided to join Jamia Ahmadiyya UK, including me.
"There are numerous qualities that make a person great; nevertheless, Khursheed Sahib's ability to elevate others despite his own seniority is a quality that I will always remember about him. He always demonstrated a desire to bring out the best in others. On numerous occasions, I have witnessed Khursheed Sahib consulting young children around him for their input on a variety of important issues. This was done to ensure that they felt included and important. His company never made you feel insignificant and it would always remind me of the following verse:
'If thou hadst been rough and hard-hearted, they would surely have dispersed from around thee. So pardon them and ask forgiveness for them, and consult them in matters of administration.'" (Surah Aal-e-Imran, Ch.3: V.160)
Shahzad Ahmad, a missionary serving at The Review of Religions, recalls:
"As a teacher, a group in-charge and also the father of a dear Jamia class friend, Muhammad Ahmad Khursheed, I had the good fortune of interacting with the late respected Maulana Munawwar Ahmad Khursheed Sahib in many different ways, both during the years of my study and beyond. I have many beautiful and fond memories of Khursheed Sahib, however, I recall a particular incident that reflects his remarkable character and exceptional qualities.
"During the academic term of Jamia Ahmadiyya, Khursheed Sahib once fell quite seriously ill and was admitted to the hospital for some time. In his absence, his Islamic history course was being covered by other staff members. However, one morning, whilst sitting in our Islamic History lesson, the door suddenly opened halfway through the lecture, and to our utter surprise and astonishment, Khursheed Sahib was standing at the door. His hospital gown was visible under his overcoat and the IV tube was still on his wrist along with the hospital wristband. I can still vividly recall the radiant glow and warm smile on his face as he stood at the door. Khursheed Sahib then told us that, owing to his prolonged stay in the hospital, he was eager to visit Jamia and meet the students and so he left the ward without notifying the hospital staff, sat on the train and came straight to Jamia Ahmadiyya. He didn't even come inside the room; he simply greeted us and then returned, lest the nurses become alarmed at his disappearance.
"The memory of this simple yet deeply profound incident remains etched in my heart. Teachers often consult a multitude of sources and spend hours in preparation for their lectures. However, having spent hardly a minute at the door of our lecture room, Khursheed Sahib in fact imparted a timeless and invaluable lesson to us all through this one simple act. It was indeed a lesson in courage, determination and the spirit of sacrifice, qualities that were deeply ingrained in him.
"Despite his extremely poor health and challenging conditions, Khursheed Sahib demonstrated to us through his own practical example that no matter what the circumstances may be, a life devotee must always be ready to offer every kind of sacrifice for the sake of their faith. May Allah the Almighty elevate his soul and grant him His mercy and forgiveness. Amin."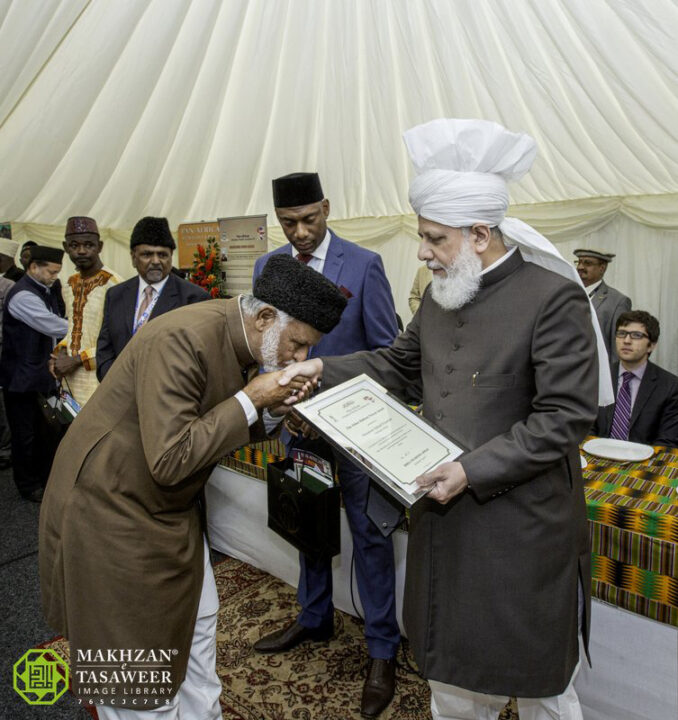 Ataur Rehman, a missionary in Ireland, says:
"From the moment I first met Maulana Munawwar Ahmad Khursheed Sahib, he left a deep impression on me. During that first encounter, I recall him sharing some stories and experiences from which it was evident that not only was he very knowledgeable, but he had a wealth of experience that he could articulate in a simple yet moving manner.
"In the early days, I remember him sitting in the Jamia mosque and casually attending a Jalsa in Senegal over the phone and delivering a speech. I was surprised to see that Khursheed Sahib was fluent in the local language and delivered the speech without anything written on paper.
"I consider myself very fortunate to have had the opportunity to spend a lot of time with him during my years as a student at Jamia. Munawwar Ahmad Khursheed Sahib showered me with his special love and affection and treated me like a son. He had high expectations of me and always encouraged me to do more. He taught my class the history of Islam and he also happened to be my group tutor.
"One of the things I learned from him was the art of taking notes. Khursheed Sahib could recall incidents and anecdotes on different topics with great ease. While teaching us the history of Islam and in particular the book, The Life of Muhammad, he taught us to write incidents in the form of a chain and only note important information like names, places, figures, etc., and this way we would be able to recall the entire incident. Under his supervision, I took notes on this book, which I still have. Even today, I benefit from taking notes in this manner and I'm deeply grateful to him for this.
"Even as a tutor, Khursheed Sahib took great care of us. I recall that he once invited the tutor group for a barbecue at his house when he was living in Tooting, London, and we all hugely enjoyed it. It was moving to see how Khursheed Sahib lived with such simplicity, yet he was so content with what he had."
Jalees Ahmad, a missionary serving in the Ahmadiyya Archive & Research Centre, recalls:
"Throughout my time at Jamia Ahmadiyya UK, I have had the privilege of learning from many teachers. When I reflect on my experience and journey, Maulana Khursheed Sahib is among those teachers who have left a lasting effect on me.
"I still recall his Islamic History lessons like it was yesterday. They were not just informative, but also deeply impactful. At times, to lighten the mood in the class, he would share some of his tabligh incidents. Not only were they engaging, but also filled with valuable life lessons, and I often found myself reflecting on them even after class had ended, and even today. Listening to him was like reading a captivating book that you don't want to put down.
"I vividly remember his lessons on Islamic History, even to this day. His teaching method, which I'm sure all his students will attest to, was unique and effective. After teaching and explaining a lengthy incident from the history of Islam, he would then summarise it in just a few words. This style and method has indeed stood the test of time, as whenever I read a Hadith or an incident from the life of the Holy Prophetsa, early Islam, or the life of the Promised Messiahas those same words that Khursheed Sahib used to summarise the incident seem to float in my mind."
Aqeel Ahmed Kang, a missionary serving at MTA International, recalls:
"Maulana Munawwar Ahmad Khursheed Sahib was known for his cheerful demeanour. His ability to inject a witty remark or joke into any conversation was well-regarded. I recall seeing him at Baitul Futuh Mosque last summer, right before Friday prayers. Even though he had recently undergone surgery that required one of his fingers to be amputated, he carried himself with remarkable poise and composure. He was wearing his trademark big smile, making it hard to tell that he had just come out of a hospital.
"Khursheed Sahib was an exceptional man of action; a life-devotee, whose poor health and advancing age never impeded him from pursuing his mission. He would never sit idle. I recall that soon after I graduated from Jamia, he invited me to his home to discuss with me his plans to pen a brief autobiography. Despite not knowing how to type Urdu, he forged ahead and accomplished the seemingly impossible by publishing his book, which was later translated into English as "Cherished Memories of Africa". Another remarkable example of his determination and activeness is how he went on a tabligh tour of Spain. I recall that when he came back from Spain, he attended the UK missionaries' monthly meeting, and shared with us some of the ways to preach to the African diaspora in the UK. In his Friday sermon, on 31 March 2023, Hazrat Khalifatul Masih Vaa also commended his work in Spain and said, 'Upon my instruction, he also visited Spain on various occasions. There, he preached Islam to the African residents and did excellent work. […]
"'May Allah the Almighty continue to grant the Jamaat such loyal and devoted missionaries who render services selflessly and fulfil their tasks. May Allah elevate his rank (in paradise).'" Amin.