Syed Mukarram Nazeer, Canada Correspondent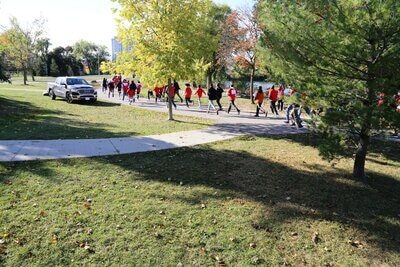 Every year, Majlis Khuddam-ul-Ahmadiyya Canada holds charity runs across the country. Participants run in these events for a distance of one, three, or five kilometres. Since the inception of these charity runs, MKA Canada has raised over $1,300,000 for local charities.
On 9 October 2022, MKA Brampton East Region and Brampton West Region held their 4th Annual Charity Run in the city of Brampton Ontario. It was organised under the banner of "Mercy for Mankind – Run for Brampton".
Registration for the event started at 9 am. The local Amir of Brampton East Imarat, Zahid Masud Sahib, and the local Amir of Brampton West Imarat, Abdul Jabbar Zafar Sahib were joined by several dignitaries to inaugurate the run. These included a member of the federal parliament, Honourable Sonia Sidhu, Mayor of Brampton, His Worship Patrick Brown and Brampton City Councillor Rowena Santos.
The event formally started at 10:30 am with a recitation from the Holy Quran and its translation. The representatives from Jamaat-e-Ahmadiyya Canada and MKA Canada delivered introductory remarks. The dignitaries spoke briefly and appreciated the work carried out by the community, especially in spreading the message "Love for all hatred for none".
The run was organised in the largest park in the City of Brampton, Gordon Chinguacousy Park. With an area of over 100 acres, it has the widest variety of uses for its space.
In the morning, people were provided with hot coffee and tea. After the run, all participants were served light refreshments and lunch boxes.
Over $65,000 was raised through the event. This amount will be distributed between three local charities; a food bank, a local women's shelter, and a care home.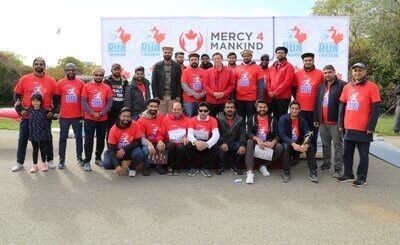 The event was appreciated by many. Some comments on social media were as follows:
Member of the federal parliament, Honourable Sonia Sidhu, said:
"I am proud to support them every step of the way. Way to go! Thank you for organising!"
The Mayor of Brampton, His Worship Patrick Brown said:
"The generosity, love for all and charitable focus of the Ahmadiyya community in Brampton is beautiful."
The total participation was over 300 people.