Mishaal Baten, Paraguay Correspondent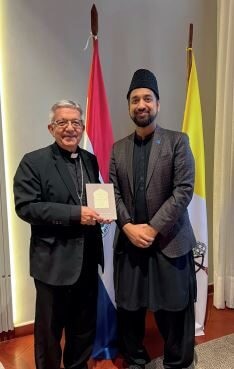 On 21 August 2023, the missionary-in-charge of Jamaat-e-Ahmadiyya Paraguay, Abdun Nur Baten Sahib had the opportunity to meet with the head of the Catholic Church in Paraguay, Cardinal Adalberto Martinez Flores. An introduction to the Ahmadiyya Muslim Jamaat was presented to him, and he was gifted a copy of the Promised Messiah'sas book, The Philosophy of the Teachings of Islam.
During the meeting, they discussed the commonalities between Islam and Christianity. They spoke about how the world is in a very fragile position and the importance of promoting peace in these turbulent times. They also discussed ways to help the poor and disabled people in Paraguay. The Cardinal was invited to attend an interfaith dialogue later in the year hosted by Jamaat-e-Ahmadiyya Paraguay, and he showed interest in visiting the mission house in Asunción.