Last Updated on 8th July 2022
Muhammad Golam Rabbi, Mohtamim Talim, MKA Bangladesh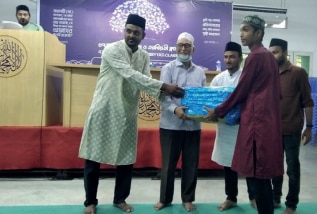 The 47th National Talim and Tarbiyat class of Majlis Khuddam-ul-Ahmadiyya Bangladesh was held successfully from 17to 26 June 2022 at Darut Tabligh Mosque, Bakshibazar, Dhaka. A total of 300 students (98 khuddam and 202 atfal) participated from 61 majalis.
The classes were taken on various topics such as the recitation of the Holy Quran and its memorisation, salat with full meaning, hadith, poems (Urdu and Bengali), speech training (Urdu and Bengali), Urdu learning and Islamic history. Administration-related classes were also organised. Every day, a special class was taken on the life of the Badri Companionsra.
Every evening, special tarbiyat sessions were held where many distinguished guests delivered speeches. Sadr MKA Bangladesh and amir Jamaat-e-Ahmadiyya Bangladesh also delivered speeches.
On 23 June, all the students went on a day-long outing to visit the national zoo in Dhaka. Students enjoyed the outing very much and a special lunch was served. On 25 and 26 June, academic and sports competitions were held.
A total of 15 scholars and missionaries, as teachers, conducted classes during these 10-days.
On 26 June, the class was concluded with a prize distribution ceremony and silent prayer led by naib amir Jamaat Bangladesh.