Atta-ur-Rahman Khalid, Missionary, Dublin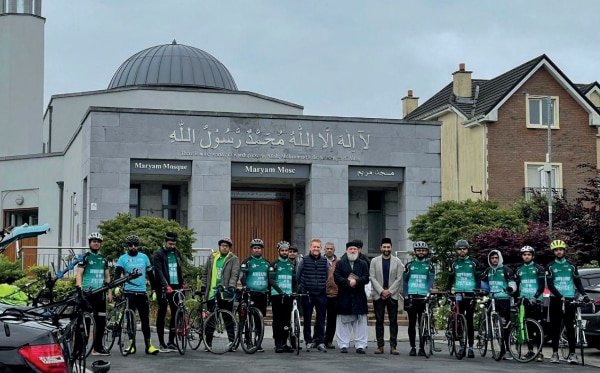 Majlis Khuddam-ul-Ahmadiyya Ireland has been holding charitable events such as the 5K charity walk as well as the newly incorporated Charity Cycle. Subsequent to a successful charity cycle last year, MKA Ireland held its second charity cycle on 11 June 2022.
The charity cycle was inaugurated at the Maryam Mosque, in Galway, in the presence of missionary-in-charge Ireland, Ibrahim Noonan Sahib and councillor Mr Alan Cheevers.
This year, MKA Ireland took the initiative to offer an alternative option of a 50 km route as to the 100 km cycle. This initiative was taken to encourage new cyclists as well as to maximise the effort to fundraise for this year's selected charity, the Irish Red Cross.
11 cyclists took part in the charity cycle and managed to raise over €1300 for the Irish Red Cross. The cyclists began their journey at the Maryam Mosque in their respective groups and cycled through various towns such as Athenry, Loughrea, Gort, and Oranmore before returning to the mosque.
The 50 km group was led by Shaheryar Mirza Sahib and included four other cyclists, while the 100 km group was led by my humble self, which comprised five other cyclists.
This year two new cyclists joined the charity cycle and many more have shown interest and willingness to partake in the next year's charity cycle.