Mateen Bhatti, Secretary Nasirat, UK
On 12 September 2021, Nasirat from the Midlands region of the UK had the opportunity to have a virtual meeting with Hazrat Amirul Momineenaa. This was the second in a series of three virtual mulaqats.
Sadr Lajna Imaillah UK had the honour to attend this virtual mulaqat from Huzoor'saa office in Islamabad.
Midlands and North regions' mulaqats were cancelled due to worsening Covid conditions in July. We were all, therefore, surprised, elated and overwhelmed when Huzooraa kindly rescheduled the dates. It was most endearing and amazing to witness the love and care Huzooraa holds for his Jamaat, be they Lajna, Nasirat or any other person belonging to his Jamaat.
We began to organise under sadr Lajna Imaillah UK's guidance by liaising with regional president, Iftikhar un Nisa Sahiba to send out organisational procedures to all local presidents which, masha-Allah, were promptly and efficiently done.
Two weeks before the mulaqat, Iftikhar un Nisa Sahiba forwarded all three regions a Google form for registration for Nasirat aged 13-15. We received around 70 responses.
On the day of the mulaqat, we departed from London a little after 6 am, and reached safely by 8:30 am having already written a letter to Huzooraa for prayers for a blessed event and a safe journey.
Nasirat were to arrive between 9-9:30 am for registration. It was surprising to see breakfast, tea and snacks all ready and organised for girls, guests and organisers. According to National Sadr Sahiba's instructions, all girls were to have done their lateral flow Covid tests on the morning of the mulaqat and results to be sent to their sadrs.
As we went into the hall to check on how things were going, we saw that MTA had already placed the chairs on laid out carpets, one-metre apart.
Nasirat who were to recite tilawat, tarana and those asking questions had to go through rehearsals in the hall to ensure the smooth running of MTA. This also meant to know how to deal with the mic and lowering their masks when speaking and to be clearer in speech. This took around two hours. They were understandably quite nervous.
Finally, as the MTA team was satisfied that all was well, we were told to be on standby. We waited with bated breath.
Suddenly, the screen came to life! It was as if a light switch had been turned on and the nur emanated the entire hall. One could sense the feeling surely felt by everyone. I couldn't move and was unable to respond to Huzoor's salaam. It took a good few seconds to know what was going on as I slurred and mumbled!
Alhamdulillah, all the girls performed very well, in fact, better than during the rehearsals. What an amazing opportunity, to be mesmerised in the love radiating from Huzooraa for his nasirat. I am sure Huzoor's smiles and tender words will never be erased from the nasirat's hearts for as long as they live.
Huzoor's answers to questions seemed to satisfy them as we noticed they responded to Huzooraa when he explained a point. From climate change efforts to writing to Huzooraa regularly in order to feel special, Huzooraa guided them. Afterwards, they said it seemed as if they were actually physically in Huzoor's presence. What more could one wish for!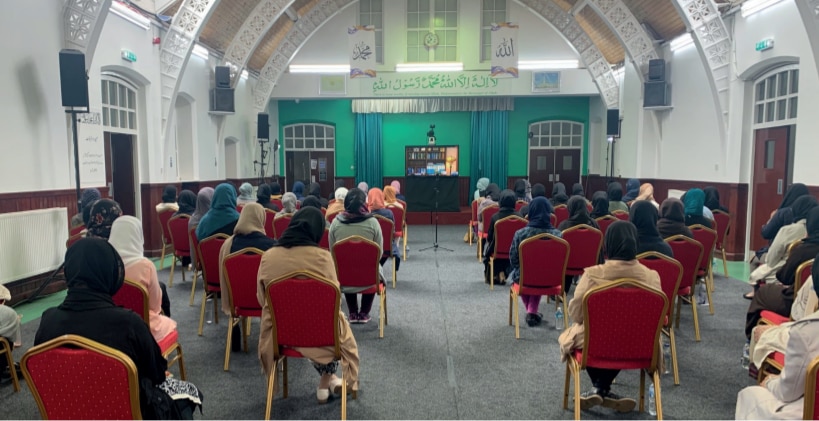 Iftikhar un Nisa Sahiba, Regional Sadr Lajna Imaillah Midlands, said:
"Masha-Allah, nearly all the nasirat turned up well before the given time which again showed how excited and eager they were for this special moment […] During the session, it was amazing to see how confident our girls were while asking a variety of questions. It was so nice to see Huzooraa on the screen in his relaxed manner and with a beautiful smile which put all our nasirat at ease. It was such a blessing to be sitting in that hall listening to Huzooraa while he was answering questions in a very kind and loving way. Masha-Allah, our girls were very fortunate to have the opportunity of this virtual mulaqat."
Below are the impressions from the Nasirat:
Nabeeha Saeed from Peterborough said:
"I think the mulaqat was a special experience because Huzooraa explains things in a very good way which is easy for us to understand."
Aleesha Saleem from Birmingham South said:
"I felt really happy to see Huzooraa after a long time, and it felt so special to hear him and see him. I couldn't help but smile whenever Huzooraa smiled […] It was really special, and I felt really happy. I learned that Huzooraa used to be a quiet person when he was younger, but now, masha-Allah, he is very confident and grateful for God's blessings; he is absolutely wonderful!"
Farhana from Walsall said:
"I thought the mulaqat was really interesting because Huzooraa gave his honest opinion about different things and we learned about things that we might not have known before. I learned that if you are not even a waqifa-e-nau, you can still serve the Jamaat."
Hiba Bhatti from Leamington Spa said:
"I enjoyed this mulaqat so much. It was so good to see Huzooraa addressing us all and answering all the questions so beautifully. About climate change, I learned that we should plant two trees every year, and to try to ride bikes, as well as walk to school and not use cars whenever you go somewhere close-by."
Ashra Safi from Milton Keynes said:
"I really enjoyed the mulaqat, even though it was virtual."
Sakeena Bonsu from Leicester said:
"I really enjoyed the virtual mulaqat with Huzooraa, since we hadn't had one for so long as it had been postponed".
Hajra Malik from Leicester said:
"It was a really good opportunity for me to be here in the presence of Huzooraa, and I felt as if I was in front of him. Something I learned from the mulaqat is how I can make changes to my life, like doing tilawat every day, which I will now make time to do every day."
Amtul Basit Sahar from Birmingham Central said:
"I really liked the mulaqat, and I enjoyed being able to see Huzooraa. I got to learn many things like you should not keep dogs inside the house, but you should take them out for (walks)."
Leza Aimal from Birmingham West said:
"I really enjoyed this virtual mulaqat with Huzooraa. Although it was virtual, I think it was a very surreal moment. I got to ask a question. It was a great opportunity, so I am very elated and just very joyful."
Basma Rafeeq from Birmingham South said:
"I really liked this virtual mulaqat as I got to learn so much from Huzooraa about the questions we asked, and we got to hear Huzoor's voice which was really nice, and it was good to see Huzooraa."
Hibatul Kabeer Sara from Birmingham North said:
"I really enjoyed the mulaqat with Huzooraa after not seeing Huzooraa for over three years. I got to speak to him, and talk to him directly; I couldn't believe it".
Qainat Zaheer from Birmingham North said:
"The class was my first, and I was very nervous, but after hearing Huzooraa, I was comforted […] I was so happy with the answer too."
Sabaha Ali from Luton said:
"The class went very well, and just to be in the presence of Huzooraa felt really amazing after so long not seeing Huzooraa. Huzooraa made everyone laugh and it was such a nice occasion. All the questions were beautifully answered by Huzooraa and it was just so special."
Tooba Daud from West Midlands said:
"Being in this class is such a blessing, especially seeing Huzooraa after such a long period of time. Just sitting and looking at Huzooraa was amazing."
Sophia Chauhdry said:
"I learned how simple and easy it is to follow my religion."
The nasirat who had the opportunity to recite tarana – Sakina, Hajra, Memuna and Alishba from Leicester– said:
"We had the great opportunity to recite a tarana before beloved Huzooraa. Before, during our practice, we felt nervous and were scared about making mistakes. Once we began reciting the tarana, we felt it went really well […] Seeing Huzooraa after such a long time felt really wonderful."