Hafiz Musawer Ahmed Muzzamil, Regional Missionary Tambacounda, Senegal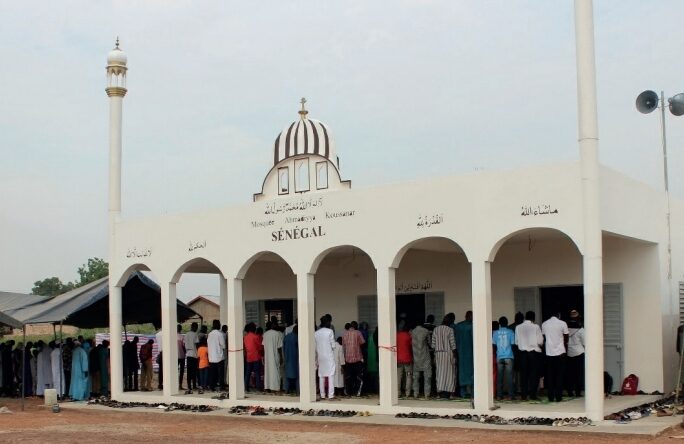 Jamaat-e-Ahmadiyya Senegal had the opportunity to build a new mosque in Tambacounda region which is situated near the national highway in Koussanar, an important town in this region.
Ahmadiyyat has been established in 15 villages around the city.
The mosque is named Ahmadiyya Mosque Koussanar.
The foundation stone of the mosque was laid in September 2020, by Nasir Ahmad Sidhu Sahib, Amir and Missionary-in-charge Jamaat-e-Ahmadiyya Senegal.
The construction work of the mosque was completed in one year. Much work of its construction was done through waqar-e-amal and Hafiz Musawer Ahmad Muzzamil Sahib, Regional Missionary Tambacounda was able to oversee the construction.
Inside, the mosque is adorned with the names of Allah the Almighty.
On 29 October 2021, Nasir Ahmad Sidhu Sahib, Amir and Missionary-in-charge Jamaat Senegal cut the ribbon and inaugurated the mosque with silent prayer. Friday prayer was then offered.
The event was attended by the local Imams, various government representatives, and the deputy commissioner of the city on behalf of the governor of the region. Apart from the surrounding villages, representatives of other regions were also present in large numbers.
The total number of participants was 530.
May Allah the Almighty make this mosque a source of light and guidance and to preach the true teachings of Islam Ahmadiyyat.