Farrukh Shabbir Lodhi, Missionary, Liberia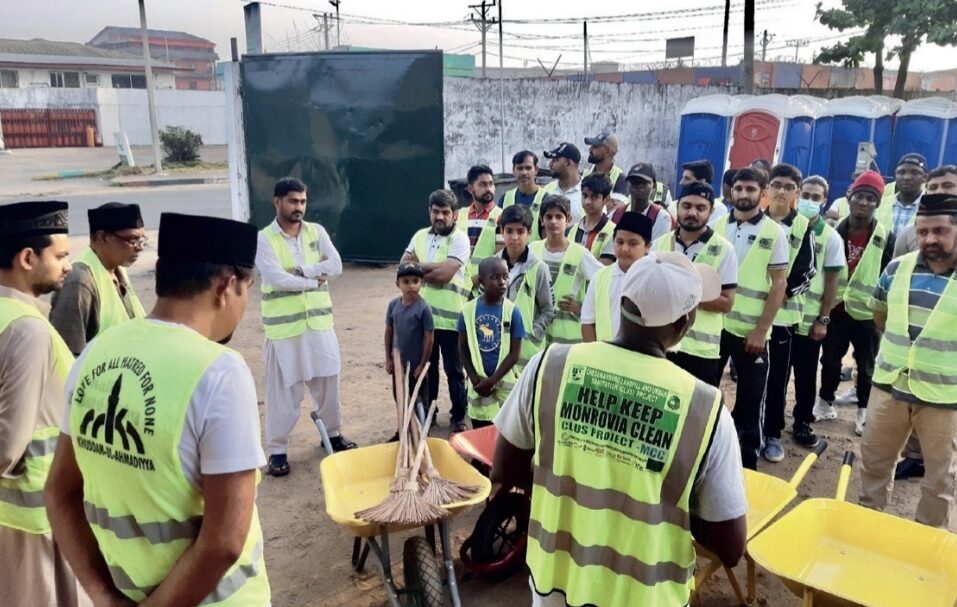 Majlis Khuddam-ul-Ahmadiyya Liberia started the new year with congregational Tahajjud prayer, waqar-e-amal, and tree-planting at several places around the country.
Around 7am, after Fajr prayer and dars, Khuddam arrived at MCC Hall where they were welcomed by Mr Frederick Cole, Director General of Monrovia City Corporation. A short ceremony was presided over by Muhammad Jones Annan Sahib, Naib Amir Jamaat-e-Ahmadiyya Liberia.
Mr Frederick Cole expressed:
"I am grateful to God Almighty for allowing me to join the Ahmadiyya Muslim Mission in this noble work for the past four years on the occasion of the start of a new year." He said that the administration and team at the Corporation, including the mayor of the city, are well aware of and appreciative of your exceptional work.
Mr Jiram Dingwell, Director of Solid Waste, said:
"I applaud you for your hard work, I would like other religious organisations to join you in beginning the new year by picking up trash from the streets. We will back you fully in whatever steps you decide to take for the improvement of the city. If you care about people, your community, and your city, you should leave your house and help keep it clean, like the Ahmadiyya Mission is doing at the start of the year. The Ahmadiyya Mission makes me proud."
The waqar-e-amal began following the silent prayer. Khuddam were divided into four groups of ten each. Khuddam were assigned to clean UN Drive, Camp Johnson Road, Carey Street, Benson Street, Capital Bypass, and Lynch Street this year.
In Monrovia, waqar-e-amal was attended by 38 khuddam, 7 atfal, and 9 Ansar, whereas, according to reports from six other counties, 14 saplings were also planted, with a total of 194 participants.