Abbas O Iromini, General Secretary Jamaat-e-Ahmadiyya Nigeria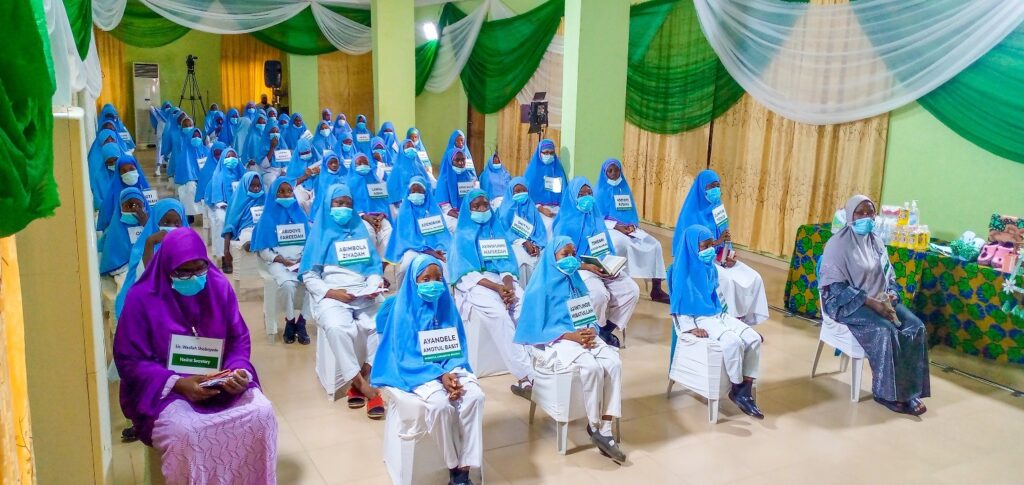 Lajna Imaillah Nigeria had a virtual mulaqat with Hazrat Amirul Momineenaa on 21 February 2021. After the mulaqat, members of Nasirat-ul-Ahmadiyya, and AMWSA also indicated their interest in having such a session with Huzooraa.
A letter of request for a mulaqat was thereafter written to Huzooraa through Sadr Lajna Imaillah Nigeria on 15 June 2021. Alhamdulillah, the request was graciously approved by Huzooraa. The dates of 25 and 26 September 2021 were approved for the mulaqat with Nasirat and AMWSA, respectively.
Immediately after the approval, a planning committee was formed, which comprised of members of the MTA crew, sadr Lajna Imaillah, secretary Nasirat, president AMWSA, secretary umur-e-talibat and members of the Lajna Imaillah planning committee.
Representatives of Nasirat-ul-Ahmadiyya were drawn from all regions of the country.
60 Nasirat had the opportunity to attend the mulaqat.
Following the mulaqat (meeting) with Hazrat Khalifatul Masihaa we share some sentiments of our members.
Daudu Qawiyyah said:
"This was a blessed opportunity to see Huzooraa, alhamdulillah. It felt so good. I have gained more confidence and learnt a lot."
Olagunju Sheriffat said:
"It was a great opportunity to attend this blessed event. I have gained more confidence in my ability to improve in my field of science."
Abdul Razaq Aishat Olajumoke said:
"I felt happy with this mulaqat, and excited to see Huzooraa for the first time, alhamdulillah. I wish this mulaqatcould be done more often."
Munirudeen Bushor said:
"I felt very happy, and hope to meet with Huzooraa physically someday."
Abidoye Faheedah said:
"I felt excited and delighted to see Huzooraa. Unfortunately, I was unable to ask my question, but I pray to see him next time, insha-Allah, so that I may ask my question."
Ajimoti Muminat said:
"I felt overwhelmed because this was the first time I met with Huzooraa."
Busari Taofeeqah said:
"Prior to the mulaqat, I felt a bit nervous and amazed about what to say and how to talk to Huzooraa. But after the mulaqat, I feel so fulfilled and happy that I have some knowledge to take home."
Lawal Bushroh said:
"I felt happy because finally I had the opportunity to speak to Huzooraa. I felt comfortable, happy and satisfied because almost all the questions bothering me in my mind had been answered."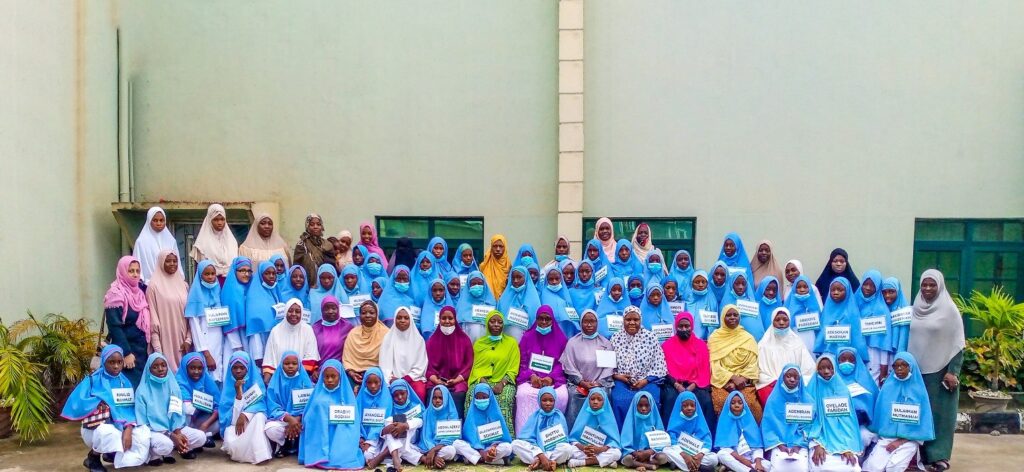 Odegbo Atiyatur-Rahman said:
"I was relieved and happy after the mulaqat. My beloved Huzooraa is a patient man".
Akinwunmi Nafeezah said:
"Prior to the mulaqat, I felt a bit nervous […] but after the mulaqat, I felt happy that I had the opportunity to speak with Huzooraa for the very first time."
Oyebo Hasbiyallah M said:
"I was very happy after attending this mulaqat. I wish I was able to present my handicraft and I want this mulaqat to be an annual one, insha-Allah."
Adesokan Maryam said:
"I feel happy and extremely joyous because I learned directly from Huzooraa".
Hamzat Nasrat Kehinde said:
"I felt very happy to attend this mulaqat. I hope Huzooraa comes to Nigeria very soon, insha-Allah".
Abimbola Ziyaadah said:
"I felt happy and relieved after speaking to Huzooraa".
Odutola Rahmat said:
"I was happy because it was a privilege of meeting Huzooraa for the first time. I am very sure that God Almighty has answered my prayers."
Sulaiman Nayeemah said:
"I was very happy because I had the privilege of meeting Huzooraa for the first time. I was happy because I felt as if Allah the Almighty had answered my prayers."