Ata-ul-Haye Nasir, Al Hakam
Hazrat Mirza Bashiruddin Mahmud Ahmad, Khalifatul Masih II and Musleh-e-Maudra, gave valuable guidance to the newly formed Pakistan and advised the public and the government to understand their responsibilities.
This article will present some glimpses of such services.
Advice to establish relations with Muslim countries
In one of his articles, Hazrat Musleh-e-Maudra raised concern that the government of Pakistan had not yet established relations with significant countries like Indonesia, Saudi Arabia and Abyssinia and then mentioned the importance of these countries. Regarding Saudi Arabia, Huzoorra stated:
"Saudi Arabia is that country, where our sacred and holy place of Mecca, our Baitullah towards which we turn our bodies for prayer and our master's place of migration and burial, the sanctified city of Medina is situated. […] It is our important obligation to make a relation with the government in whose charge these places are because the unity of Muslims is only possible through Mecca and Medina." (Al Fazl, 14 October 1947, pp. 1-2)
Advice to strengthen the country's defence
In his articles published in Al Fazl of 15, 16 and 17 October 1947, Hazrat Musleh-e-Maudra advised the government to strengthen the defence of Pakistan.
Advice to strengthen the economy of Pakistan
While advising Pakistan's government to strengthen the economic condition of Pakistan, in one of his articles, Huzoorra stated:
"It is a most important obligation of the government to fix the economic situation of Pakistan. […] So, we call the government's attention that it should not delay this matter and should immediately establish factories, otherwise the landowners will certainly be destroyed; there will be a huge setback for the government's financial situation as well." (Al Fazl, 9 November 1947, p. 2)
While urging the masses and especially Ahmadis to assume a spirit of sacrifice for the country, Huzoorra stated that wearing good clothing and fine dining was not the goal. The Muslims of Pakistan should strive to strengthen Pakistan, even if they have to bear hunger and sacrifice their expensive clothing. (Al Fazl, 12 November 1947, p. 2)
Lectures on Pakistan's future
On 1 December 1947, Hazrat Musleh-e-Maudra started a series of lectures, titled Pakistan Aur Uska Mustaqbil (Pakistan and its future), which were delivered in Lahore. This series of lectures concluded on 17 January 1948, which comprised of valuable guidance for the bright future of Pakistan. These lectures were highly applauded by the intellectual circles.
After the first lecture, Malik Abdul Qayyum, Principal Law College Lahore, wrote to Huzoorra:
"I listened with great interest and profit to your lecture on Pakistan yesterday. It was full of new knowledge and breathed spirit of courage and hope. I am sure, my fellow-listeners must have come away from it with the same feeling. It was not merely a lecture, it was a timely warning to those who were accustomed to look at things from an entirely different angle." (Tarikh-e-Ahmadiyyat, Vol. 10, p. 408)
Sir Feroz Khan Noon expressed:
"There is an ocean of knowledge billowing in Hazrat Sahib's mind. He has told us a lot in such a short time and shed light upon the matter in a scholarly way." (Al Fazl, 9 December 1947)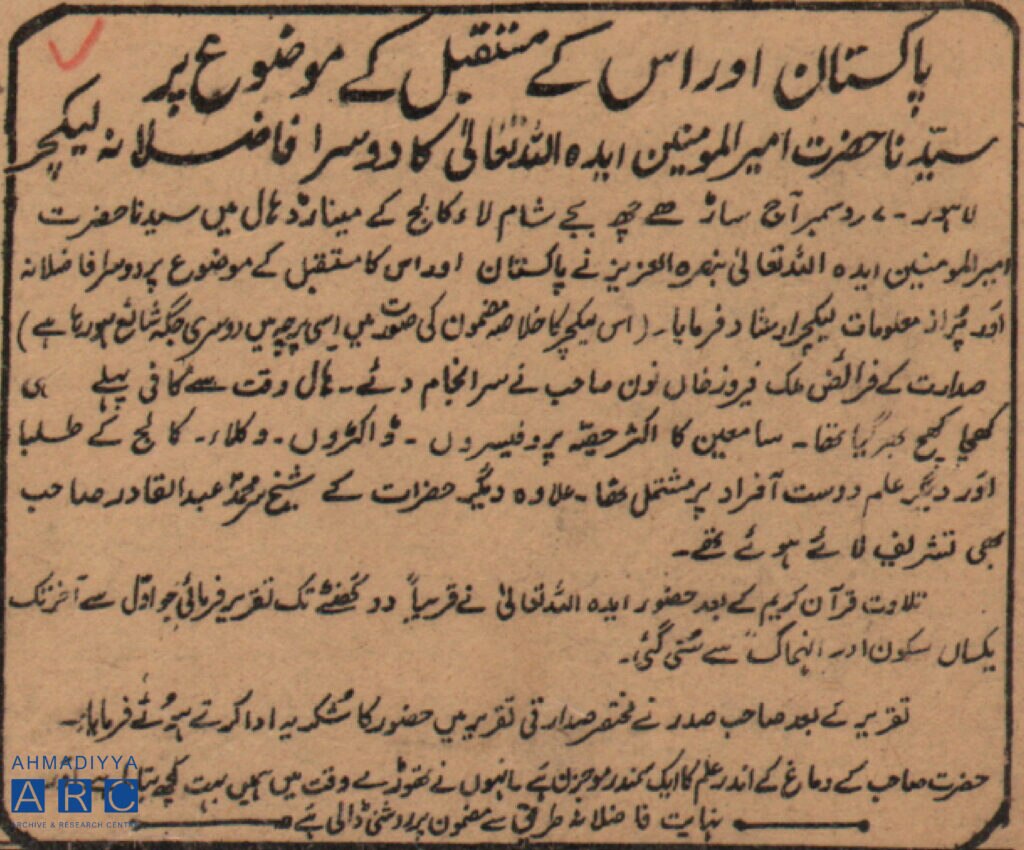 Many newspapers published news articles about Huzoor'sra lectures, including Nawa-e-Waqt, Nizam, Zamindar, Safina, Eastern Times and Taqat.
Islamic government or general republic government?
During the early days, a question was raised regarding the sort of government to be established – Islamic or general republic style. In regard to this, Huzoorra very eloquently stated:
"In my view, this question itself shows that the people who are debating on this have not read Islam in its true essence, otherwise they would never have made this question a topic of debate. For example, it is asked, how will the non-Muslims of Pakistan accept the Islamic law? Now, a person who is aware of the Islamic teaching knows that this is not a complex question. Islam has given two parts to this. One part relates to a person's religion. In regard to this, there are clear Islamic commandments that every nation is allowed to follow its religion. […] Islam does not interfere in any religion. It has a clear commandment:
لَكُمۡ‭ ‬دِيۡنُكُمۡ‭ ‬وَلِيَ‭ ‬دِيۡنِ
"['For you your religion, and for me my religion.' (Surah al-Kafirun, Ch.109: V.7)]
"[In other words] everyone is allowed to follow their respective way. Islam does not compel anyone to eat a specific thing and to not eat a specific thing, or for instance, to necessarily act upon the Islamic teachings in regard to inheritance. In these matters, it is permitted to act in accordance with the laws of one's own religion.
"The second part of actions relates to the collective or country's politics. So, Islam has presented such a great teaching in regard to this, which is completely in accordance with nature, and about which the follower of any religion can never say that this is equivalent to interfering in his religious teachings. For instance, Islam has fixed a punishment for theft. Now, no one can say that theft is permitted in his religion and therefore is an interference in their religion to punish this [theft]. […]
"It is our claim that the current developed laws [in the world] have actually been originated by Islam, with the exception of [some] details, about which obviously some disagreement occurs. […] So, the principle teaching which Islam has presented, cannot be objectionable for anyone."
After presenting examples of the Islamic teachings in regard to purdah and testimonies of witnesses, Huzoorra continued:
"In fact, there is not even a single Islamic commandment that contradicts the nature and natural demands, and about which a non-Muslim could say that it is an interference in religion. So, in these circumstances, it is unnecessary to debate whether there will be an Islamic government in Pakistan or not.
"Regarding this [second] part, Islamic commandments should be implemented in Pakistan, and as they are according to nature, their implementation will neither have any problem, nor can anyone have any objection." (Al Fazl, 19 December 1947, p. 4)
Desire for the unity of Islam and its victory
During his Jalsa speech of 28 December 1947, while expressing his desire for the unity of the Muslim ummah and Islam's victory over the whole world, Hazrat Musleh-e-Maudra stated that although Pakistan, Arabia, Hijaz, Egypt, Iran and other Islamic countries have their own specific importance, their progress is just the first step. The real aim is to unite the Muslims on one hand and spreading the name of the Holy Prophetsa in all corners of the world. (Al Fazl, 23 March 1956, pp. 7-8)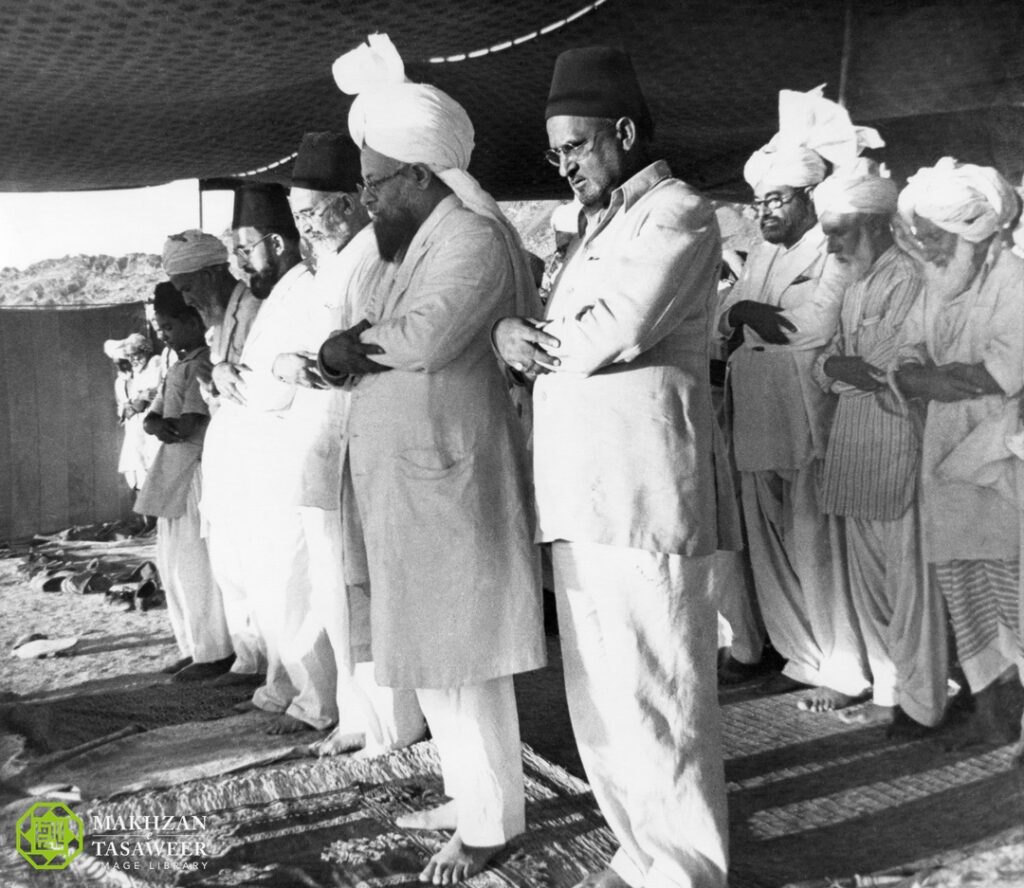 Another series of lectures
In March 1948, Huzoorra initiated another series of lectures, which were delivered in Sialkot, Jhelum, Karachi, Peshawar, Rawalpindi and Quetta. These lectures covered many insightful topics, including national interests, guidance for countrymen and their national obligations. This series of lectures concluded in July 1948.
On 14 March 1948, Huzoorra delivered a public lecture in Khalikdina Hall, Karachi, titled Pakistanion se chand saaf saaf baatein. The audience included college students, professors, doctors and lawyers.
During this lecture, Huzoorra stated that Pakistan was not only a new government, but also a new country, so Pakistanis needed to instil such emotion of national pride, which they had not before. The emotion of national pride helps to unite, uplift and urge a nation to make every possible sacrifice for the country's defence. He also suggested a strategy for making Pakistan's defence stronger. (Al Fazl, 19 March 1948, pp. 3-4)
During his Friday Sermon of 19 March 1948, while mentioning his lecture of Jhelum, Huzoorra stated:
"In recent days, I delivered a speech in Jhelum, advising Muslims that they demanded Pakistan with the purpose of establishing Islamic culture and a way of life with full freedom. Now that Pakistan has been established, Muslims should at least offer their five daily prayers in the mosques. If they do not offer the five daily prayers, then what have they achieved by demanding Pakistan?" (Al Fazl, 14 April 1948, p. 6)
During his tour of Peshawar in 1948, Huzoorra met with many prominent leaders and spoke about the need to save the country from any kind of internal conflict.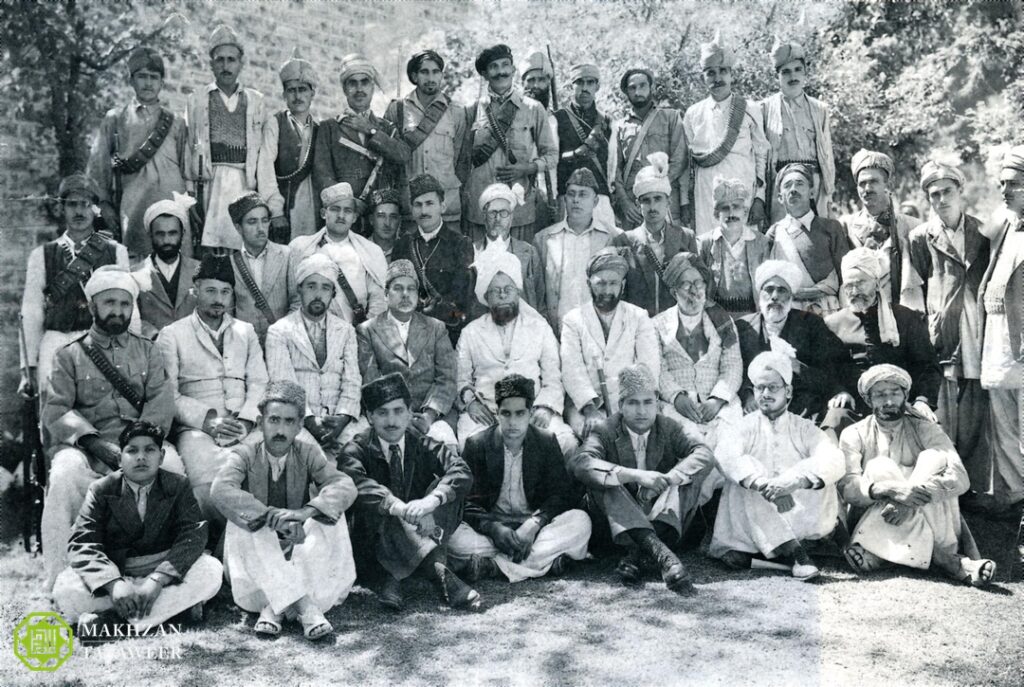 On 12 April 1948, Huzoorra delivered a lecture in Rawalpindi, which was widely published. Regarding this, the newspaper, Inqilab of Lahore stated:
"While shedding light upon the current situation in detail, he told Muslims that they are in a war like situation. [….] He also advised the government's responsible members that they should mend their ways along with the changing circumstances and show such behaviour that could be an example for the public and from this, the public should start thinking that […] they are not their officers, but well-wishers and brothers. […] Mirza Bashiruddin Sahib – coming back to his subject – said, 'Whatever the conditions are, it is an obligation of Pakistan's Muslims to face all kinds of situations with bravery, just like the people of living nations do.'" (Inqilab, 17 April 1948, p. 6)
Advice to instil Islamic teachings in hearts rather than demanding Islamic constitution
On 14 June 1948, Hazrat Musleh-e-Maudra addressed the Muslims of Balochistan at York House in Quetta. Huzoorra stated:
"As a follower of a living religion, we should also have a [spiritual] life among ourselves. […] People should try to inculcate the Islamic constitution [teachings] in their hearts, instead of demanding for the implementation of an Islamic constitution in Pakistan. […] During the fragile situation which Muslims are facing today, it is their foremost obligation to unite by forgetting their internal disputes. […] If millions of people of a nation become ready to sacrifice their lives, then no one can kill [defeat] them. If the Muslims as a whole decide that they would die [for the nation], then certainly, no one has the power to kill [defeat] them." (Al Fazl, 26 June 1948, pp. 3-4)
This speech was widely published in the press and very much appreciated. Inqilab published an article titled "Do not emphasise the establishment of the Shariah; Be a good Muslim – Mirza Mahmud's Speech". (Inqilab, 19 June 1948, p. 4)
Pakistan's future is in adopting the teachings of Islam in our practical lives
On 4 July 1948, Huzoorra delivered a public lecture in Quetta's Town Hall, on Pakistan's Future. Huzoorra stated that the Muslims needed to make Islam their way of life in their individual and national lives.
Huzoorra stated that to achieve something and then to retain it were two different matters. He added that one could not be applauded if they kept a building in the same condition as they got it; they could only be applauded if they leave it in a better condition. He added that Pakistan's bright future was in adopting Islam in our practical lives. (Al Fazl, 23 March 1956, pp. 4-6)
Death of Quaid-e-Azam
In September 1948, upon the death of Quaid-e-Azam Muhammad Ali Jinnah, Hazrat Musleh-e-Maudra wrote a detailed article, advising the public that instead of worrying about their leader's death, they should try to fulfil Jinnah's good wishes. (Al Fazl, 21 September 1948, pp. 3-4)
Loyalty to the country
A Sikh newspaper, Sher-e-Punjab wrote an article and objected that the Ahmadis of Pakistan and India would remain loyal to their respective governments as long as there is a commandment from Khalifatul Masih, and in the absence of such a commandment, their loyalty [to their respective countries] would finish.
In response to this objection, Hazrat Musleh-e-Maudra wrote an article, titled Jamaat-e-Ahmadiyya aur Hukoomat-e-Majaaz ki Wafadari, in which he stated:
"It is our Jamaat's belief that according to Islam, one should remain loyal to the government under whom he resides." (Al Fazl, 5 April 1949, p. 3)
Lecture at the Company Bagh in Sargodha
In 1949, Malik Sahib Khan Sahib Noon, retired Deputy Commissioner requested Hazrat Musleh-e-Maudra to visit Sargodha and address the locals, which was accepted by Huzoorra, and thus he delivered a lecture on 11 November 1949 at the Company Bagh.
During this lecture, Huzoorra gave in-depth guidance to the government and the people of Pakistan, suggesting how the new-born state could be put on the tracks that led to progress and stability.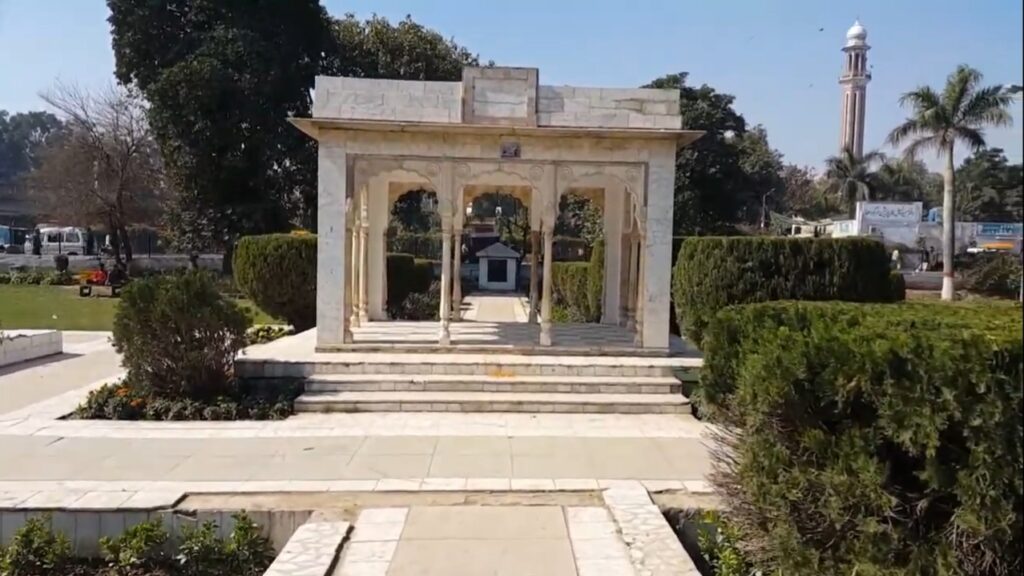 Liaquat Ali Khan's assassination
On 16 October 1951, the first prime minister of Pakistan, Liaquat Ali Khan was assassinated. In this critical situation, Hazrat Musleh-e-Maudra sent a telegram to the governor general of Pakistan:
"I send on my behalf and on behalf of Ahmadia community my sincerest condolences at the most tragic death of Mr Liaquat Ali Khan, Pakistan's first Premier, by the dastardly act of a murderer.
"At this critical moment, I, along with my community again assure you of fullest co-operation and service to the Government and people of Pakistan." (The Civil and Military Gazette, 19 October 1951, p. 4)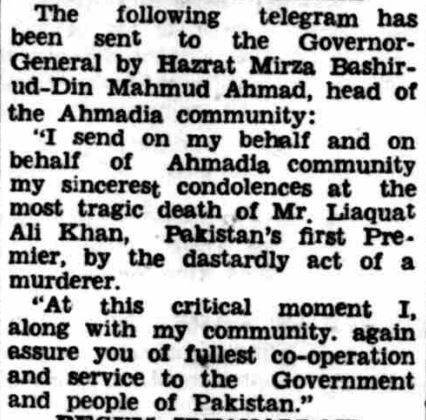 A guidance for Pakistani laws
The Sindh Muslim Government Law College had launched a quarterly magazine from Karachi titled "Pakistan Law Review". Upon its request, Hazrat Khalifatul Masih IIra wrote an article in July 1952, titled "Pakistan me qaanoon ka mustaqbil" (The Future of Law in Pakistan), which was published in the August 1952 issue of the magazine.
Huzoorra stated that while outlining Pakistan's laws, the following points should be considered:
"1. The spirit of Islamic teaching should always be in our mind.
"2. Our laws need to be purely compatible with the human nature.
"3. We need to fulfil all promises from every aspect, which have been made to the minorities". (Al Fazl [Lahore], 20 September 1952, p. 5)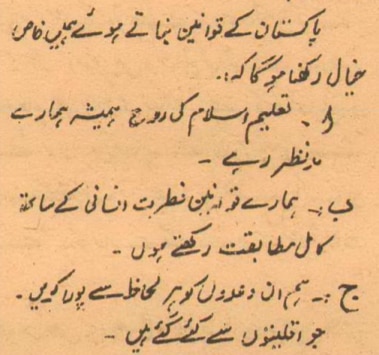 Humanitarian services
In August 1954, East Pakistan [now Bangladesh] faced a severe flood. During his Friday Sermon of 3 September 1954, Hazrat Musleh-e-Maudra instructed Ahmadis to help their fellow countrymen and women and encouraged them to express their love for the country by raising funds as well.
Daily Sangbad of Dhaka, on 12 September 1954, stated:
"Imam Jamaat-e-Ahmadiyya, Hazrat Mirza Bashiruddin Mahmud Ahmad Sahib appealed to every Ahmadi to donate food, clothes and cash, for helping the flood-affected brothers of East Pakistan [now Bangladesh]. He also donated 2,000 rupees from himself, through the Anjuman Ahmadiyya East Pakistan and promised to donate more money. Moreover, he established a flood committee for East Pakistan."
While the horrors of the flood in East Pakistan had only just begun, Punjab was also struck by a huge flood in September 1954. According to the guidance of Hazrat Musleh-e-Maudra, Jamaat-e-Ahmadiyya served the people of affected areas. These humanitarian activities were highly commended by the press.
The Civil and Military Gazette reported:
"Volunteers for rescue work
"A team of volunteers has been formed to help in rescue work, says a Press release issued by the Khaddam Ahmediya in Lahore on Wednesday.
"In separate telegrams, to the Punjab Flood Relief Commissioner Mr IU Khan, and to the acting Chief Minister, Sirdar Abdul Hamid Dasti, the Khaddam have assured their unstinted support and Co-operation in the national task of giving succour and help to those affected by rains and floods in the Punjab.
"Several parties of the Khaddam spread out in the adjoining villages of the Ravi area, where a large number of people were marooned. They distributed medicines, clothes and eatables among the sufferers. Over 700 people were fed in different localities of Lahore.
"The head of the organisation has announced that people seeking help should contact him at the Jodha Mal Building, Lahore, where a 24-hour relief centre is working." (The Civil and Military Gazette, 30 September 1954, p. 12)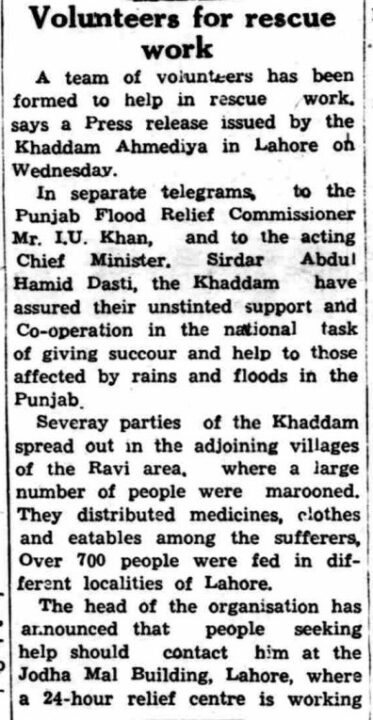 While instructing Ahmadis to serve the people in need at this critical juncture, in his Friday Sermon of 1 October 1954, Hazrat Musleh-e-Maudra stated:
"Members should not waste this opportunity of doing good deeds; instead, they should serve the people at this time. If, by witnessing your act, goodness is instilled in other people as well, it will certainly have a positive effect on the collective morale of the country." (Al Fazl, 8 October 1954, p. 5)
The Civil and Military Gazette reported:
"Donation for East Bengal flood relief
"KARACHI, Aug. 28. – A sum of Rs 1,200 has been sent by the Ahmadiyya Muslim Association of Karachi as the first instalment towards flood relief in East Pakistan. This sum has been sent to Dacca in response to an appeal made by the head of the Ahmadiyya community, Hazrat Mirza Bashiruddin Mahmood Ahmed, to help the flood sufferers in East Pakistan. More instalments would be sent soon to Dacca.
"The organisation of Ahmadiyya women has also contributed Rs 200 for the East Pakistan flood relief. The Sadar Anjuman Ahmadiyya of Rabwa has also donated a large sum for extending relief to East Pakistan flood sufferers. Ahmadiyya association at other centres in West Pakistan are also raising funds for flood relief in East Pakistan." (The Civil and Military Gazette, 29 August 1955, p. 6)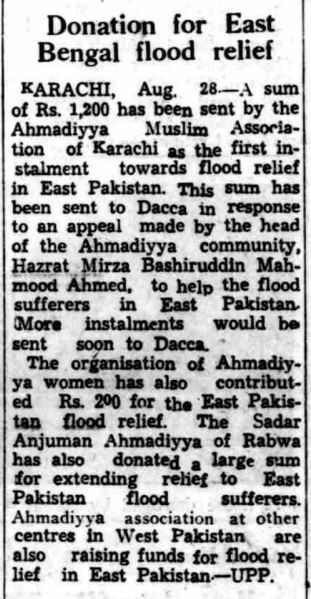 Special prayers amid political crisis
Towards the end of October 1954, Pakistan was going through a severe political crisis and the legislative assembly became merely a drama. The assembly made such decisions which were against the sovereignty and interests of Pakistan. The country was facing many differences and many types of enmities emerged on the surface.
Upon this, Hazrat Musleh-e-Maudra instructed the Jamaat to pray for the betterment of the country in his Friday Sermon of 22 October 1954.
"In these conditions, I advise the whole Jamaat to pray. The coming 8-10 days are very delicate for our country [Pakistan]. It is the obligation of members of the Jamaat to especially pray that the people who are in power should not opt for a way that can cause hurdles in the way of Islam's progress, power and prosperity. […]
"O Allah, if they are not reformable, then put differences among them so that the country may be saved from destruction and Muslims may be saved from future perils. If you pray wholeheartedly, then Allah the Almighty will create means for the protection of Muslims." (Al Fazl, 26 October 1954, p.4)
Advice to be united
On 21 September 1955, during a speech in Karachi, Hazrat Musleh-e-Maudra advised Muslims to be united for the spread of Islam. This speech was widely published in the press.
A message to the president
On 8 June 1962, when Pakistan had a new constitution, Hazrat Musleh-e-Maudra sent a message to the President Ayub Khan on 9 June:
"My prayers and best wishes are with you in the strive for making Pakistan happy and prosperous more than ever before." (Tarikh-e-Ahmadiyyat, Vol. 21, p. 447)
This series of articles comes to an end here, in which we presented some glimpses of Hazrat Musleh-e-Maud's services to the Muslim cause. It testifies his dedication for the progress and prosperity of Muslims all around the world.
Opponents of Jamaat-e-Ahmadiyya may claim anything they wish, but the fact is that history never lies!
اِک ‬وقت‭ ‬آئے‭ ‬گا‭ ‬كہ ‬كہيں‭ ‬گے‭ ‬تمام‭ ‬لوگ
ملّت‭ ‬كے‭ ‬اس‭ ‬فدائی ‬پہ‭ ‬رحمت‭ ‬خدا‭ ‬كرے
"The time will come when all shall proclaim, 'May God have mercy on this devotee of the nation!'"
---