Syed Mukarram Nazeer, Canada Correspondent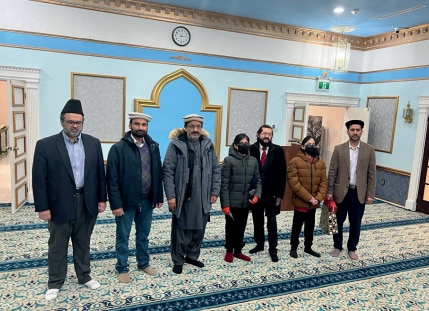 Hazrat Khalifatul Masih Vaa has assigned several Latin American countries to Canada Jamaat for establishing Jamaat-e-Ahmadiyya in those countries. Ecuador is one such country.
The Spanish Desk in Canada invited the person in-charge of consular functions of Ecuador in Toronto, Mr Edy Leonel Montalván Carrión along with his family, to visit Baitul Hadi Mosque located in Pickering, reports Spanish Desk in-charge Canada, Mahboob ur Rahman Shafiq Ahmad Sahib. The invitation was accepted and the family visited on 19 March 2022. They spent four hours at the mosque.
Naib Nazim-e-Ala Saf-e-Daum Majlis Ansarullah Canada Toronto Region, Mian Muzaffar Ahmad Sahib gave a tour of the mosque to the guests. At the time of the visit, a table tennis tournament of Majlis Ansarullah was being held and the guests enjoyed the tournament and participated in it too.
Mahboob ur Rahman Shafiq Ahmad Sahib introduced Jamaat-e-Ahmadiyya and explained the difference between Ahmadi Muslims and non-Ahmadi Muslims. The guests were presented with World Crisis and the Pathway to Peace which highlighted Hazrat Khalifatul Masih V'saa lecture. Assistant National Secretary Tabligh, Naseer Qureshi Sahib shared the guidance of Huzooraa for avoiding the Third World War.
Secretary Tabligh Lajna Imaillah Durham, Amatul Basit Sahiba and Aqila Laheye Sahiba hosted the wife and daughter of Mr Carrión. They were given a tour of the mosque and introduced to Jamaat-e-Ahmadiyya.
Naseer Qureshi Sahib also introduced the International Association of Ahmadi Architects and Engineers (IAAAE), and highlighted projects undertaken by them to serve humanity.
After the visit, Mr Carrión sent a letter of gratitude to the Jamaat in the Spanish language. The English translation is given below:
"I want to take this moment to express to you on behalf of myself and my family our gratitude for the invitation to the Ahmadiyya Baitul Mahdi Mosque in Pickering, a wonderful place with a lot of peace and tranquillity, where live men of justice and peace. My children were amazed at such a beautiful place. […]
"My thanks to you also for the invitation to lunch […] where there was the opportunity to have a pleasant conversation with your missionary friends and volunteers, to whom we send our affectionate greetings. I am very grateful for your hospitality and for having shared with you and your distinguished friends an afternoon of great peace and joy.
"I extend my thanks on behalf of my wife Soraya and my daughter to the ladies who provided a warm reception and accompanied them on their tour of the Ahmadiyya Mosque. […] We will surely have the opportunity to meet again. Our sincere friendship for you and the members of your community. God bless you always."