Last Updated on 20th January 2023
A series looking at pioneer missionaries and devotees of the Ahmadiyya Muslim Jamaat who gave precedence to faith over the world.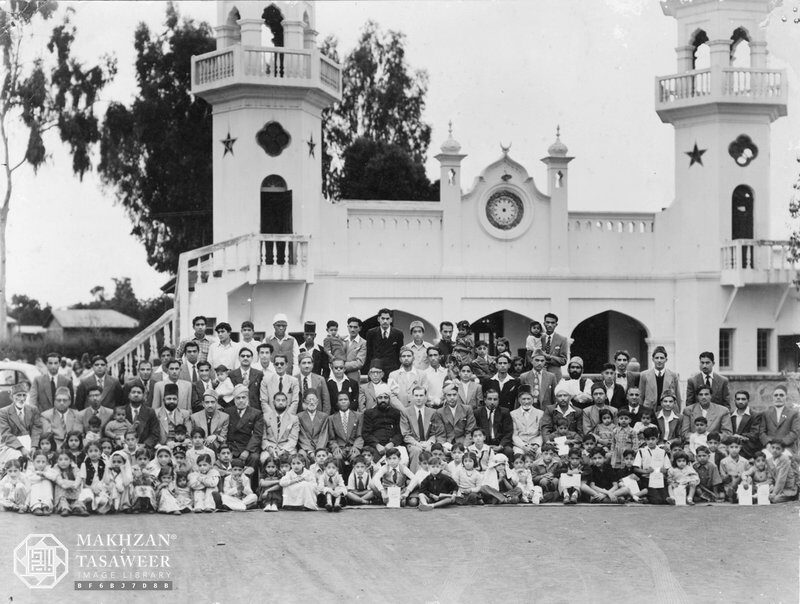 The early missionaries of the Ahmadiyya Muslim Jamaat faced many challenges as they worked to spread the message of Islam Ahmadiyyat to every corner of the world. Despite many obstacles, they were able to establish a strong foundation for the religion, thanks to their determination and the support of Allah. The families of these missionaries also made significant sacrifices so that they may carry out their tasks efficiently.
Muhammad Munawar Sahib, a former missionary in East and West Africa, was among the early preachers of Islam Ahmadiyyat in Africa, who served on the continent for about 35 years.
He was born to Chaudhary Ghulam Ahmad Sahib on 13 January 1922 in Khanewal district. After completing his FA and attaining the Maulvi Fazil degree, he dedicated his life to the service of Islam Ahmadiyyat in 1942. From 1948 to 1983, he had the opportunity to perform significant services in Tanzania, Kenya, Palestine and Nigeria.
He was proficient in Arabic, Persian, English, Swahili and the local language, Lou. Whilst delivering the Friday sermon, he would keep the Jamaat's newspaper, Al Fazl, before him and translate Urdu into Swahili. During the process of translating the Holy Quran into Swahili, Sheikh Mubarak Ahmad Sahib received special assistance from Sheikh Amri Obaidi Sahib and Muhammad Munawar Sahib. The collaboration between these individuals helped to ensure the success of the translation project.
For many years, he was the editor of Mapenziya Mungo, a newspaper published in Tanzania. Those who worked with him used to say that his ability to learn languages and pay attention to pronunciation was amazing, and whenever he had to write an article in any language, he would sit down on the typewriter and type it. He was a well-known scholar and had an enviable balance of humility and contentment.
Mr Nyerere (who was a renowned Swahili poet who later became the President of Tanzania) once told Sheikh Amri Obaidi Sahib that only two newspapers in East Africa were, language-wise, of a great standard; and one of them, he said, was the newspaper published under the editorship of Muhammad Munawar Sahib. Africans loved Muhammad Munawar Sahib a great deal; once, an African poet described him in his poem as one of the two shining stars of East Africa.
His son, Mubarak Ahmad Tahir Sahib published some events and observations about his father that happened during his long stay in foreign lands. In his writings, he expressed that it was difficult for him to write about his father because they spent much of their time being physically distant from one another. He wrote that a few months before his birth, his father went to Nairobi, Kenya, as a missionary in April 1948. When he came back from leave, his son was four and a half years old. Upon his father's arrival, his grandmother, made him stand with some boys in the neighbourhood and asked his father, Muhammad Munawar Sahib, to identify his son among them. Munawar Sahib, recognising his son, held out his hand and said, "This is my son." His son wrote, this was the first time that he was held by his son, at the age of four and a half.
Mubarak Ahmad Tahir Sahib writes that soon after his father's return from Kenya, his father got married again. Soon after that, they all moved to Kenya, travelling there by ship. Muhammad Munawar Sahib was first appointed to Nairobi, then Kisumu and then Nairobi again. After staying there for eight years, they went back to Karachi in July 1960.
Mubarak Ahmad Tahir Sahib states that even during their eight-year stay in Kenya, there were few encounters and meetings with his father. He used to go to school early in the morning and his father would go to the mission house. Muhammad Munawar Sahib would come for half an hour to have lunch and then return to the mission house and then come home after the Isha prayer. Due to the lack of time together, Mubarak Ahmad Tahir Sahib states, "There could not be frankness between us."
After his leave in 1960, Muhammad Munawar Sahib went back to Nairobi alone; his son, both his wives, and now his daughter, Amatun Noor Tahira Sahiba, remained behind in Rabwah.
Being alone, Muhammad Munawar Sahib faced difficulties managing his household responsibilities whilst at work in the field. Hence. He sent a request to the Jamaat to send his family to Kenya. Hazrat Khalifatul Masih IIIrh graciously accepted his request and allowed one of his wives to join him.
Mubarak Ahmad Tahir Sahib writes that his father would come home (in Pakistan) upon receiving leave and would return to his post. This lasted for years. Meanwhile, Mubarak Ahmad Tahir Sahib got married in 1969. After three months of marriage, he completed his BA, and then, after passing the MA in 1971, he offered his services under Majlis Nusrat Jehan.
Hazrat Khalifatul Masih IIIrh appointed Mubarak Ahmad Tahir Sahib to the Ahmadiyya Secondary School, Rokoper in Sierra Leone. He reached Sierra Leone alone on 1 November 1975, came back to Pakistan on leave in October 1978 and then went back to Sierra Leone with his family (wife and three daughters). On the way there, he along with his family visited Muhammad Munawar Sahib for ten days in Nairobi.
Mubarak Ahmad Tahir Sahib writes that whenever he came to Pakistan on leave from Sierra Leone, his father would be in Kenya or Tanzania; and whenever his father would come to Pakistan on leave, he would be in Sierra Leone.
Muhammad Munawar Sahib's last appointment as amir and missionary-in-charge was in Nigeria and from there he took a delegation and joined the opening ceremony of the Basharat Mosque in Spain. His stay in Nigeria lasted about seven months. Then, due to illness and poor health, he moved back to Pakistan permanently under the guidance of Hazrat Khalifatul Masih IVrh and stayed in Rabwah until his demise.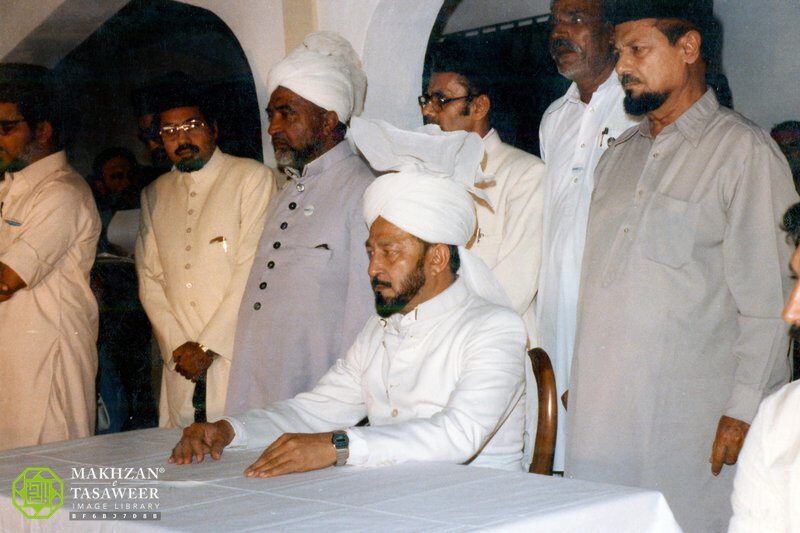 When Mubarak Ahmad Tahir Sahib returned to Sierra Leone after a leave to Pakistan in 1981, the situation became such that he had to stay in Sierra Leone for nine consecutive years. He states that he went back to Rabwah with his family on 15 August 1990. Separated in January 1979, father and son met in Rabwah on 15 August 1990 after 12 years of continuous separation.
Mubarak Tahir Sahib states they were a family of five people. There was a time when the five members of the family were scattered in four countries by the grace of God for the service of religion and were happy in their respective places. Muhammad Munawar Sahib was in Africa with his second wife. His first wife managed the house in Rabwah. His daughter, Amatun Noor Tahira Sahiba, who was married to a missionary named Abdul Razzaq Butt Sahib, was in Ghana. Mubarak Ahmad Tahir Sahib was in Sierra Leone serving with his family.
Mubarak Tahir Sahib states that no one in the family had ever even thought of bothering others by mentioning the sadness they experienced due to constant separation. Rather, his father, Muhammad Munawar Sahib, once wrote to his son, stating, "At this time [in our lives], there is health, so there is an opportunity to serve [the religion]." He stated that even if they met one day after a long time of separation, the counting of the years of separation would start from "one" all over again.
Muhammad Munawar Sahib passed away in November 1995 and was buried in Bahishti Maqbarah Rabwah.
In his book Aik Naik Bibi Ki Yaad Mein, Muhammad Munawar Sahib narrates the circumstances surrounding his duty in the field as well as the cordial behaviour of his two wives. In addition to praising this work, Hazrat Khalifatul Masih IVrh suggested that it be made widely available for study so that people might live simple lives only for God's sake and prevent the growth of harmful habits in society. This Urdu book is available at: www.alislam.org/urdu/pdf/Aik-Naik-Bibi-Ki-Yaad-Me.pdf
When we read and hear about the lives and sacrifices of our pioneer missionaries, naturally a prayer emerges from the depths of our hearts that God bless them for their efforts. It is important to also remember their families too who also made remarkable sacrifices, by the grace of God.