Syed Shamshad Nasir, Missionary, USA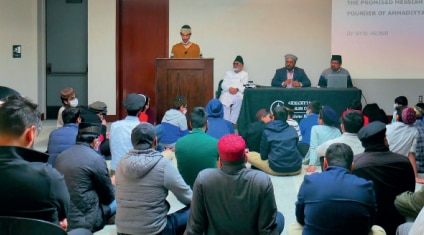 Jamaat-e-Ahmadiyya Detroit organised its Promised Messiah Day Jalsa on 20 March 2022 at the Mahmood Mosque. This year's programme was held in person as Covid-19 restrictions are being relaxed per the state and federal guidelines.
The event commenced with the recitation from the Holy Quran with its English translation, followed by a poem and a welcome speech by the local president, Maqbool Tahir Sahib.
The first speech was delivered by Nyal Munir Sahib titled "The Promised Messiahas – Founder of the Ahmadiyya Muslim Community" which was followed by a presentation by Ayza Noor Khan Sahib on the subject of "The Promised Messiah'sas love for the Holy Prophetsa".
Dr Mansoor Qureshi Sahib then gave an interesting presentation entitled: "Lunar and Solar eclipse prophecy for the Mahdi: Authenticity and fulfilment".
Usman Mangla Sahib moderated an interesting and interactive 'Kahoot' quiz in which members participated with great interest.
Then, my humble self delivered the concluding remarks.
The event concluded with silent prayer. More than 150 families and members attended.