S Mukarram Nazeer, Canada Correspondent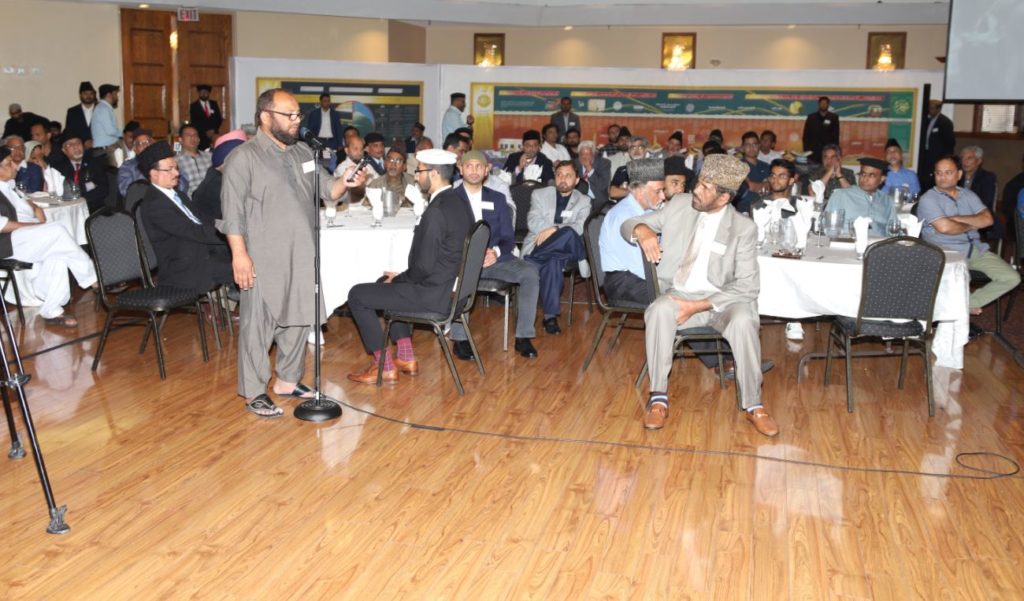 As part of a special lecture series, an event titled Islam's Response to Contemporary Issues was recently held by Jamaat-e-Ahmadiyya Canada.
The event was focused on addressing misconceptions about Islam in the West. The event was hosted to provide non-Ahmadi Urdu speaking guests an opportunity to ask questions.
Representative of the Markaz at Jalsa Salana Canada, Additional Nazir Islah-o-Irshad (for Dawat ilallah) and Mufti of the Ahmadiyya Jamaat, Mubashar Ahmad Kahlon Sahib presided the session. He was accompanied by National Amir Canada, Lal Khan Malik Sahib.
The programme started with the recitation of the Holy Quran by Hafiz Ali Murtaza Sahib followed by a poem by Sarmad Naveed Sahib. Mubashar Kahlon Sahib welcomed all those present and provided a brief introduction of the Ahmadiyya Movement in Islam. After the introduction, guests were provided an opportunity to ask questions.
Answers were given by Kahlon Sahib for almost two hours. Some of the topics covered included:
– How to unite the Muslim Ummah
– Khatm-e-Nabuwwat
– The death of Jesusas
– Coming of the Promised Messiahas
– Terrorism
– General questions
Out of the 250 in attendance, 125 were non-Ahmadi guests who all benefited from the programme. Below are some of the comments shared by the guests:
"Very powerful and well-organised programme. The person who was answering the questions was … very knowledgeable and wise. He answered questions very appropriately and eloquently." (Buhawinder Singh)
"The food was very good. Good gathering. I wanted to [personally] meet Mubashar Kahlon Sahib … to get further clarifications on my questions." (Aftab Malhi)
"I always attend programmes arranged by Jamaat-e-Ahmadiyya. I really appreciate your organisation, discipline and brotherhood. This attitude always pushes me to come and attend these programs." (Mian Mudassir)
"The programme was very informative, composed, decent and organised. I always love to attend these programmes. I always attend the Jalsa Salana. Today's programme was very special as it was very knowledgeable … Please do invite me in such programs in future." (Major Syed Javed Bukhari)
The programme was live-streamed for the benefit of those who could not attend.
A bookstore and Holy Quran exhibition were setup for the guests to visit and socialise. The event concluded with dinner, followed by Maghrib and Isha prayers.
May Allah open the hearts of all the guests and enable us to continue to spread the message of Islam in the best possible manner. Amin.