Respected Fauzia Shamim Sahiba, Hazrat Musleh-e-Maud's niece (daughter of Hazrat Nawab Amatul Hafeez Begum Sahibara) recalls the great personality of her uncle, Hazrat Mirza Bashiruddin Mahmud Ahmadra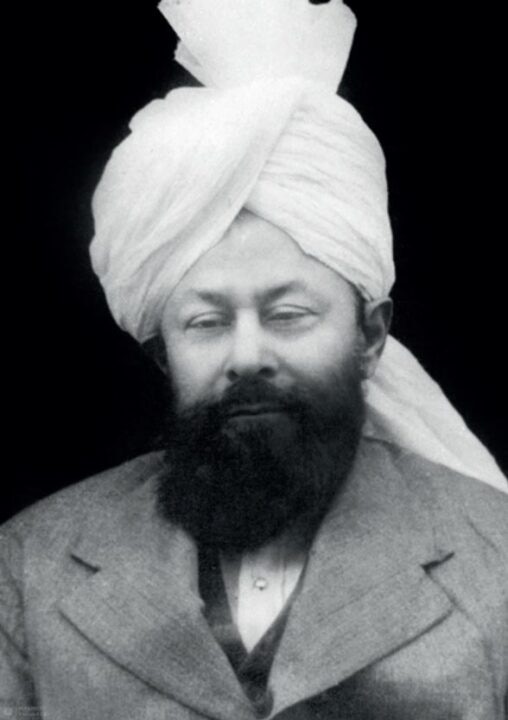 I extensively remember meeting Hazrat Musleh-e-Maudra and receiving his prayers when I went to Rabwah on the occasion of the 1952 Jalsa. At that time, I was 14 years old. Before that, my father, Hazrat Nawab Muhammad Abdullah Khan Sahibra, was serious ill and our mother, Hazrat Nawab Amatul Hafeez Begum Sahibra was engaged in looking after him around the clock and we used to mostly stay in our house in Lahore.
There is an earlier incident which is, to a greater extent, related to myself but it manifests a great show of love and obedience of Hazrat Musleh-e-Maudra for the Promised Messiahas. It so happened that my mother saw in a dream that the Promised Messiahas had come and Fauzia was standing nearby. The Promised Messiahas looked at Fauzia with great love and kindness, holding her face with special affection as the face of young children is held in both hands. Then he kissed her on the forehead for such a long period of time that my mother felt in the dream as if the face of the Promised Messiahas was immersed in the forehead of the blessed face of Fauzia.
When my mother narrated this dream to Hazrat Musleh-e-Maudra, he immediately called me in, and after asking my details, held my face like in the dream and in the same way he kissed my forehead for a long time. All praise belongs to Allah! My age was around 10 at the time. I have no status. It was only the love of Hazrat Musleh-e-Maudra for the Promised Messiahas that after hearing a dream and being informed about the action of the Promised Messiahas, he practically performed that action.
Most probably, my mother [Hazrat Nawab Amatul Hafeez Begum Sahibara] was 4 years of age when the Promised Messiahas [her father] passed away. Everyone felt the end of a compassionate patronage of a father vanishing from over the head of the little girl but Hazrat Amma Janra and Hazrat Musleh-e-Maudra took that loss in very unique way. Hazrat Amma Janra, as a precautionary measure, started to minimize the name and mention of the Promised Messiahas in the house, so that the innocent girl's pain and her father's loss may not deepen.
Moreover, [Hazrat Amma Janra thought that] hearing her father's reminiscences and incidents of love and compassion in the house from other children and the members of family, the little girl might regret in her heart that she received so little from the love and compassion of her great father. Perhaps this is why my mother showed hesitation towards the word and the relationship of "father" but it was all to save her from the pain of being an orphan.
The other important part was that of my maternal uncle, Hazrat Musleh-e-Maudra who, after the passing of the Promised Messiahas, raised my mother not as a brother but like a father, and duly fulfilled his responsibility.
For instance, when the proposal of Hazrat Nawab Muhammad Abdullah Khan Sahibra came for my mother, Hazrat Musleh-e-Maudra undertook the same necessary measures as the Promised Messiahas had taken at the time of Hazrat Nawab Mubaraka Begum Sahiba'sra proposal. I would say that owing to his feeling of concern, Hazrat Musleh-e-Maudra acted anxiously and even more carefully than the Promised Messiahas.
For example, [he made sure that] the two sisters lived in separate houses and that their rights were safeguarded. He tried to protect the two from mutual differences and misunderstandings. [He did so] because both the father and the son, Hazrat Nawab Muhammad Ali Khan Sahib and Hazrat Nawab Muhammad Abdullah Khan Sahib had a shared income, and there were many problems of state properties during the English rule. My grandfather had come to Qadian, leaving everything behind.
My mother's pocket money and resources were very limited. Moreover, we were 9 siblings, born in quick succession. Concerned about the lack of resources, [my mother] kept praying that may Almighty God generate new sources of income. During one of those days, Hazrat Musleh-e-Maudra saw his younger sister and just by looking at her face, he noticed that she was worried. Despite the fact that Hazrat Musleh-e-Maudra had extremely important Jamaat and familial responsibilities and every moment of his was occupied, he recognised his younger sister's distress.
Upon the query of Hazrat Musleh-e-Maudra, my mother started weeping while expressing the situation and the condition of the children. Thereupon, Hazrat Musleh-e-Maudra condoled her and said, "Amatul Hafeez! The horse that is left behind in the race, sometimes jumps to the front towards the end."
That changed my mother's emotional state and she attained peace at heart. Beyond any doubt, Hazrat Musleh-e-Maudra raised his younger sister not as a brother but a father.
I will now shed some light on the observation of Hazrat Musleh-e-Maudra:
It is the incident of Ratan Bagh, Lahore, following the year 1947. The living room of Hazrat Musleh-e-Maudra was on the top floor and there was a small lawn on the backside and an open space. One day, I was cycling over there. At that time, I may have been 10 or 11 years old. I was very keen on sports. On the other hand, I was also anxious to hide myself and I was conscious about covering my body. As I was in the lawn with the bicycle, Hazrat Musleh-e-Maudra saw me from the above. Later that evening, I went to Huzoor'sra room and he said, "Fauzia, were you cycling today?"
Believe me, imagining that Huzoorra saw me riding a bicycle, my blood ran cold. I did not know what he would say. However, Hazrat Musleh-e-Maudra very kindly said that there was nothing wrong in riding a bicycle and so I was relieved. Moreover, I received his guidance and attention as well. Huzoorra did not express displeasure but encouraged me and showed how girls can also participate in sports on their own at a safe place with the observance of purdah [covering oneself].
I often recall an incident during the migration and partition of the country in 1947, and that is that the bus in which I had departed from Qadian, Hazrat Amma Janra was also present in it. During his stay in Rabwah, an assassination attempt was carried out on Hazrat Musleh-e-Maudra.
At the time, I remember my mother left for Rabwah immediately after hearing about the news of the attack. I was studying in Sacred Heart Convent School in Lahore. The next morning, I could not go to school but when I went to school a day later, the entire school was aware of the attack on Hazrat Musleh-e-Maudra. Even my Christian female teachers expressed sympathy and condemned that the attack was inhumane, etc. If I describe the incidents of the year 1955, [I remember that] Hazrat Musleh-e-Maudra left for Europe for treatment and rehabilitation and on his return, we too arrived in Karachi to welcome him back.
On that occasion, all of us were amazed and astonished at the sight of Hazrat Musleh-e-Maud'sra memory, sharpness and love because despite his busyness and responsibilities, he brought a suitable gift for each and every young and adult member of the family. I was blessed with a suit and a bottle of perfume. I have kept that suit to date.
However, I find it surprising even today when I remember the extraordinary mind, memory, love and affection of Hazrat Musleh-e-Maudra, as it is altogether exceptional to first think and then buy a gift for each relative keeping in view their age and nature.
During his last illness, I remember going to Rabwah several times and meeting Hazrat Musleh-e-Maudra and receiving his prayer. We, the children, were blessed with a separate mulaqat in which we were all introduced. Every child wished to have a separate relationship with Hazrat Khalifatul Masih. We used to live in Lahore but we were well-informed about Hazrat Musleh-e-Maud'sra visits from Rabwah to Quetta, Khyber Lodge, Murree and Nakhla etc.
I have also seen that room of Hazrat Musleh-e-Maudra in Nakhla, in which he used to work on Tafsir-e-Saghir. Actually, my mother was always occupied owing to my father's illness, and we, the children did not go anywhere.
During the days of my father's illness, Hazrat Musleh-e-Maudra saw a vision in his dream after praying that Nawab Muhammad Abdullah had recovered. It was only through these prayers and the glad tidings that my father survived such a severe heart attack and his condition recovered. Even though he was not like every other healthy person, but surviving such a severe attack was nothing short of a miracle.
When Hazrat Musleh-e-Maudra passed away, I remember that I was newly married at that time, my marriage was on 27 October 1965. The illness of Huzoorra intensified in November and his journey to the next world had come closer. By that time, there were planned programmes in Rabwah for my pre-wedding celebrations and gathering of young girls.
Around the same time, my beloved elder mother, Hazrat Nawab Mubarak Begum Sahibara sent me a letter and explained, "My daughter, I know that you are getting married, so certainly rejoice. You may celebrate but keep in mind that the time for the return of an exalted figure is drawing near. Hazrat Musleh-e-Maud'sra illness has intensified. So, do not let the regard of this great being disappear from your mind."
On that occasion, my mother also taught me with wisdom that, "My daughter, you should be happy because it is a special day of your life, but the death of Hazrat Musleh-e-Maudra is not an ordinary and trivial matter. You may not wear your heavy embroidered dresses. You should give preference to simplicity."
I remember that occasion very well, everyone was sad. My mother was overwhelmed [with grief]. Her condition was bad due to constant crying and her eyes were swollen because she had not lost only a single relationship; in fact, she had lost almost everything, a brother, a father, an Imam and patronage. Hazrat Musleh-e-Maudra was absolutely bed ridden in his final illness.
I have myself witnessed Huzoorra lying in bed. At the time, Huzoorra could not write, so in the last years, he would dictate his speech which was in the form of a message. He would speak himself and express that a certain message should be delivered on his behalf at a particular occasion.
I have been told that the Al Hakam newspaper has been launched for young boys and girls. Taking advantage of this opportunity, I would like to express that when I observe divorces these days, I recall my elders for their vast capacity of forbearance. I cannot forget their patience, their simplicity, their absolute trust upon Allah and their diligence. Their selflessness was extraordinary.
My father dealt with all kinds of situations. He worked really hard. He remained fully obedient towards Hazrat Musleh-e-Maudra. Wherever he was sent to carry out any task, he gave preference to the Jamaat. For instance, when the matter of the land in Sindh surfaced, he encountered many hardships and selected good and beneficial land for the Jamaat and completed all the steps. After that he began searching for his own personal land.
My mother, who was the daughter of the Promised Messiahas, always stood by patience and prayer. Whatever the circumstances, she would always seek help through prayer. My parents were an ideal couple. When Hazrat Musleh-e-Maudra gave my mother's hand in marriage to my father, my parents remained committed and did not allow their differences in nature to cause any effect [on their relationship].
Every observer knows that my mother had a literary mindset and my father was a simple person. There were many other differences but they always fueled love. I have observed both of them very closely for a long time. I never saw them arguing or fighting. They remained together in one room and respected, honoured, loved, and cherished each other.
Now, the boys and girls who are studying the accounts of their elders, it is their responsibility to try to create these high moral values within themselves. They should remove misunderstandings and keep away from wrong ways and pray, so that we all become beneficial individuals of the Jamaat and servants of Khilafat.