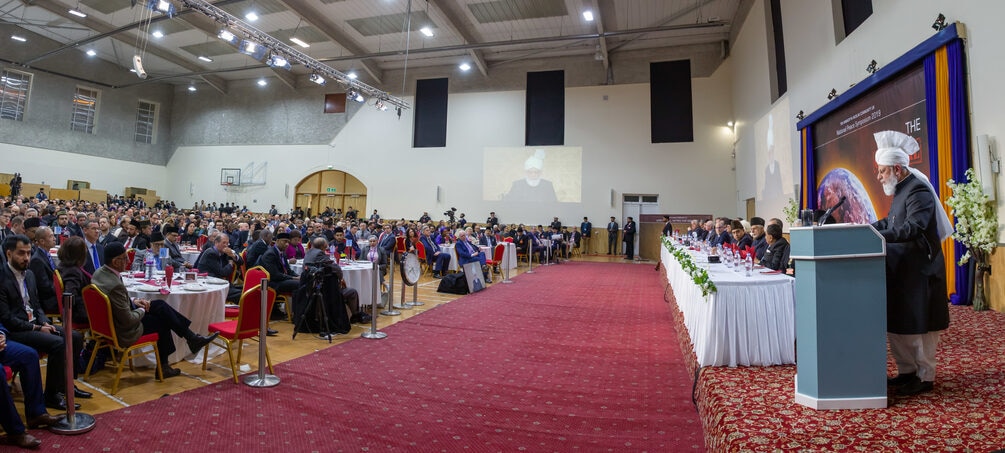 It has been the practice of the Ahmadiyya Muslim Jamaat to counsel, guide, advise and spearhead efforts towards peace wherever it exists.
Under the divinely guided Khilafat, the track-record of the Jamaat constitutes a stunning hallmark of success in striving to alleviate the political, social and economic problems of the world.
Today's time is no different. This year's Peace Symposium was the 16th to be held at Baitul Futuh, London and carried the theme: The Critical Need for World Peace.
The words of Archbishop Emeritus Kevin McDonald of the Roman Catholic Archdiocese of Southwark summed up the importance of this gathering. He thanked the Ahmadiyya Muslim Community for the initiative which was "quite unusual, different, imaginative, bringing together people of different religions". He emphasised a "particular timeliness about this year's peace symposium" against a backdrop of Brexit and the surge of youth-related violence on the streets of Britain. The social, political and economic climate of the rest of the world is also rife with war and an uncertain future.
The Peace Symposium had a large international representation from around 30 countries including Israel, Gambia, Uganda, Eritrea, Canada, Liberia, Morocco, Hungary, Iraq and many more. The mayors of seven London boroughs were also in attendance.
The 2019 Ahmadiyya Peace Prize for the Advancement of Peace was awarded to Dr Fred Mednick, Founder of Teachers Without Borders – an organisation providing education in emergencies, education for women and aiming to close the educational divide in the poorest parts of the world.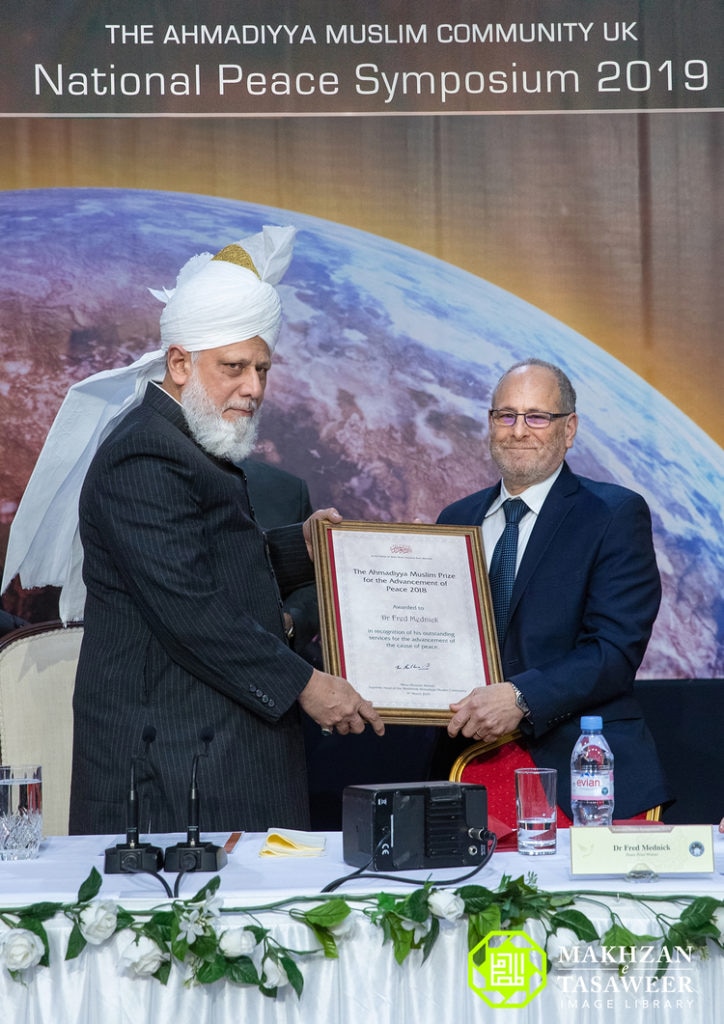 Dr Fred Mednick received the prize from Hazrat Khalifatul Masih Vaa and stated in his acceptance address:
"I am deeply honoured and privileged to receive this award and I do so on behalf of Teachers Without Borders. We are really moved and profoundly grateful for your commitment to peace-making through education."
The keynote address was delivered by Hazrat Khalifatul Masih Vaa in which he opened with the words:
"Each year, the Ahmadiyya Muslim Community hosts this Peace Symposium in which current issues and the overall state of the world are analysed, and in my address, I seek to present answers to these contemporary issues in light of the teachings of Islam."
Hazrat Amirul Momineenaa drew attention towards the intensifying geo-political state of affairs by the forging of new battlefields and increasing number of rivalries. Huzooraa cited a number of experts that were also pointing towards a disastrous future and deterioration of international relations and stated:
"During the past year, the United States claimed with a degree of confidence that it was close to securing an historic peace deal with North Korea. But in recent days, it has become clear that nothing of substance has been achieved."
Huzooraa further commented:
"Expert commentators and experienced politicians are reaching the conclusion that nuclear war no longer remains a remote and distant prospect but is a growing threat that can no longer be discounted."
On the issue of the escalating tensions in the subcontinent between India and Pakistan, Huzooraa pointed out that both countries were nuclear powers and had alliances, thus a war between them would have far-reaching consequences.
The rise of nationalism is also a pressing issue which was spoken on:
"Nationalism has reared its ugly head again and far-right parties are gaining popularity across the Western world. They may not have secured outright political majorities, but unless justice at all levels of society prevails, they will continue to gain support."
It is clear that nations with vested interests are seeking out policies of injustice that in turn are causing such havoc in various parts of the Middle East that the citizens of such places have no option but to migrate.
When such immigration occurs to the West on a large scale, especially against the backdrop of an already struggling Western world, this automatically creates tensions and resentment towards those seeking protection of Western nations in the hearts of the indigenous population.
This has been the primary reason why nationalism is gaining ground. Hence, the simple solution to this, as presented by Huzooraa, is to adopt policies of peace that would enable the war-torn Middle Eastern nations to achieve their potential, thus alleviating the need for their citizens to migrate elsewhere in search of safety.
Whilst commenting on nationalism, Huzooraa stated:
"One of the core reasons underpinning their popularity has been widespread immigration which has caused resentment and a belief that existing indigenous citizens are being short-changed in order to fund and support immigrants … If genuine efforts are made to cultivate peace and to help all countries achieve their potential, this desperation of people to flee their homes would automatically subside."
Huzooraa then counselled the immigrants that settle elsewhere to stand on their own two feet rather than live a life on benefits, and play a positive role in society, since the underlying cause of resentment is always economic.
On the topic of Brexit, Huzooraa pointed out that all possible efforts to preserve unity by upholding each other's rights was paramount to peace. Moreover, it was the responsibility of the EU governments to remove the fear of their citizens by adopting progressive and practical policies with regard to immigration.
Huzooraa also addressed the question of whether it was apt to look for solutions to global unrest from an Islam perspective since it was Islamic countries themselves that were in the worst state. The answer to this was that present-day countries are not the hallmark for Islamic practice, rather we should reflect upon the time of the Holy Prophet Muhammadsa to understand how he created a society that protected the rights of all without discrimination.
Rear Admiral Mike Bath, after the event, commented on the importance of the Peace Symposium:
"Tonight we've seen people of many faiths all in one place, all sharing the vision and the message which we all agree with, which is we all need to come together if we are going to solve some of these problems in the future.
"Why it has particular resonance for me in the Navy is because so much of what His Holiness talked about in terms of commitment, loyalty, respect are those same values that we in the Navy have. So, the armed forces and the Ahmadiyya share common goals in much of this as we all want to see a more peaceful world."
Senator Maria Arrelas from Spain commented after the event:
"It was an honour for me to be here. For me the speech from His Holiness was really nice and really important and everybody here saying 'peace' together with one voice is really important."
The Peace Symposium of the Ahmadiyya Muslim Community has become an important event in its calendar since one of the principle missions of its founder, the Promised Messiahas was to establish peace through righteous Islamic conduct. However, one may ponder over what impact this gathering is having if the state of the world is continuing to deteriorate.
The words of Huzooraa at the outset of his address are enough to answer this. He stated:
"In terms of what impact this event has on the wider world, I have said before that I do not know. However, regardless of its effect, we shall never give up our efforts to promote peace and justice and certainly I'm sure all of you share our ardent desire for true and long-lasting peace to be established in the world."