Misbah Anmol Tariq, Jamaica Correspondent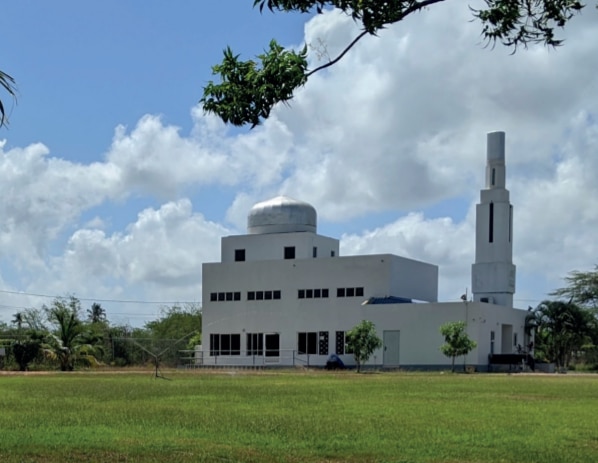 Students from Cross Primary and Infant School in Clarendon visited the Mahdi Mosque, in Jamaica, on 2 December 2022.
Before starting our presentations, we requested the guests to remove their shoes prior to entering the mosque. Children are always astounded when we ask them to remove their shoes to enter the prayer hall, but as soon as we demonstrate how we offer salat, they immediately understand.
The local missionary Tariq Azeem Sahib and a missionary from Guyana, Fahd Peerzada Sahib, started their presentation by teaching the students the Islamic greeting of "as-salamu 'alaikum". This is always a good start to the presentation to break the ice. It makes the kids smile and it warms the atmosphere for all attendees.
The presenters taught the basics of Islam, including how Muslims worship Allah the Almighty, by demonstrating the Islamic prayer.
The kids were engaged and asked plenty of questions. They were particularly curious to learn about women's rights in Islam.
For this purpose, my humble self had the opportunity to explain my modest dress and my hijab. Upon explaining, the children as well as the staff accompanying them, greatly appreciated the message as it seemed to resonate with them.
We ended the 45-minute presentation and distributed some sweets, which we always have handy at the office for children.
On the same day, students from Comfort Hall Primary School from the parish of Manchester, visited the Mahdi Mosque. Our local mu'allim, Ghulam Ahmad Sahib, welcomed the guests and gave them a tour of the mosque with the help of another volunteer. He also taught them the basic Islamic values and our fundamental teachings and he ended his presentation by handing out sweets.
Teachers from both schools were extremely pleased with their visits and thanked us for arranging the tour on short notice. They also expressed the desire to have future visits to the mosque. One of the schools scheduled a visit for the following week with a different batch.