Aamir Shahzad, President Jamaat Huddersfield South, UK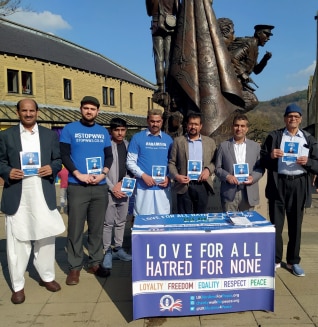 Jamaat-e-Ahmadiyya Huddersfield South and North organised the #STOPWW3 campaign event in Huddersfield and Halifax.
On 26 March 2022, a tabligh stall in Huddersfield and Halifax was set up where many members of the public visited and appreciated the peace campaign by the Ahmadiyya Muslim Community.
Around 1000 leaflets were distributed and the regional missionary Sabahat Karim Sahib and Secretary Tabligh Usman Choudhry Sahib answered the questions which were asked by the public during their visit to the stall.