Shahid Ahmad Masud, Regional Missionary, Ivory Coast
On 1 October 2021, members of Jamaat-e-Ahmadiyya Ivory Coast arranged a tabligh day in Tanda, Bondoukou region. Through this, the message of Islam Ahmadiyyat was conveyed to hundreds of people.
Tanda is a town which is located about 50 kilometres from Bondoukou. The majority of the population of the city are Muslims, and most of the people belong to the Kolango tribe.
The journey started with silent prayer at 9 am. A team was formed for preparations and for the distribution of books and other literature.
All the members of the Jamaat gathered at Tanda mosque to listen to the Friday sermon of Hazrat Amirul Momineenaa.
Immediately after the Jumuah prayer, the bookstall was set up at a well-known place of the city in which the Holy Quran with French translation and other literature were displayed.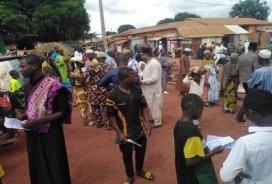 Due to the hustle and bustle of Friday, many people came to our stall and showed great interest in the exhibition. Books worth 25,000 Franc CFA were sold.
The regional missionary was also present there. The questions of the visitors were also answered with the help of a local khadim who knows the local language.
Leaflets were given to all the visitors who came to the stall. The Holy Quran and a small prayer book in French drew the most interest of the visitors.
The stall continued till 4 pm. After, Khuddam and Ansar began distributing leaflets on Islam Ahmadiyyat in different streets and alleys. Through this activity, the message of Islam Ahmadiyyat was spread in the streets of the city.
This was not only a successful tabligh day but also a great experience for the young members.
Despite a long day of travelling, visiting walking through different streets and handing out leaflets, the members stayed persistent and did not let their spirits go down.