Last Updated on 25th March 2021
Tayyaba Ahmed, Hartlepool
"And who is better in speech than he who invites [men] to Allah and does good works and says, 'I am surely of those who submit?" (Surah Ha Mim al-Sajdah, Ch.41: V.34)
Preface
The inspiration and the confidence for writing this article are the words of our most respected and beloved Hazrat Mirza Masroor Ahmad, Khalifatul Masih V, may Allah be his Helper in his Friday Sermon of 1 January 2021:
"Thus, every Ahmadi should reflect upon the fact that they have been tasked with a great responsibility. And to complete this task, we must first create an atmosphere of love and brotherhood in our own Ahmadi society and then bring the entire world under this banner, which was raised aloft by the Holy Prophetsa – the banner of the Unity of God. Only then will we be successful in fulfilling the purpose of our bai'at [pledge of allegiance] and doing justice to it.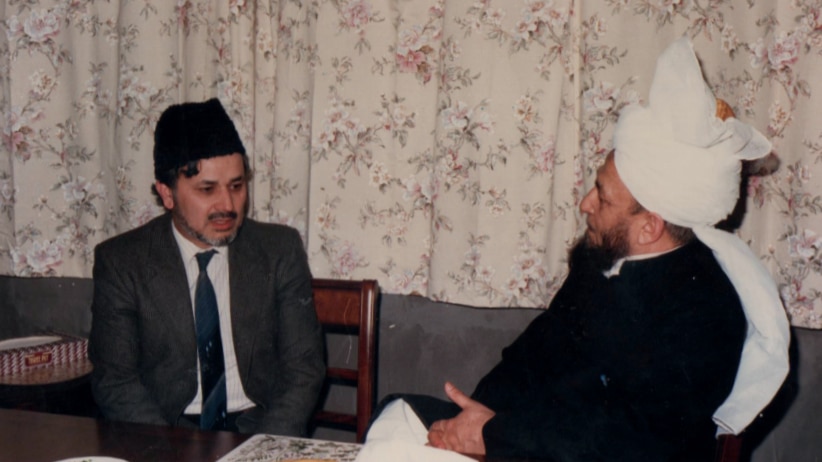 "Only after doing this will we become the recipients of the bounties of Allah and only then will we have the right to give and receive the greetings for the New Year.
"May Allah the Almighty enable us to do this and by understanding their responsibilities, may every Ahmadi man, woman, child and elderly pledge that they will use all of their faculties to bring about a transformation in the world this year.
"May Allah the Almighty enable every Ahmadi to fulfil this pledge." (Friday Sermon delivered on 1 January 2021, published in Al Hakam, 29 January 2021)
The blessings of Ahmadiyyat
Various aspects of my parents' love for Khilafat and tabligh (preaching) efforts have been remembered, alhamdulillah, both in the MTA documentary, White Birds of Hartlepool and in writings by my siblings, Abid Khan Sahib and Munavarrah Khan Ghauri Sahiba.
(See URLs below for these documentaries and articles:
www.mta.tv/documentaries/white-birds-hartlepool
www.pressahmadiyya.com/other/2020/10/memories-of-my-father
www.reviewofreligions.org/23704/ahmadiyya-muslim-community-origin-hartlepool-jamaat-part-one
www.reviewofreligions.org/23708/ahmadiyya-muslim-community-origin-hartlepool-jamaat-part-two)
This series of articles intends to shed some light on their personal efforts to follow the call to raise the flag of God's unity and of the Holy Prophetsa in a small North Eastern town in the UK and how they established a loving community of Ahmadis.
Undoubtedly, my mother, Sajida Mubashira Khan Sahiba, had a passion for tabligh from a young age; in fact, it would not be an exaggeration to say that it was the defining characteristic of her adult life.
In her last days, when she was seriously ill with cancer – the disease having even reached her brain, losing her the ability to speak fluently – she would still muster the words to speak of "God" to the Macmillan nurses that came. Her dedication to her God was literally till her last words.
Labbaik, Allahumma labbaik
If I was to describe my father, Dr Hameed Ahmad Khan Sahib, by one noble and pious characteristic that defined him, then undoubtedly it was his love, obedience and attachment to Khilafat-e-Ahmadiyya, due, of course, to his love for the Promised Messiahas who was the ardent devotee of our beloved Master, the Holy Prophetsa.
I remember his complete devotion to the advice and instructions of Khilafat and his advice to me that "whatever 'tahrik' or new appeal the Khalifa of the time gave, just try and join in immediately. Don't worry if you feel you are not able to complete this endeavour. Leave the future up to Allah the Almighty and join in immediately. 'Labbaik, Allahumma labbaik.'"
Early years
My mother was the daughter of the late Brigadier Muhammad Waqi-uz Zaman Khan Sahib and Qanita Begum Sahiba, the daughter of Hazrat Maulvi Abdul Mughni Sahib of Qadian and Sultan Jahan Begum Sahiba. She was born in Amritsar, India and when she was only two years old, her mother Qanita passed away not long after delivering a baby girl who also soon passed away.
A few years later, her father was fortunate to be remarried to a granddaughter of the Promised Messiahas, Amatul Majeed Maujan Begum Sahiba, daughter of Hazrat Mirza Bashir Ahmadra, and was blessed with a further son and two daughters.
My father was born in Veroval India. His father was Abdul Majeed Khan Sahib, who, having been a landlord owning vast farmlands in India, migrated to Rabwah with his young family after the partition and was blessed with the service of overseeing the lands of Hazrat Khalifatul Masih IIra. My paternal grandmother was Malka Khanum Sahiba, henceforth I shall mention her as Dadi Umma.
The Mother of the Believers (Ummul Momineen) Hazrat Amma Janra
Dadi Umma used to mention an interesting incident of how my father was named Hameed. She would say that after having gone through childbirth, she was delighted and emotional to have a beautiful, healthy baby boy and due to regular, often daily outings that her husband would have with Hazrat Khalifatul Masih IIra as his land caretaker, out of love and respect, she immediately requested him to ask Huzoorra for a name for him.
My grandfather, who was extremely respectful of Hazrat Khalifatul Masihra, responded that he did not think he should bother Hazrat Khalifatul Masih IIra with such a trivial request. Malka Sahiba was, of course, in her state of weakness, emotional to hear this and she said that she wished so dearly that someone of huge piety would name her son.
There was nothing she could do about the matter, however, so she left it to Allah the Almighty. Dadi Umma would relate that she thought Allah the Almighty took pity on her and fulfilled her desire that her son should be named by a very holy person, as a few days later, a relative of hers visited her and said she was going to request Hazrat Amma Janra, the noble wife of the Promised Messiahas for a name for her own new-born, and if Malka Sahiba wanted, she could also request a name for Malka's son. "Of course! What a wonderful outcome!" This was how my father was named Hameed, by Hazrat Amma Janra herself, alhamdulillah.
When it comes to describing what I know about the early life of both my parents, many incidents were related to me either by themselves or by people close to them. I would like to relate a few that perhaps throw light on their later endeavours and which also show us the endless blessings of Ahmadiyyat.
Student years
My father was, masha-Allah, a very hardworking and talented student. He was fortunate to study in the schools and colleges of Rabwah – Talim-ul-Islam High School and College.
In those days, electricity was not available fully in all homes in Rabwah, so my father used to sit outside with a lamp to study in the hot summer evenings.
It is a common sight in Pakistan that any night lights attract moths around them. Some moths would collect on his lamp and some even his face and he would calmly wipe them away from his eyes and continue to study.
Allah blessed his hard work as a young student as when he matriculated (equivalent to passing GCSEs today in the UK), he was third in the whole Punjab Board (out of thousands of students) and later in his FSc exams (equivalent to A levels), he came first, alhamdulillah. Not only this, one subject, maybe biology, had no teacher available for a long period (perhaps a year) and he taught not only himself, but also the whole class who all did exceptionally well that year.
As he was such an outstanding student, his father planned to send him into the civil service, which was considered a good career. However, when advice was sought from Hazrat Khalifatul Masih IIra, he was advised to become a doctor and that is what he did.
Having completed his studies at King Edward Medical College Lahore, my father sought permission from Hazrat Khalifatul Masih IIIrh to continue his training in the USA. He was given permission but for only a year, thereafter moving to the UK where he later became a general practitioner.
He was forever grateful to Allah the Almighty that he was not allowed by Huzoorra to remain and settle in the USA as from 1984, Khilafat-e-Ahmadiyya moved to London and my father would not have wished to be anywhere else.
My mother was also a good student, whose love for studying English led her to gain a double master's degree in English from Lahore College in Pakistan. This love and ability in the English language was later to stand her in good stead when she married and moved to the UK in 1969.
As her mother had passed away, she would share her time by staying with her maternal grandparents in Rabwah and would also spend time with her father and Amatul Majeed Maujan Sahiba, "Ummi". Thus, my mother grew up in a strongly religious and, in some ways, quite a scholarly environment – her maternal grandfather, a devout servant of the Jamaat and her knowledge of Urdu literature and poetry stemming from the influence of her pure Urdu speaking father who had been born in the Uttar Pradesh area.
Visit of my mother's college friends to Rabwah
My mother had an innate desire for tabligh. She used to mention an incident of her student years when she studied English at Lahore College.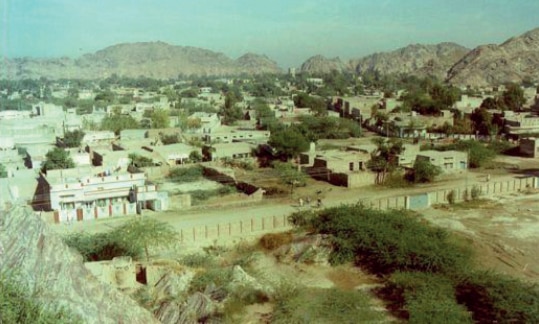 She invited some of her non-Ahmadi college friends to visit Rabwah. She was hoping to dispel any misconceptions they had about Ahmadiyyat and rumours they may have heard about our centre (markaz). However, as she arrived, perhaps without forewarning her relatives, she felt that due importance and encouragement was not given to the visit of her friends, until she was able to introduce them to Hazrat Sahibzada Mirza Tahir Ahmadrh (later Hazrat Khalifatul Masih IV), who spoke to them very graciously and as per character, elegantly explained and informed them about the Ahmadiyya Muslim Community and the importance and role of Rabwah at its centre.
My mother always remembered this incident with love, fondness and gratitude to Hazrat Khalifatul Masih IVrh.
Rishta Nata
The story of my parent's rishta (marriage) arrangement is interesting. It was arranged at the behest of Ummi's mother, Hazrat Sarwar Sultan Begumra (wife of Hazrat Mirza Bashir Ahmadra), whom my father used to visit as a newly qualified doctor in Rabwah. Dadi Umma, who was of similar pathan background to her, would visit her regularly and it was to her that Hazrat Sarwar Sultan Begumra made the suggestion that Dr Hameed would be a good match for Sajida.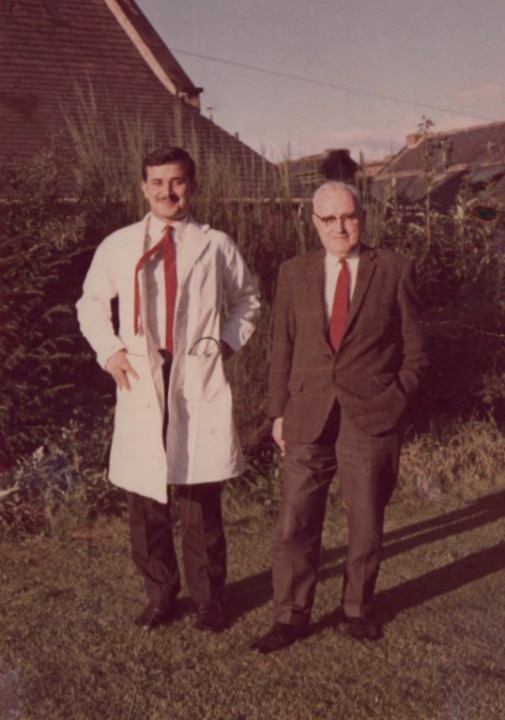 My mother always used to express her appreciation of the good qualities of my father. Her marriage, as the eldest child of the family and having lost her mother so young, was as important as could be for her family. She told me of an incident which reflected the deep love and concern Hazrat Sahibzada Mirza Tahir Ahmadrh had for her and for which reason she always believed that his prayers had blessed her marriage.
It so happened that she was considering some proposals of marriage, but when my father's proposal came, she met Hazrat Mirza Tahir Ahmadrh, who said, "Yes! This is the kind of rishta that I prayed for you!" Then he listed qualities such as piety, good family, good education and other traits, all of which my mother would count to us and say belonged to our father. These expressions of gratitude to Allah the Almighty and appreciation of the good attributes of our father, I am sure, were a source of increasing Allah the Almighty's blessings on her and us, alhamdulillah.
As time passed and my sister and I grew up and were married at a young age, my mother once told me that someone had asked her how the early and suitable marriages of her daughters had been arranged, to which she had replied that this was a gracious blessing of Allah. My mother added that it was her habit that she had always prayed for other people's daughters that they had blessed rishtas and marriages.
UK beginnings
My father's work as a trainee GP was initially in the northern town of North Shields, thereafter moving to Hartlepool. My parents would relate an early highlight of their marriage, when Hazrat Khalifatul Masih IIIrh visited the UK in 1970. My father would, in later years, relate how they excitedly followed Huzoor'srh entourage to the different places that Huzoorrh was visiting. Even though they did not have permission for joining in like this, Huzoorrh was so gracious and kind that this oversight on their part was not even mentioned.
Lesson time
"And I was a witness over them as long as I remained among them, but since Thou didst cause me to die, Thou hast been the Watcher over them; and Thou art Witness over all things." (Surah al-Maidah, Ch.5: V.118)
By the time I was about 15 months old, Allah graced my parents with a son, Fareed, and as we grew up, my mother turned her attention towards educating us in the best manner she could.
I remember that on our days off from school, we would play outside on our bikes with other children in our neighbourhood, but at a certain time, every day, my mother would call us in, much to our friends' disappointment, for "lesson time". This consisted of reading the Holy Quran or Qaedah Yassarnal-Quran, learning hadith off by heart (our target was 20) and knowledge of Ahmadiyyat.
The zeal of my mother's future propagation of Islam is demonstrated by the fact that by the time I was six or maybe seven and we visited Pakistan, she had taught me the verse of the Holy Quran which proves that Hazrat Jesusas was not alive in Heaven but had passed away like all humans. She would ask me to recite the verse to relatives and they would all be suitably impressed! In later years, my father particularly encouraged and guided us as regards our education.
As a woman, I am particularly grateful that he gave me the confidence to believe that I could academically achieve the highest levels, a blessing of following the teachings of Islam Ahmadiyyat, I am sure.
Tabligh begins
"With the help of Allah. He helps whom He pleases". (Surah al-Rum, Ch.30: V.6)
My own earliest memories of my mother's tabligh efforts are that whenever Jehovah's Witnesses would come to our door with a Bible or literature, instead of shying away from them in any way, she would explain the teachings of Islam in detail till they would know that she was not someone to duel with; they were defeated by the logic and reasoning and proofs she gave from Islamic teachings.
Looking back, I believe that these often-weekly sittings with Jehovah's Witnesses – discussing proofs of the truth of Islam from the Bible – refined and broadened her preaching skills and knowledge.
As I approached my teenage years, she and our Aunty Pam – a nurse who later became the matron of the Coronary Care Unit at the local hospital – had, over some years, become firm friends and regular companions. They began to discuss matters of theology and eventually, both began to study each other's Holy Book.
I remember them – Aunty Pam sitting on the circular rug in front of the stone fireplace in our sitting room, a cup of coffee beside her, and my mother seated with her, both with their Holy Books open as they discussed various prophecies, verses and explanations.
Some years later, perhaps in 1980/81, after also meeting the illustrious Hazrat Chaudhry Zafrulla Khanra and reading his book Deliverance From the Cross, Aunty Pam accepted Islam Ahmadiyyat, fully convinced that Hazrat Mirza Ghulam Ahmadas of Qadian was the second coming of Hazrat Jesusas, who had survived the cross and lived for many years thereafter, travelling to find the lost tribes of Israel.