Awwab Saad Hayat, Al Hakam
The Messiah of the Latter Days and the Imam Mahdi, Hazrat Mirza Ghulam Ahmadas of Qadian, laid the foundation of a blessed gathering to help his Jamaat achieve those heavenly objectives for which he was sent by the Allah the Almighty.
Thus, two years after the foundation of the Ahmadiyya Muslim Jamaat, in 1891, the first Jalsa Salana was held in Qadian. Ever since its initiation, this annual Jalsa is proving immensely beneficial for the moral and spiritual edification and advancement of members of Jamaat-e-Ahmadiyya.
Moreover, it plays a major role in highlighting the Jamaat's identity on the global horizon and in the same way, it is a manifestation of the ever growing progress of the Jamaat.
The details of the first annual Jalsa are as follows:
The Promised Messiahas wrote a book, Asmani Faislah (The Heavenly Decree), in December 1891 and invited leaders and followers of all religions, specifically every maulvi, sufi, pir, faqir and sajjada nashin, and presented a method to identify the truth.
He suggested to form a body, which would collect and record the names of afflicted people of every faith and then, after dividing them through a lot between the two participants, both the parties would pray for the healing and betterment of their respective group. The results of mass acceptance of prayers and manifestation of the heavenly signs would show who the chosen one of God Almighty was and who was stubbornly denying the truth.
In order to put this proposed method into practice, the Promised Messiahas called for a gathering to consult his Companionsra. This historic meeting was held on 27 December 1891 and 75 fortunate members of the Community were present in it. That was the very first Jalsa Salana of Jamaat-e-Ahmadiyya, which was initiated by the founder of the Ahmadiyya Jamaat, the Messiahas of Muhammadsa, and also blessed with his presence.
The proceedings of the Jalsa commenced after the Zuhr prayer at Masjid Aqsa, Qadian. Hazrat Maulvi Abdul Karim Sialkotira read out the book, Asmani Faislah, before the gathering. Then, the participants of the Jalsa were asked to voice their opinion as to who should be appointed members of the said body proposed by the Promised Messiahas.
All of them, unanimously expressed that the book should be published immediately and later, after ascertaining the intentions of the opponents, the members should be appointed by mutual consent of both parties. Thereafter, the Jalsa was concluded and members of the Jamaat had the honour of shaking hands with the Promised Messiahas. (Al Hakam, 14 April 1935)
Below are the names of those fortunate companions who were part of that special Jalsa:
1. Munshi Muhammad Arura Sahib, Draughtsman in Magistrate's Court, Kapurthala. 2. Munshi Muhammad Abdur Rahman Sahib, Clerk of General Department, Kapurthala. 3. Munshi Muhammad Habibur Rahman, Chieftain, Kapurthala. 4. Munshi Zafar Ahmad Sahib, Appeal Writer, Kapurthala. 5. Munshi Muhammad Khan Sahib, Clerk in Criminal Court, Kapurthala. 6. Munshi Sardar Khan Sahib, Head Constable Court, Kapurthala. 7. Munshi Imdad Ali Khan Sahib, Clerk in the Department of Education, Kapurthala. 8. Maulvi Muhammad Husain Sahib, Kapurthala. 9. Hafiz Muhammad Ali Sahib, Kapurthala. 10. Mirza Khuda Bakhsh Sahib, mentor of the Nawab of Malerkotla. 11. Munshi Rustam Ali Sahib, Deputy Inspector Railway Police, Lahore. 12. Deputy Haji Sayyid Fatih Ali Shah Sahib, Deputy Collector, Department of Irrigation. 13. Haji Khwaja Muhammad-ud-Din Sahib, Chieftain, Lahore. 14. Mian Muhammad Chattu Sahib, Chieftain, Lahore. 15. Khalifa Rajbuddin Sahib, Chieftain, Lahore. 16. Munshi Shamsuddin Sahib, Clerk, Exam Office, Lahore. 17. Munshi Taj Din Sahib, Accountant, Exam Office, Lahore. 18. Munshi Nabi Bakhsh Sahib, Clerk, Exam Office, Lahore. 19. Hafiz Fadl Ahmad Sahib, Clerk, Exam Office, Lahore. 20. Maulvi Rahimullah Sahib, Lahore. 21. Maulvi Ghulam Husain Sahib, Imam Gatti Mosque, Lahore. 22. Munshi Abdur Rahman Sahib, Clerk, Loco Office, Lahore. 23. Maulvi Abdur Rahman Sahib, Masjid Chinian, Lahore. 24. Munshi Karam Ilahi Sahib, Lahore. 25. Sayyid Nasir Shah Sahib, Sub-Overseer. 26. Hafiz Muhammad Akbar Sahib, Lahore. 27. Maulvi Ghulam Qadir Sahib Fasih, Owner and Manager Punjab Press and Municipal Commissioner, Sialkot. 28. Maulvi Abdul Karim Sahib, Sialkot. 29. Mir Hamid Shah Sahib, Clerk Remission of Revenue, Sialkot. 30. Mir Mahmood Shah Sahib, Copyist, Sialkot. 31. Munshi Muhammad Din Sahib, ex-Inspector Land Revenue, Sialkot. 32. Hakim Fadluddin Sahib, Chieftain, Bhera. 33. Mian Najmuddin Sahib, Chieftain, Bhera. 34. Munshi Ahmadullah Sahib, Mahaldar, Permit Department, Jammu. 35. Sayyid Muhammad Sahib, Chieftain, Jammu. 36. Mistri Umruddin Sahib, Jammu. 37. Maulvi Nuruddin Sahib, Royal Physician, State of Jammu. 38. Khalifa Nuruddin Sahib, Book-binder, Jammu. 39. Qadi Muhammad Akbar Sahib, ex-Administrator of Tehsil, Jammu. 40. Shaikh Muhammad Jan Sahib, in the service of Raja Amar Singh Sahib, Wazirabad. 41. Maulvi Abdul Qadir Sahib, Teacher, Jamalpur. 42. Shaikh Rahmatullah Sahib, Municipal Commissioner, Gujrat. 43. Shaikh Abdur Rahman Sahib, B.A., Gujrat. 44. Munshi Ghulam Akbar Sahib Yatim, Clerk, Exams Office, Lahore. 45. Munshi Dost Muhammad Sahib, Police Sergeant, Jammu. 46. Mufti Fazlur Rahman Sahib, Chieftain, Jammu. 47. Munshi Ghulam Muhammad Sahib, s/o Maulvi Din Muhammad, Lahore. 48. Sain Shair Shah Sahib, Majdhub, Jammu. 49. Sahibzada Iftikhar Ahmad Sahib, Ludhiana. 50. Qazi Khawaja Ali Sahib, Contractor Phaeton, Ludhiana. 51. Hafiz Nur Ahmad Sahib, Textile Mill owner, Ludhiana. 52. Shahzada Haji Abdul Majid Sahib, Ludhiana. 53. Haji Abdur Rahman Sahib, Ludhiana. 54. Shaikh Shahabuddin Sahib, Ludhiana. 55. Haji Nizamuddin Sahib, Ludhiana. 56. Shaikh Abdul Haq Sahib, Ludhiana. 57. Maulvi Muhkamuddin Sahib, Attorney, Amritsar. 58. Shaikh Nur Ahmad Sahib, Owner Riaz-e-Hind Press, Amritsar. 59. Munshi Ghulam Muhammad Sahib, Scribe, Amritsar. 60. Mian Jamaluddin Sahib, resident of mauza Saikhwan. 61. Mian Imamuddin Sahib, Saikhwan. 62. Mian Khairuddin Sahib, Saikhwan. 63. Mian Muhammad Isa Sahib, Teacher, Naushaihra. 64. Mian Charagh Ali Sahib, resident of Thei Ghulam Nabi. 65. Shaikh Shahabuddin Sahib, resident of Thei Ghulam Nabi. 66. Mian Abdullah Sahib, resident of Suhal. 67. Hafiz Abdur Rahman Sahib, resident of Suhiyan. 68. Darugha Nimat Ali Sahib, Hashmi, Abbasi, Batalawi. 69. Hafiz Hamid Ali Sahib, in the service of Mirza Sahib. 70. Hakim Jan Muhammad Sahib, Imam Masjid, Qadiani. 71. Babu Ali Muhammad Sahib, Chieftain, Batala. 72. Mirza Ismail Baig Sahib Qadiani. 73. Mian Buddhay Khan, headman, Bairi. 74. Mirza Muhammad Ali Sahib, Chieftain, Patti. 75. Shaikh Muhammad Umar Sahib s/o Haji Ghulam Muhammad Sahib, Batala. (The Heavenly Decree, pp. 50-51 [English translation of Asmani Faislah])
Soon after the successful inauguration of the first annual Jalsa, an announcement was published informing members of the Jamaat about the decision that every year, an annual gathering of the Ahmadiyya Muslim Jamaat would be held on 27, 28 and 29 of December.
Highlighting the purpose and objectives of the annual Jalsa, the Promised Messiahas stated:
"All sincere souls who have entered the fold of this humble one should know that the purpose of pledging allegiance is to dampen the worldly ardour, so that the heart is engulfed in the love of the Bountiful God and of the Holy Prophetsa, and to develop such a state of detachment that the Final Journey does not seem an unwelcome prospect.
"But in order to achieve this, it is necessary to stay in my company and to spend a portion of one's life in this cause, so that, if God Almighty so wills, through witnessing some definite signs, weakness, infirmity and tardiness may be overcome and perfect faith may be born, resulting in fervour and passionate ardour. One should always strive to achieve this goal and pray that God may grant this opportunity. Until this happens, it is essential to meet me now and then.
"Bai'at is devoid of all blessings and is a mere formality if one does not care to meet me. Since – due to physical inability, lack of resources, and long distances – it is not possible for everyone to stay in my company or to visit me a few times every year, and most hearts are not yet endowed with such ardent desire that they should bear the greatest troubles and hardships for the meeting, it seems appropriate, therefore, that three days of every year should be fixed for a gathering in which all my devoted followers should – God willing – be present, with the condition of health, time and absence of strong impediments.
"So, in my opinion, these dates should be from 27 to 29 December. Hence, from this day, 30 December 1891, if we live to see 27 December, all our friends should, to the best of their ability, come and listen to Divine words and to join us in supplication for the sake of Allah. This gathering will be devoted to the exposition of such truths and spiritual insight as are necessary for the promotion of faith and certainty and spiritual understanding, and there will be special prayers and attention for the participants. And to the best of our ability we shall endeavour to supplicate at the threshold of the Most Merciful that He may draw them towards Him, may accept them and may bring about a pious change in them.
"An additional benefit of these gatherings will be that each year new entrants to the Jamaat shall, by being present on the fixed dates, get to know their brethren who had joined earlier. And these meetings will lead to progressive strengthening of the bond of mutual love and affection.
"Prayers for absolution will be offered for brothers who will have passed away in the interim, and supplications shall be made at the threshold of the Glorious God that He may unite all these brothers in spirit and banish all estrangement, dryness and differences from amongst them.
"This spiritual convention will have many other spiritual benefits which will become manifest from time to time. Those suffering from paucity of means would be well-advised to plan ahead for attending this Jalsa.
"If they lay by a small sum on a daily or monthly basis, through planning and saving, they will have enough provisions for the journey, and it will seem as if the journey was undertaken free of cost.
"Those who approve of the proposal should inform me now in writing so that a separate list can be made of those who are resolved, for the rest of their lives, to attend the gathering on the specified dates with all their heart and soul and with the greatest resolve – unless it is simply beyond their power and means to undertake the journey.
"May Allah grant a goodly reward to those who underwent the travails of travel to attend the convention which was held on 27 December 1891 for the purpose of religious consultations. May He reward every step they look upon this journey. Amin, amin." (The Heavenly Decree, pp. 73-75)
After this announcement, save for a few years, the annual Jalsa of Jamaat-e-Ahmadiyya has taken place every year under the instructions laid down by the Promised Messiahas more than hundred years ago.
The Jalsa Salana of 1907 also possesses great historical significance because it was the last annual gathering of the Ahmadiyya Muslim Jamaat which was held in the life of the Promised Messiahas.
The arrival of guests for this annual Jalsa started from 19 December 1907. However, some friends reached Qadian even before that date to spend as much time in the company of the Promised Messiahas as possible.
The first jamaat to arrive under the leadership of their Amir, Maulvi Karam Dad Sahib, was that of Dulmial. Thereafter, members of various jamaats, i.e. Sialkot, Jammu, Wazirabad, Gujranwala, Gujarat, Lahore, Amritsar, Kapurthala, Ludhiana, etc., started coming in flocks from all over India on a daily basis and this massive influx of guests continued even during the days of Jalsa. (Al Badr, 26 December 1907)

On 25 December 1907, a general conference of Tash-heez-ul-Azhan magazine was held after the Zuhr prayer. Hafiz Abdur Rahim Sahib read out its annual report to start the proceedings.
Thereafter, Sahibzada Mirza Bashiruddin Mahmud Ahmad Sahibra drew the attention of the youth to their important responsibilities.
Syed Zainul Abidin Waliullah Shah Sahibra read out his paper and Akbar Shah Khan Sahib and Nematullah Sahib Guhar recited poems. Hazrat Maulvi Nuruddin Sahibra delivered the concluding speech.
On the morning of 26 December, the Promised Messiahas went out for a walk and everyone went out to meet him, like butterflies fly toward flowers, and witnessed his beautiful personage. Everyone had an extraordinary urge to be the first to visit him. The Promised Messiahas stood for around two hours under a tree outside the village where his followers shook his hand.
Then, Zuhr and Asr prayers were offered in congregation at Aqsa Mosque and Hazrat Maulvi Nuruddin Sahibra announced some nikahs and shed light on the purpose of marriage. Thereafter, Mir Qasim Ali Sahib recited a poetic mubarak nama [a way of expressing congratulations]. (Al Badr, 9 January 1908, p. 2)
On 27 December, the Jumuah and Asr prayers were combined and offered at Masjid Aqsa. The Friday sermon was delivered by Hazrat Hakim Maulvi Nuruddinra. The area inside and outside the mosque was jam-packed and the overflow of members had to offer Salat on the surrounding roof tops of shops, houses, the post office, etc. At the time, more than 3,000 people were present.
After the Friday prayers, the Promised Messiahas delivered a speech, in which he presented a sublime interpretation of Surah al-Fatihah and then drew the attention of the listeners towards purifying themselves. Thereafter, the Promised Messiahas shook hands with the participants of the Jalsa. (Al Hakam, 2-14 January 1908)
On the morning of 28 December, the Promised Messiahas went for a walk as usual and thanks to the good management by Dr Mirza Yaqub Baig Sahib, Chaudhry Maula Baksh Sahib, Malik Muhammad Hayat Sahib, Hakim Muhammad Omar Sahib and Dr Khalifa Rashiduddin Sahib, everyone had the honor of visiting and witnessing the Prophetas of Allah with great convenience. The Promised Messiahas sat down at a particular place in a field and listened to a couple of poems as well. (Al Badr, 9 January 1908)
On the same day, the Zuhr and Asr prayers were combined and then, the Promised Messiahas delivered his second speech before the audience of the annual Jalsa. He instructed his followers to be tolerant and show perseverance. Then, he talked about an array of subjects and concluded his speech with the following words: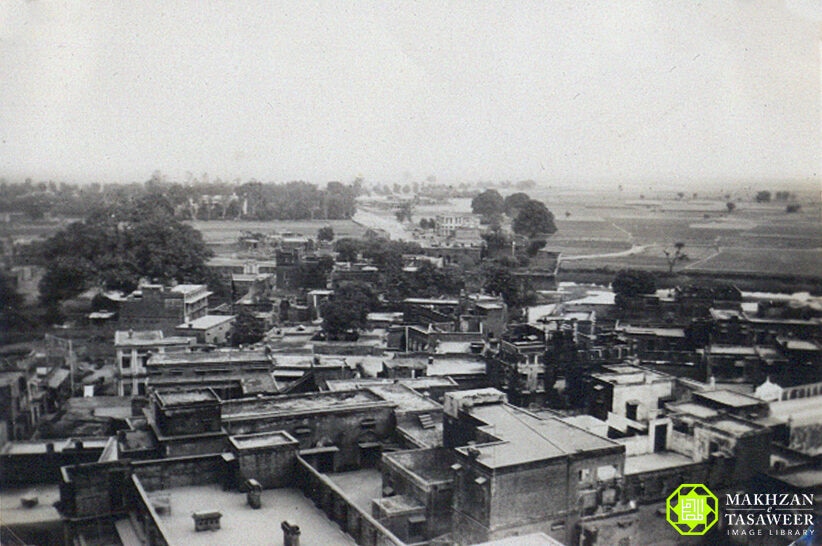 "Now, that time has come regarding which the prophets have been announcing from the beginning. The time of God Almighty's judgment is near, so fear Him and repent." (Al Hakam, 18 January 1908)
After the Maghrib prayer on 28 December, the conference of Sadr Anjuman Ahmadiyya was held, in which most of the presidents and secretaries of various external anjumans took part. After the presentation of the report and budget, Dr Khawaja Kamaluddin Sahib discussed every matter in detail. Hazrat Maulana Hakim Maulvi Nuruddinra then delivered a speech in which he explained which kind of Anjuman is permissible in light of the Holy Quran. (Al Badr, 9 January 1908)
Sheikh Yaqub Ali Irfani Sahibra (then editor of Al Hakam), Hakim Fazaluddin Sahib, Mufti Fazlur Rahman Sahib, Qazi Amir Hussain Sahib and various teachers and students of Madrasa-e-Ahmadiyya voluntarily worked around the clock to serve the guests.
Due to the overwhelming attendance of members of the Jamaat, some guests were served meals very late. There was enough food, but because of the shortage of space, only a limited number of people could eat at a time, which caused delay. Some guests retired to their rooms without eating.
However, they received the reward, in that Allah the Almighty consoled them with a revelation conveyed directly by Allah to His messenger:
یٰآأَيُّهَا النَّبِیُّ اَطۡعِمُوا الۡجَائِعَ وَ الۡمُعۡتَرَّ
"Feed the hungry and the distressed."
When the Promised Messiahas enquired the next the morning, he found that some of the guests remained hungry. He called for the manager of the public kitchen and admonished him to take good care of the guests. (Al Hakam, 2 January 1908 and Al Badr, 9 January 1908 [Tadhkirah, pp. 987-88])
A great number of people took Bai'at at the hand of the Promised Messiahas throughout the annual Jalsa of 1907. On some days, the huge overflow of participants would make it impossible for the Promised Messiahas to reach every person and take Bai'at by placing their hands on his hand.
Hence, people were asked to take off their turbans and spread them in different directions. The Promised Messiahas would then take Bai'at by holding one end of every turban in his hand, while the other ends were distributed among various individuals and everyone else would hold their hands to seek blessings. This unique method of taking Bai'at concludes the details of the final Jalsa of the Promised Messiah'sas life. (Al Badr, 9 January 1908, p. 3)
Thus, the annual Jalsa of the Ahmadiyya Muslim Jamaat was initiated in the time of the Promised Messiahas by his own blessed hands and is still prospering and being held in all parts of the world.
May Allah the Almighty help us achieve its purpose, which is to forge a close connection with God and strive for betterment in every sphere of life.