Usama Umar Joya, National President, Mayotte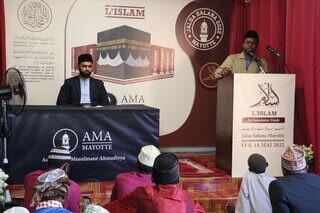 Jamaat-e-Ahmadiyya Mayotte had the opportunity to hold its 3rd Jalsa Salana on 13 and 14 May 2022.
The members worked with great energy to meet all the necessary requirements before the event. Alhamdulillah, everyone gave their best to complete the preparation in the short period of time.
The Jalsa commenced after the Jumuah prayer with flag hoisting ceremony. The members then listened to the live Friday Sermon of Hazrat Khalifatul Masih Vaa.
After the opening speech by my humble self, Ustad Zaidou Sahib, Secretary Tabligh Jamaat Mayotte addressed the audience. Soon after Maghrib and Isha prayers, dinner was served. This concluded the first day of the Jalsa.
On the second day of Jalsa, the session commenced at 11am with several interesting speeches which were delivered by the local members of the jamaat. After this, a feast was organised to strengthen the bond of brotherhood between members of the community.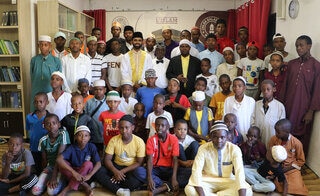 During the last session, my humble self delivered a speech, followed by a virtual concluding address by Amir Jamaat-e-Ahmadiyya Kababir, Mohammad Sharif Odeh Sahib.
Ustad Zaidou Sahib helped in the translation from Arabic to Mahorais.
After the Maghrib and Isha prayers, dinner was served.
By the grace of Allah, the event was a great success.