In the fourth year of Al Hakam, we will present a selection of incidents from the blessed era of the Third Khalifa, Hazrat Mirza Nasir Ahmadrh (1965-1982)
9 April 1970: Hazrat Khalifatul Masih IIIrh visited West Germany.
9 April 1977: Khuddam-ul-Ahmadiyya Nigeria held its fifth annual Ijtema, which was attended by more than 500 delegates from 25 Majalis.
10 April 1968: A three-day All Rabwah Basketball tournament was held.
10 April 1979: Indonesia's 39th Majlis-e-Shura was held, which lasted for three days.
11 April 1970: On this date, Hazrat Khalifatul Masih IIIrh began his tour of Nigeria, which continued until 17 April. The Muslim Council of Nigeria hosted a grand reception in honour of Huzoorrh.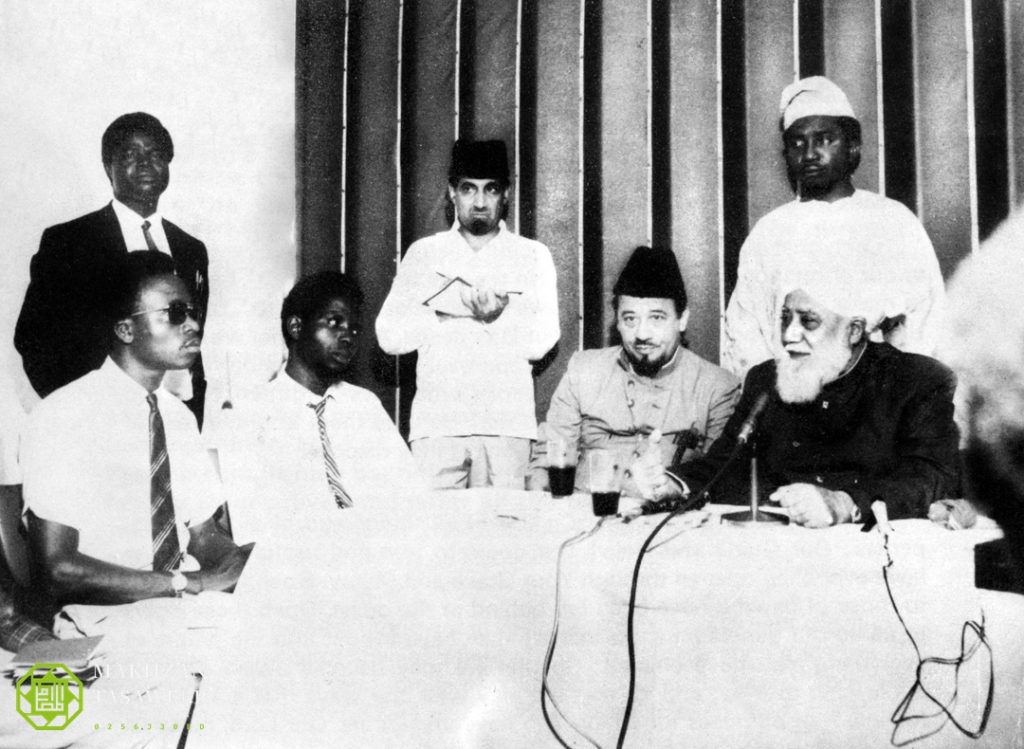 11 April 1976: The annual one-day gathering of Majlis Ansarullah was held at Aiwan-e-Mahmood Hall, Rabwah.
11 April 1979: On this date, an Ahmadiyya mosque and library were inaugurated in Padang, Indonesia.
11 April 1981: Nasirat-ul-Ahmadiyya England held their second seven-day tarbiyati class, which was attended by 142 nasirat.
12 April 1970: An Ahmadi judge of Nigeria's supreme court, Abdur Rahim Baqri Sahib, held a reception in honour of Hazrat Khalifatul Masih IIIrh. Huzoorrh also inaugurated a mosque.
12 April 1975: The foundation stone of the Ahmadiyya mosque in Nusrat Jehan Girls Academy in Wa, Ghana was laid by Abdul Wahab bin Adam Sahib, former amir and missionary-in-charge Ghana.
12 April 1981: On this date, a new mission house in Afwan, Nigeria was established.
13 April 1967: On this date, Hazrat Dr Hashmatullahra passed away. He was born in 1887 and took bai'at of the Promised Messiahas in June 1902. God Almighty blessed him to serve Hazrat Musleh-e-Maudra as his personal doctor and in-charge of the Nur Hospital, Qadian for a long period. He also accompanied Hazrat Musleh-e-Maudra during his journey to Europe in 1924 and 1955.
On 20 September 1944, Hazrat Musleh-e-Maudra stated:
"Dr Hashmatullah Sahibra is a life devotee in his own right, meaning that he had devoted his life for the Jamaat a long time ago […] Then, he has a personal relation with me, due to which he deserves special treatment".
Hazrat Dr Sahibra was among the Jamaat's recipients of divine dreams. Many of his insightful speeches and knowledgeable articles are recorded in the Jamaat's newspapers.
13 April 1968: On this date, Ivory Coast held its first Jalsa Salana.
13 April 1970: Hazrat Khalifatul Masih IIIrh met with the then head of the state of Nigeria, Yakubu Gowon. Huzoorrh also addressed the University of Ibadan.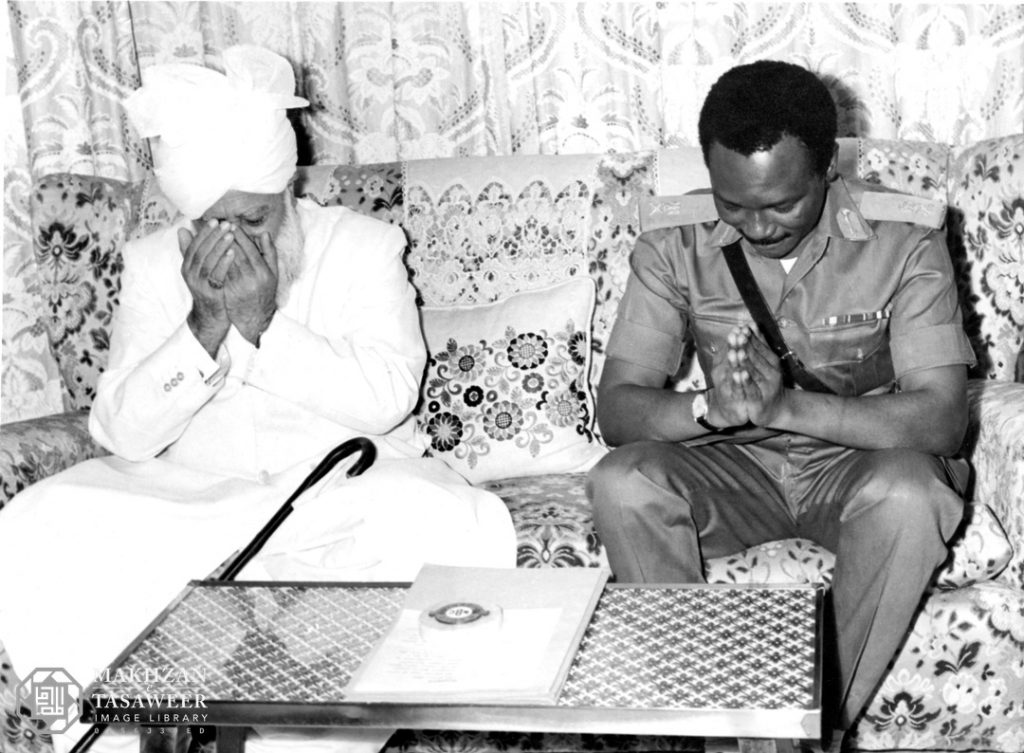 13 April 1973: Hazrat Khalifatul Masih IIIrh expressed his happiness upon the formation of the new constitution of Pakistan. During his Friday Sermon, Huzoorrh expressed his happiness and satisfaction upon the matter that after problems and complexities of 25 years, Allah the Almighty had enabled the representatives of the country to make a unanimous constitution. Huzoorrh also prayed that Allah the Almighty blessed this constitution for the country and nation.
13 April 1979: The Gambia held its fifth Jalsa Salana, which lasted for three days. Eight people pledged allegiance and joined the fold of Ahmadiyyat.
14 April 1968: A wedding ceremony took place between members of the Promised Messiah'sas family, which Hazrat Khalifatul Masih IIIrh also graced. The wedding was between Dr Mirza Mubashir Ahmad Sahib, son of Dr Sahibzada Mirza Munawar Ahmad Sahib, and Amatur Raqeeb Begum Sahiba, d/o Sahibzada Mirza Hameed Ahmad Sahib. Before this, the nikah was announced by Huzoorrh at the occasion of Jalsa Salana.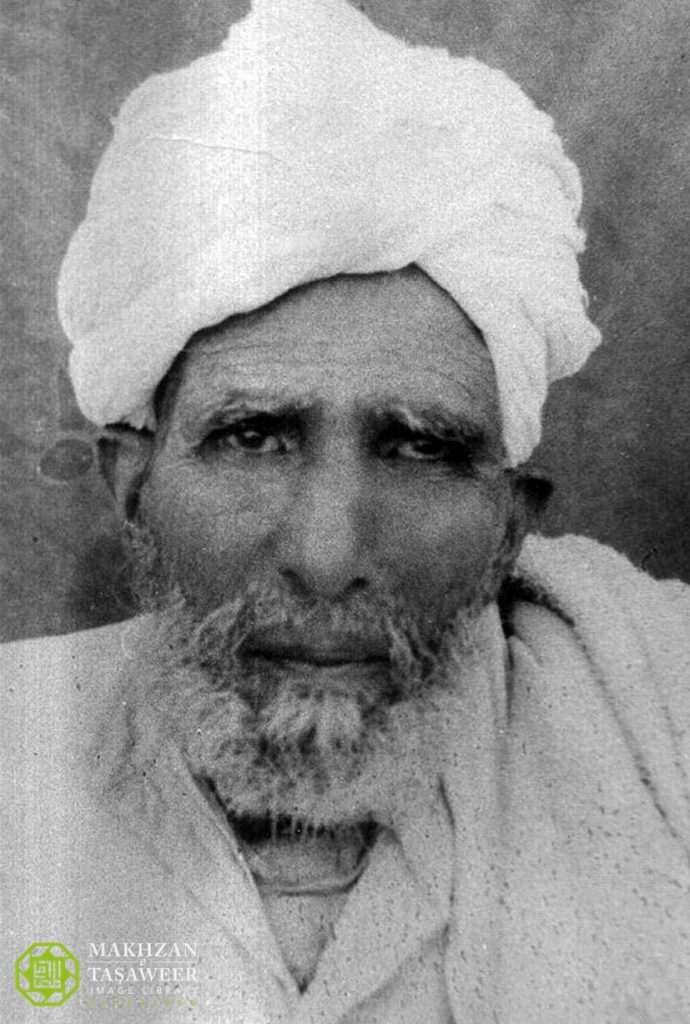 15 April 1967: On this date, Hazrat Mehar Qutbuddinra passed away. He was born in 1882 and visited the Promised Messiahas in 1894-1895 when he performed bai'at. Both his father and brother were also companions and were the first from Qadian's "Arain" caste to take bai'at after witnessing the sign of the solar and lunar eclipse. The visitors of Qadian used to stay at their home. Mehar Qutbuddin Sahibra used to farm due to having a patch of land in Qadian. Once, he invited Hazrat Musleh-e-Maudra to his home and served saag and makai ki roti (South Asian dishes).
15 April 1970: Hazrat Khalifatul Masih IIIrh, after mutual consultation, announced plans to open 16 more secondary schools and four new medical centres in Nigeria.
15 April 1981: On this date, Yaum-e-Da'wat-e-Ilallah (Day of Calling unto Allah) was celebrated by Jamaat UK.