A glimpse into the rich history of the Ahmadiyya Muslim Jamaat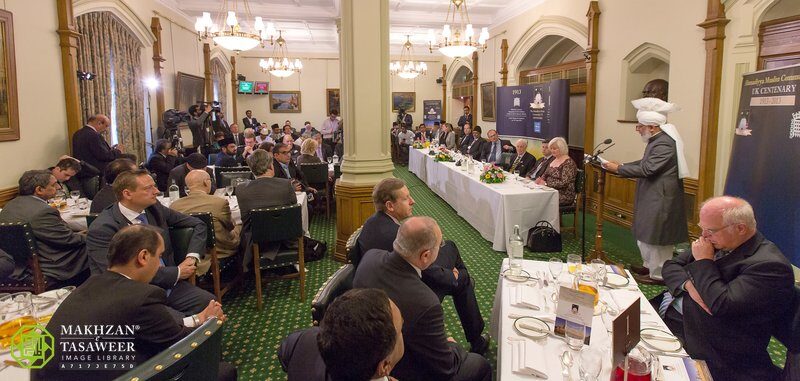 9 June 1905: On this day, the Promised Messiahas received the following Arabic revelation:
إنّي ﻣﻌﻚ و ﻣﻊ أﻫﻠﻚ و ﻣﻊ کلّ ﻣﻦ أﺣﺒّﻚ
"I am with you and with the members of your family and with all those who love you." (Tadhkirah [English], 2009, p. 758)
9 June 2014: On this day, Hazrat Khalifatul Masih Vaa inaugurated Al-Mahdi Mosque in the German municipality of Neufahrn, situated 20 kilometres from Munich, the capital of the state of Bavaria, in the south-east of Germany. ("Al-Mahdi Mosque, Neufahrn, Munich inaugurated", www.pressahmadiyya.com)
10 June 1982: On this day, Hazrat Mirza Tahir Ahmadrh was elected as the Khalifatul Masih IV. A day earlier, Hazrat Mirza Nasir Ahmadrh, Khalifatul Masih III had passed away. (Silsila Ahmadiyya, Part 4, p. 814)
10 June 1988: On this day, Hazrat Khalifatul Masih IVrh issued a mubahalah challenge to the opponents of the Jamaat-e-Ahmadiyya. (Ibid., p. 847)
11 June 2013: On this day, Hazrat Khalifatul Masih Vaa was welcomed to the British Houses of Parliament by the Deputy Prime Minister and various parliamentarians. The purpose of this visit to Westminster was to deliver the keynote address at a special reception hosted by Ed Davey MP, the then Secretary of State for Energy and Climate Change, and the All-Party Parliamentary Group for the Ahmadiyya Muslim Community in recognition of the centenary celebrations of the Jamaat in the UK. Prior to the formal proceedings, Deputy Prime Minister Nick Clegg, Home Secretary Theresa May, Energy Secretary Ed Davey, Shadow Foreign Secretary Douglas Alexander and other members of parliament had meetings with Huzooraa. ("Historic Reception takes place at Houses of Parliament to Celebrate Ahmadiyya Muslim Jamaat UK Centenary", www.pressahmadiyya.com)
12 June 1902: On this day, the Promised Messiah'sas Arabic book, Al-Huda wa al-tabsira liman-yara was published.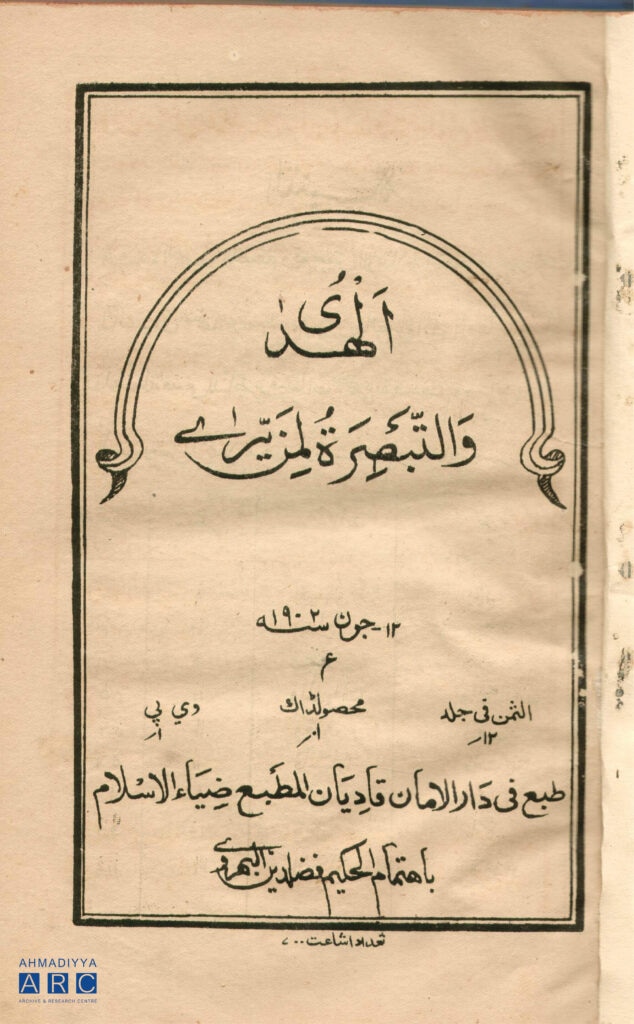 12 June 1970: During his Friday Sermon on this day, Hazrat Khalifatul Masih IIIrh narrated about his tour of Spain and West Africa. Huzoorrh stated that during his two-night stay in Granada, he hardly slept and spent his nights praying to Allah. On the second night, he prayed so fervently to Allah that after the Fajr prayer, the following verse of the Holy Quran flowed from his tongue:
وَ مَنۡ يّتَوَكّلۡ عَلَي اللّٰهِ فَهُوَ حَسۡبُهٗ ؕ اِنَّ اللّٰهَ بَالِغُ اَمۡرِهٖ ؕ قَدۡ جَعَلَ اللّٰهُ لِكُلِّ شَيۡءٍ قَدۡرًا
"And he who puts his trust in Allah – He is sufficient for him. Verily, Allah will accomplish His purpose. For everything has Allah appointed a measure." (Surah at-Talaq, Ch.65: V.4) (Tarikh-e-Ahmadiyyat, Vol. 26, pp. 117-120)
In the same sermon, Huzoorrh called on Ahmadis to offer financial sacrifices under the Nusrat Jehan Scheme, the details of which have already been published in our article, titled "Nusrat Jehan Scheme: Khilafat's impetus for 'Africa to Leap Forward' – A glimpse into the early years (1970-1982)", Al Hakam, 27 May 2022, Issue 219, pp. 16-18)
13 June 1897: On this day, the Promised Messiahas replied to a letter from Hazrat Siddiqa Begum Sahibara, wife of Hazrat Qureshi Muhammad Usmanra, SDO. Huzooras advised her to remain punctual in her daily prayers. Huzooras prayed that Allah may keep her in the company of her loved ones and grant her a son with a long life. Huzooras also recommended that she stay in Qadian for a brief period. (Maktubat-e-Ahmad, Vol. 3, p. 385)
14 June 1903: Lala Bhim Sin was a pleader by profession, who happened to be a class fellow of Hazrat Mirza Ghulam Ahmadas, along with Maulvi Muhammad Hussain of Batala, when they were all pupils of Gul Ali Shah Sahib. On this day, Huzooras replied to the letter of Lala Bhim Sin, clearing his misconceptions. Despite Huzooras being occupied with other undertakings, he spared some time for this old acquaintance to help him understand things in a better way. (Maktubat-e-Ahmad, Vol. 1, p. 86)
14 June 1908: On this day, Hazrat Khalifatul Masih Ira called the attention of Ahmadi scribes and invited them to come and reside in Qadian to expedite the process of printing of the Jamaat's publications.
In fact, there was a great shortage of scribes in Qadian at that time. For this reason, an important booklet of Huzoorra was sent to Lahore for publication. Similarly, an important pamphlet by Hazrat Mirza Bashir-ud-Deen Mahmood Ahmadra was also sent to Lahore. At the behest of Hazrat Khalifatul Masih Ira, the editor of Al Hakam announced this desire of Huzoorra by publishing an advertisement for it. (Tarikh-e-Ahmadiyyat, Vol. 3, p. 232)
14 June 1948: On this day, Hazrat Musleh-e-Maudra delivered a lecture at the York House in Quetta as part of a series of lectures titled "Istihkam-e-Pakistan" – Consolidation of Pakistan. The session was attended by the Iranian Consul, the Minister of the State of Qalat, tribal leaders, civil and military officials, office-bearers of the Muslim League, local dignitaries, doctors and press representatives. The details of this series of lectures have already been published in our article, "'The consolidation of Pakistan': Lectures by Hazrat Mirza Bashiruddin Mahmud Ahmadra on how Pakistan can see success". (Al Hakam, 6 May 2022, Issue 216, pp. 10-13).
14 June 1987: On this day, Hazrat Khalifatul Masih IVrh delivered a lecture at the University of Zurich, titled "Revelation, Rationality, Knowledge and Truth". (Silsila Ahmadiyya, Part 4, p. 842)
15 June 1912: On this day, Hazrat Khalifatul Masih Ira travelled to Lahore and laid the foundation stone of the house of Hazrat Sheikh Rahmatullahra. Sheikh Sahibra had been told by the Promised Messiahas that he would bless the house by laying its foundation stone, but destiny did not allow him. On this, the first successor of the Promised Messiahas did not desire for a single promise of his master to remain unfulfilled. Accordingly, Hazrat Khalifatul Masih Ira bore patiently the hardships of travel and reached Lahore to lay the foundation stone. The following day, Huzoorra delivered a lecture too. Huzoorra returned to Qadian on 19 June. It is said that during this journey, Huzoorra gave speeches in Amritsar, Batala and Lahore. (Tarikh-e-Ahmadiyyat, Vol. 3, pp. 397-400)
15 June 1915: On this day, Hazrat Sufi Ghulam Muhammadra arrived at Port Louis to establish the Ahmadiyya Mission in Mauritius. (Tarikh-e-Ahmadiyyat, Vol. 4, p. 170)