Nadimur Rahman, Secretary Talim, UK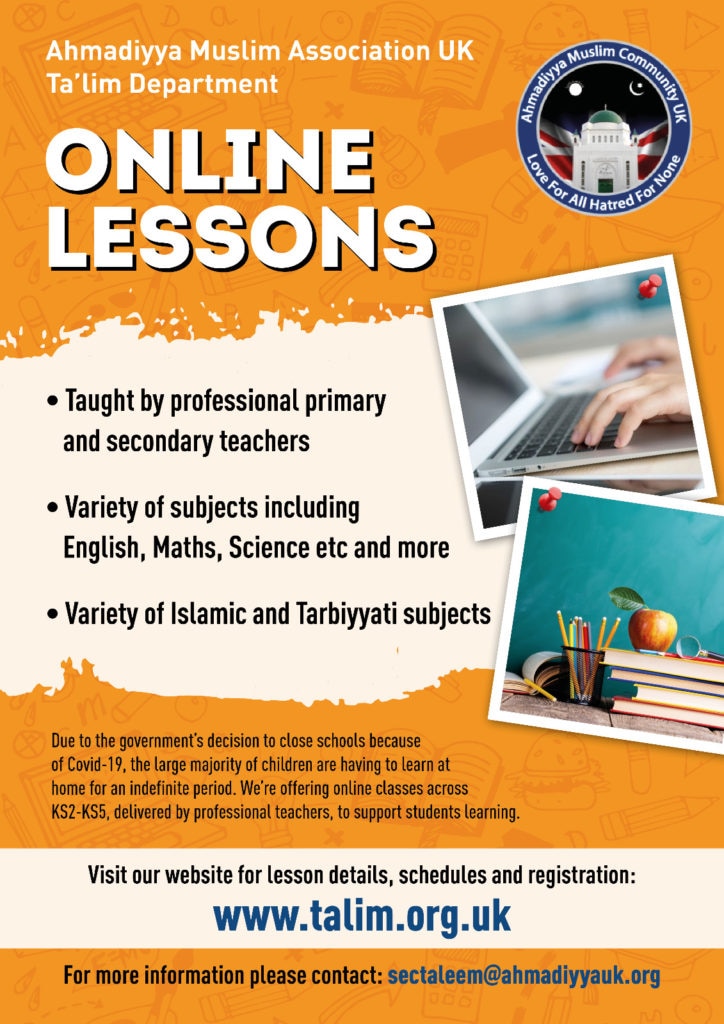 On 18 March 2020, the UK Government announced that schools would close and this summer's GCSE and A level examinations would be cancelled as a response to the coronavirus pandemic. This unprecedented measure affected millions of children of all ages who are now learning from home, many without the direct support of their normal teachers.
Under the instructions and guidance of Amir Jamaat UK, the National Talim Department UK has started free online lessons for Ahmadi Muslim students at primary, secondary and post-16 levels.
An exhaustive schedule of lessons has been drawn up, covering a variety of national curriculum, GCSE and A level subjects, including English, maths, science, religious studies, history and many more.
These lessons are being taught by professional teachers in the Jamaat. In addition, classes are being taught about different Islamic and contemporary topics ranging from the Holy Quran and the Holy Prophet Muhammad, peace and blessings of Allah be upon him, to mindfulness, honesty and hygiene.
Lessons are taking place on the Microsoft Teams platform. Within two weeks of launching, 100 teachers and more than 1,000 students have registered and more than 4,000 bookings made for the 140 plus lessons offered.
Children from other countries, such as Mauritius and Pakistan, have also been taking part. The schedule is updated daily with more lessons being added regularly. The quality of lessons has been praised highly by students and parents.
Some of the feedback received was:
"I really enjoyed the lesson. The teacher was fantastic and I hope I have lessons like these again. The topic was fractions today and last time was VAT and percentages. I really understand these topics more now. Jazakallah."
"Masha-Allah the work put into these classes and the organisation is incredible. We as parents/students will never know how much effort has been put in from the organisers. Hats off to all the teachers and especially the national talim team facilitating and organising every class!"
"I suggest that next time, parents sit with their children as they could be beneficial for parents as well.
"I liked the fact that you could message the answers on the chat and I managed to learn a lot from the class which was taught well and easy to understand for a range of ages. Would definitely join other classes in the future."
"I had a great business lesson. Thank you very much."
The talim department will be uploading video lessons and learning resources on their website and social media accounts in due course. For further details go to https://ahmadiyya.uk/talim/online-classes/.