Mateen Bhatti, Secretary Nasirat-ul-Ahmadiyya UK
On 26 June 2021, Nasirat between the ages of 13 and 15 had the opportunity to meet Hazrat Amirul Momineenaa in a virtual mulaqat. This took place in the Tahir Hall of Baitul Futuh Mosque. The mulaqat was attended by around 370 Nasirat from eight regions of the UK.
All Nasirat were required to do a lateral Covid-19 test the night before and each girl had a temperature check before registration, after which they were seated in the Tahir Hall. All were required to wear face masks.
The girls began arriving from 8 am. The girls were very patient as they waited for Huzoor's presence.
There was an aura of a unique and special day. On top of that, to be in Baitul Futuh after such a long time added to their excitement as some were able to meet each other after a very long time.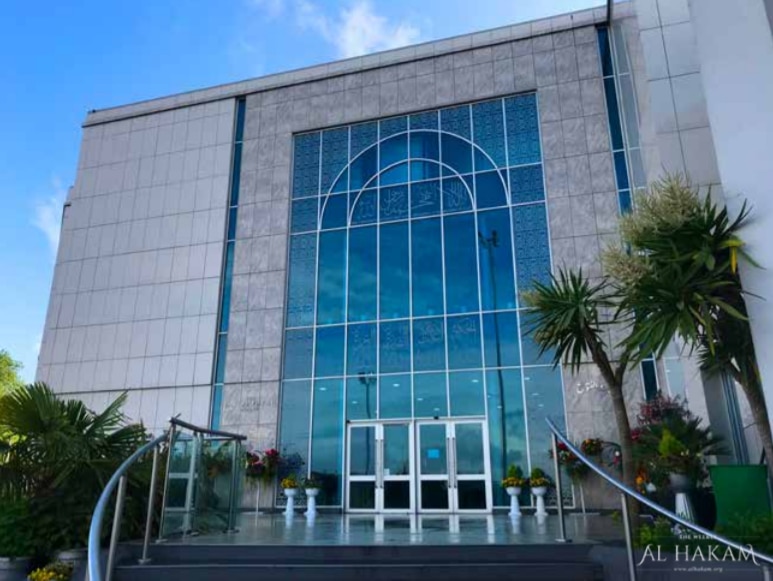 During a break in the Tahir Hall, I enquired from a girl from Purley jamaat whether she had met anyone else from her jamaat? I was taken aback by her simple answer. She said "Yes, there is someone from Purley, but I am not able to recognise her" as they had been having virtual Nasirat classes during the pandemic and new attendees hadn't met each other yet. This was heart-breaking for me.
Whilst waiting for Huzoor's arrival, rehearsals took place.
MTA checked the mics, settings and guided how girls should approach the mic, to speak slowly and clearly.
The time then arrived when Huzoor's presence enamoured the entire atmosphere. It was surreal. Huzoor's smile and love for his Nasirat never left his face until the screen went blank.
Huzooraa gave each and every Nasirah all the time that was needed to answer their questions.
The time seemed to go swiftly as we came to the last question.
The Nasirat expressed their emotions in the following words:
Aashita of Morden Hall Park expressed:
"I found this class very informative and learned many new things from Huzooraa."
Rumaisa of Baitul Futuh East expressed:
"I thought the mulaqat was really good and I enjoyed it a lot. I had a few questions prior to coming to the class, which have all been answered."
Raheela of Thornton Heath said:
"I really enjoyed the mulaqat. This time round, there was a variety of questions ranging from religion to everyday things like growing vegetables, so I felt like it was really interesting and catered to everyone. Something new I learnt was that you could use neem leaves on vegetables as a source of pesticide."
Shafia of Morden Hall Park said:
"I found the class very interesting and I learned a lot. I think there were lots of different questions which everyone could relate to. The questions asked regarding school and when people ask you questions in class, I feel like I can use that knowledge now that Huzooraa has addressed how to answer those questions."
Maria Ahmed Rana of Baitul Futuh expressed:
"I learned a lot from this mulaqat, especially from the questions about doing tabligh and how to respond to many different allegations against Ahmadiyyat. I felt really encouraged by Huzooraa when he told everyone to remove their complexes and be more confident in expressing our own views."
Rameen Mirza of South Cheam said:
"The whole event was really good and I think it was really well planned. The questions were interesting and Huzooraa gave insightful answers. All the restrictions due to Covid-19 were also managed well."
Fareeha Hashmi of Carshalton said:
"This session today answered all my questions and was very helpful. I can apply all these to my daily life and can try to respond to them in a good way."
Shareena Javaid of Richmond Park expressed:
"Huzooraa talked very informatively today and really knew the subject behind each question."
Aleena Ahmed of Southfields expressed:
"It was really interesting because a lot of questions applied to lots of people there and they were very interesting to listen to. It was really enjoyable and I found Huzoor's answers very informative."
Saba Qaiser of Hounslow South said:
"I was one of the Nasirat who asked a question and it was such a blessing and frightening at the same time, but also very special. It was probably one of my favourite days ever."
Saleha Saddiqa of Roehampton Vale said:
"I really enjoyed our mulaqat with Huzooraa. Masha-Allah, Huzooraa was smiling and laughing throughout. It really made me happy as well and there was so much that I learnt from this class. Seeing Huzooraa after a year, due to the pandemic, felt really special and just seeing Huzooraa talking and interacting with us had a massive impact on me."
Maheen Mahmood of Merton Park said:
"I really enjoyed the class even though we were unable to be in the same room, face to face with Huzooraa. Being together with all the other Nasirat after such a long time, we felt finally connected, so I really enjoyed the atmosphere."
Shafia Kamran of Roehampton said:
"I really enjoyed the virtual class. I asked Huzooraa a question and he provided such an amazing answer. It made me feel really blessed to attend the class."
Kafia Farooq of Deer Park expressed:
"I really loved this experience because it felt like Huzooraa was right in front of us, despite it being a virtual class. I felt it went perfectly to plan."
Kashifa Sohail of Farnham said:
"This class was very enjoyable. Even though it wasn't face to face with Huzooraa, it was still very interactive and everyone had a chance to do ask what they wanted. Huzooraa answered lots of questions and it made my day."
Tuba Sheikh of Sutton expressed:
"The event was good, and the question and answer session was good. While I didn't have any questions to ask, I felt the ones asked were very interesting."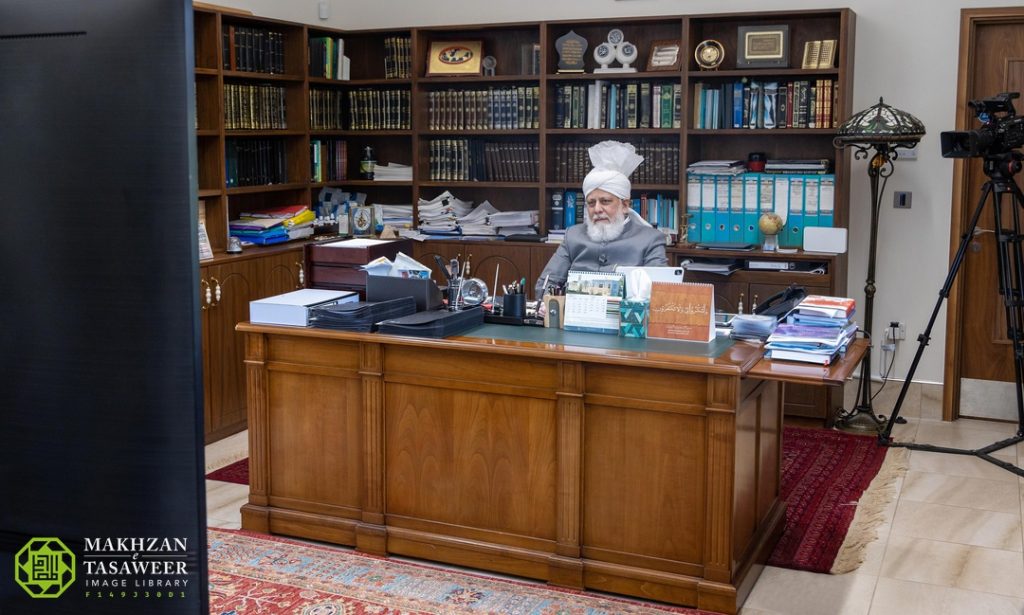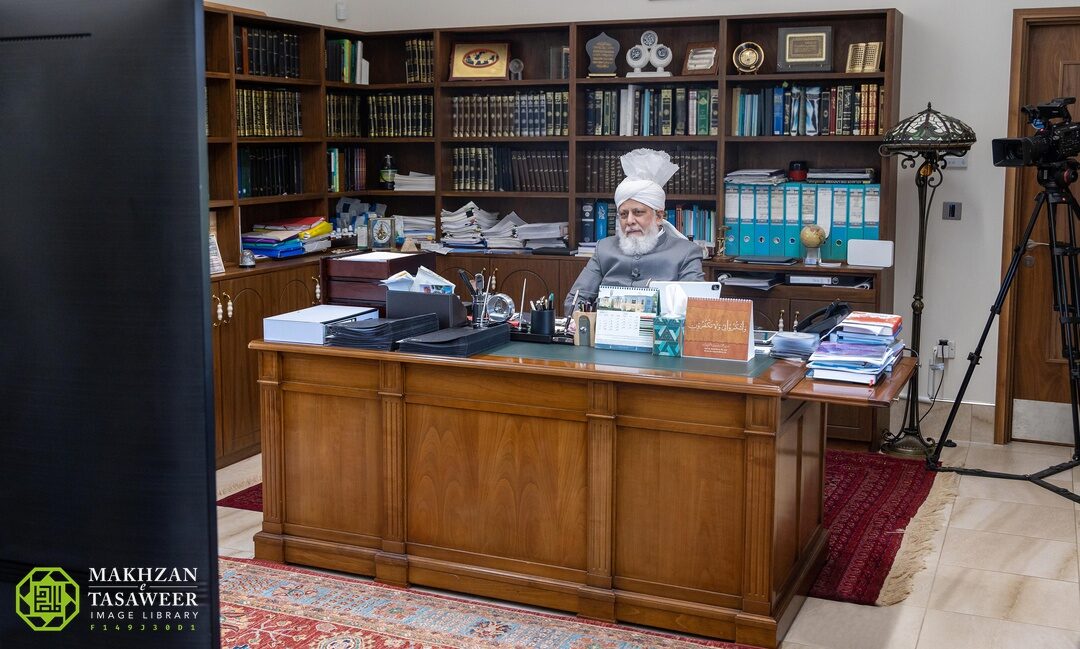 Firdous Idrees of Clapham said:
"Today, I was blessed with the opportunity of doing tilawat. I felt nervous at the beginning but also relieved after the recitation […] It felt good to see Huzooraa after so long. Although it wasn't in person, I still enjoyed it."
Sabiha Khullat Chima of the national Nasirat team expressed:
"The virtual Nasirat mulaqat with Hazrat Amirul Momineenaa was nothing short of a miraculous experience. Sitting in an audience presided by our beloved Khalifa always leaves my heart filled with gratitude as Allah the Almighty has blessed us with leadership and guidance found nowhere else in the world.
"At a time when Ahmadis around the world are praying day and night to be close to our Khalifa again; I had the opportunity to sit and listen to the profound wisdom of Huzooraa in a live audience, where young girls were able to express their worries and curiosity as questions, and receive, what I feel, were not only answers but Huzoor's support and motivation for girls to become proud young Ahmadi girls."
Fouzia Mahmood of the national Nasirat team said:
"Having seen various mulaqat clips online of people from around the world, I was eagerly awaiting for our Nasirat to have an opportunity too. So, when the day arrived, there was panic, excitement and nervousness all afloat.
"The atmosphere was unreal and you could see the girls eagerly waiting for Huzoor's arrival. Just minutes before our mulaqat started, I noticed that the same hall that was bustling with life, all of a sudden there was pin-drop silence. Then came Huzoor's smiling face on the screen. The mood changed within seconds. Despite it being virtual, to see Huzooraa talking to everyone, interacting with the girls, his presence and aura was very much felt.
"Huzooraa really took his time in answering the girls' questions and providing them with as much detail as possible with ease. Of course, with a loving sense of humour along the way. I don't know if the rest of the mulaqats felt like this, but I know they can't get better than today's.
"The connection and spark between beloved Huzooraa and the Nasirat was very much visible, something that may not be entirely felt when watching it on the television later. It is something you feel in that moment. With everything going on, it was such a blessing and moment of pure joy, as if the world around you was put on pause.
"I felt very blessed to have been included in this successful event and will cherish this day forever. The first thing I did after the mulaqat was that I told my family everything in detail so it would be embedded in my brain forever."
As you can see from the Nasirat's feedback, they will certainly never forget this day. No doubt, insha-Allah; not only those present but those who will watch the programme and listen to Huzoor's answers, will take away gems of knowledge and be able to face the world with a new perspective and fresh vigour.
Their confidence surely will be boosted enough to hold their heads up high knowing they have the backing of their Khalifatul Masihaa and to become leaders rather than followers.
As the national Nasirat secretary, it is impossible to express my emotions regarding this mulaqat with Huzooraa. I was mesmerised by watching this person whose love for his Nasirat emanated through the screen and I'm sure in each Nasirah's heart.
Huzooraa satisfied each girl's question, which was difficult to comprehend. Such love and care! Throughout the mulaqat, tears flowed down my cheeks. The only thing I could do was to recite Durood. The prayers said by the Holy Prophetsa 1,400 years ago for the Jamaat that was promised to come, are being fulfilled in the spectacles we witness when seeing Hazrat Amirul Momineenaa.
This mulaqat with Huzooraa has paved a way for Nasirat to be able to face issues and who are currently struggling to cope within schools and homes.
There can, at times, be much confusion in the minds of Nasirat as there is sometimes a clash in their minds about certain topics that run in schools, home and social media such as equality, friends, complexities, obedience to parents etc.
Such issues were addressed by Huzooraa in such a simple and logical form that one could feel they were easily understood by Nasirat. In fact, that is what their feedback suggested.
A lot of girls will relate and benefit hugely from this blessed mulaqat.
Insha-Allah, we hope to continue to take each of Huzoor's responses to questions by raising them in discussions, getting them to share their experiences after having applied Huzoor's guidance in their to their day to day lives. Insha-Allah, Nasirat will write about their experiences, which will enhance others and an understanding will take place in a jumbled world where nothing makes sense.
I feel this opportunity has brought them much closer to Khilafat and as the rest of Nasirat from around the world view or read about this mulaqat, they will feel exactly the same as the Nasirat felt being there physically.
There is no doubt in my mind at all that insha-Allah, Nasirat all over the world will gain a huge new perspective that will give them the confidence that they are Ahmadi girls first and foremost; that they have Khalifatul Masih's love and blessings with them.
Huzooraa has certainly given them a sense of a raised status of being Ahmadi girls, erasing their complexities in a fast, changing, confused world.
May Allah grant Huzooraa good health and great achievements for the Jamaat. Amin