Imran Hayee, Sadr Majlis Ansarullah USA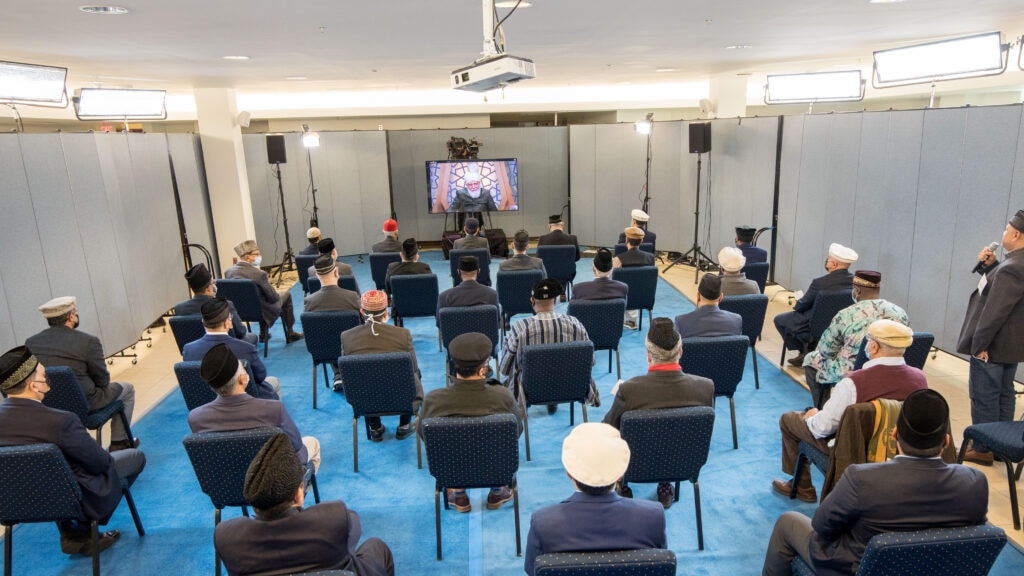 Ever since the gracious approval of the mulaqat with Hazrat Khalifatul Masih Vaa, I started working with the members of the amila to prepare for the meeting. Members were asked to pray and offer sadaqaat in anticipation of the meeting. All members reviewed their annual activity as well as the coming year.
A special meeting was held to go over the preparation and expectation a few days ahead of the meeting. The travel and accommodation plans were finalised. All members were asked to arrive the night before and be at the Baitur Rahman Mosque early Saturday morning. All except two amila members arrived in time (two members had to cancel their plans due to concerning symptoms).
As members were getting ready for the meeting, they shared their sentiments. Most were very excited and thankful to have the opportunity to have a mulaqat with Huzooraa. They were concerned so as not to displease him by any comment or by not being up to his expectations. Some members mentioned that they kept waking up at night. Qaid Isha'at mentioned that he had not had a mulaqat for several years and was excited as if he was going to meet a beloved family member.
The MTA team described the format and led a rehearsal for our benefit.
As the members sat in the hall waiting for the live feed, there was pin-drop silence and the anticipation was palpable. Huzoor's bright countenance appeared and he conveyed the gift of salaam and led us in a silent prayer.
After the meeting, the members appeared delighted, they embraced each other and offered thanks to Allah the Almighty for having had the opportunity to meet the Khalifa of the time. They were also relieved that they were able to aptly relay their reports to Huzooraa.
The impressions of the participants are as follows:
Nasir Bukhari Sahib, Zaeem-e-Ala Great Lakes Region said:
"Meeting with Huzooraa made my day, year and life. It was so exhilarating. We need to watch the recording many times and improve ourselves based on the guidance."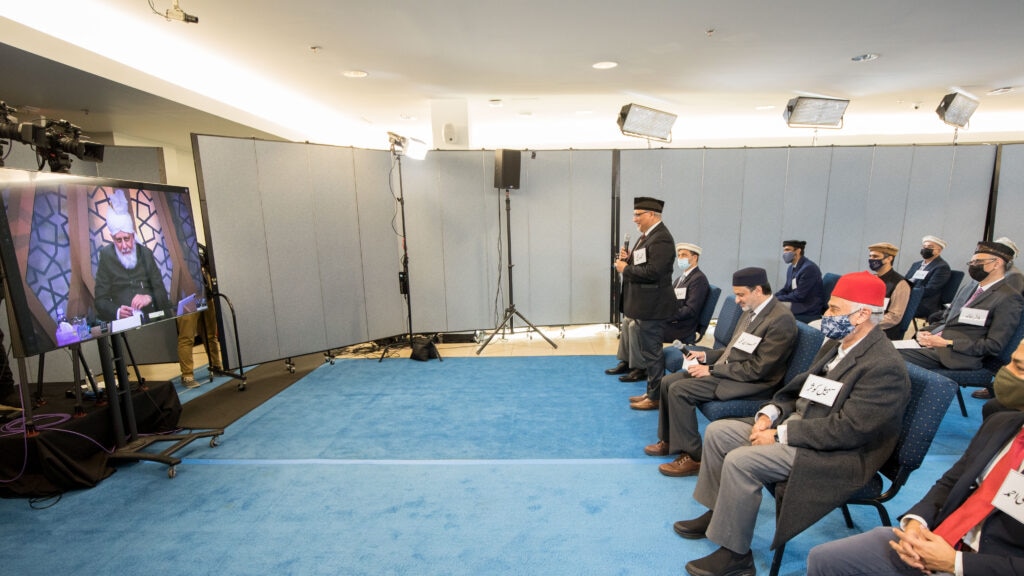 Mahmood Bhutta Sahib, Zaeem-e-Ala New York Region expressed his feeling that Huzooraa answered questions without us even asking. He had a question in his mind about the duration of Covid-19, which Huzooraa clarified without being asked.
Sarjeo Travally Sahib, Zaeem-e-Ala Northeast Region mentioned that he was praying and offered sadaqah. He felt that his prayers were accepted during the meeting with Huzooraa.
Dawood Munir Sahib, Naib Sadr commented that Huzooraa knew about our challenges and was providing guidance without us asking. He mentioned that Huzooraa had been blessed by Allah the Almighty and he was able to do calculations on the spot to analyse our performance.
Lamin Saiyang Sahib, Muawin Sadr was extremely satisfied after hearing Huzoor's guidance for Majlis Ansarullah USA.
Abu Bakr Saeed Sahib, Nazim-e-Ala Midwest Region pointed out the patience that Huzooraa exhibited throughout the mulaqat. He listened to us for over an hour. There were some interruptions due to technical issues, but Huzooraa was never upset. We need to learn from Huzooraa and show the same patience in our lives.
Muzaffar Siddiqui Sahib, Qaid Tarbiyat made a point that Huzooraa taught us how to treat our children and younger ones. Huzooraa treated all of us as a loving and gracious father does. We must learn from his example.
Zafar Sahib, Qaid Isaar talked about how Huzooraa expected us to think big and outside the box. Huzooraa repeatedly asked about the members who may not be so strongly connected with the majlis.
Zahid Mian Sahib, Qaid Maal had reviewed the statistics to make sure he was able to answer the questions. He was hoping to ask a question as to how to encourage ansar to pay appropriate chanda. Although he was not able to ask the question, Huzooraa answered it for him.
Anas Mirza Sahib, Zaeem-e-Ala was inspired by Huzoor's comments that the number of our majalis needed to be 10 times what they were. He expressed the desire that we could increase the number of Ahmadis to fulfil Huzoor's wish. He felt that Huzooraa loves us tremendously.
Muhammad Ahmad Sahib, Qaid Tabligh also felt that Huzooraa had a way to our hearts and commented on things we couldn't even ask. He was moved by Huzoor's comment about increasing the number of jamaats as this has been his deep desire as well. He was able to ask a question about the use of social media.
I (Imran Hayee, Sadr Majlis Ansarullah USA) was also nervous about the meeting. I was hoping and praying that amila members performed well in response to questions. The mulaqat was better than what I expected. It made me very satisfied and happy. I felt that Huzooraa converted the state of fear into a state of peace for all of us. We can call this mulaqat successful only when we act on the guidance provided by Hazrat Khalifatul Masihaa during the year. May Allah enable us to do so. Amin.