Atif Ahmed Zahid, Missionary, Australia
On 15 August 2021, 10 members of Jamaat-e-Ahmadiyya Adelaide South gathered at the Noor Mosque at 5 am and offered Tahajud prayer.
Following the prayer, Secretary Tabligh, Mirza Saleem Shaukat Sahib gave some instructions regarding Covid-19 protocols.
Atif Ahmed Zahid Sahib, a missionary, then gave some advice to the members on various matters related to tabligh and led a silent prayer, and thus the journey for preaching the message of Islam Ahmadiyyat in three regional towns began.
The group arrived at Snowtown, a town approximately 200 km away from Adelaide, to set up a Quran exhibition and bookstall in a local market of the town. This was our second tabligh trip to this town, and by the grace of Allah the Almighty, we were able to catch up with our tabligh contacts and spread the peaceful message of Islam Ahmadiyyat to many new individuals. A previous report of our visit to Snowtown was published in Al Hakam: (www.alhakam.org/ahmadis-share-islam-in-remote-australia-quran-exhibition-at-snowtown-market/)
According to the plan, seven of the Jamaat members left the exhibition and bookstall for Wandearah, a small town 62 km north of Snowtown. Its total population is 186. Members of Jamaat-e-Ahmadiyya visited a Uniting Church there.
Whilst there, a Sunday church service was going on, and Atif Ahmed Zahid Sahib was invited to introduce the Jamaat and our message.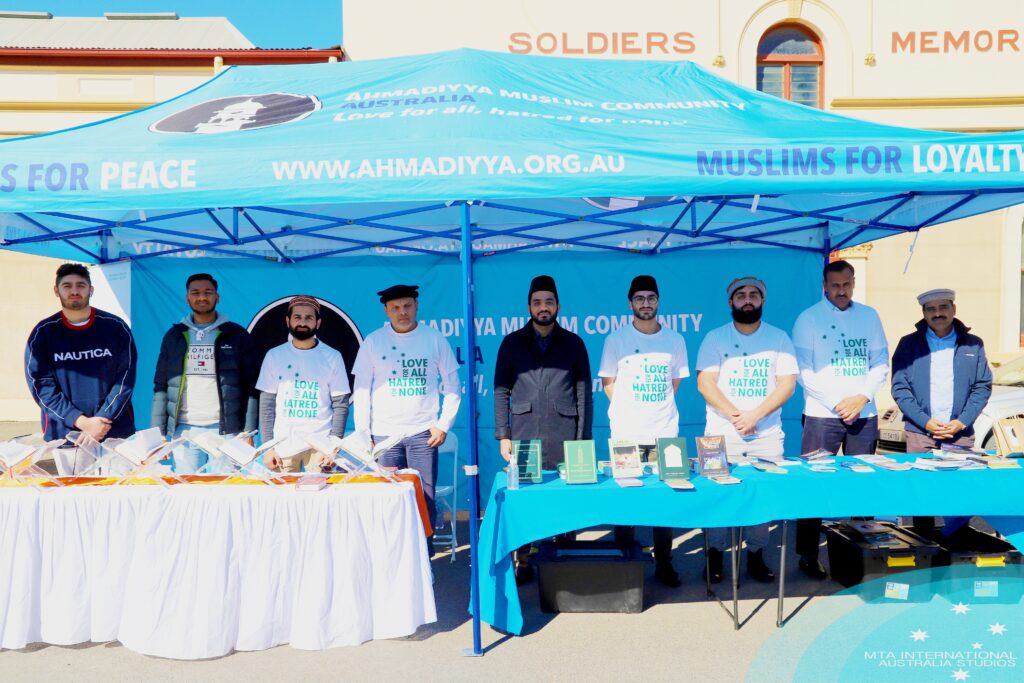 After the formal service, the local church leaders requested us to join them for some refreshments, where members spoke about our message of "Love for all, hatred for none", and our mission to break barriers and build bridges. We presented them with a copy of the Holy Quran along with the books, World Crisis and the Pathway to Peace and The Philosophy of The Teachings of Islam.
Some members of the Church asked various questions about Islam and were very excited to hold the copy of the Holy Quran. It was a unique experience for members of the Church as this was the first time that any Muslim community had visited them.
The secretary of the Church was so impressed with the peaceful message of Islam Ahmadiyyat that she invited us to hold an exhibition and bookstall in the church soon. In this way, Allah the Almighty provided new opportunities of tabligh for us, alhamdulillah.
Following the church visit, the seven members travelled to a third town, Crystal Brook, and carried out a street campaign to further spread the message of Islam Ahmadiyyat and were able to distribute 1,500 pamphlets.
Despite a long day of travelling, visiting different towns, street campaigns and a Quran exhibition, the members stayed persistent and did not let their spirits go down.
During the whole trip, three copies of the Holy Quran and 10 Jamaat books were distributed among different people. Furthermore, a total of 1,600 pamphlets were also distributed.
This was not only a successful tabligh event but also a great experience for the young members, who were able to enjoy themselves and socialise and learn from their peers and elders.