Last Updated on 21st January 2022
Mehmood Ahmad Khan, Secretary Waqf-e-Nau, Germany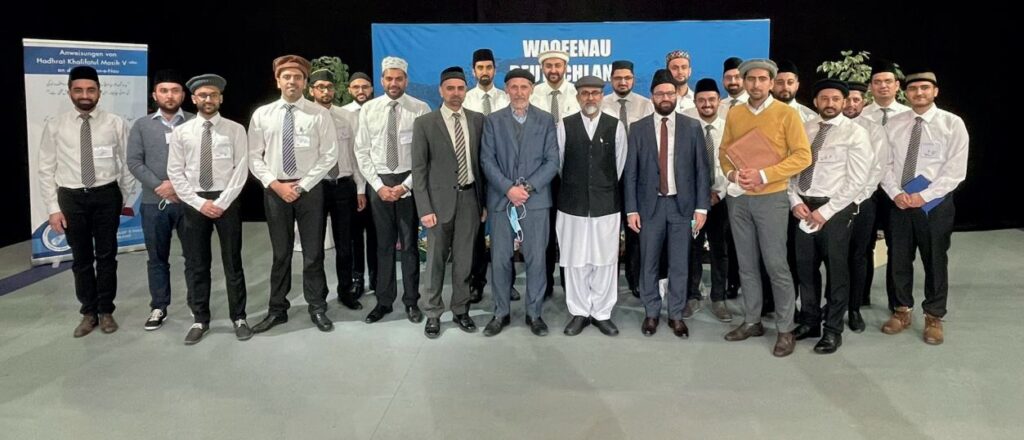 On 15 January 2022, the virtual mulaqat of Waqf-e-Nau doctors with Hazrat Amirul Momineenaa was held at the Baitus Sabuh Mosque, Frankfurt. A total of 15 waqifeen-e-nau (male) doctors and four waqifaat-e-nau (female) doctors were present.
We received an instruction earlier from Huzooraa through Wakalat-e-Tabshir in March 2021 to provide a list of all Waqf-e-Naudoctors (men and women), as doctors were needed for the hospitals of the Jamaat.
After providing the list, the Waqf-e-Nau department of Germany requested Huzooraa for a mulaqat for all Waqf-e-Nau doctors for further instructions and guidance, which was approved for 15 January 2022.
On the day, all the Waqf-e-Nau doctors gathered at Baitus Sabuh Mosque and after having breakfast, they introduced themselves to each other. The individual projects that these waqifeen and waqifaat were part of through waqf-e-arzi (temporary life sacrifice) in different parts of the world, like Africa, were shared and discussed.
During the mulaqat, aside from the 15 waqifeen-e-nau doctors and four waqifaat-e-nau doctors, two waqifeen-e-nau medical students and two waqifaat-e-nau medical students who are doing their house jobs were also present along with Amir Jamaat-e-Ahmadiyya Germany, Abdullah Wagishauser Sahib and other office-bearers.
In addition, the spouses of the male and female doctors were also present.
The medical fields of the Waqf-e-Naudoctors present were: cardiology, gastroenterology, general surgery, paediatrics surgery, haematology, oncology, neurosurgery, nephrology, dentistry and internal medicine.
After the meeting, food was served for all the attendees.
Some of the impressions of the participants are as follows.
Dr Irfan Ahmed Bhatti Sahib said:
"As an oncologist, I see the vast possibilities of personalised treatment we have in countries such as Germany or the United States of America, and the sheer amount of money spent on that. On the other hand, it still seems impossible for poorer countries such as those in Africa to provide this individual approach. And for quite a while, I was struck by this inequality. Huzoor'saa words sparked in me the urge to personally do something about this, insha-Allah."
Awais Akbar Bajwa Sahib commented:
"The mulaqat with Huzooraa filled me with a lot of inner peace. Seeing my beloved Imamaa giving me and other brothers guidance for their lives filled me with so much inner peace and tranquillity that I felt like a child in a mother's lap. The atmosphere of the mulaqat was very relaxed. Huzooraa, at all times, grasped even complex questions and knew details about the lives of so many brothers that it was extraordinary. May Allah enable us to implement all of his instructions."
Wajahat Ahmad Waraich Sahib, a cardiologist, said:
"Alhamdulillah, it was a historic day for all of us. By the grace of Allah and the kindness and love of beloved Huzooraa, for the first time, Waqf-e-Nau doctors (physicians) had the unique opportunity to have an online mulaqat with beloved Huzooraa.
"Huzooraa was so kind and blessed every Waqf-e-Nau doctor with direct guidance and prayers. I am always impressed by how beloved Huzooraa guides us in secular and religious matters with such detail and wisdom. We are extraordinarily thankful to beloved Huzooraa for his time and love for us."
Dr Asim Bilal Arif Sahib commented:
"By the grace of Allah the Almighty, it was an honour to be part of this historic session. From the moment I was informed that this programme was going to be held, mental preparation started as well as prayers. Approximately once or twice every week, my wife took the chance to remind me how lucky I was that Huzooraa was going to spend some of his precious time with me and other Waqf-e-Nau doctors. From this, one can gauge how happy she was when I told her some days prior that Huzooraa had kindly allowed the wives of Waqf-e-Nau doctors to attend this meeting as well."
Affan A Ghafoor Sahib said:
"As a Waqf-e-Nau doctor, I received direct instructions and directions for my future and work as a waqif-e-zindagi. Huzooraa instructed us in matters of our everyday lives as doctors and gave us instructions for the further care of end-stage cancer patients. I personally benefitted from Huzoor'saa instruction. He also advised us to regularly do waqf-e-arzi."
Hibatul Hay Ata Sahiba, a dentist, said:
"Alhamdulillah, it was a great opportunity to seek guidance and prayers from Huzooraa. It was very motivational, before going to Georgia where we are posted, to seek guidance on how to manage our service to our faith and taking care of my son, and to take out some time for family. May we become the delight of our Khalifa's eyes. Amin."
Shehla Ufaq Sahiba commented:
"I had the chance of taking part in the virtual mulaqat of Waqf-e-Nau doctors. I felt honoured being there and listening to Huzoor'saa wise words. I had the chance to express my dearest wish to Huzooraa that I would love to do waqf-e-arzi and by the grace of Allah, Huzooraa granted it. He told me that if I wanted to go for waqf-e-arzi soon and get it arranged as soon as possible, I should write him a letter and tell him when I can go. Insha-Allah, I will do this soon so that my wish can be fulfilled.
"Alhamdulillah, it was the best moment of my life to speak to Huzooraa personally and present him my waqf. May Allah help me to fulfil all my duties as a waqifa-e-nau and may I prove to be a firm servant of the Jamaat. Amin."