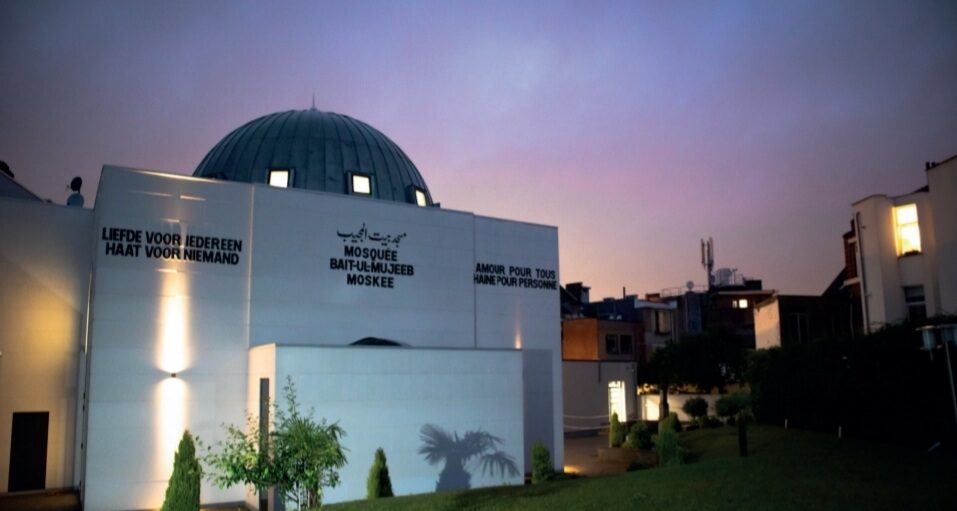 The National Amila of Lajna Imaillah Belgium was blessed to have a virtual meeting with Hazrat Khalifatul Masih V, may Allah be his Helper, on 6 November 2022 in which they were given valuable guidance and answers to their questions by Huzooraa.
At the beginning of the meeting, Hazrat Amirul Momineenaa asked if the amila members were sitting in Bait-ul-Mujeeb, the newly-built mosque in Brussels, to which Huzooraa was informed they were.
Hazrat Khalifatul Masihaa asked the General Secretary, Maryam Farhan Sahiba about the majalis and the total number of Lajna members in Belgium. Maryam Sahiba reported they had 14 majalis and a total of 699 Lajna members. Maryam Sahiba said all the majalis sent reports regularly and if there were any issues, the amila went to visit those areas as well.
Qanita Hussain Sahiba, Secretary Talim, reported that Lajna members were currently reading The Philosophy of the Teachings of Islam and The Philosophy of Divine Revelation. Huzooraa asked if both books had been translated into Flemish and French and whether members were being tested on their knowledge of the books. Qanita Sahiba said they had been translated and annually a test at the national ijtema was held and tests on the books were also held every month.
Speaking with Naib Sadr Awwal, Amatul Shafi Irshad Sahiba, Huzooraa said the participation for chanda should be 100%. In her report, Amatul Shafi Sahiba informed Huzooraa that Lajna Imaillah Belgium did not have their own offices and that schemes were in place to raise funds for this, however, ultimately, they planned to purchase a property close to the markaz in Belgium with the help of Majlis Ansarullah Belgium. Hearing this, Hazrat Khalifatul Masihaa said Lajna Imaillah Belgium should "muster the strength" and purchase the office building on their own, without the help of Ansarullah.
Secretary Tabligh, Bushra Ehsan Sikundar Sahiba, was next to report. Hazrat Amirul Momineenaa asked for the tabligh plan for the year and whether an annual bai'at target was in place for the lajna members to achieve. Huzooraa said:
"Your total strength is six-hundred and ninety-something, so if you make it half, your target should not be less than 340. […]
"If you give a target to each amila member of one bai'at then at least you can achieve half of the target."
Bushra Ehsan Sahiba said they had also planned to reach universities in Belgium and hold seminars to preach about Islam Ahmadiyyat. There was also a special team being formed that would focus on achieving the bai'at target.
On the topic of preaching and how to preach, Hazrat Khalifatul Masihaa said:
"Normally, those who are well-educated people, they are just indifferent about religion. They don't take much interest in religion. Although they discuss so many things with you – you feel that they are very much interested in religion – but in reality, they are not. So, you should also try to contact and focus on the general public. Try to find some pockets from among Arabs, local Belgians and some other Asians who are migrants here. So, try to focus on different ethnic groups and form your teams for different groups. For Arabs, a different team, for Asians, a different team, for local people, different teams. This is how you can achieve your target or you can at least spread the message."
Speaking with Anum Arslan Sahiba, Secretary Tarbiyat, Huzooraa instructed:
"In your plans, also include a programme for teaching children about namaz. This is also the responsibility of mothers, that they monitor the namaz of their children, whether they are girls or boys. Include this in your programme as well.
"And have religious discussions with your children as well, so that they understand their religion. Tell mothers to have discussions with their children – if fathers aren't interacting with their children, then at least the mothers should. As a result, this might persuade the fathers to do the same."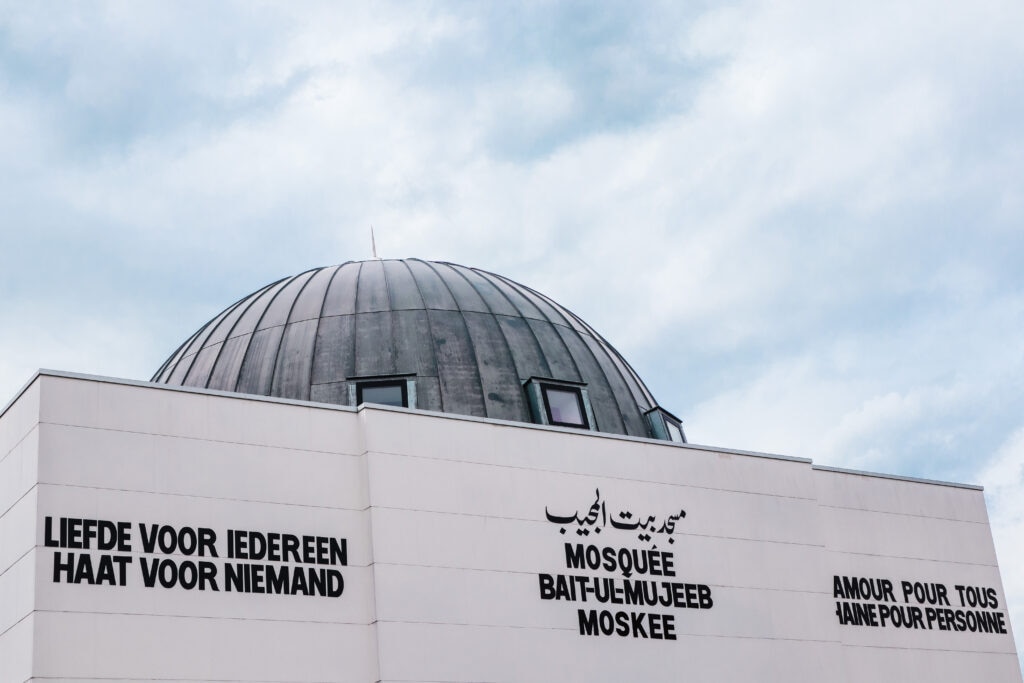 Discussing the dynamics between parents and children, Hazrat Amirul Momineenaa said:
"Mothers, fathers and children should be friends with one another so that they can share their problems and issues. It will be difficult [to resolve issues] until the habit of sharing problems and interacting is instilled [amongst parents and their children]."
Giving further guidance on how to resolve tarbiyat issues, Huzooraa said children should be first asked about the problems they faced and then those issues should be addressed by parents:
"First ask children what problems they face and what questions they have, and then prepare the answers. Speak to the mothers later; first ask the girls, the nasirat and the boys younger than 15 – then liaise with Khuddam-ul-Ahmadiyya and ask those boys who are older than 15 [about their problems]."
Madiha Tauseef Sahiba, Secretary Khidmat-e-Khalq reported that Lajna Imaillah Belgium donated 10,000 euros to install four water-wells in Pakistan through Humanity First International. Advising her department, Huzooraa said they should carry out charity work in Africa as well.
Guiding Ghizlane Albashalim Sahiba, Secretary Nau-Mubai'at about how to integrate the new Ahmadi women converts and encourage them to participate in Lajna meetings, Hazrat Khalifatul Masihaa said:
"I have already asked Lajna that they should make your programme in such a way that half of it should be in Urdu and half in the local language. Or if there are more than half who do not understand Urdu, then seventy per cent of the programme should be in the local language and thirty per cent in Urdu. […]
"You should make your programme in such a way that half of your Lajna programme – your general meeting – should be in the local language […] and half in Urdu so that both groups can actively participate in your programmes.
"And you should also have personal contact with them and you also make a plan of mu'akhat [sisterhood], so you give each new Ahmadi convert to one of the Ahmadi-born Lajna members and make sure the one who is an Ahmadi-born Lajna member should also be well-versed with the religious knowledge."
Huzooraa asked Sadia Ahmad Sahiba, Secretary Ishaat, if there were translations available for non-Urdu speaking members during Lajna events and whether Lajna in Belgium could carry out these translations themselves. Sadia Sahiba said translations were available and the Lajna members, who were mostly students could translate into French and Flemish.
Huzooraa asked secretary Ziafat, Abida Nazeer Sahiba, what her team had prepared for the amila members. She said they had cooked biryani and gulab jamun dessert.
Mubashira Shakeel Sahiba, Secretary Nasirat was next to report. On Huzoor's inquiry, she reported there were 131 nasirat and out of them, 45 were above 12. Mubashira Sahiba said there was a growing trend amongst nasirat who reached the age of 12 that they slowly began to lose interest in jamaat-related activities, she asked Huzooraa for guidance. In reply, Huzooraa said this was because "mothers have little interest themselves" and needed to be more involved with their children, become friends with them and discuss matters with their children. Huzooraa said Lajna Imaillah should also have events and activities that sparked interest amongst the nasirat and Lajna members and appealed to them. Huzooraa said the amila should ask the nasirat and Lajna members what they wanted in their meetings and events for them to attend. In this way, tarbiyat and religious education can take place during events and activities that the nasirat and Lajna memberswanted to participate in. Huzooraa continued:
"Activate the mothers as well, as I instructed secretary tarbiyat too. If mothers are playing their role correctly, girls will remain active. Mothers don't discuss anything with their girls […] They don't ask their girls about anything; the girls merely go to school and return and they are studying in a worldly atmosphere. Therefore, nothing will be achieved by merely studying and remaining in this worldly atmosphere – and so, you all must exert more effort; Lajna Imaillah as well as mothers."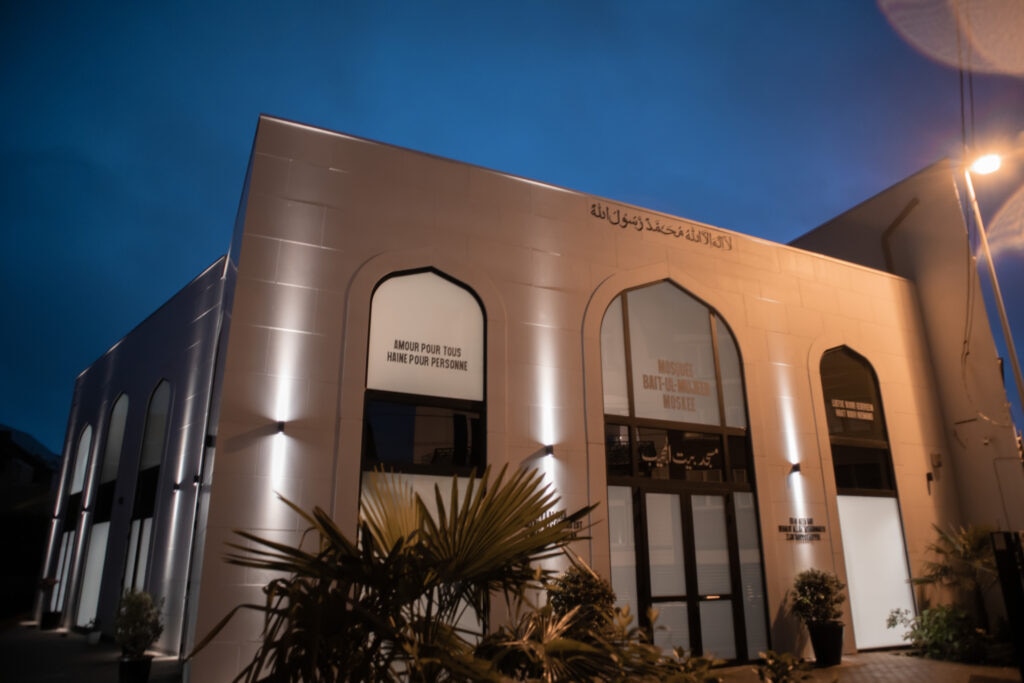 Addressing Atia Jabeen Sahiba, Secretary Tahrik-e-Jadid and Waqf-e-Jadid, Hazrat Khalifatul Masihaa said that out of the total jamaat collection of chanda in Belgium, one-third should be from Lajna Imaillah Belgium.
Attiya Khan Sahiba, Secretary Waqifaat-e-Nau reported there were 180 waqifaat-e-nau in Belgium out of whom 25 students went to university.
Huzooraa asked Hibatul Aziz Sahiba, Secretary Sehat-e-Jismani how many Lajna members participated in sports or exercised regularly, to which Hibatul Aziz Sahiba replied that, according to the report 200 Lajna members did so.
Maryam Afzal Sahiba, Sadr Lajna Belgium asked Huzooraa to what extent missionaries could be utilised for Lajna tarbiyat classes. Huzooraa said missionaries could teach Lajna classes from behind a screen but not face-to-face.
Qanita Hussain Sahiba, Secretary Talim asked how Lajna members could participate in waqf-e-arzi. Huzooraa said Lajna members could go out into the city and distribute literature – they could take their children with them and educate the public about Islam, women's rights in Islam and even the concept of Islamic purdah. Huzooraa said Lajna members – while taking all precautions and not entering dangerous areas – should expand their contacts and develop connections with women and thus preach Islam in public as well. Huzooraa said Lajna members could go and teach the Quran and other religious matters to Lajna members in different areas after consulting with sadr Lajna and secretary waqf-e-arzi. Lajna could teach online as well, Huzooraa said.
Hazrat Khalifatul Masihaa stressed that women could do what men did and thus preach and teach in the same manner – they did not need to fear.
Another question was how Lajna students could preach in the best manner. Hazrat Amirul Momineenaa said:
"Develop and increase your contacts amongst fellow students and tell them at the university that you are an Ahmadi. If you have good morals – you are morally better than others – and at times of namaz you are offering it, then other girls will observe you and see you as distinctly different from other girls and will, in turn, develop a relationship with you themselves. In this way, contacts will develop.
"In the same way, if possible, hold seminars at universities. There can be seminars on worldly topics and religious ones. You can hold a seminar on 'Islam and extremists' or other similar topics. In this way, people will slowly understand true Islamic teachings, ways for tabligh will open and contacts will be established.
"Firstly, increase your religious knowledge. Focus on prayers and ask Allah's help, that Allah makes you a strong and staunch Ahmadi. Then, along with prayers and namaz, gain knowledge of the Holy Quran and study its translation, read jamaat literature, develop good morals, then expand your contacts among students and also increase your one-to-one and personal contacts […] then tabligh can take place through seminars and then bring your close friends and contacts to a Lajna function. In this way, slowly, contacts increase.
"Do not be scared. If you are fearful, no progress will be made. You will have to be courageous."
Another amila member asked Hazrat Khalifatul Masihaa about his mother, Hazrat Syeda Nasira Begum Sahiba, who was Sadr Lajna Rabwah and other women elders of the Jamaat in the past and his memories of how they worked in Lajna Imaillah. Huzooraa said he observed them going to Lajna meetings and events and in the morning, for two hours, Lajna members would come to his house and work with his mother, who was Sadr Lajna Rabwah, on Lajna-related matters. Huzooraa said his mother would go to different Lajna meetings in various areas of Rabwah during the week as well. Huzooraa said:
"This is the hard work those elders would carry out and they also used to have a high level of religious knowledge themselves. Office bearers should increase their religious knowledge as well. This is what we saw in them and in this way, history continues to be made generation after generation."
The four regional sadran also reported. Huzooraa asked Shahida Bhatti Sahiba, Regional Sadr Brabant, how many Lajna members were in her region, to which she reported there were a total of 209 Lajna members divided into four majalis. Huzooraa asked Tabassum Waseem Sahiba, Regional Sadr Antwerpen, how many Lajna members were in her region. She reported there were 234 Lajna members divided into four majalis. Huzooraa asked Tabassum Sahiba if the majalis outside of Antwerpen city were far away from the city or close by, to which she reported they were approximately half an hour's drive from the Jamaat's mosque in Antwerpen.
Hazrat Khalifatul Masih Vaa then conveyed his salaam and, on a lighter note said, the amila members could now go and enjoy their biryani lunch. With that, the meeting came to a successful end.
(Report prepared by Al Hakam)