A series looking at pioneer missionaries and devotees of the Ahmadiyya Muslim Jamaat who gave precedence to faith over the world.
Awwab Saad Hayat, Al Hakam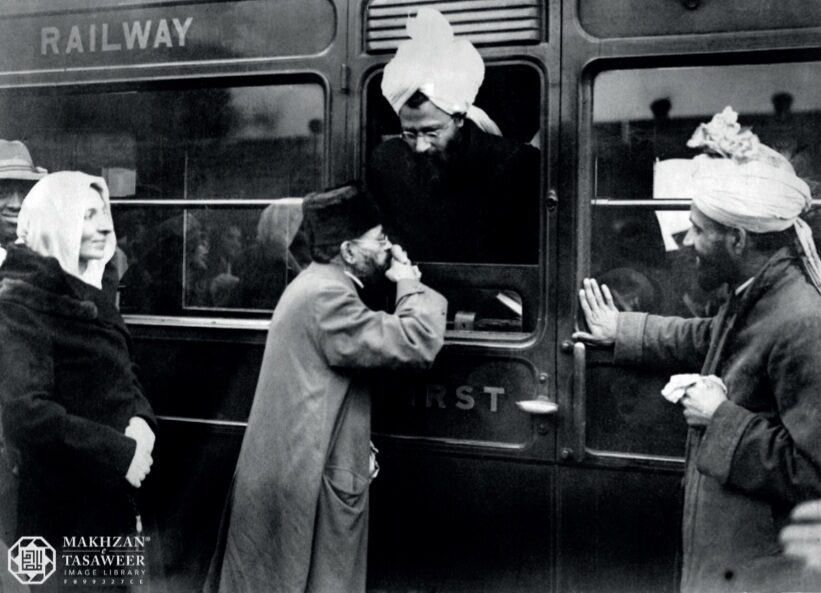 The study of the history of Islam Ahmadiyya shows that Hazrat Mirza Bashiruddin Mahmud Ahmad, Khalifatul Masih IIra possessed deep affection for the pioneer missionaries of the Jamaat and was more compassionate towards them than towards his own children, especially those who were sent abroad. Huzoorra used to say that his heart was filled with gratitude for the missionaries.
During World War II, Hazrat Musleh-e-Maudra was extremely concerned for the well-being and safety of the overseas missionaries who were busy propagating the message of the Jamaat to the world. Huzoorra regularly prayed for their success and the fulfilment of their goals. During the annual Jalsa, amidst the World War, Huzoorra reminded members of the Jamaat to include these resilient men, the pioneer missionaries, in their prayers.
In 1942, as the blessed month of Ramadan arrived, known for its heightened acceptance of prayers and as a month to save one from difficulties, Hazrat Musleh-e-Maudra addressed the Jamaat in his Friday Sermon on 25 September. (Note: All the below narrations about the missionaries are from this Friday Sermon of Hazrat Musleh-a-Maud'sra, which was published in Khutbat-e-Mahmud, Vol. 23, pp. 404-411 unless indicated otherwise.)
Hazrat Khalifatul Masih IIra stated his concern as no news had been received from missionaries including Maulvi Rehmat Ali Sahib, Maulvi Shah Muhammad Sahib, Malik Aziz Ahmad Sahib, Maulvi Muhammad Sadiq Sahib, and Maulvi Ghulam Hussain Sahib due to the prevailing circumstances of the War. Huzoorra then reminded members of the Jamaat that it was their duty and responsibility to include these dedicated individuals in their prayers as they had gone overseas to preach Islam in foreign lands.
Hazrat Musleh-e-Maudra explained that Allah has made preaching the message of Islam a responsibility and thus explained that the pioneer missionaries, by fulfilling this responsibility, have brought Allah's special mercy upon the Jamaat and so deserve to be remembered in our prayers. Huzoorra emphasised and even said that praying for their well-being should be given priority over personal prayers and encouraged the Jamaat to regularly offer humble supplications for their health and safety.
Hazrat Musleh-e-Maudra said that there were many other missionaries whose sacrifices were immeasurable. Huzoorra particularly highlighted two missionaries who left to preach Islam Ahmadiyyat shortly after their marriages. One of them was Hakim Fazl-ur-Rehman Sahib, who was sent on his mission shortly after his wedding. Huzoorra said that he had been preaching the message of Islam for nine years.
Maulvi Jalaluddin Sahib Shamsra is a similar case, Hazrat Khalifatul Masih IIra noted. Just a few years after getting married, he was sent overseas to preach the message of Islam Ahmadiyyat. One of his children has never even met him in person and only knows him through pictures. Due to the ongoing War, Huzoorra said, Maulvi Jalaluddin Sahib Shamsra has been unable to return home; it is uncertain when the missionaries will be able to come back. If the war ends and the conditions become more stable, they may be able to return in the future; however, it is unclear how long it will take.
Hazrat Khalifatul Masih IIra emphasised that the least members of the Jamaat could do was pray for the sacrifices made by the missionaries. Every member of the Jamaat should pray to Allah Almighty for their protection and mercy, Huzoorra said, not only for the missionaries themselves but also for their families and loved ones. Hazrat Khalifatul Masih IIra stated that those Ahmadis who do not include these resilient preachers in their prayers may have a flaw in their faith.
Additionally, Huzoorra pointed out that there are many missionaries who may not face the same level of challenges as those previously mentioned; however, they have still been separated from their families and loved ones for years and have endured various hardships. Among these missionaries, two from West Africa stand out, Maulvi Nazir Ahmad Sahib (also known as Ibn Babu Faqir Ali Sahib) and Maulvi Muhammad Siddique Sahib.
These individuals, Huzoorra explained, operate in regions where transportation is scarce, and finding food and drinks is a struggle. They have to embark on journeys that can span hundreds of miles, often on foot. This is the level of sacrifice they have been making for years. They face opposition from local chiefs and government officials, and even the general public and religious leaders challenge them. Despite these obstacles, they persevere in forming jamaats, spreading Islam in various areas, and travelling like wayfarers to spread the religion.
Hazrat Khalifatul Masih IIra stated that the sacrifices made by these individuals were too significant for the Jamaat to ignore. While speaking of their sacrifices and accomplishments, Hazrat Musleh-e-Maudra said that he was initially going to use the word 'favour,' but decided against it, as he believes it is the duty of every faithful person to make sacrifices for the sake of religion. Therefore, Hazrat Khalifatul Masihra emphasised that the Jamaat could not overlook the sacrifices of its pioneer missionaries.
Similarly, Hazrat Khalifatul Masih IIra mentioned, missionaries are putting in a lot of effort and making significant sacrifices while serving in foreign lands. He noted that Sufi Mutiur Rahman Sahib was serving in America and facing some difficulties. Maulvi Mubarak Ahmad served in East Africa, Maulvi Ramzan Ali was in South America, and Chaudhry Muhammad Sharif was in Palestine and Egypt. In addition to Hakeem Fazlur Rahman Sahib, Huzoorra said, Maulvi Nazeer Ahmad Sahib Mubashar Sialkoti was working in the Gold Coast, managing a group of several thousand even though many jamaats were already established there. Despite the existence of many jamaats in the area, he single-handedly managed a group of several thousand people. Huzoorra said that, "His sacrifice is further highlighted by his selflessness; he receives no financial support and has been away from his family and loved ones for seven to eight years. His devotion to preaching has prevented him from even attending his wife's rukhstanah [the formal departure of the bride from her parents' to the bridegroom's home]." (Also see Al Fazl, 1 October 1942, pp. 2-3)
By the grace and mercy of Allah, the heartfelt supplications of Hazrat Khalifatul Masih IIra and his members were heard, and the brave missionaries of the Jamaat were miraculously protected.
The residence of Maulana Jalaluddin Sahib Shamsra, the imam of the London Mosque, was heavily bombarded by enemy planes, yet he remained unharmed. A similar fate befell Chaudhry Muhammad Sharif Sahib, a missionary in Italy. Malik Aziz Ahmad Khan Sahib, Maulvi Abdul Wahid Sahib Sumatri, and Syed Shah Muhammad Sahib were imprisoned by Japanese authorities on the basis of information provided by Javanese scholars. The Japanese government had also decreed the execution of Maulvi Muhammad Sadiq Sahib; however, before this unjust plan could be carried out, divine intervention came into play and overthrew the oppressive government. (For further details, see Tarikh-e-Ahmadiyyat, Vol. 8, p. 344)
It is only when we grasp the enormity of the sacrifices made by the pioneer missionaries, that we can truly appreciate their unwavering efforts. It is the responsibility of every Muslim to spread the message of Islam and to share its untimely teachings and essence with others. These selfless servants of Islam devoted their lives to this cause, braving persecution, danger, and even death, to bring the light of the faith to those who lived in the dark. Their unshaken commitment to their mission, their unwavering spirit, and their courage in the face of adversity are truly an inspiration to us all. To understand their selfless sacrifices is to know the depth of their devotion.