A glimpse into the rich history of the Ahmadiyya Muslim Jamaat
16 June 1989: On this day, during his tour of Canada, Hazrat Khalifatul Masih IV'srh book, Murder in the Name of Allah, was unveiled at an event that was attended by various federal ministers. Huzoorrh addressed the event and spoke about Islamic teachings in relation to world peace. (Silsila Ahmadiyya, Part 4, p. 856)
16 June 2008: On this day, Hazrat Khalifatul Masih Vaa departed from London for his tour of the USA. Huzooraa reached Bait-ur-Rahman Mosque, the headquarters of the USA Jamaat, where he was given a warm welcome. (Al Fazl International, 18 July 2008, p. 16)
17 June 1928: On this day, Seerat-un-Nabi jalsas were held across British India in accordance with the scheme of Hazrat Musleh-e-Maudra. (Tarikh-e-Ahmadiyyat, Vol. 5, P. 31)
Mentioning the need for such jalsas, during his Friday Sermon on 6 January 1928, Huzoorra stated:
"The reason why people dare to attack [the blessed character of the Holy Prophetsa] is that they are unaware of the true circumstances of his life. […] This has only one remedy, which is to deliver as many lectures as possible with such emphasis that every person in India should become aware of his purity and life's circumstances. […] So, it is our obligation to make all the Muslims and non-Muslims of India aware of the pure life of the Holy Prophetsa. On the same day each year, this matter needs to be highlighted with special arrangement." ("Hazrat Mirza Bashiruddin Mahmud Ahmad'sra services to the Muslim cause: Guiding Muslims of the Indian subcontinent amid religious and political conflicts", Al Hakam, 26 February 2021, Issue, 154, p. 19)
17 June 1937: John Clark Archer, a professor of religious studies in the USA, arrived in Qadian on this day. Mr John Clark Archer (1881-1957), an American clergyman and academic, had the opportunity to have an audience with Hazrat Musleh-e-Maudra. He discussed various Islamic issues with Huzoorra.
He was a professor of religion at Yale University, USA. In those days, he was in Punjab, engaged in conducting research on Sikhism. (Tarikh-e-Ahmadiyyat, Vol. 7, p. 437)
17 June 2012: On this day, Hazrat Khalifatul Masih Vaa visited the Sadiq Mosque in Chicago, which is the oldest mosque of the Ahmadiyya Muslim Jamaat in the USA. ("Hadhrat Mirza Masroor Ahmad visits first Ahmadi Mosque in USA", www.pressahmadiyya.com)
18 June 1913: On this day, the Urdu newspaper, Al Fazl, was launched by Hazrat Mirza Bashir-ud-Deen Mahmood Ahmadra with the permission of Hazrat Khalifatul Masih Ira.
19 June 1897: On the occasion of the Diamond Jubilee of Queen Victoria, the Promised Messiahas issued a leaflet on 7 June asking his followers to reach Qadian. In response, 225 men gathered at Qadian from distant parts of India on 19 June. Meetings were held, and lectures were delivered in six languages – Urdu, Arabic, Persian, English, Punjabi and Pashto. The speakers included Hazrat Hakim Noor-ud-Deenra, Hazrat Maulvi Abdul Karim Sialkotira, Hazrat Maulvi Burhanuddin Jhelumira and Maulvi Jamal Din of Syedwala.
Prayers were offered, and the poor people of the town were provided with food. Streets, mosques and houses were all lit up on 22 June, while a congratulatory telegram was sent to Lord Elgin, the Viceroy, on 20 June. A beautifully bound copy of Hazrat Ahmad'sas book, Tohfa-e-Qaisariyyah [A Gift to the Queen], was sent to Queen Victoria through the Deputy Commissioner in commemoration of the auspicious occasion. Copies of the book were also sent to the Viceroy and the Lieutenant Governor of the Punjab. For more details, see "Royal jubilees and the Ahmadiyya way of celebration", Al Hakam, 10 June 2022, Issue 221, pp. 8-9.
20 June 1905: On this day, a person named Munshi Abdul Qadir Bedil from Shikarpur, Sindh, sent some queries to the Promised Messiahas. He drafted a detailed reply to them. One part of that spiritual gem was published in the Urdu newspaper Badr on 22 June 1905. (Maktubat-e-Ahmad, Vol. 1, p. 488)
21 June 1908: On this day, the Promised Messiah'sas essay, Paigham-e-Sulh [A Message of Peace], was read out before a large gathering of over 4,000 people from different religions at the Punjab University Hall, Lahore.
Reporting on this, The Tribune of Lahore wrote on 23 June 1908:
"MIRZA GHOLAM AHMED'S LAST MESSAGE.
"A MESSAGE OF PEACE.
"At the University Hall, Lahore, on the morning of Sunday, the 21st June, at 7am, an unusually large audience assembled to hear the Message of Peace of late Mirza Ghulam Ahmad of Qadian. The spacious hall was crowded to its utmost capacity and the audience numbered at its lowest computation at about five thousands. It was a representative gathering of men of different creeds and sects. Hindus, Mahomedans, Sikhs, Aryas, Brahmos and Christians all were numerously represented." ("The pathway to peace: Turn to the One God, Creator of this Universe", Al Hakam, 3 March 2023, Issue 259, p. 10)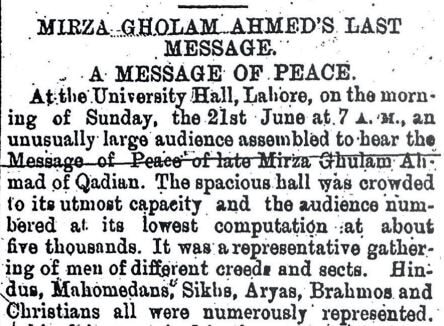 21 June 1913: On this day, Hazrat Khalifatul Masih Ira announced the nikah of his son Abdul Hayy Sahib with Fatima Sahiba, daughter of Hazrat Maulvi Syed Sarwar Shahra. (Tarikh-e-Ahmadiyyat. Vol. 3, p. 450)
21 June 1931: On this day, Hazrat Musleh-e-Maud'sra article about the financial difficulties of farmers was read out at a conference of agriculturists held in Lyallpur (now Faisalabad). (Tarikh-e-Ahmadiyyat, Vol. 5, p. 284)
21 June 2000: On this day, during his tour of Indonesia, Hazrat Khalifatul Masih IVrh granted an audience to the then-chairman of the Indonesian National Assembly. (Silsila Ahmadiyya, Part 4, p. 902)
22 June 1897: On this day, a book of the Promised Messiahas was published titled, Sirajuddin Isai Ke Char Savalon Ke Javab (Four Questions by Mr Sirajuddin, a Christian, and Their Answers). Professor Sirajuddin was originally a Muslim, who converted to Christianity. After some time, he went to Qadian, stayed with the Promised Messiahas and became a Muslim again. However, when he went back from Qadian to Lahore, he again became a Christian and sent four questions to Huzooras.
Hazrat Ahmadas shed great light on those questions, explaining each answer at great length.
22 June 1945: During his Friday Sermon on this day, Hazrat Musleh-e-Maudra advised the Indian leaders to accept the proposal of the British government, known as the Wavell Plan, and said:
"This is the momentous proposal now before India. […] There can be no possible shadow of a doubt that whatever rights we do get, no matter whether they are large or small, it is emphatically in our interest to grasp them firmly and turn them to our advantage. By doing so, we shall be bringing the day of India's independence nearer." ("The Wavell Plan and Hazrat Mirza Bashiruddin Mahmud Ahmad'sra call for peace and India's freedom", Al Hakam, 24 June 2022, Issue 223, pp. 12-15)
22 June 1957: On this day, Hazrat Sir Chaudhry Zafrulla Khanra inaugurated the first Ahmadiyya mosque in Hamburg, Germany. Many distinguished guests from England, Holland, Switzerland, and Sweden participated in the ceremony, including journalists and press and television correspondents.
Sahibzada Mirza Mubarak Ahmad Sahib read out the special message of Hazrat Musleh-e-Maudra. (Tarikh-e-Ahmadiyyat, Vol. 18, p. 467)