Ata-ul-Haye Nasir, Al Hakam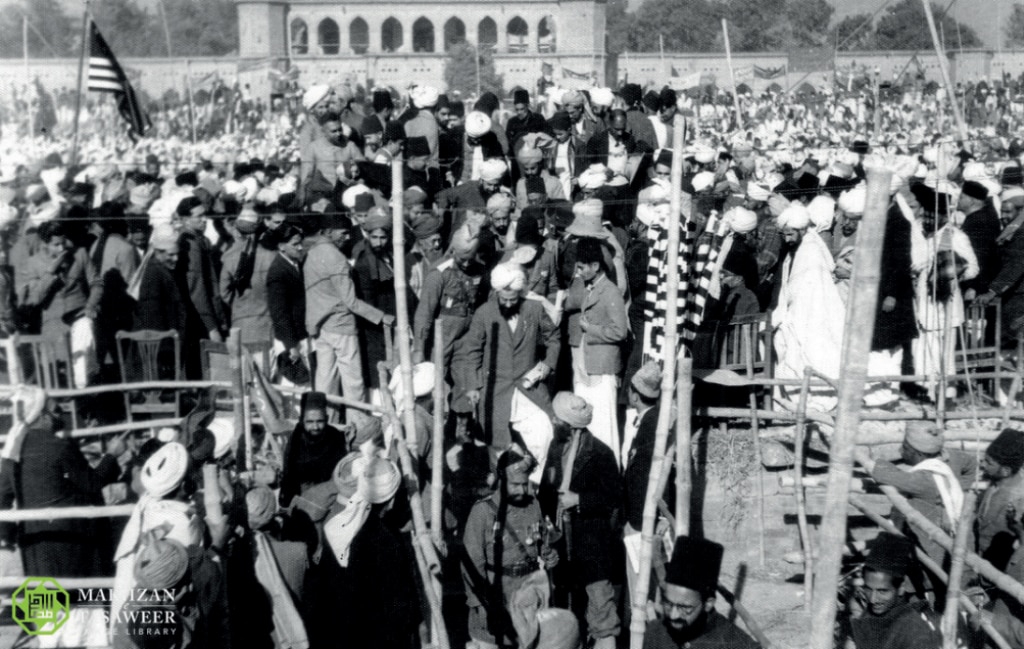 History bears witness that Hazrat Musleh-e-Maudra rendered great services to the Muslim Ummah, and granted valuable guidance to the Muslims of Indian subcontinent amid various political and religious conflicts, and advocated for their rights.
Address to Edwin Samuel Montagu
On 20 August 1917, Edwin Samuel Montagu, Secretary of State for India, stated in the House of Commons:
"The policy of His Majesty's Government […] is that of […] gradual development of self-governing institutions with a view to the progressive realization of responsible government in India as an integral part of the British Empire." (House of Commons Debates, Vol. 97, cc. 1695-97 [20 August 1917])
After this announcement – while the political activities of the Congress were in full swing – the Muslims got anxious in regard to the future danger. The thought that was causing them huge distress was that if India was granted the right of limited self-government, the Muslims could face severe dangers from the majority, who were Hindus.
It was late 1917 when Edwin Montagu toured India to discuss the introduction of the limited self-government. Hazrat Musleh-e-Maudra sent a delegation to present an address to him on 15 November 1917. Huzoorra advised an appropriate road map towards India's self-dominion and stated that the elections should not be held in such a way that could consequently harm the minority communities. (The Review of Religions [Urdu], December 1917)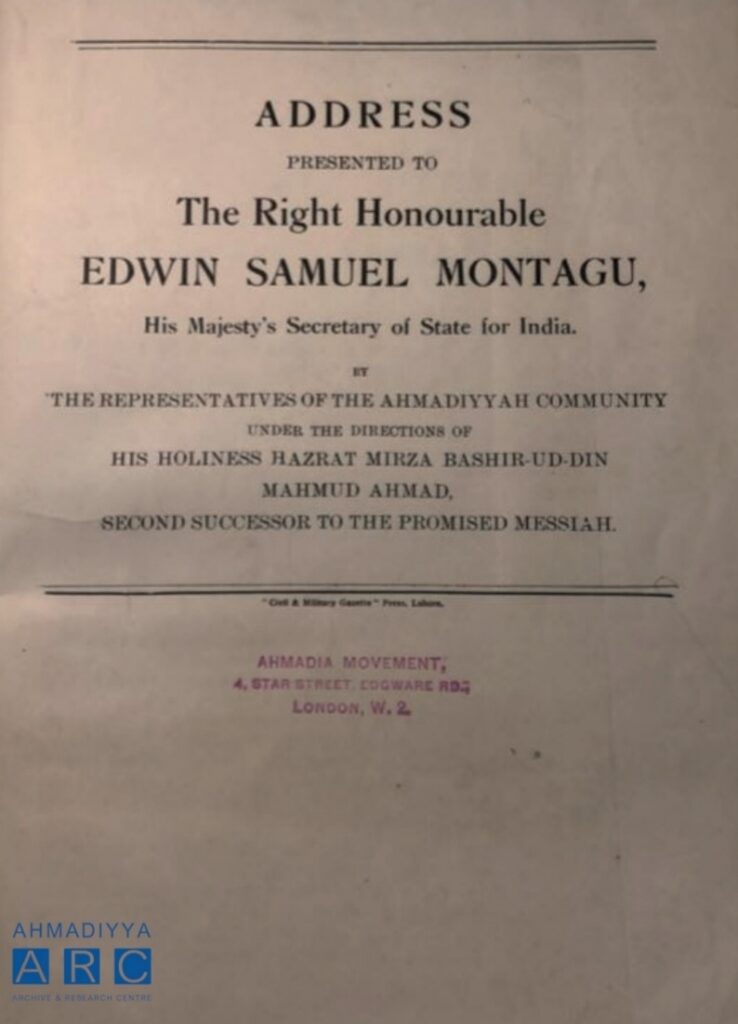 Shuddhi Movement
In 1923, there was a great anxiety among the Muslims of the subcontinent due to the Shuddhi movement, which stood to convert Muslims to Hinduism.
On 7 March 1923, Huzoorra instructed Ahmadis to get ready to offer every possible sacrifice to defeat the Shuddhi movement. (Al Fazl, 12 March 1923, pp. 13-14)
Then, during his Friday Sermon of 9 March 1923, Huzoorra stated a detailed scheme to tackle this issue and instructed the Jamaat to donate 50,000 rupees for this. (Al Fazl, 15 March 1923, pp. 3-6)
A newspaper, Hamdam, on 18 March 1923, wrote that by witnessing Jamaat-e-Ahmadiyya's passion and spirit of sacrifice, it was almost certain that they would raise 50,000 rupees or even more, but expressed hopelessness for such a sacrifice from the non-Ahmadi Muslims.
More details about the Jamaat's services in response to the Shuddhi movement can be read in volume 4 of Tarikh-e-Ahmadiyyat.
Hindu-Muslim unrest and Anti-Islamic rhetoric
On 23 December 1926, a prominent leader of the Shuddhi movement, Swami Shraddhanand, was assassinated, erupting a nationwide Hindu-Muslim unrest.
On 2 March 1927, Huzoorra delivered a lecture in Lahore, titled, "Hindu-Muslim Fasadat, Inka Ilaaj, Aur Musalmanon ka Ainda Tariq-e-Amal", i.e. Hindu-Muslim Relations and the Future Line of Muslim Conduct (Al Fazl, 15, 18 & 22 March 1927), about which a newspaper, Tanzim, stated:
"Amir Jamaat-e-Ahmadiyya Qadian delivered an important speech on the causes and remedy of the Hindu-Muslim unrest and Muslims' future plan […] [He] emphasised that Muslims should unite, otherwise it will be difficult for them to retain their stature." (Tanzim, 14 March 1927, p. 12)
Lahore's Hindu newspapers also published summaries of this lecture, including Milap, Partap, Banday Matram and Sau Rajiya.
The Civil and Military Gazette reported:
"HINDU-MUSLIM RELATIONS
"POWERFUL APPEAL FOR MUTUAL TOLERATION
"Hazrat Mirza Bashir-ud-Din Mahmud Ahmad, Head of the Ahmadiyya community, gave a very significant speech on 'Hindu-Muslim Relations and the Future Line of Muslim Conduct,' on Wednesday, March 2. The Hon Sir Muhammad Shafi, K.C.S.I., was in the chair. The hall was packed to its fullest capacity and both communities were amply represented by leading members.
"The lecturer traced the origin of the Hindu-Muslim disturbances to two causes, viz., the absence of religious toleration and political injustice. Both these traits in the Indian character, he remarked, were the inheritance of past Indian history, for which the present generation was not responsible. Therefore, instead of quarrelling amongst themselves and making matters worse, both communities should try to bury the past and make mutual efforts to forget and forgive. He appealed strongly to both communities, in the name of their respective religions and in the name of their country, to cultivate the virtues of broad-mindedness and fair-play which were greatly needed to develop national life in India. The lecturer was listened to with deep attention by an appreciative audience." (The Civil and Military Gazette, 5 March 1927, p. 5)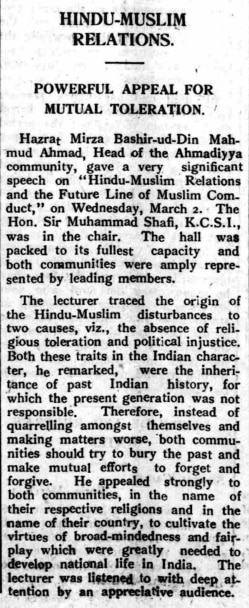 During his Friday Sermon of 22 April 1927, Huzoorra advised Muslims to unite and stated that those who claimed love for the Holy Prophet'ssa, should rise in support of Islam. He added that though only those arguments would be beneficial as had been presented by the Promised Messiahas, but the important thing was to set aside internal disputes and tackle the enemy of Islam united. (Al Fazl, 6 May 1927, pp. 6-9)
During the first week of May 1927, anti-Muslim riots erupted in Lahore and Muslims had to face severe oppression. During his Friday Sermon of 6 May 1927, Huzoorra guided the Muslims in this regard and advised them on how to tackle this issue.
Huzoorra published many articles, posters and announcements. In his first article, titled Imam Jamaat-e-Ahmadiyya's Comment on the Lahore Riots, he advised Muslims to take heed from the riots and pay attention towards spreading Islam. (Al Fazl, 13 May 1927, p. 2)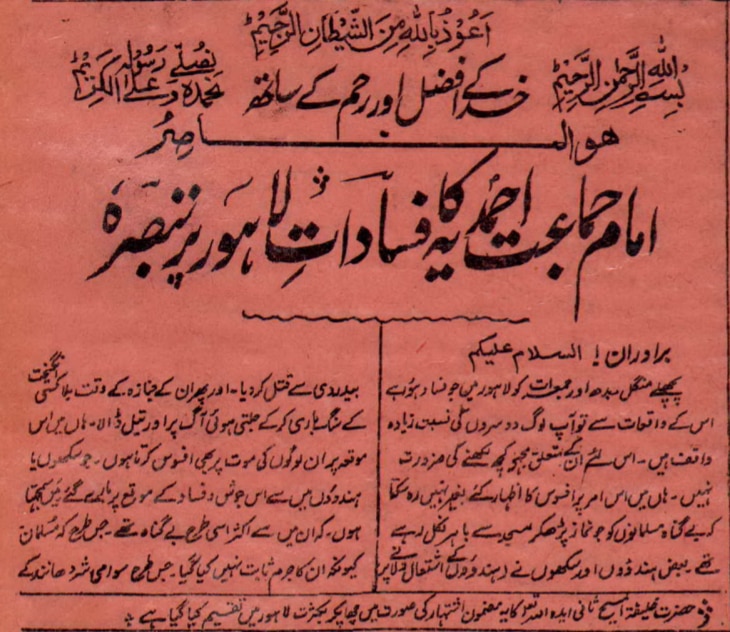 The Civil and Military Gazette reported under the title "APPEAL BY RELIGIOUS HEAD":
"Mirza Bashir-ud-Din Mahmud Ahmad, the Head of the Ahmadiyya Community, Qadian, has circulated a poster reviewing the Lahore riots. […] Sympathising with the wounded and the murdered of both parties, he has subscribed Rs. 200 to be distributed among the afflicted and the survivors of the victims without any distinction of race or religion, and has advised his followers in other towns to raise necessary funds for the purpose. 'No Muslim must think of taking revenge,' is his advice to the Mussalmans. 'A Muslim is to be who keeps his feelings under his control.'" (The Civil and Military Gazette, 13 May 1927, p. 7)
Huzoorra decided to initiate a countrywide movement for not only aiding the oppressed Muslims of Lahore, but also for the Indian Muslims' economic, political and religious progress. He published a tract as well, titled "What can you do for Islam and Muslims?" (Al Fazl, 17 and 24 May 1927), in which he outlined 31 points of the scheme for Islam's unity.
An Arya Samajist, namely Rajpal, who had published a disrespectful book, titled Rangila Rasul, was initially sentenced to six months' imprisonment and a fine of 1,000 rupees or six months' more imprisonment. But on his appeal, the Punjab High Court's judge, Kanwar Dalip Singh acquitted him, which caused huge distress amongst the Muslims.
Then, Risala-i-Vartman published a disrespectful article, titled Sair-i-Dozakh, in its May 1927 issue.
At that juncture, Huzoorra published a poster, titled Will the Claimants of the Holy Prophet'ssa Love Still Not Wake Up? and stated:
"Could there be any other day of tribulation for Islam? Could our helplessness take any other severe state? Don't our neighbours [Hindus] know that we love the Holy Prophetsa from depth of our hearts and hold him more dear to us than our lives, for whom every fibre of myself and my family are entirely devoted and each particle of our body is sacrificed upon the dust of the shoes of the Leadersa of the righteous people […] Our lives are here [to sacrifice], the lives of our children are here [to sacrifice]; harm us as much as you wish, but for God's sake, do not destroy your[selves in this] world and the Hereafter."
He continued by advising the Muslims:
"For Islam's progress, make a pledge of three things: firstly, you will instil fear of Allah and will not see the religion with carelessness; secondly, you will show full interest in preaching Islam and for this task, you will not hesitate for sacrificing your life and wealth; thirdly, you will strive the utmost to save Muslims from cultural and economic slavery." (Al Fazl, 10 June 1927, pp. 6-8)
The outcome of this poster was recorded by All India Reporter (Lahore, 1927) in the following words:
"Towards the end of May or very early in June a poster made its appearance in Amritsar. It is said to have been sent by the Mirza of Qadian and, to have drawn attention to certain portions of this article and still further excited the Muslims." It was acknowledged that "had it not been for the part played by the Mirza of Qadian in sending a poster to Amritsar", the article of Risala-i-Vartman may not have been seen as "highly inflammatory" by the law-enforcement agencies.
GR Thursby mentions the huge impact of this poster in his book Hindu-Muslim Relations in British India:
"Several days after its appearance an Urdu poster was distributed in Amritsar which called the attention of Muslims to what were apparently the particularly objectionable portions of the article. The Mirza or leader of the Ahmadiyya Muslim sect at Qadian was the attributed source of the poster, which provoked protest meetings against the article and led to noticeable unrest among many of the Muslims of the city. Therefore, early in June a Muslim Deputy Superintendent of Police brought the article to the attention of the local government. This resulted in proscription of the May issue of the journal [Vartman] under section 99A of the Criminal Procedure Code. Then, on June 6th, prosecution under 153A of the Indian Penal Code was undertaken by the government. Both Gian Chand Pathak, who was the acknowledged editor, printer, and publisher of Vartman journal, and Devi Sharan Sharma, who was the alleged author of Sair-i-Dauzakh were arrested, and the Amritsar District Magistrate began to hear testimony within days of their arrest." (Hindu-Muslim Relations in British India, by GR Thursby, 1975, p. 56)
In regard to the acquittal of Rajpal, an Ahmadi editor of the newspaper, Muslim Outlook, Syed Dilawar Shah Sahib Bukhari commented in his editorial of 14 June 1927, upon which he and the owner of the newspaper, Maulvi Nurul Haq Sahib, received a notice of contempt of the court.
Syed Dilawar Shah Sahib requested Huzoorra for his advice, upon which Huzoorra advised him:
"It should be our duty to show appropriate respect to the provincial court, but when you have written an article with honesty and just represented the thoughts which are being emerged in the hearts of every Muslim, so now what else could be your duty other than to just remain firm on this truth. This is a matter of love for the Holy Prophetsa. […]
"My advice to you is that you should respond by stating that if, in the eyes of the High Court's judges, there is an article in the English law for protecting the honour of Kanwar Dalip Sahib, but no article for protecting the honour of the Holy Prophetsa, then I would be ready to go to the prison." (Al Fazl, 1 July 1927, p. 3)
After the case proceedings, the court gave a judgement against them.
Huzoorra issued an important message for Muslims, in which he announced that his Jamaat would be ready to do everything, in accordance with Islamic teachings, for protecting the honour of the Holy Prophetsa and thereafter, he advised Muslims to unite. (Al Fazl, 28 June 1927, pp. 1-2)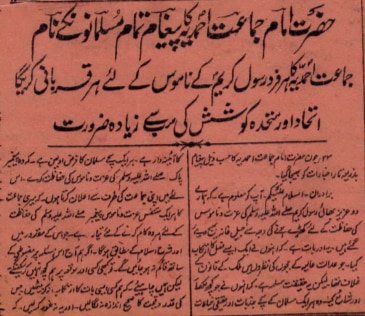 Huzoorra published an article as well, titled Protection of the Honour of the Holy Prophetsa and Our Duty. (Al Fazl, 1 July 1927, p. 3)
Huzoorra suggested the Muslims to organise jalsas on 22 July 1927 in all places, in which Muslims should discuss economic and cultural freedom and to take an oath from everyone that they will continue preaching Islam in their respective areas. Thus, Muslims of the Indian subcontinent held jalsas in many places.
Dr Saifuddin Sahib, Editor Akhbar Tanzim of Amritsar, suggested to organise a Muslim Parties Conference and asked prominent leaders, including Huzoorra, for their views on it. In response, Huzoorra stated:
"I already had this thought. Is there any doubt that the [internal] disagreement is damaging the Muslims? But the biggest problem is that Muslims are unable to comprehend the damage due to this disagreement. The third problem is that they are leaving aside the real ways of unity and wish to supress every voice other than them." (Tarikh-e-Ahmadiyyat, Vol. 4, pp. 624-625)
Then came the time for the court's judgement on Vartman's case and the author of the article was punished for one year in jail with a 500-rupee fine and the editor, for six months in jail and a 250-rupee fine.
Upon this, Huzoorra stated:
"My heart is distressed because I do not declare the punishment for disrespect of my master and leader Hazrat Muhammadsa to be a mere one-year jail sentence. Unlike those who say that the punishment for the one who abuses Rasulullahsa is to kill him, I do not even declare a person's death to be its compensation; I do not even declare its price to be a nation's destruction; I do not even declare its price to be the whole world's death; in fact, I do not even declare its price to be the killing of all disbelievers of the past and the future, because my Master'ssa honour is far superior than declaring its price to be the killing of an individual or a community. […]
"The ongoing opposition against Islam is actually the result of Muslims' laziness in preaching. […] Get ready with courage and perseverance for the preaching of God's religion and the nation's progress, then God Himself will descend from the Heavens to help you and His nur [divine light] will guide you." (Al Fazl, 19 August 1927, pp. 3-6)
In relation to this issue, Hazrat Musleh-e-Maudra issued a press release which was published in The Civil and Military Gazette, on 26 August 1927, in which he granted valuable guidance to the government and advised them to take necessary steps to safeguard the honour and respect of the holy founders of all religions.
The Mashriq newspaper, on 23 September 1927, wrote:
"All the Muslims are obliged to respected Imam Jamaat-e-Ahmadiyya for his favours. It was because of his movement that Vartman [magazine] was prosecuted. It was his Jamaat which pursued the issue of Rangila Rasul [book]. They were fearless and did not hesitate to go to jail. It was his pamphlet which made Governor Sahib deliver justice."
Shia-Sunni Riots in Tirah
Huzoor'sra struggle for the unity of Muslims was once again damaged by the Shia-Sunni riots in the area of Tirah, upon which Huzoorra published an appeal to the Shia and Sunni Muslims and stated:
"The information about the Shia-Sunni riots in the Frontier Independent Areas have brought great grief to the hearts of those who feel pain for Islam. […] It should be our foremost duty to not let this evil spread more. […] I promise those who have suffered from this fight every kind of financial and moral help that I can offer." (Tanzim, 14 August 1927, p. 2)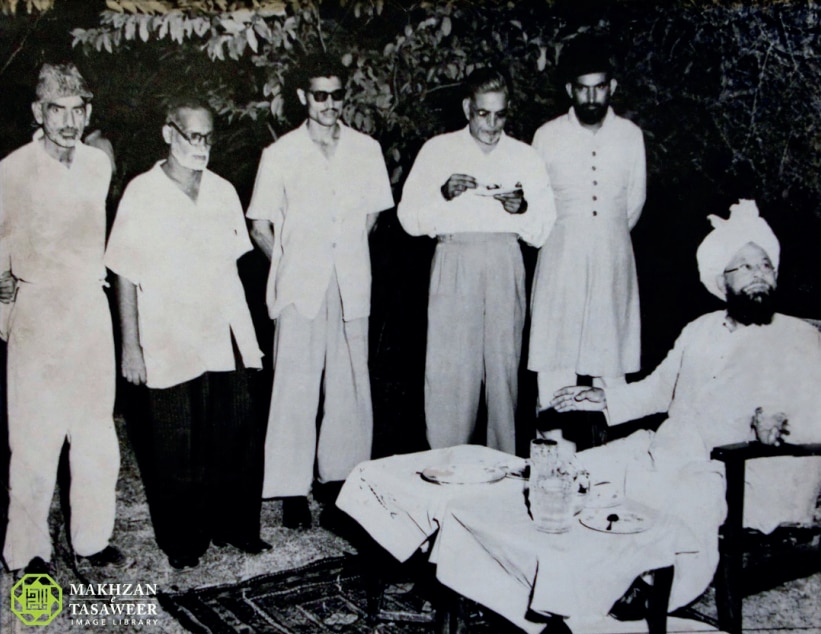 Visit to Simla
Hazrat Musleh-e-Maudra visited Simla [now Shimla] from 13 August to 2 October 1927. Throughout this tour, Huzoor'sra activities were focused on religious, national, and community matters. Various leaders and dignitaries had the opportunity to meet him, including the then Viceroy of India and the then Governor of Punjab.
Huzoorra advised the government to make specific ammendments to the laws for safeguarding the respect and honour of all religions and their leaders.
During his Friday Sermon of 9 September 1927, Huzoorra advised the Muslims by stating:
"The principle which is needed for the Muslims' progress is their religious progress. The more their power of faith and conviction grows, the more they will move towards progress." (Al Fazl, 20 September 1927, p. 5)
On 11 September 1927, Huzoorra delivered a lecture in Simla, in which he made the Muslims aware of their individual and national responsibilities. (Al Fazl, 23 September 1927, pp. 3-6)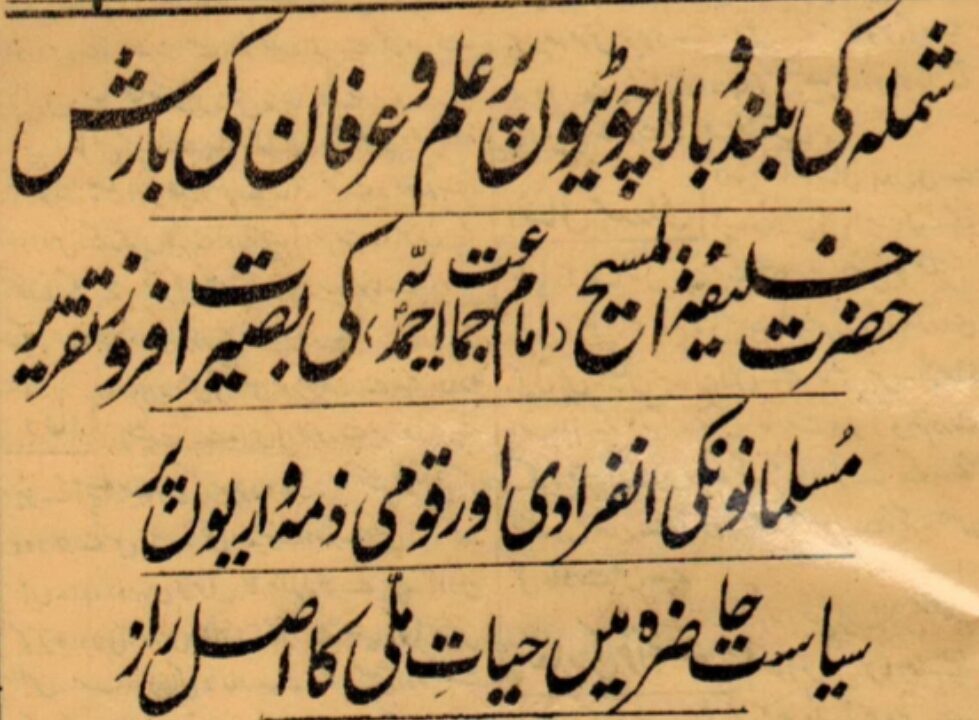 Applauding Huzoor'sra services, a prominent leader, Muhammad Ali Jauhar, stated:
"It will be ungrateful if we do not mention respected Mirza Bashiruddin Mahmud Ahmad and his well-disciplined Jamaat, who have devoted all their efforts – irrespective of doctrinal differences – towards the welfare of the Muslims." (Hamdard, 26 September 1927)
Simon Commission
Under the Montagu-Chelmsford Reform Scheme, the British government had decided that after 10 years, a commission be sent to India to examine the effects and operations of the constitutional reforms and to suggest more reforms for India.
Towards the end of 1927, a commission was announced to be sent whose president was Sir John Allsebrook Simon. This is known as "The Indian Statutory Commission" or "Simon Commission".
As the commission had no Indian member, Congress and other political parties boycotted it. Even some prominent Muslim leaders like MA Jinnah and Muhammad Ali Jauhar also had the same opinion.
But Hazrat Musleh-e-Maudra wrote a booklet on 8 December 1927, titled Musalmanan-e-Hind ke Imtehan ka Waqt (A Time of Trial for the Indian Muslims), wherein he advised Muslims that the boycott would be detrimental for the Muslims, compared to the Hindus.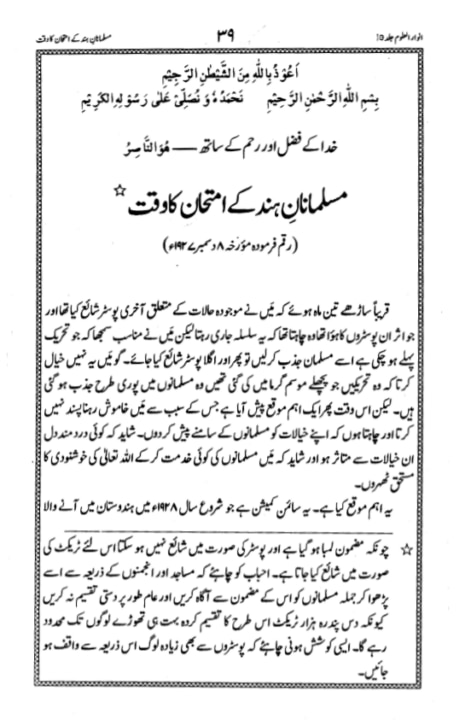 Huzoorra stated that since the Reform Scheme had been approved, Hindu leaders knew that India's future was linked to the English nation; thus, they often visited England to meet with prominent Englishmen and speak about Hindus' benefits. Huzoorra said that they had made them their likeminded. But the Muslims had not paid any attention towards this matter.
Huzoorra added that if the commission was boycotted, then its report would be based on their previous information provided to them by the Hindus. (Musalmanan-e-Hind ke Imtehan ka Waqt, Anwar-ul-Ulum, Vol. 10, pp. 37-55)
Seerat-un-Nabi Jalsas
As the year 1927 had seen huge anti-Islam rhetoric, Huzoorra initiated a great scheme of holding seerat-un-Nabi jalsas.
Huzoorra stated:
"The reason why people dare to attack [the blessed character of the Holy Prophetsa] is that they are unaware of the true circumstances of his life. […] This has only one remedy, which is to deliver as many lectures as possible with such emphasis that every person of India should become aware of his purity and life's circumstances. […] So it is our obligation to make all the Muslims and non-Muslims of India aware of the pure life of the Holy Prophetsa. On the same day each year, this matter needs to be highlighted with special arrangement." (Al Fazl, 10 January 1928, pp. 1-2)
At first, the date for the jalsa was announced to be 20 June 1928, but it was later changed to 17 June.
Upon Huzoor'sra instruction, Al Fazl published a Khatamun-Nabiyyin number on 12 June 1928, which consisted of articles by Huzoorra, Ahmadi scholars, non-Ahmadi scholars, leaders and non-Muslims as well. It also included a few na'ts (poems in praise of the Prophetsa) as well. 7,000 copies were published at first, but due to high demand, more copies were published.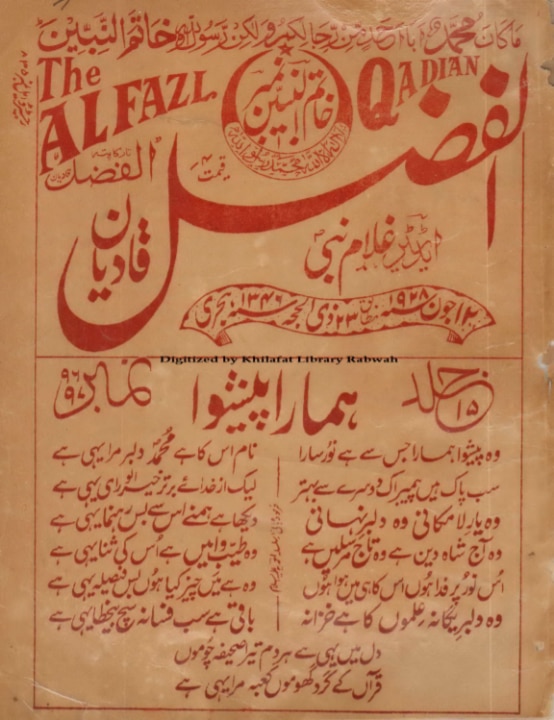 Many newspapers appreciated the initiative of jalsas and after the proving successful throughout India, the press published applauding headlines.
The Mashriq newspaper of Gorakhpur, on 21 June 1928, stated:
"This date [of seerat-un-Nabi jalsas] will be remembered in India forever because on this date, every Muslim sect commemorated His Highness, the chief of both worlds, Muhammad Rasulullahsa in one aspect or another […] Anyway, we congratulate Imam Jamaat-e-Ahmadiyya, respected Mirza Mahmud Ahmad, on the success of the jalsa held on 17 June. If Shias, Sunnis and Ahmadis gathered at one place two to four times each year, then no power in this country could compete with Islam."
Few years later, reporting on the seerat-un-Nabi jalsas which were held all over India on 6 November 1932, The Civil and Military Gazette wrote:
"The need for the inculcation of such knowledge in India occurred to Hazrat Mirza Bashir-ud-Din Mahmud Ahmad, Head of the Community of the Ahmadyyas of Qadian, some years ago, when popular feeling had been wrought up to a height by the Rangila Rasul pamphlet.
"Realising that this kind of trouble arose largely from misunderstanding, His Holiness conceived the idea of organising a campaign, on one particular day of the year, and when prominent men of all religions could explain to the people what the teachings of the Prophet really mean." (The Civil and Military Gazette, 14 November 1932, p. 3)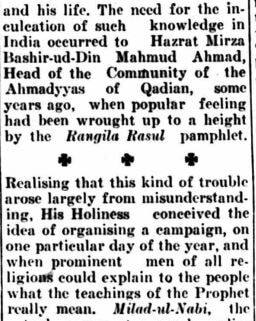 Nehru Report
On 7 July 1925, the Secretary of State for India, the Earl of Birkenhead stated in the British Parliament:
"We do not claim in Great Britain that we alone in the world are able to frame Constitutions, though we are not altogether discontented with the humble constructive efforts which we have made in this field of human ingenuity. But if our critics in India are of opinion that their greater knowledge of Indian conditions qualifies them to succeed, where they tell us that we have failed, let them produce a Constitution which carries behind it a fair measure of general agreement among the great peoples of India. Such a contribution to our problems would nowhere be resented. It would, on the contrary, be most carefully examined by the Government of India, by myself, and I am sure, by the Commission, whenever that body may be assembled. I gladly recognise that the so-called Liberal Party in India, neither inconsiderable in numbers nor lacking in the leadership of enlightened men, has refused to associate itself with the ill-starred course of non-cooperation. It is still possible that this Party, perhaps to be gradually reinforced by fresh moderate elements, may play a great part in the Constitution fashioning of the future." (Hansard, HL Debates, 7 July 1925, Vol. 61, cc. 1062-1094, https://hansard.parliament.uk/)
He repeated this challenge in 1928.
Upon this, Congress called a session of the All Parties Conference on 19 May 1928 in Mumbai, where a ten-members' sub-committee was established, chaired by Motilal Nehru, which had only two Muslim representatives. This committee passed a constitution which was pro-Hindus. It is commonly known as the Nehru Report.
Hazrat Musleh-e-Maudra commented on the Nehru Report in detail. Al Fazl published those comments from 2 October to 2 November 1928, which was later published in book form titled, Nehru Report aur Musalmanon ke Masaleh. Its English translation was later published in March 1930, titled The Nehru-Report and Muslim Rights.
Huzoorra stated that this committee could not be deemed representative of India and then shed light on the demands of the Muslims.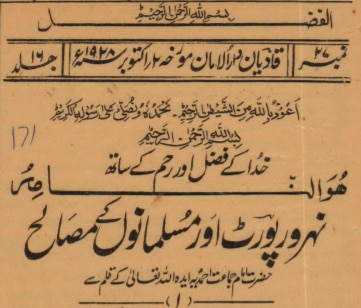 Huzoorra stated:
"I do not say that you should not strive for India's independence. Now, when England has itself decided that India has the right of representative government, I will assist my brothers [Muslims] in any valid step taken for this. But what is unbearable for me and saddens my heart is that Muslims agree with the way of [forming] the future government without protecting their rights. This would have very bitter and dangerous results. (Nehru Report aur Musalmanon ke Masaleh, Anwar-ul-Ulum, Vol. 10, p. 388)
Simon Commission's Punjab Committee
The Muslim members of the Simon Commission's Punjab Committee had agreed upon the suggestion that the Punjab Council should have 83 Muslim members out of the total 165, though Muslims deserved 55 percent share. Huzoorra wrote an article, in which he expressed his concerns over this agreement. This article was published in Al Fazl of 30 August 1929.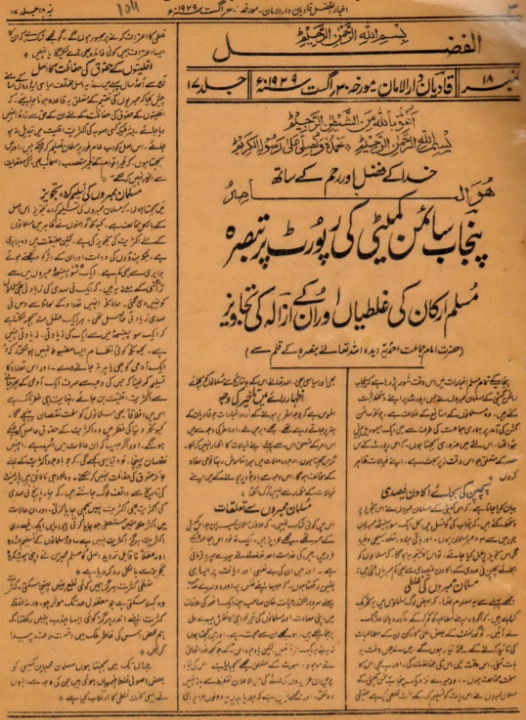 When this article got published in the newspapers Siasat and Daur-e-Jadid, a non-Ahmadi, Muhammad Hayat Khan Sahib, Superintendent Police Pensioner appreciated the article in his letter to Huzoorra dated 8 September 1929. (Tarikh-e-Ahmadiyyat, Vol. 5, p. 149)
Civil disobedience by Congress
When the Congress initiated civil disobedience on 6 April 1930, some Muslim organisations such as Majlis-e-Ahrar and Jamiat-ul-Ulema favoured this initiation. But with Huzoor'sra efforts, the Muslims as a whole avoided it.
In his Friday Sermon of 2 May 1930, Huzoorra expressed his views about the matter and outlined an appropriate course of action.
On 4 and 5 July 1930, a conference of All Muslim Parties was held, in which Huzoorra also participated upon the invitation of some prominent leaders.
A weekly newspaper, Khawar, wrote in its editorial:
"At the outset of this month [July 1930], an All India Muslim Conference was held in Simla […] Though Hazrat Mirza Bashiruddin Mahmud Sahib is considered to be a religious leader, but I [the editor] have found him to be fully aware of the current politics, truthful and an honest, noble gentleman." (The Weekly Khawar, 21 July 1930, p. 3)
Nehru Report's supplement
When the supplement of the Nehru Report was published and some of its previous points were reformed, Huzoorra expressed his views on the reforms, which related to the Muslims, and defended the rights of Muslims. He added that whenever England agrees upon the independence of India, it would be the Muslims' right to demand for either the supervision of their rights or to make a system themselves, under which they could establish and retain their freedom. (Al Fazl, 11 May 1930, pp. 3-4)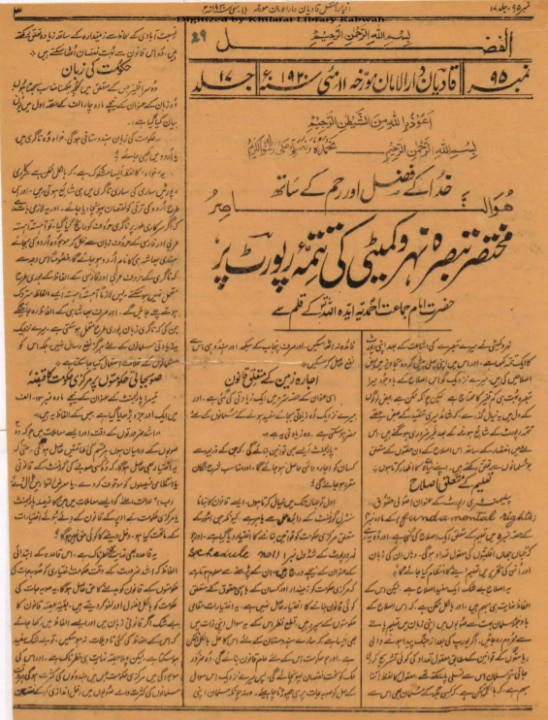 Round Table Conference 1930
A Round Table Conference was announced to be held from 12 November 1930 to 19 January 1931, and the Viceroy of India had stated that the solution for India's political problems would heavily rely upon the Simon Commission's report.
Huzoorra wrote his views on this matter, titled Hindustan Ke Maujuda Siyasi Masla Ka Hal (Solution to the Political Problems of India) and sent it to England, in which the validity of the Muslims' demands and rights were addressed in detail.
In February 1932, a sub-committee of the Round Table Conference started working under the presidency of the viceroy of India, in which sectarian disputes, basic rights and many other issues of India were to be discussed. The Muslims were divided in two groups – one wanted to boycott the committee, while the other one passionately supported the committee.
Huzoorra wrote a detailed article, titled Round Table Conference and Muslims, in which he gave valuable guidance to the Muslims. He stated that he considered both groups to be well-wishers of the Muslims, but on this issue, both groups were wrong. (Al Fazl, 6 March 1932, pp. 3-4)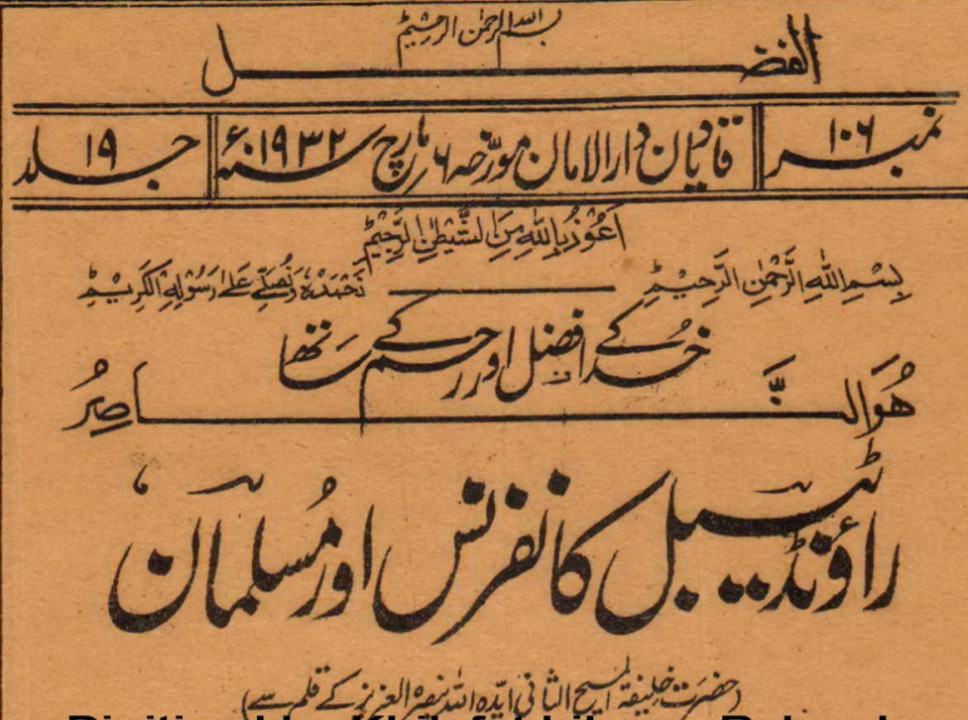 Anarchy in the country
The civil disobedience, which was initiated by the Congress in 1930, increased in severity in 1932 and the country indulged in anarchism. At that juncture, Huzoorra delivered many sermons on this issue and instructed the Jamaat to offer every possible sacrifice for protecting rights of the Muslims.
During his Friday Sermon of 5 February 1932, he stated:
"There are many fitnas [disorders] right now. On the one hand, the supressing of Muslims' rights is in question, while on the other, the chaos against the government. […] The Muslims should tackle both of these fitnas with full care. […] It is God Almighty's command to establish peace in the country. […] We need to establish [peace], even by risking our lives." (Al Fazl, 14 February 1932, pp. 8-11)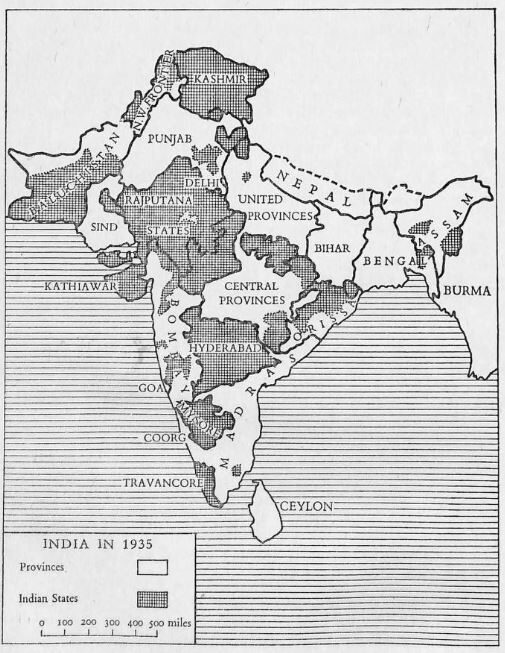 Controversy of Turkish Delegation
In 1943, a delegation of Turk journalists visited Lahore and their leader stated that they were Turk first, then Muslims and there was no need to offer daily prayers during a journey.
This statement erupted great unrest among the Indian Muslims. The Hindu press started to fuel the fire of this fury among the Muslims. At that time, Huzoorra stated:
"The meaning of this [statement of the Turkish delegation's leader] was that though, undoubtedly [Turks] have sympathy for other Muslims, but if, at some instance, they saw that their nation could be harmed, then they would save their lives first and care about others later. It did not mean that they would give priority to the Turk lineage, instead of Islam because there is no disagreement there; they are all Muslims there. This disagreement is found in India in fact because here reside people of different religions." (Al Fazl, 28 February 1943, p. 2)
While addressing the second part of their statement, as regards prayers during journeys, Huzoorra stated:
"If that is true, then it is really regrettable […] This answer tells us – if it is true – that Islam has not been instilled completely in the hearts of the [members of the] delegation which is visiting India. We cannot conclude from this that the whole Turk nation is like this because this is an answer of a few people and they are responsible for their act themselves." (Ibid, pp. 2-3)
The fact is that Hazrat Musleh-e-Maudra desired for Muslim unity and strived for their progress and guided them in a great manner.
---