Last Updated on 28th December 2022
Ata-ul-Haye Nasir, Al Hakam
History bears witness that Hazrat Musleh-e-Maudra rendered great services to the Muslim Ummah. He always advocated for peace and autonomy of the Arab Muslim countries and played a pivotal role in the Kashmir Movement.
This article seeks to present some glimpses of such services.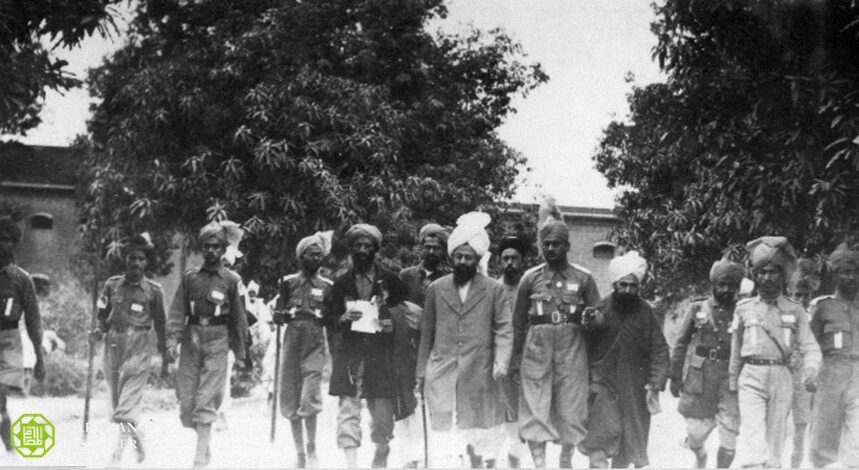 Treaty of Darin
In 1915, the ruler of Nejd signed the Treaty of Darin with the British government, which meant that he would not hinder any military operations against the Muslim states of the region. In return he was granted weapons and financial aid.
Sharif Hussein Ibn Ali of the Hedjaz was also granted financial aid on the condition of assisting the British against the Ottomans. It not only threatened the autonomy of these two Arab states, but also initiated their conflict with the other Muslim states.
Therefore, Hazrat Musleh-e-Maudra wrote to Lord Chelmsford, the Viceroy of India, that such grants to the Hedjaz and Nejd would lead to an uprising from other Muslim states and Muslims would never tolerate the suzerainty of the British government on Arab lands. (Islamic Caliphate – The Missing Chapters, pp. 50-51)
Turkey's misery
A few years later, when World War I ended, Turkey was in a miserable state. In such a time, a pan-Islamic force in India arose in 1919, in an effort to salvage the Ottoman Caliph as a symbol of unity among the Indian Muslims. It is known as the Khilafat Movement. Fears of Muslim disunity were aroused by the decline of the Ottoman Empire – the preeminent Islamic power whose Sultan, as Caliph, was seen by pan-Islamists as the leader of the worldwide Muslim community.
On 21 September 1919, an All India Muslim Conference was held, to which Hazrat Musleh-e-Maudra was also invited, but he could not attend. So, he sent a detailed article, titled Turkey ka Mustaqbil aur Musalmanon ka Farz, which was published in Al Fazl, 27 September 1919.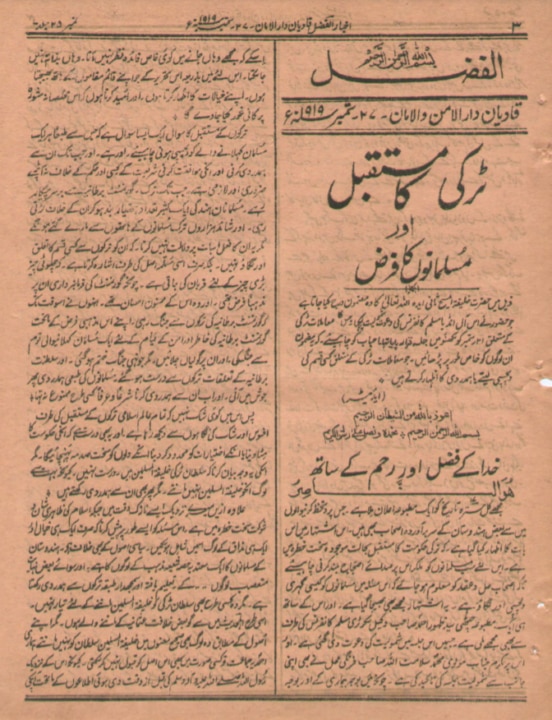 This article was later translated into English as The Future of Turkey and published in The Moslem World, Vol. 10, pp. 274-281.
Huzoorra stated:
"The question of the future of Turkey can not fail to possess an interest for every one who calls himself a Mussalman. This is at once natural and a fact. And so long as such sympathy and friendliness do not conflict with the commands of religion, such a sentiment is both a duty and a necessity. […]
"There is no doubt that the whole Islamic world has been looking upon the future of the Turks with doubt and misgivings and there is no doubt that the complete extinction of the empire or any curtailment of its independence will deeply wound the Moslem feeling." (The Moslem World, Vol. 10, p. 274)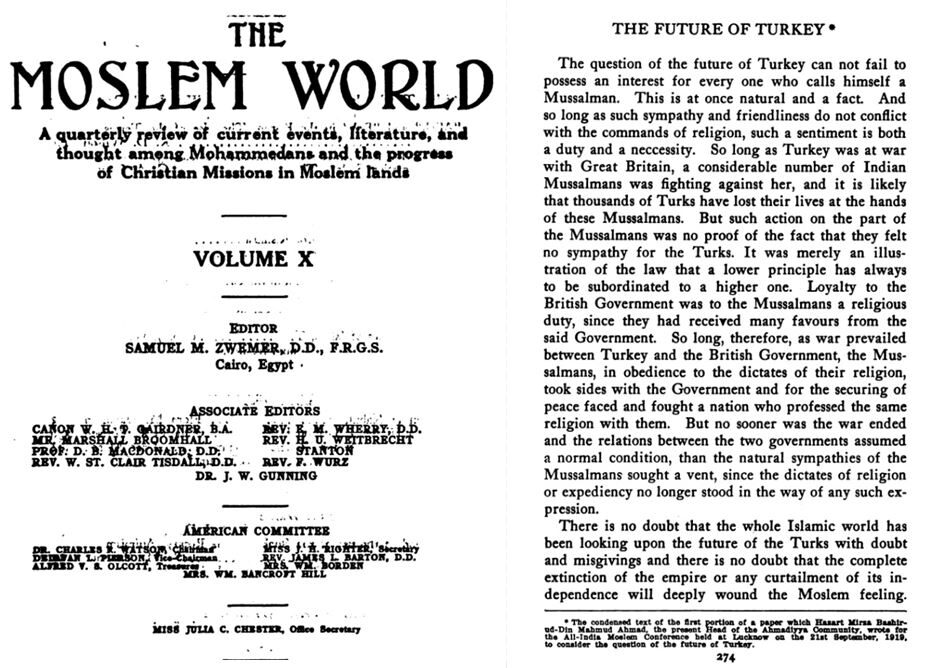 Huzoorra also suggested to the Muslims a scheme to protect Turkey from the upcoming dangers.
The following year, the Indian Muslims decided to hold a conference about Turkey's issue, on 1 and 2 June 1920 in Allahabad. Upon the request of Maulvi Abdul Bari Sahib Farangi Mahali, Hazrat Musleh-e-Maudra wrote an article, titled "The Agreement of Turkey and Muslims' Future Plan".
Huzoorra stated that the Muslims were presenting many suggestions, including migration, jihad-e-am [open warfare] and civil disobedience etc., but all these suggestions were invalid and not applicable and he advised Muslims to devise a practical plan. (Al Fazl, 7 June 1920, pp. 3-8)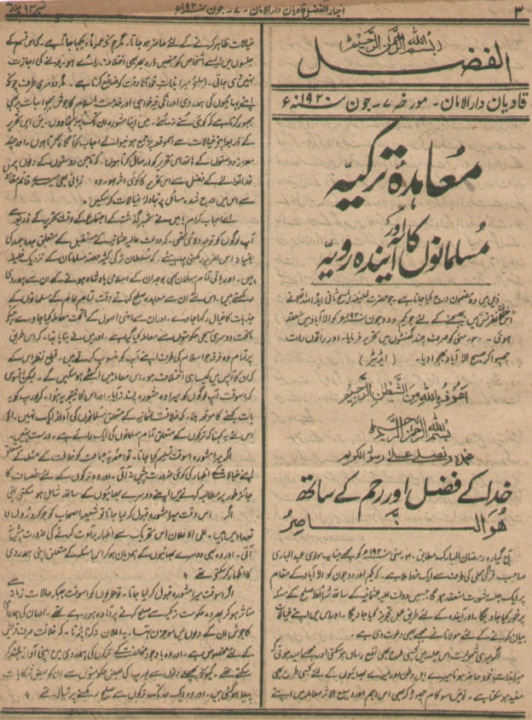 Address to Lord Reading
Huzoorra not only guided the Muslims on the issue of Turkey, but also called the attention of the British government towards this issue and the Hedjaz as well. He sent a delegation of Ahmadis to present an address to Lord Reading, Viceroy of India, on 23 June 1921, in which he discussed the issue of Turkey and advocated the autonomy of the Hedjaz and the greater interests of the Muslims.
He stated:
"Notwithstanding that we do not acknowledge the Sultan of Turkey as the Khalifa of the Muslims and have thereby exposed ourselves to the reproaches of our fellow countrymen, we fully sympathise with the Turkish government in its affliction, for we feel that Turkey has not received fair treatment; and as it is a wrong which can be righted at any time, there is no reason why the Indian government should give up its efforts to secure a fair treatment for Turkey. If, after a lapse of fifty years, Alsace Lorraine could be restored to France through the efforts of the British government, the provinces of Smyrna and Thrace where the Turkish population certainly preponderates, may similarly be restored to Turkey in spite of the present settlement.
"But more important still, in our opinion is the question of the independence of Hedjaz, which must remain free from outside interference.
"When this question arose every Muslim entertained the misgiving that the freeing of Hedjaz from Turkish control might mean the bringing of it under the control of a European power. Hedjaz being a sterile country would, it was feared, be unable to produce sufficient income to defray the expenses of its administration and the Hedjaz government would be compelled to borrow money from a foreign country, thus placing itself under the control of a European power." (The Review of Religions, June 1921)
The Viceroy replied to the address, which, according to The Leader of Allahabad, was seen to have touched upon "some of the burning issues of the day". ("Viceroy's Reply to the Ahmadiyya Community", The Leader, 26 June 1921)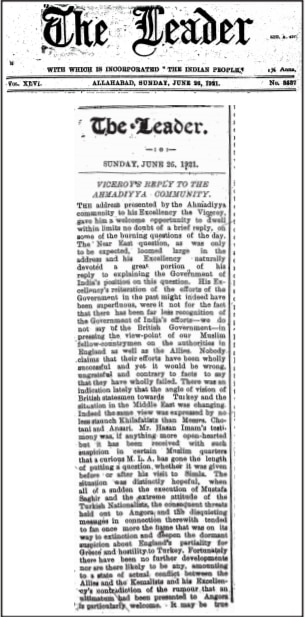 Syria's Freedom Movement
Then comes the issue of Syria, which was occupied by France post-World War I and took France three years – from 1920 to 1923 – to gain full control over. Though many insurgencies broke out from time to time, but the freedom movement started in 1925.
Then, between 18 and 21 October 1925, Damascus was heavily attacked for more than 57 hours.
During his Friday Sermon of 13 November 1925, after narrating the Promised Messiah'sas revelation "Balaa-e-Dimashq" (Calamity of Damascus), Hazrat Musleh-e-Maudra stated:
"This is an act of great oppression upon the people of Damascus, who were already helpless. […] In my view, it is the Syrians' right to get independence. It is their own country, so their leaders should also be their own […]
"They are being oppressed and I have sympathy for those oppressed people. […] I also pray for those who strived and got killed for the freedom and independence of the nation. I also pray for those who are alive and striving for this cause, that may they be saved from destruction and be successful. 
"As it is our duty to have sympathy for everyone, I also pray for the European people that may Allah open their eyes, so they may do justice, avoid oppression and establish freedom and independence instead of suppressing it." (Al Fazl, 21 November 1925, pp. 8-10)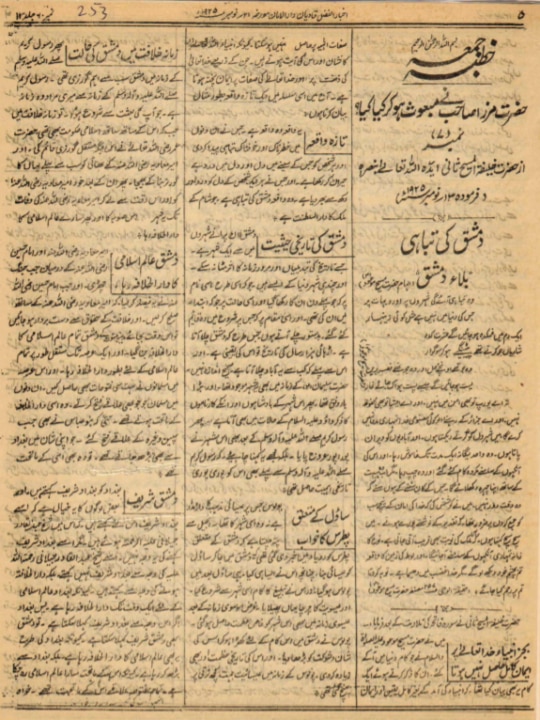 The early years of the Kashmir Movement
Hazrat Musleh-e-Maudra was desirous of the freedom of Kashmir's oppressed Muslims. He wrote an article, titled The Condition of Muslims in Kashmir and Jammu State, outlining the importance of Kashmir and the demands of Kashmiri Muslims. He added that the issue of Kashmir could be solved if all the Muslims strived with unity. (Al Fazl, 16 June 1931, pp. 3-4)
A famous leader of the Freedom Movement, Mufti Ziauddin Sahib, wrote in his Persian poetic booklet that in the beginning of the Freedom Movement, many letters were sent to the prominent leaders of India, including Allama Iqbal, Sheikh Sadiq Hasan, Khawaja Hasan Nizami and Hazrat Musleh-e-Maudra, who were all requested to offer their help. All of them, excluding Hazrat Musleh-e-Maudra, responded by asking why he had got involved in such a dangerous act. Huzoorra, however, sent a heavy amount for this cause. (Noha-e-Kashmir, pp. 12-13, published by Punjab National Press Lahore in 1963)
On 13 July 1931, many Kashmiri Muslims were killed and many suffered severe injuries as a result of the inhuman treatment by the local police. Huzoorra sent a telegram to the viceroy of India, notifying him of the situation and informed him of how the Muslims of Kashmir were being oppressed. (Al Fazl, 18 July 1931, p. 1 & 12)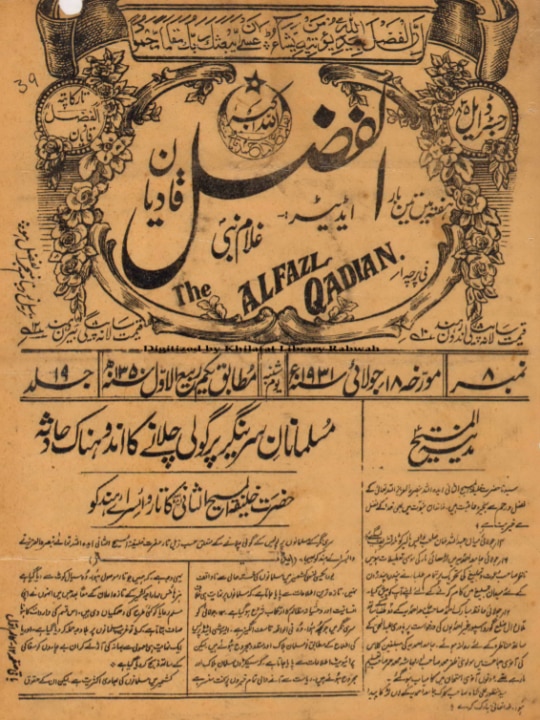 In regard to the reaction from the Muslim leaders, Suhail-ul-Rehman Lone states:
"Barely a week after the July 13 massacre, several leaders […] laid the foundation of the Kashmir Committee (subsequently known as the All India Kashmir Committee) in Simla which aimed at speaking on the behalf of Kashmiri Muslims. The founding members of the Committee included Fazl Hussain, Khawaja Hassan Nizami, Mirza Bashir-ud-Din […]. The members chose Mirza Bashir-ud-Din as the president of the Committee and his personal assistant, Moulvi Abdul Rahim Dard as the Secretary. Immediately after its formation it began to pressurize the Maharaja and the Government of India to appoint an enquiry committee in order to bring forth the facts about the central jail incident. It decided to celebrate the Kashmir Day on August 14." (Indian National Movement And The Freedom Struggle Of Jammu And Kashmir [1931-1947 A.D.], pp. 63-64)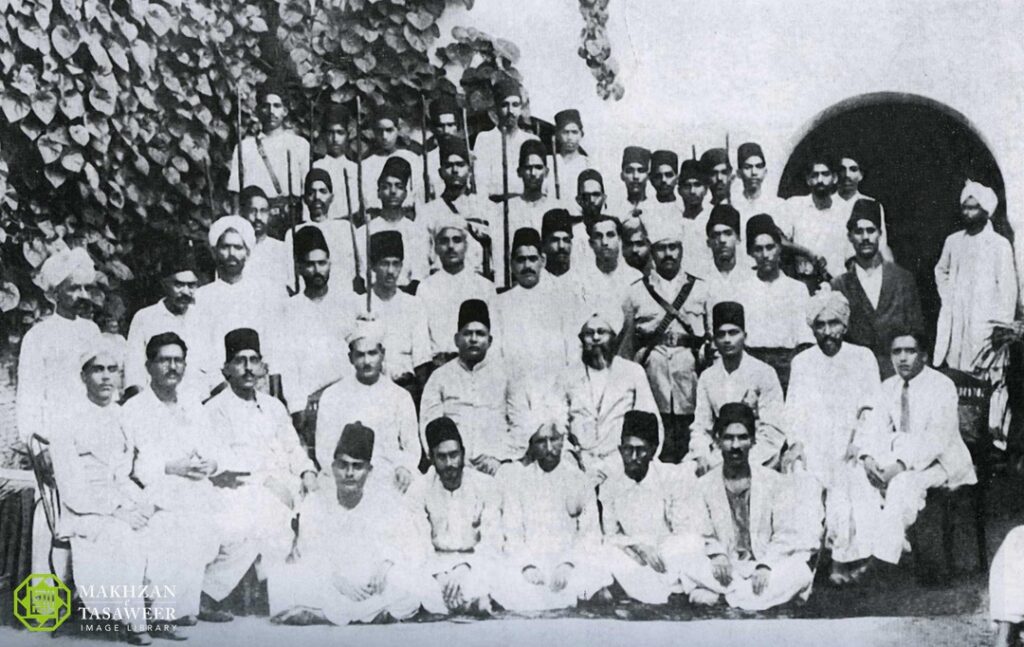 Ravinderjit Kaur, in her book, Political Awakening In Kashmir, has also stated details of the early days and activities of this committee. She wrote:
"The All India Kashmir Committee was formed on July 25, 1931 at Simla. The members of this Committee were: Sir Sheikh Mohammad Iqbal, Nawab Sir Zulfiqar Ali Khan, Khawaja Hassan Nizami, Nawab Ibrahim Ali Khan of Khanjpura, Mirza Bashir-ud-Din Mahmood Ahmad, the President of the Committee […] and Maulvi Abdur Rahim Dard who was the Secretary of the Committee.
"The dynamic forces behind the Kashmir Committee were Sheikh Mohammad Iqbal and Mirza Bashir-ud-Din Mahmood Ahmad." (Political Awakening In Kashmir, p. 156)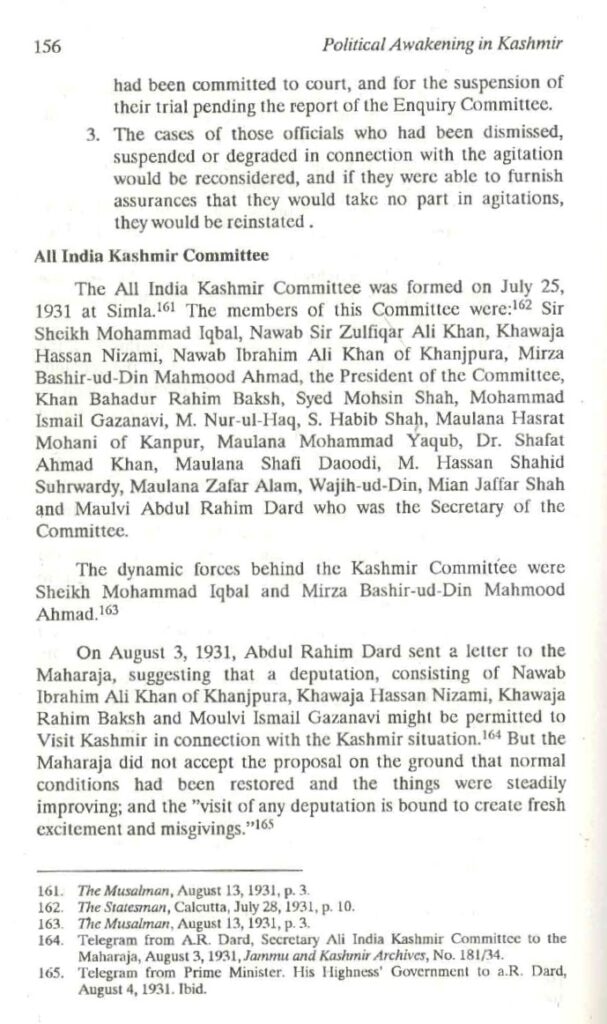 Muhammad Yusuf Ganai states:
"Mirza Bashir-ud-Din Mahmud Ahmad, Amir of the Jamat-i-Ahmadiya took initiative in convening a meeting of some leading Muslims at Simla on 25 July 1931 to consider the situation. It was in this historical meeting that the foundation of All India Kashmir Committee was laid." (Kashmir's Struggle For Independence (1931-1939), p. 95)
In June and July 1931, Huzoorra wrote detailed articles in regard to the Kashmir Movement and gave valuable guidance to the Muslim leaders. He also wrote many special messages and letters addressed to the Muslims of Kashmir, which greatly uplifted them and created a new passion for freedom.
As the All India Kashmir Committee had given a call for observing Kashmir Day on 14 August 1931, Huzoorra wrote an article on 6 August 1931, in which he advised all to celebrate Kashmir Day with full zeal and passion.
"In response to a call given by the All India Kashmir Committee, Kashmir Day was observed on August 14, 1931 with tremendous enthusiasm both within and outside the State." (Kashmir's Struggle For Independence (1931-1939), p. 96)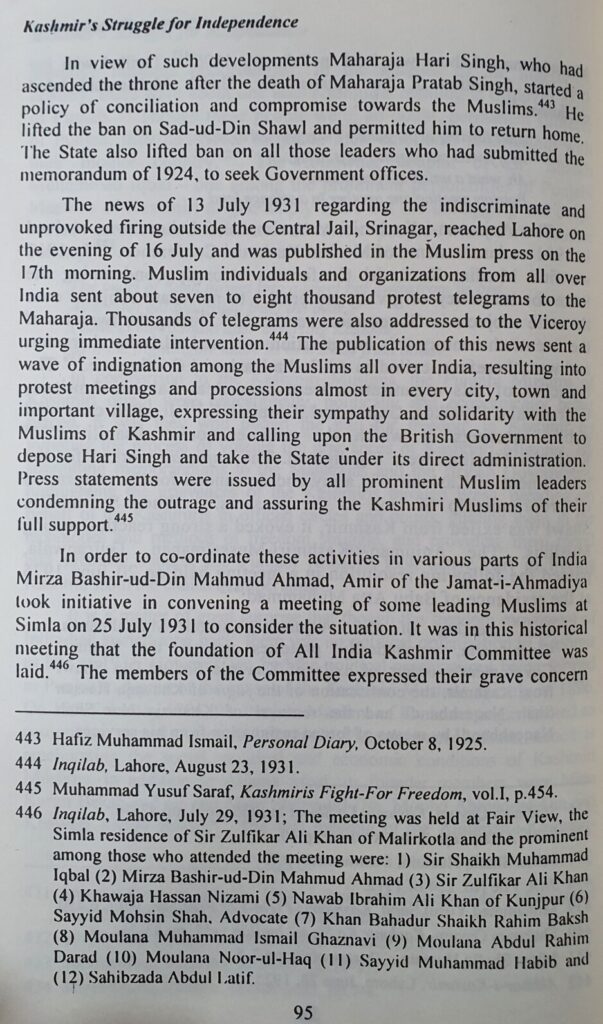 Huzoorra initiated a scholarship fund for Kashmiri Muslim students and also established the Kashmir Relief Fund for helping the oppressed Muslims of Kashmir.
In regard to this, Adil Hussain Khan states:
"On May 23, 1932, Mirza Mahmud Ahmad — this time on behalf of Jama'at-i Ahmadiyya — established a new scholarship fund for Muslim students studying in Kashmir […] Mahmud Ahmad appropriated funds to the Kashmiri cause from every accessible channel including Jama'at-i Ahmadiyya. As Khalifat al-masih II, he established the Kashmir Relief Fund, a mandatory charitable donation (chanda) levied upon each wage-earning Ahmadi within his Jama'at." (From Sufism to Ahmadiyya: A Muslim Minority Movement in South Asia, published by Indiana University Press, p. 102)
In mid-1932, when Sheikh Muhammad Abdullah and other Kashmiri leaders were facing imprisonment, Huzoorra cautioned the Kashmiri people by stating that if their leaders did not get freed soon and meanwhile, the Assembly's elections were held, it would be their duty to nominate those contestants who had an interest in the national cause. Huzoorra advised not to boycott the elections.
Though Sheikh Abdullah Sahib was freed, still many leaders were in prison, so he thought about compromising with the state. Huzoorra, however, emphasised upon contesting the elections. So, the "Muslim Conference" nominated its contestants and all of them won.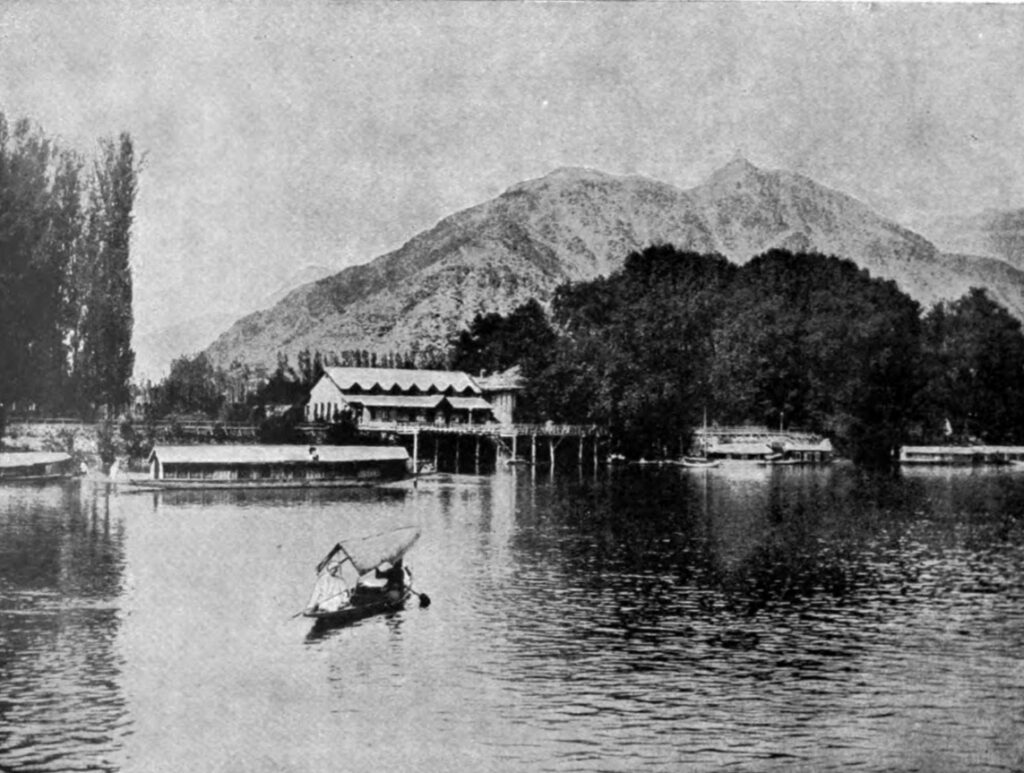 While the Kashmir Movement was achieving great success, the opponents of Jamaat-e-Ahmadiyya started a campaign against Huzoorra, without thinking about the interest of the Kashmiri Muslims, and demanded that the president of the All India Kashmir Committee should not be an Ahmadi.
Observing this situation, Huzoorra called a session of the Kashmir Committee on 7 May 1933 and during the meeting, resigned from the presidency. This was a big loss to the Kashmir cause, but Huzoorra did not stop his efforts for the Kashmiri Muslims.
A newspaper, Siasat, wrote on 18 May 1933:
"At the time, when the condition of Kashmir was critical, those who chose Hazrat Mirza Sahib, despite doctrinal differences, made a perfect choice. Had they not chosen Mirza Sahib because of the differences in their beliefs, this movement would have ended in utter failure and would have resulted in a major loss for the Muslim Ummah."
Sheikh Abdul Hamid Sahib, Advocate Jammu stated that the Muslims of Kashmir succeeded in getting their rights to an extent, with the help of the great services of Huzoorra, his Jamaat members and the Kashmir Committee. (Tarikh-e-Ahmadiyyat, Vol. 5, p. 656)
Following Huzoor'sra resignation, the new president, Allama Iqbal, also resigned on 20 June 1933, by stating that the Ahmadi members of the committee would not be loyal to anyone other than their imam (Huzoorra).
Then, Allama Iqbal suggested his close friends to hold a public jalsa [gathering], which was then held in Lahore on 2 July 1933. The dissolution of the old committee was announced there and a new committee was formed, which also could not last long.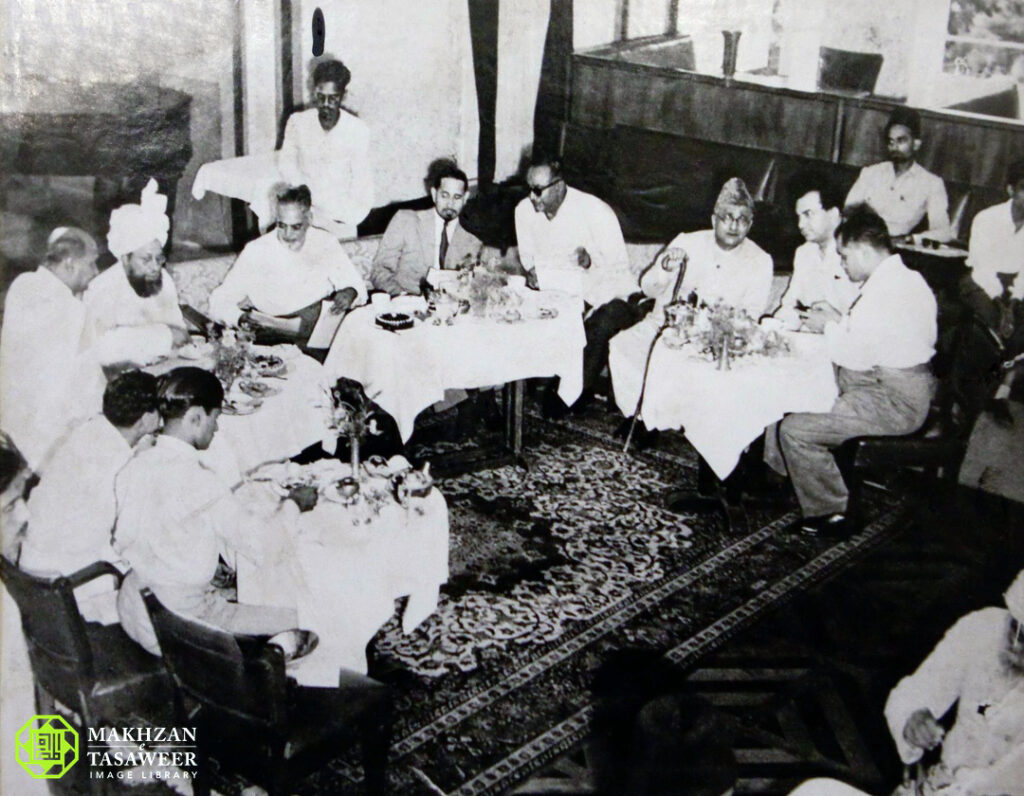 Then, on 3 September 1933, some prominent leaders had a meeting in Lahore – chaired by Hazrat Musleh-e-Maudra – in which keeping the unity intact was discussed. It was decided to revive the old committee and for the presidency to be offered to Allama Iqbal, but he refused.
So, a new committee, namely "All India Kashmir Association" was formed under the presidency of Syed Habib Sahib, Editor Siasat, which had 45 members, including Huzoorra. Its activities started on 28 March 1934 and it continued work for nearly four years, striving hard for the Kashmir cause.
Abdul Majid Salik Sahib writes:
"Sheikh Muhammad Abdullah (Sher-i-Kashmir) and other workers used to keep open contact with Mirza Mahmud Ahmad Sahib and some of his workers. […] The only reason for their contact was the fact that Mirza Sahib had many resources and he was helping the Kashmir Movement in many respects and workers of Kashmir Movement were naturally obliged to him." (Zikr-e-lqbal, p. 188)
London Conference of 1939 on the Palestine issue
From 7 February to 17 March 1939, the British government organised a conference of the Arab countries in relation to the issue of Palestine. At that time, Maulana Jalaluddin Shams Sahib invited the viceroy of Mecca and representatives of Palestine, Iraq and Yemen at a party, in which 200 guests participated, including Prince Faisal and many other dignitaries.
Hazrat Musleh-e-Maudra sent a message through telegram, which was read out in both English and Arabic. Huzoorra stated:
"Extend welcome on my behalf to His Royal Highness, Amir Faisal, and delegations of the Palestine Conference and tell them that Jamaat-e-Ahmadiyya is fully in their support and prays that Allah the Almighty may grant them success." (Al Fazl, 16 March 1939, p. 2)
The chaos in Iraq
During World War II, Iraq had to face a new issue when Sheikh Rasheed Ali Jilani and like-minded people initiated chaos in the country, which endangered the sacred places of the Muslim world. At that juncture, on 25 May 1941, Huzoorra delivered a speech, titled Comments on Iraq's Situation on the All India Radio Station Lahore. He stated:
"Iraq's current chaos is becoming a cause of concern among the Muslims around the world, and the Indians as well. […]
"In Iraq, there are sacred places of the holy personages of both Shia and Sunni Muslims. […] Its peace is the wish of every Muslim. Today, that peace is at risk. […]
"As a result of this fitna, Turkey has been besieged, war is at Iran's doorstep, Syria has become the pathway for war, Iraq has become the centre of the war, Afghanistan is nearing a war and most of all, war has reached the boundaries of those places that are dearer to us more than our homelands, lives and dignities. […]
"In these circumstances, it is the duty of every Muslim to strive for quashing this fitna at the outset. There is still time to push away the war." (Al Fazl, 27 May 1941, pp. 1-2)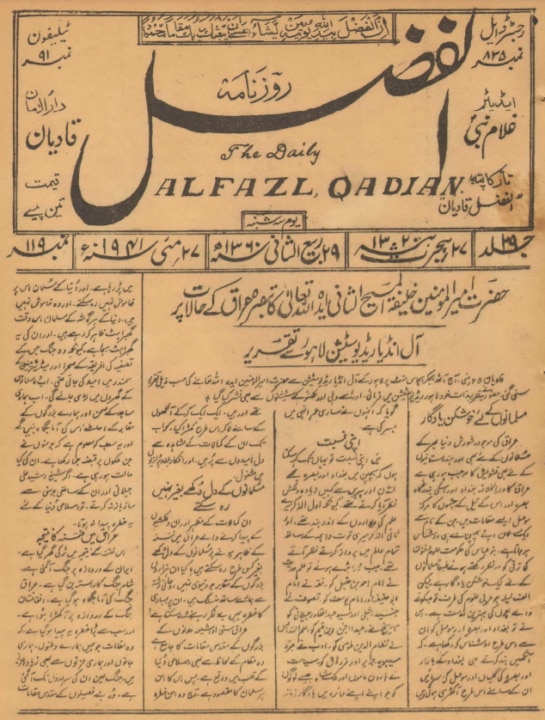 WWII and a threat to the Hedjaz
During the Second World War, the Middle East was under severe pressure and there was a big threat to the sacred land of the Hedjaz. At that critical juncture, in his Friday Sermon of 26 June 1942, Huzoorra stated:
"Now the war has reached such a dangerous point that Islam's sacred places have become vulnerable. No matter how much we disagree with the belief of Egyptians, no matter how much we disagree with their justification and interpretation of Islam, we cannot deny that they are the followers of our God, our Rasul [the Holy Prophetsa] and our book [the Holy Quran]. […] So, Egypt's suffering and destruction should bring grief to every Muslim, no matter which sect they belong to." (Al Fazl, 3 July 1942, pp. 2-3)
The newspaper, Zamzam, on 19 July 1942, wrote:
"Under the current circumstances, the Khalifa Sahib has shown such righteous indignation for Islam with reference to Egypt and the Holy Land of the Hedjaz that we are greatly indebted to him, and by expressing his concern, he has rightly represented the feelings of Muslims."
All Jammu and Kashmir Welfare Association
In 1944, under the guidance of Huzoorra, the All Jammu and Kashmir Welfare Association was established for uniting Muslims and conveying their voice to the government.
A delicate time for the Muslim World and establishment of Israel
Hazrat Musleh-e-Maudra saw a vision, in which he was foretold by Allah that a delicate time was coming for Islam and Muslims needed to unite for tackling that issue. Huzoorra wrote an article, titled Al-Inzaar (The Warning), wherein he stated his vision in detail and advised the Muslims in regard to this. (Al Fazl, 28 August 1946)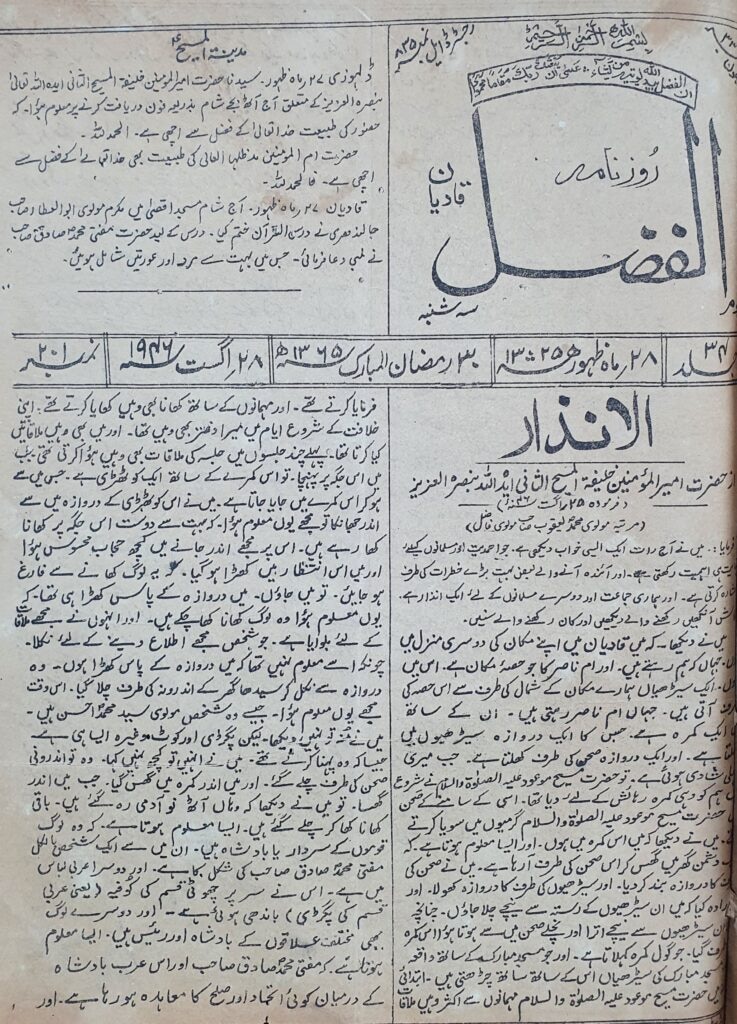 During his Friday Sermon of 30 August 1946, Huzoorra instructed the Jamaat to specially pray for the Muslim World.
Two years later, when Israel was established on 14 May 1948, the conspiracies regarding Palestine emerged openly and at that time, Hazrat Musleh-e-Maudra tried to awaken the Muslim Ummah. Huzoorra wrote a masterpiece, titled Al-Kufru Millatun Wahidah (kufr is a nation united) and called on all Muslims to unite as one to deal with that issue.
Huzoorra stated:
"The day which was prophesied by the Holy Quran and ahadith hundreds of years ago; the day which was prophesied in the Torah and Gospels; the day which was told to be painful and dangerous for the Muslims has seemingly arrived. Jews are being inhabited in Palestine.
"America and Russia […] seem to be on the same page. And strangely, they both were united on the Kashmir issue as well. […] It is strange that the disputes of Palestine and Kashmir have emerged at the same time. […]
"So, I draw the Muslims' attention towards this matter that they should understand this delicate time and remember that today, the saying of the Holy Prophetsa:
اَلْكُفْرُ‭ ‬مِلَّةٌ‭ ‬وَّاحِدَةٌ
"[kufr is one nation] is being fulfilled to the letter." (Al Fazl, 21 May 1948, pp. 3-4)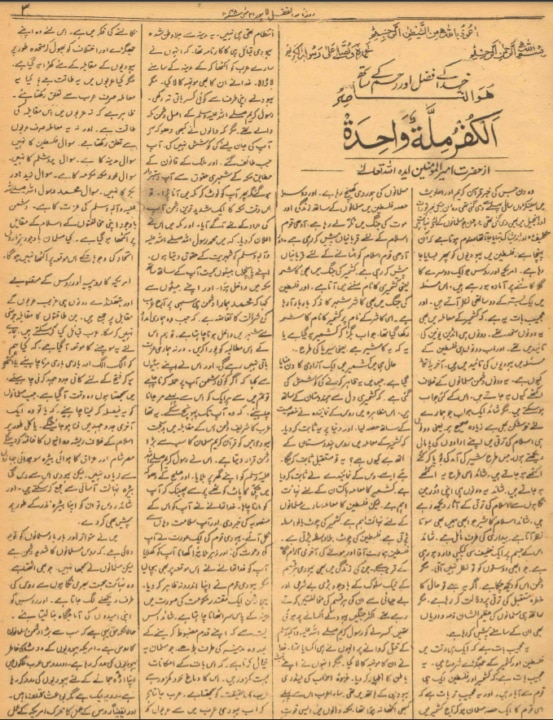 This article had a great impact in Syria, Lebanon, Jordan and other Arab countries. Syrian radio stations aired its summary and many Arabic newspapers published its excerpts, including Al-Yaum, Al-Akhbar, Al-Nasr and Al-Urdan.
On 12 December 1948, Hazrat Musleh-e-Maudra delivered a lecture at Law College Lahore, titled The Status and Future of the Islamic World in Light of the Current Situation. Huzoorra stated:
"In my view, the Islamic world's future is completely safe, provided we act upon those ways of success which the Holy Quran has fixed for us. […] Islamic countries should dispel their internal enmities and create a passion of sacrifice for each other. The people of the Islamic countries should travel extensively to each others' countries. […]
"Islamic countries should make trade relations with each other. We should help those countries where Muslims are comparatively more underdeveloped, for example Western and Eastern Africa etc., by establishing relief organisations. The Holy Quran has declared tabligh as the best way for Islam's progress. We should pay attention to this." (Al Fazl, 14 December 1948, p. 2)
A testimony
Beirut's newspaper, Al-Yaum, published an introductory article about Hazrat Musleh-e-Maudra, in which it stated:
وقد‭ ‬لعب‭ ‬هذا‭ ‬الزعيم‭ ‬الديني ‬المسلم‭ ‬دورًا‭ ‬هامًا‭ ‬فی ‬كشمير‭ ‬و‭ ‬فی ‬تأسيس‭ ‬دولة‭ ‬باكستان
"This Muslim religious leader has played an important role for Kashmir and the formation of Pakistan." (Al-Yaum, 22 December 1949)
Freedom of Tunisia and Morocco
For a long time, the Muslims of Tunisia and Morocco were striving for independence and it was announced that on 21 November 1952, the Muslims of the whole world should hold Tunisia and Morocco Day.
Hazrat Musleh-e-Maudra, expressing his love for the Muslim Ummah, instructed the Jamaat to pray and hold gatherings in favour of the oppressed Islamic countries' independence. Foreign Minister of Pakistan, Sir Zafrulla Khan Sahibra raised his voice in the United Nations. Finally, both these countries got independence in 1956.
These were only a few of those great services for the Muslim world rendered by Hazrat Musleh-e-Maudra, which depicts his love for the Muslim Ummah and desire to see its progress and prosperity.