Ata-ul-Haye Nasir, Al Hakam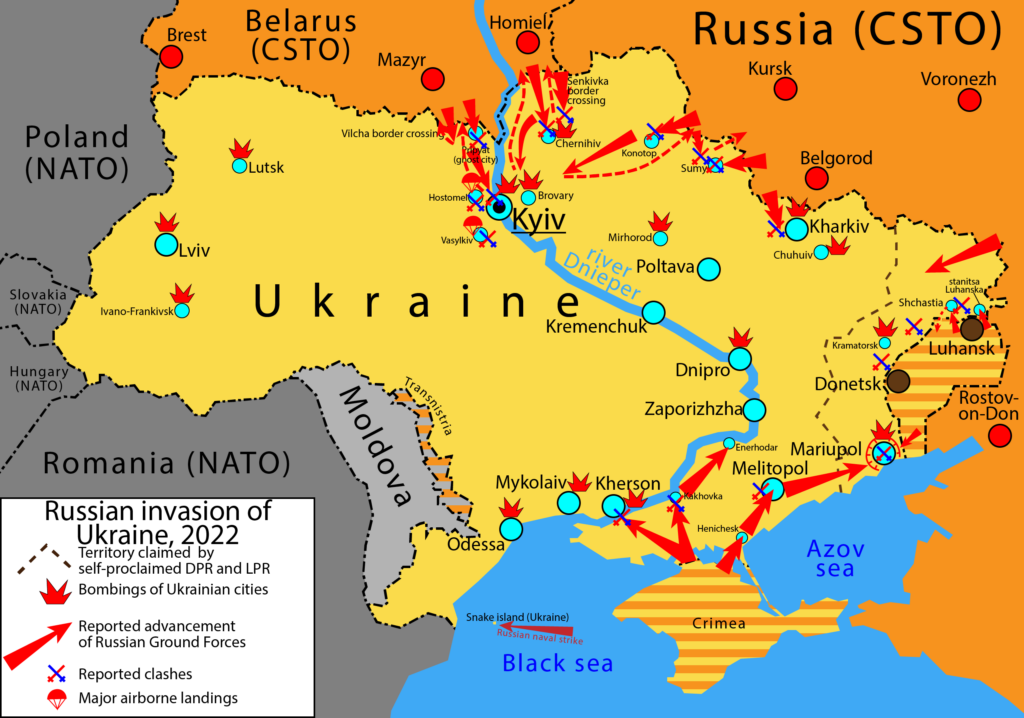 The crisis the world is facing – energy shortages, economic unrest and the rising danger of a nuclear war – is not without a reason. Such problems occur mainly due to selfishness, injustice and power lust.
European countries are beginning to announce their plan of action to tackle the energy crisis as many countries have been dependent on Russia for gas supplies, which has been restricted following the war between Russia and Ukraine.
On 4 October 2022, two senior EU officials called for joint borrowing to help the 27-nation bloc navigate the energy crunch together after Germany faced criticism for going its own way with huge subsidies its peers could never afford. The energy price crisis is threatening a recession in Europe as it recovers from the Covid-19 pandemic.
"Germany, Denmark and the Netherlands have opposed a price cap, citing concerns over security of supply. They are also against joint borrowing – an echo of the EU's long-standing divisions that have come to surface again over the twin energy and inflation crises." (Pressure on Germany as energy crunch revives EU divisions over joint debt, Reuters, 4 October 2022)
It has been indicated that the UK government might push for power blackouts throughout the country, and it would most probably occur during peak hours. (What will happen if Britain has winter blackouts?, BBC, 8 October 2022)
On 9 October 2022, while responding to a National Grid warning of power blackouts in case enough energy is not imported, senior minister Nadhim Zahawi said:
"It is extremely unlikely, but it is only right that we plan for every scenario. But all I would say is, we have a buffer", and thus, "I am confident that come Christmas, come the cold weather, we will continue to be in that resilient place." (UK minister Zahawi: planned power cuts extremely unlikely, Reuters, 9 October 2022)
Before the Russian invasion of Ukraine, Italy was the second-largest importer of Russian gas in the EU, with imports making up 40% of its total supply. The government has announced buildings will face an extra 15 days without central heating, and the public is asked to turn their heating down by one degree, and off for an extra hour a day. (Europe energy crisis: Italians told to turn thermostats down, BBC, 8 October 2022)
In France, homes and offices will be heated to a maximum of 19 degrees Celsius, there will be no hot water in public buildings, and the temperature in swimming pools and gyms will also be reduced. (Ibid)
On 6 October, the French government unveiled its biggest energy conservation measures since the 1970s oil crisis, part of a Europe-wide effort to save power this winter. (Turtlenecks and Warmish Showers: France Seeks to Weather an Energy Crisis, The New York Times, 6 October 2022)
Spain has also mandated that heating should not rise above 19C and lights in shop windows must be turned off after 10 pm. Germany has stopped lighting up public monuments and buildings for aesthetic reasons and cautioned the public that heating may be turned off in the entrances, corridors and foyers of public buildings. (Europe energy crisis: Italians told to turn thermostats down, BBC, 8 October 2022)
On 11 October 2022, the IMF's half-yearly World Economic Outlook (WEO) stated:
"Global growth will slow from 6% in 2021 to 3.2% this year and 2.7% in 2023. The prediction for 2022 is 0.4 percentage points lower than six months ago but unchanged on an updated forecast made in July." (IMF tells central banks to focus on inflation as recession looms, The Guardian, 11 October 2022)
According to the IMF, the Russian invasion of Ukraine is continuing to destabilise the global economy:
"Beyond the escalating and senseless destruction of lives and livelihoods, it has led to a severe energy crisis in Europe that is sharply increasing costs of living and hampering economic activity." (Ibid)
The IMF update states that "Germany and Italy will slip into recession next year, becoming the first advanced economies to contract in the wake of the Russia-Ukraine conflict. The German economy is now expected to shrink by 0.3 per cent in 2023." (Germany, Italy to face recession as IMF cuts global growth forecast, TRT World, 11 October 2022)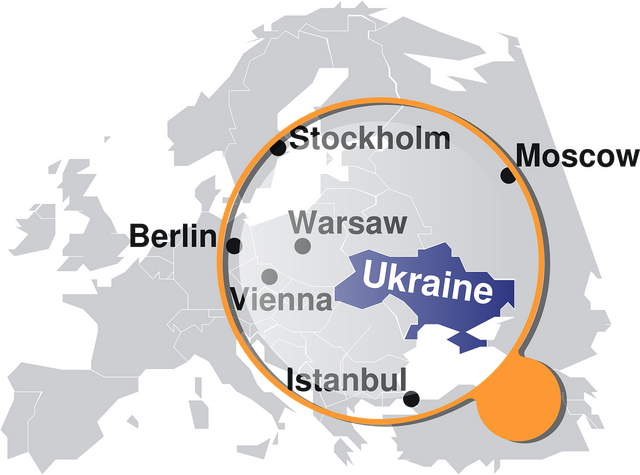 As for the Russia-Ukraine conflict, we are witnessing that it is only intensifying. President Vladimir Putin ordered Russia's first mobilisation since World War II and backed a plan to annex swathes of Ukraine, warning the West he was not bluffing when he said he would be ready to use nuclear weapons to defend Russia.
Ukrainian president Zelenskyy was asked how the international community could help prevent a potential nuclear war between Russia and Ukraine. In response, he said:
"We can already see that these people are capable of such atrocities. What must NATO do? Make it impossible for Russia to use nuclear weapons."
He added:
"But what is [more] important, I am once again turning to the international community, as I did before Feb 24, to do preventative strikes so that they know what will await them if they use [nuclear weapons]." (Ukraine's Zelenskyy calls for NATO to launch 'preemptive strikes' in Russia, spokesperson forced to clarify, Fox News, 7 October 2022)
On seeing an uproar in reaction to this statement, Zelenskyy's spokesperson had to explain later that the president was calling for preventive sanctions against Russia to prevent the use of nuclear weapons. (Ibid)
On 7 October 2022, US president Joe Biden said Putin was "not joking" when he spoke of using tactical nuclear weapons after suffering setbacks in Ukraine:
"For the first time since the Cuban Missile Crisis, we have a direct threat to the use of nuclear weapons, if, in fact, things continue down the path they've been going." (Ukraine war: Biden says nuclear risk highest since 1962 Cuban Missile Crisis, BBC, 7 October 2022)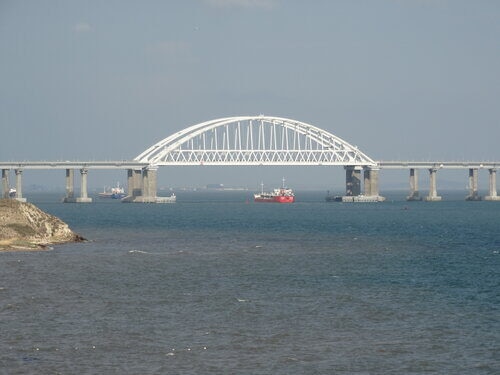 On 8 October, a powerful blast damaged Russia's road-and-rail bridge to Crimea, hitting a prestigious symbol of its annexation of the peninsula and the key supply route to forces battling to hold territory captured in Southern Ukraine.
Crimea's Russian governor Sergei Aksyonov said:
"The situation is manageable – it's unpleasant, but not fatal," and "Of course, emotions have been triggered and there is a healthy desire to seek revenge." (Russian divers to inspect Crimea bridge as governor warns of 'desire to seek revenge', The Guardian, 9 October 2022)
On the Telegram channel of Russia's foreign ministry, spokeswoman Maria Zakharova said:
"The Kyiv regime's reaction to the destruction of civilian infrastructure demonstrates its terrorist nature." (Key bridge from Russia to Crimea reopens after being partially destroyed in explosion, Sky News, 9 October 2022)
Ukrainian officials had repeatedly threatened to strike the bridge and some lauded the attack, but Kyiv has stopped short of claiming responsibility. (Ibid)
On 10 October, Russia conducted missile strikes on Ukraine and the Russian defence ministry said they were aimed at "all designated targets" on Ukrainian military, communications and energy infrastructure. It was said that the goals of the missile strikes had been achieved in one of the largest coordinated Russian attacks against Ukraine since the first weeks of the war. On the other hand, Ukraine said the rush-hour attacks in eight regions appeared to have been deliberately timed to kill people, accusing Russia of terrorism. (Russia's defence ministry: All targets hit in massive missile strikes on Ukraine, Reuters, 10 October 2022)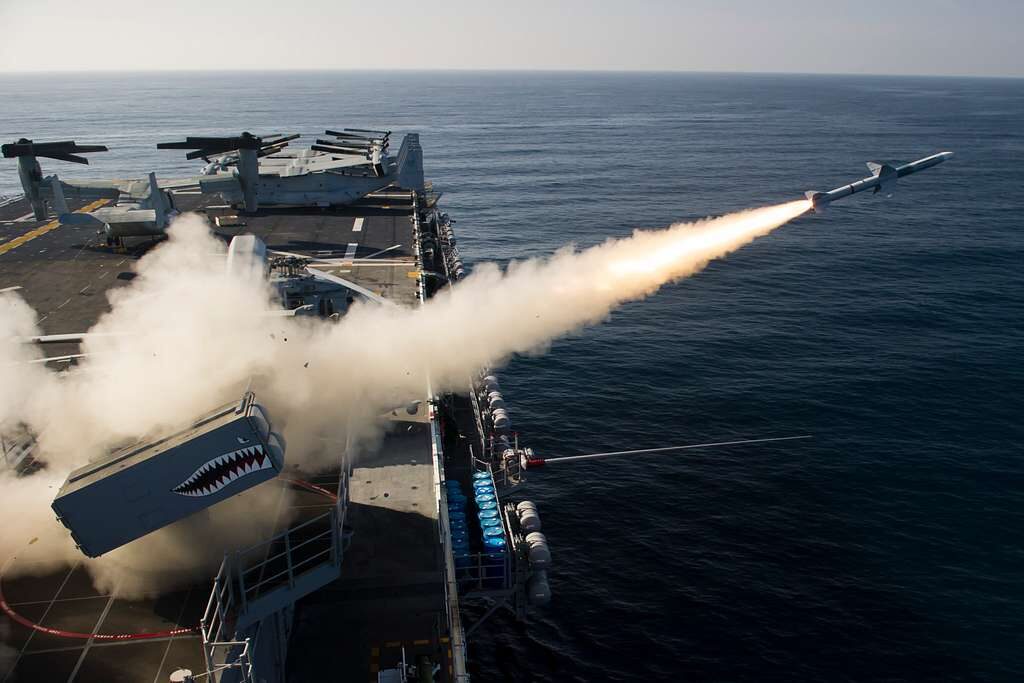 Following this, the Ukrainian energy ministry said it will halt exports of electricity to the European Union following Russian missile strikes on energy infrastructure on Monday:
"Today's missile strikes, which hit the thermal generation and electrical substations, forced Ukraine to suspend electricity exports from Oct. 11, 2022 to stabilize its own energy system." (Ukrainian energy ministry halts electricity exports due to Russian missile strikes, Reuters, 10 October 2022)
The European Commission President, Ursula von der Leyen said Russia stood for "terror and brutality", and Joe Biden spoke with the Ukrainian president and "pledged to continue providing Ukraine with the support needed to defend itself, including advanced air defence systems." (Ukraine war: US condemns 'brutal' Russian strikes on Ukraine, BBC, 11 October 2022)
On 11 October, the Secretary-General of NATO Jens Stoltenberg pledged to boost the protection of critical infrastructure in response to the damage to the Nord Stream gas pipelines. The EU believes three leaks in the pipelines last month were the work of sabotage and suspicion has fallen on Russia, but it is not known for sure who was responsible. Mr Stoltenberg said that NATO has doubled its presence in the Baltic and the North Sea to more than 30 ships, supported by aircraft and undersea activities. (Attack on NATO energy supplies would provoke 'united and determined response', alliance chief vows, Sky News, 12 October 2022)
On 13 October, at the opening of a Diplomatic Academy in Belgium, the EU foreign policy chief Josep Borrell warned Russia that its forces would be "annihilated" by the military response of the West, in case the Russian president uses nuclear weapons against Ukraine. (Putin's army will be 'annihilated' if he nukes Ukraine, EU's Borrell warns, TRT World, 13 October 2022)
He added:
"Putin is saying he is not bluffing. Well, he cannot afford bluffing, and it has to be clear that the people supporting Ukraine and the European Union and the Member States, and the United States and NATO are not bluffing either." (Ibid)
During a news conference in Kazakhstan, Vladimir Putin said, "The introduction of troops into a direct confrontation with the Russian army is a very dangerous step that could lead to a global catastrophe", and "I hope that those who are saying this are smart enough not to take such steps." (Ukraine-Russia war: Putin says direct clash with NATO would lead to 'global catastrophe', The Daily Telegraph, 14 October 2022)
It is evident that the provocative statements and actions from both sides are paving the way for an impending disaster.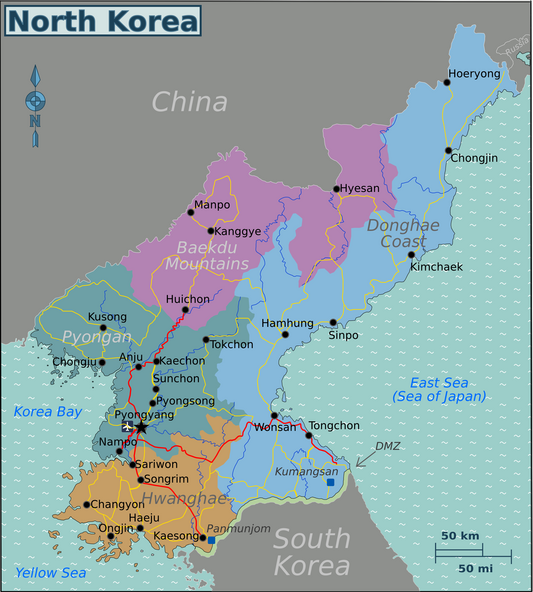 On the other hand, North Korea launched a barrage of missile weapons tests between 25 September to 9 October in response to the US deploying its nuclear-powered aircraft carrier, the USS Ronald Reagan, to waters around the Korean peninsula and holding joint drills with South Korea and Japan.
The acceleration marked a significant change from when Pyongyang pursued denuclearisation talks with then US President Donald Trump between 2018 and 2019. Analysts say North Korea is also reacting in response to South Korea's President Yoon Suk-yeol, who was elected in May and has pursued a more hawkish stance towards the North and closer ties with the US. (North Korea says missile launches were nuclear attack simulation on South, BBC, 11 October 2022)
The Japanese vice defence minister, Toshiro Ino, said these activities were "absolutely unacceptable" as they threaten regional and international peace and security. The US Indo-Pacific Command said in a statement that the launches did not pose any immediate threat to US personnel or territory. However, it highlighted "the destabilising impact" of North Korea's ballistic missile programmes. It said the US commitments to the defence of South Korea and Japan remained "ironclad". (North Korea fires two more ballistic missiles after South Korea and US navy drills, The Guardian, 8 October 2022)
On 8 October 2022, North Korea's defence ministry warned that Reagan's redeployment was causing a "considerably huge negative splash" in regional security. North Korea has argued it was forced to pursue a nuclear weapons programme to cope with US nuclear threats. (Ibid)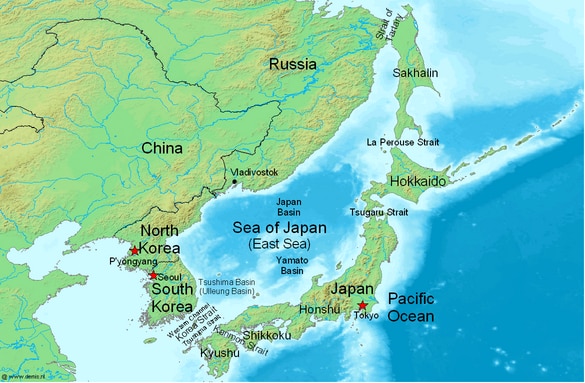 World leaders need to realise the gravity of this situation since it is the make-or-break moment for not only the contemporary world but for future generations as well. World leaders must learn from the past and stay firm on their pledge made earlier this year, when five of the world's most powerful nations – the US, Russia, China, the UK and France – agreed that "a nuclear war cannot be won and must never be fought". (Five of world's most powerful nations pledge to avoid nuclear war, The Guardian, 3 January 2022)
If the world leaders fail to remain loyal to this pledge, the world could face huge devastation, about which Hazrat Mirza Masroor Ahmad, Khalifatul Masih Vaa has been warning the world for the past two decades.
He has been a lone – yet divinely inspired – voice that has warned the world about an impending disaster, powerful enough to shake humanity to its core. Despite naysayers and sceptics, Huzoor's words have proved true; analysts now agree that the threat of nuclear war is not an exaggeration.
Hazrat Mirza Masroor Ahmadaa has given Islamic solutions for establishing a lasting peace, which include upholding absolute justice, shunning vested interests and turning to God Almighty as a means for lasting peace and morality.
During his Friday Sermon on 9 May 2003, while warning of the horrific consequences of atomic warfare, Hazrat Khalifatul Masih Vaa said:
"These incidents [of nuclear devastation] were witnessed in the Second World War even when those atomic bombs were of low capacity. Now, much more powerful atomic bombs have been developed. It is apparent from the current situation of the world that it is hastily moving towards destruction. Therefore, as always, it is the responsibility of Jamaat-e-Ahmadiyya which has a deep love for humanity, that they should pray and pray fervently to save humanity. May the world recognise God and save itself from destruction as much as possible." (Khutbat-e-Masroor, Vol. 1, p. 30)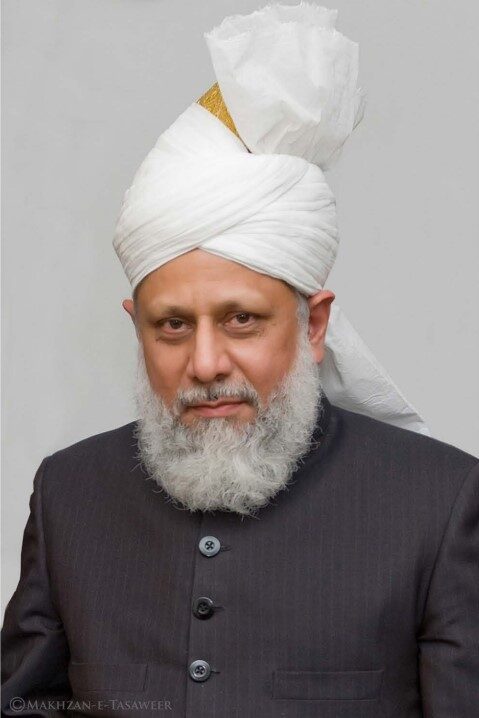 On 24 March 2012, during his keynote address at the 9th Annual Peace Symposium of Jamaat-e-Ahmadiyya UK, Huzooraa said:
"Japan is the one country to have experienced the abhorrent consequences of atomic warfare, when it was attacked by nuclear bombs during the Second World War […] The nuclear bombs that were used at that time and which caused widespread devastation, were much less powerful than the atomic weapons that are possessed by even very small nations today […] Let it be clear that if nuclear weapons are used again today, then it is quite possible that parts of certain countries could be completely wiped off the map. They could cease to exist." (The Devastating Consequences of a Nuclear War and the Critical Need for Absolute Justice, www.reviewofreligions.org)
On 24 February 2022, when Russia invaded Ukraine, Huzooraa stated in a press release:
"For many years, I have warned the major powers of the world that they must heed the lessons from history, particularly in relation to the two catastrophic and devastating world wars that took place in the 20th century. In this regard, in the past, I have written letters to the leaders of various nations urging them to set aside their national and vested interests in order to prioritise the peace and security of the world by adopting true justice at all levels of society. Most regrettably, now a war in Ukraine has started and so the situation has become extremely grave and precarious. Furthermore, it has the potential to escalate even further depending on the next steps of the Russian government and the response of NATO and the major powers.
"Unquestionably, the consequences of any escalation will be horrific and destructive in the extreme. And so, it is the critical need of the hour that every possible effort is made to avoid further warfare and violence. There is still time for the world to step back from the brink of disaster and so, for the sake of humanity, I urge Russia, NATO and all major powers to concentrate all their efforts on seeking to de-escalate the conflict and working towards a peaceful solution through diplomacy." (Statement of World Head of the Ahmadiyya Muslim Community Regarding Russia-Ukraine Crisis, www.pressahmadiyya.com)
On 21 August 2022, during his concluding address at Jalsa Salana Germany, Huzooraa said the reason behind the global disharmony and unrest was that the intentions and aspirations of people were not pure.
Huzooraa said that, undoubtedly, the world leaders expressed their disliking for warfare, but what they actually meant was, "If someone fights with us, then it is bad", and "If we start warfare, then it is not bad." This was all because they had no fear of their Creator, Who had the power to provide peace to the world. (Al Hakam, 26 August 2022, Issue 232, p. 2)
On 8 October 2022, during his keynote address at the inaugural reception of Bait-ul-Ikram Mosque, Huzooraa said:
"Unquestionably, today the world teeters on the brink of disaster, as nations around the world are engulfed by a ferocious storm of political, economic and social unrest. The war in Ukraine has been raging for months and dark clouds indicating even greater turmoil and warfare are hovering ominously above us. Opposing political blocs and alliances have become progressively entrenched, as the world becomes increasingly polarised. The result is that the peace and security of the world is unravelling by the day."
Huzooraa further said:
"Until recently, threatening to unleash nuclear weapons was considered unthinkable, but now such threats are uttered on an almost daily basis. […] There is no doubt that if a global war erupts, it will be unlike anything the world has ever seen. Surely, its catastrophic and devastating consequences are far beyond our comprehension. Many countries have acquired state of the art weapons that have the deadly capacity to kill thousands upon thousands of people with just one strike. It will not just be us who endure the pain and who grieve, rather our children and future generations will suffer for our sins and their lives will be destroyed through no fault of their own."
Huzooraa added:
"Undoubtedly, those innocent souls will look back at us with contempt. They will lament why their forefathers let their egos and selfish ways drive them toward destructive wars that left their future generations physically, emotionally and economically crippled. So, my ardent request and message to the world is that we must set aside our differences and work tirelessly to foster peace in society so that we may save our future generations, rather than, God forbid, sentence them to lives filled with nothing except misery and despair." (Reception Held For New Ahmadiyya Mosque Opened In Dallas, U.S.A. By Head Of The Ahmadiyya Muslim Community, www.pressahmadiyya.com)
The world is on the edge of a nuclear disaster between nations. May Allah enable world leaders to pay heed to the most sincere advice and guidance given by the Ahmadiyya Khalifa, Hazrat Mirza Masroor Ahmadaa.
---