Last Updated on 12th October 2022
Ata-ul-Haye Nasir, UK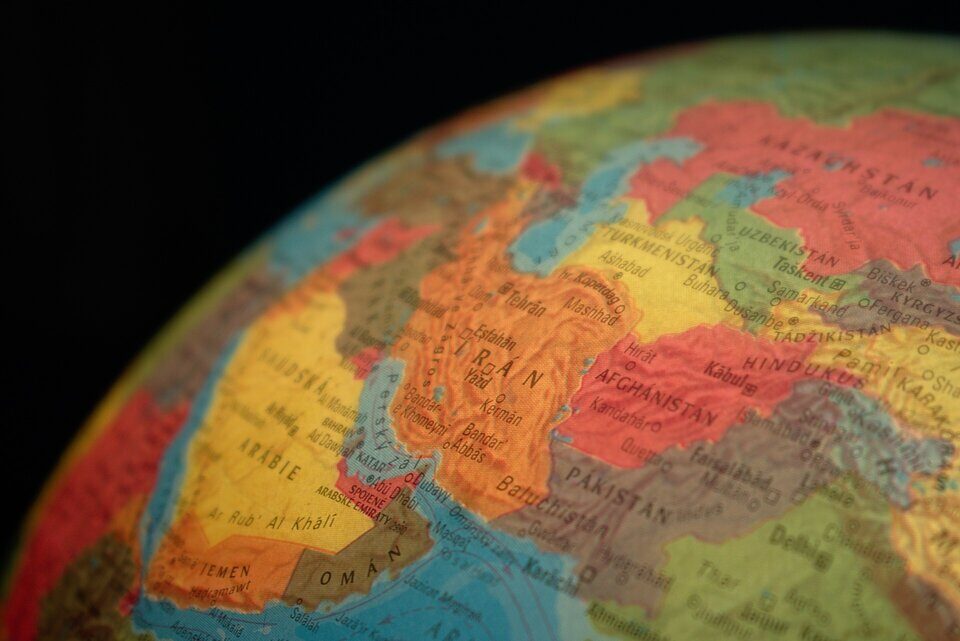 In 2015, Iran had agreed a long-term deal on its nuclear programme with a group of world powers known as the P5+1 – the US, UK, France, China, Russia and Germany. Under this accord, Iran had agreed to limit its sensitive nuclear activities, in return for the lifting of crippling economic sanctions.
On 8 May 2018, Donald Trump, then President of the US, declared that he was withdrawing from the Iran nuclear deal. The decision left the 2015 agreement reached by seven countries after more than two years of grueling negotiations in tatters. (The New York Times, 8 May 2018, "Trump Abandons Iran Nuclear Deal He Long Scorned")
"'We cannot prevent an Iranian bomb under the decaying and rotten structure of the current agreement,' the president said in justifying his decision. 'Therefore, I am announcing today that the United States will withdraw from the Iran nuclear deal.'" (VOX, 8 May 2018, "Trump's withdrawal from the Iran nuclear deal, explained")
Two years after the US withdrawal from the Iran nuclear deal, Iran had resumed its enrichment of uranium and restarted research and development on advanced centrifuges.
"Iran is manifestly closer to being able to produce a nuclear weapon than they were two years ago," said Richard Nephew, who participated in negotiations on the landmark nuclear deal in 2015. (Foreign Policy, 8 May 2020, "Despite U.S. Sanctions, Iran Expands Its Nuclear Stockpile")
"By November 2021, Iran had amassed a stockpile of enriched uranium that was many times larger than permitted, including at least 17.7kg (39lb) of material enriched to 60% purity – just below the level needed for a bomb. It had also resumed enrichment activity at Fordo; installed more centrifuges, and of a more advanced type, than allowed; and taken steps in the production of enriched uranium metal, which is a key material in nuclear weapons." (BBC, 23 November 2021, "Iran nuclear deal: What it all means")
In late November 2021, the talks resumed between Iran and the world powers, in an effort to revive the 2015 nuclear accord.
"An eighth round of talks on reviving the Iran nuclear deal has begun in Vienna, with Iran saying participants have been largely working from an acceptable common draft text and that its team was willing to stay as long as it takes to reach an agreement." (The Guardian, 27 December 2021, "Iran nuclear deal: eighth round of talks begins in Vienna")
During the last week of 2021, Iran had carried out a war-game drill along its southern coastline. The Jerusalem Post called this simulation, a "dangerous escalation in rhetoric".
"As wars are often initiated by a miscalculation by one side or both, brinksmanship targeting nuclear facilities should not be dismissed. In particular, US and Iranian diplomats in Vienna should engage in talks attempting to revive the 2015 Iran nuclear deal with urgency." (Bulletin of the Atomic Scientists, 12 January 2022, "Iran nuclear deal negotiators must act with urgency, given Iranian and Israeli nuclear brinkmanship")
Some officials close to the talks said the window to negotiate a return to the 2015 deal could close by the end of January or the beginning of February, although others claimed that there is no fixed date. Diplomats from the UK, France and Germany noted that while they didn't want to set "an artificial deadline for talks," there remained "weeks, not months" to restore the accord.
A spokesperson for the US State Department said Iran needed to "add real urgency in Vienna." (Politico, 3 January 2022, "Iran nuclear talks resume, but time is running out to strike a deal")
Iran has refused to meet directly with the US officials, meaning that other parties – Britain, China, France, Germany, and Russia – must shuttle between the two sides. (The Jerusalem Post, 12 January 2022, "France says still far from reviving 2015 Iran nuclear deal")
On the other hand, Israeli Prime Minister, Naftali Bennett said that Israel would not constrain itself with any nuclear agreement between world powers and Iran, Anadolu News Agency reports.
"'Israel is not part of the agreements and is not obligated by them. Israel will maintain unlimited freedom to act', Bennett told the Knesset (Israel's parliament)'s Foreign Affairs and Defence Committee.
"'Iran is the head of an octopus that constantly threatens Israel via its proxies', he added, in statements cited by the Jerusalem Post newspaper." (Middle East Monitor, 10 January 2022, "Israel says will not abide by Iran nuclear deal")
On 12 January 2022, the US State Department spokesperson, Ned Price said:
"It is deeply unfortunate that because of an ill-considered or perhaps unconsidered decision by the previous administration that this administration came into office without these stringent verification and monitoring protocols that were in place."
She further said that the Trump administration promised a better deal "that never came close" and instead, "Iran has been able to gallop forward with its nuclear promise." (The Times of Israel, 13 January 2022, "As time runs low at Iran nuke talks, White House focuses blame on 'reckless' Trump")

On 8 January 2022, Iran imposed sanctions on dozens of US officials. The Iranian foreign ministry said in a statement that they had been blacklisted in relation to the assassination of Qassem Soleimani, and human rights violations. (Al Jazeera, 8 January 2022, "Iran sanctions more US officials over Soleimani assassination")
Many of the named officials are from the US military. They include Joint Chiefs of Staff Chairman, General Mark Milley and former White House national security adviser Robert O'Brien. The sanctions let Tehran confiscate assets owned by the American's in Iran, but since they apparently do not have such assets, the move is largely symbolic. (The Times of Israel, 9 January 2022, "Iran sanctions 52 Americans on anniversary of Soleimani killing, drawing US rebuke")
In response to this announcement, the US National Security Advisor, Jake Sullivan said:
"Make no mistake: the US will protect and defend its citizens. This includes those serving the US now and those who formerly served. […] We will work with our allies and partners to deter and respond to any attacks carried out by Iran. Should Iran attack any of our nationals, including any of the 52 people named yesterday, it will face severe consequences." (Al Arabiya News, 9 January 2022, "After Tehran sanctions Americans, US vows to deter and respond to any attack by Iran")
The White House also accused "Iran's proxy militias" of continuing attacks on US troops in the Middle East and said that Iranian officials "threaten to carry out terror operations inside the United States and elsewhere around the world." (Independent, 10 January 2022, "US calls new wave of Iran sanctions against Americans 'threats and provocations'")
"The blacklisted US citizens include Donald Trump and officials such as Mark Milley, the chairman of the joint chiefs of staff and central command chief Kenneth McKenzie.
"Nikki Haley, who served as the US's envoy to the UN, and other Pentagon officials were blacklisted as well." (Ibid)
On 10 January 2022, Iran's Vice President for Economic Affairs, Mohsen Rezaei had a meeting with Nicaraguan officials, including the minister of economy and finance. The topic discussed included the need to strengthen cooperation between Iran and Nicaragua, especially in the oil and energy industries.
Emphasising that the development of cooperation between the resilient countries was a "strong slap in the face" to the US and the other oppressive powers in the world, he stated, "The Islamic Republic of Iran has always stood by the resilient governments and nations of Latin America, especially Nicaragua."
Referring to Iran's action in sending gasoline to Venezuela despite US opposition, the vice president said that this action sent a message to the governments and nations of the world that the era of pressure and coercion against other countries is over. He called the US interference in the internal affairs of countries, an insult to those nations. (Tehran Times, 11 January 2022, "Mohsen Rezaei: Iran-Nicaragua cooperation is 'a slap in the face of U.S.'")
For the past 19 years, Hazrat Mirza Masroor Ahmad, Khalifatul Masih Vaa had been calling the world leaders towards establishing world peace.
In 2012, Huzooraa wrote letters to the heads of states of many countries, in which he called their attention towards the true teachings of Islam and for establishing world peace.
In his letter to Benjamin Netanyahu, then Prime Minister of Israel, Huzooraa wrote:
"We hear reports in the news nowadays that you are preparing to attack Iran. Yet the horrific outcome of a World War is right before you. In the last World War, whilst millions of other people were killed, the lives of hundreds of thousands of Jewish persons were also wasted. As the Prime Minister, it is your duty to protect the life of your nation. The current circumstances of the world indicate that a World War will not be fought between only two countries, rather blocs will come into formation. The threat of a World War breaking out is a very serious one. The life of Muslims, Christians and Jews are all at peril from it. If such a war occurs, it will result in a chain reaction of human destruction. The effects of this catastrophe will be felt by future generations, who will either be born disabled, or crippled. This is because undoubtedly, such a war will involve atomic warfare.
"Hence, it is my request to you that instead of leading the world into the grip of a World War, make maximum efforts to save the world from a global catastrophe. Instead of resolving disputes with force, you should try to resolve them through dialogue, so that we can gift our future generations with a bright future rather than 'gift' them with disability and defects." (www.reviewofreligions.org/6230/letters-sent-to-world-leaders/#israel)
Then, in his letter to Barack Obama, then President of the United States of America, Huzooraa wrote:
"There is currently great agitation and restlessness in the world. Small scale wars have broken out in certain areas. Unfortunately, the superpowers have not been as successful as was anticipated in their efforts to establish peace in these conflict-hit regions. Globally, we find that almost every country is engaged in activities to either support, or oppose other countries; however, the requirements of justice are not being fulfilled. It is with regret that if we now observe the current circumstances of the world, we find that the foundation for another world war has already been laid. As so many countries, both large and small, have nuclear weapons, grudges and hostilities are increasing between nations.
"In such a predicament, the Third World War looms almost certainly before us. Such a war would surely involve atomic warfare; and therefore, we are witnessing the world head towards a terrifying destruction. If a path of equity and justice had been followed after the Second World War, we would not be witnessing the current state of the world today whereby it has become engulfed in the flames of war once again. […]
"My request to you, and indeed to all world leaders, is that instead of using force to suppress other nations, use diplomacy, dialogue and wisdom. The major powers of the world, such as the United States, should play their role towards establishing peace. They should not use the acts of smaller countries as a pretext to disturb world harmony." (www.reviewofreligions.org/6230/letters-sent-to-world-leaders/#usa)
In his letter to the Supreme Leader of the Islamic Republic of Iran, Ayatollah Syed Ali Hosseini Khamenei, Huzooraa wrote:
"As Muslims, we should endeavour to teach the world to live in peace, love and harmony. In particular, Muslim leaders need to urgently pay heed to this. For this reason, it is my request to you to draw the attention of your Government towards its responsibilities to establishing peace in the world. If Iran is attacked it has the right to defend itself to save the country, however it should not instigate aggression and take the first step forward into any conflict. Instead, an effort should be made to leave aside religious differences and to try and unite upon common values. It is this very approach that we find was adopted in the history of Islam. […]
"The disorder prevalent in the world today is based upon one overriding factor, and that is a complete lack of justice, which is causing widespread anxiety and restlessness. Thus, it is my request that strive to your utmost to prevent a World War from breaking out. Utilise all your energy, resources and influence to save the world from the horrific destruction that looms before us. […] We must remember that nuclear weapons are not possessed by only the major powers of the world; rather, even relatively smaller countries now possess nuclear weapons.
"What is worrying is that in some of these small countries the leaders are trigger-happy, and appear unconcerned of the consequences of using such weapons. Therefore, once again, it is my humble request to you that try your level best to establish world peace. If we fail in this task there should be no doubt in our minds that a nuclear conflict will cause devastation that will lead to generation after generation being born with defects, and who will never forgive their elders for leading us into a global catastrophe. May God the Almighty enable you, and all world leaders, to understand this message." (www.reviewofreligions.org/7152/letters-to-world-leaders-part-2/#iran)
In 2020, during the Covid-19 pandemic, Huzooraa again wrote letters to the world leaders, and invited them to put efforts for establishing the world peace.
In his letter to Donald Trump, then president of the United States of America, Huzooraa wrote:
"It is imperative that the leader of the nation sets an example for the rest of society. For the sake of peace and harmony of any nation, it is a prerequisite that the government, local authorities and law enforcement agencies treat all of their citizens equally, irrespective of their skin colour or ethnicity. In this regard, the expectation of absolute justice and non-discrimination from the leader of a country such as the United States is especially high." (www.reviewofreligions.org/26918/letters-sent-to-world-leaders-by-head-of-ahmadiyya-muslim-community-during-covid-19-pandemic/#leaderssame)
On 9 March 2019, while addressing the 16th National Peace Symposium of Jamaat-e-Ahmadiyya UK, Hazrat Mirza Masroor Ahmadaa said:
"On one side, Russia and Turkey are aligning, whilst on the other side, the United States and Saudi Arabia are joining together and are ratcheting up pressure on Iran and seeking further sanctions against them. Political experts are openly expressing that the objective of these nations is to dominate the Middle East. Another flashpoint and source of conflict are the worsening relations between Turkey and the Kurdish groups who seek autonomy.
"Thus, the world is stuck in a vicious cycle of conflict and counter-conflict, as rivalries ferment and hatreds become ever more deeply entrenched. No one knows where such issues will finally lead us or how horrific the consequences will prove to be. What I have mentioned is just the tip of the iceberg. There are many other issues of concern that threaten the peace and well-being of the world." (www.reviewofreligions.org/14665/true-and-sustainable-world-peace/)
On 6 July 2019, while addressing more than 1,000 dignitaries and guests at the Jalsa Salana Germany, Hazrat Mirza Masroor Ahmadaa said:
"Tensions between the United States and Iran are ratcheting up and there is intense speculation about the possibility of a war between them. […] It is a prime example of irresponsible sabre-rattling and unnecessary belligerence putting at risk the lives of millions of people." (www.press-ahmadiyya.com/press-releases/2019/07/selfish-quest-wealth-power-ruthlessly-destroying-prospects-todays-youth-hazrat-mirza-masroor-ahmad/)
May Allah enable the world leaders to pay heed towards the valuable guidance of Hazrat Mirza Masroor Ahmadaa, Khalifatul Masih V. Amin.
---